Cigar City Brewing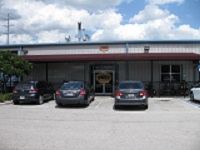 PLACE INFO
Type:
Brewery, Bar
3924 W Spruce St
Ste A
Tampa
,
Florida
, 33607-2441
United States
(813) 348-6363 |
map
cigarcitybrewing.com
Notes:
No notes at this time.
Added by BeerAdvocate on 07-26-2008
Reviews: 219 | Ratings: 702
4.22
/5
rDev
-5.8%
vibe: 4.5 | quality: 4.5 | service: 4 | selection: 4
I was lucky enough to stop here for a few beers today.
The new tasting room looks nice & has love of beer writen all over the decor
Quality on all beers was great. I liked the cherry aged big sound & 110k +3 were the best of the bunch
Service was pretty good, one guy who liked talking about their brews, stayed busy the whole time mostly with growler fills from drop in customers
Selection was good not great, they had 7 of theirs on & a guest beer from swamphead. They also had bottles & 2 types of growlers for sale, either quart or gallon sized. I understand they getting more tap lines soonish
You could order in food, but these guys didn't serve any on site
Prices weren't too bad 4.50 pints & $5 snifters of their high octane offerings. Not a bad stop all in all
775 characters

4.6
/5
rDev
+2.7%
vibe: 4 | quality: 5 | service: 5 | selection: 4
When I found out that I was coming to Tampa on business, I knew I had to find a way over to this place to give it a try. I've heard so many awesome things about it that I'd kick myself in the rear if I didn't go...
Upon arriving, I thought we were in the wrong building... They are located in an old warehouse and their building isn't that big... Heading into the tasting room, I found a nice clean bar with a few customers milling around and a tap selection of 5-6 beers with several more in the bottle...
I ordered the Jai Alai, the Cedar Aged Jai Alai, the Maduro, the Vanilla Aged Maduro and the 110k + OT Batch #3 over the course of a couple of hours there and took 2 growlers and a nice snifter with me when I left...
The beer was top notch.. Everything that I tried was delicious and fresh tasting and the service was impeccable... Very attentive and knowledgable of the product.. I got to take an informal tour of the brewing area and met the head brewer while I was back there.. He was sitting back there drinking a pint of Jai Alai and we talked for a few... Very cool...
It's hard to believe the quality of beer that they're making out of this establishment... I was expecting a much bigger place...
I have nothing but positive things to say about this place... They unfortunately didn't have any Hunahpu or General Zhukov while I was there but nevertheless, I got to drink some terrific beers and had a great time..
Highly recommended!
1,455 characters

4.4
/5
rDev
-1.8%
vibe: 3.5 | quality: 5 | service: 4.5 | selection: 4
After many visits in the past leading up to the great new tasting room, I was very excited to make my recent trip to CCB. I have not made it to Tampa since all the additions to CCB, so I was blown away by their growth in such a short time! I'll begin with atmosphere, and blend my experiences over 2 visits. Seems like a mix of customers come through the doors, from the visiting beer enthusiast to curious locals making their first trip in. I am rating it a bit lower than some of my favorite beer spots, but I think CCB is doing a great job of expanding craft beer in Florida. I fully expect to be able to raise this score in the future. The quality is impeccable. They fill growlers with the utmost care to ensure healthy storage. The quality of their beers, as is well known, is not a question either. I also must commend CCB on their hiring. I visited CCB when it was Joey & Wayne only, and am impressed that they have hired so many people that represent similar passion for quality craft beer. Very attentive, knowledgeable, and friendly. I always have a hard time rating selection when dealing with breweries, CCB has a nice mix of their beers, and a few other taps from other FL brewers. There seems to always be some interesting treatments of their beers, as well as rather regular limited releases. They also stock a fair number of their bottled beers. There is no food, other than the tasty oatmeal raisin cookie I was given with my Oatmeal Raisin Maduro, so make sure you come with that in mind. Overall, great work in putting together an exciting customer experience. This seems like a real gem of a place for the local Tampa folks.
1,645 characters

4.3
/5
rDev
-4%
vibe: 4 | quality: 4.5 | service: 4.5 | selection: 4
Conveniently located close to TPA and just off Dale Mabry. Stopped in twice during my week in Tampa, both times during the late afternoon. Atmosphere is decent -- I like the setup with plenty of space and seating and a good playlist on the stereo. Quality was high...hard to complain about super fresh CCB offerings. The Jai Alai seemed to be particularly fresh and was incredible. Bartender was really friendly and, without me asking, poured a few samples of beers before I filled up my growlers. There were 5 CCB beers on tap both times I stopped in and 3 beers from other FL breweries (Swamp Head and St. Somewhere). I guess it would be nice to have a few more CCB beers, but no complaints here. No complaints either with the prices -- $4.50 for pints of Jai Alai and Maduro, $5 pints of most other limited CCB beers. Quart growler fills ran $6 for Jai Alai and Maduro and $7 for the specials. The bottles were decently priced, but most can be found at the Whole Foods a block away for a $ or 2 less.
Great place overall -- definitely lives up to the quality of the beers CCB produces. No trip to the Tampa Bay area is complete without at least one stop here.
1,163 characters

3.93
/5
rDev
-12.3%
vibe: 3 | quality: 5 | service: 3.5 | selection: 3.5
Well was in Gainesville in the early am and talked the wife into making a run to Tampa, and glad we did. We got there on a day where they were doing a raffle on the Barrel aged RIS, we entered but did not get lucky, anyway was crowded to the max, lol good times
Its your standard corner micro brewery and tasting room. Since I can compare the two BBC and CCB, We have to say that CCB comes out on top here also.
The bar is 90 degrees to the entrance, the restrooms are in the warehouse/brewery area, so its a hot trip trip back and forth. No smoking inside is great. The bar is nice, new of course and had about 20 chairs yesterday. Very friendly folks who actually introduced themselves!!. They had a large ratebeer crowd and a few BA folks all were very friendly. We got lucky as they had a cask of the 110k+OT Batch #3 so that was an early treat. so it s was a wild day. The beer list had 2 barrel aged RIS, in sniffer's, and you could buy 4 beers in bomber, the only beer that was hard to drink was the Gruit. which even they admitted required an open mind, I drank it and it was weird but not that terrible.
Anyway the got no food but the let you go get pizza and they usually have open tables and a less crowded Saturday but hey we love it when its crazy had a great time too bad we had to drive all the way back to Jax.
Beer list was nice, not for your average BMC drinker, yea it ran off the non craft lovers.
1,422 characters
4.36
/5
rDev
-2.7%
vibe: 4.5 | quality: 4.5 | service: 4.5 | selection: 4
Located in an industrial building, more the feel of a working brewery than a brewpub. That said, the bar is well put together. Seating for about 15 along the bar, another 8-10 tables with 4 seats each. Kinda sterile feeling, but the best that could be done in the industrial complex. Very good music mix (Primus, Blind Melon, Radiohead, White Stripes, Red Hot Chili Peppers, etc). Only high quality offerings, five CC beers (Jai Alai, Mafuro, Oatmeal Raisin, Hunahpuh's, Brandy Barrel Aged Marshal Zhukovs's) and 2 guest taps (both from Swamphead).
Very friendly staff, helpful walk-through of the beers on tap and the pricing. Minimum of swag available for purchase (4 types of shirts, some bottles to go). Nice operation overall, I'd love to see them grow into something even bigger.
786 characters

4.46
/5
rDev
-0.4%
vibe: 4 | quality: 5 | service: 4.5 | selection: 4
CCB was our second or third beer visit on a recent trip to central FL and definitely the highlight. We arrived early afternoon on a Thursday. There were 4 or 5 other patrons in the tasting room, all from the Northeast. The wife and I took a seat at the bar, I had a draft sampler and the wife ordered a Humidor Gruit while we talked to the other guests. The drafts were excellent, especially the Maduro. After about 10 minutes, my wife and I were the only people in the tasting room and really got a chance to talk beer and music with Tim, great guy. I walked myself around the brewery, pretty standard affair. I loved the empty bottles lining the walls and loved seeing cases of unlabeled BA Hunahpu. After my sampler I bought a bottle of Humidor IPA (9 bucks!!) to relax with while we chatted. Joey and Wayne were in and out quite a bit and made a point to stop, chat, talk beer and fish tacos (big ups to Dunedin!). We happened to be on site when the first samples of 110K+OT #3 were being pulled from primary for the CCB folks to taste. Wayne allowed my wife and I to split a small snifter! I mean seriously, how awesome is that!?!? We probably spent about two hours there before we got back on the road and headed to Brighthouse Field for a photo op, but I could have stayed MUCH longer. I am stoked to see that the guys will be making the trip up to Philly Beer Week, and making a stop in Montco.
1,402 characters
4.66
/5
rDev
+4%
vibe: 4.5 | quality: 5 | service: 4.5 | selection: 4.5
CCb's taproom has been open almost 2 months now, so I guess it's time for a formal reveiw. The place is small, but it has a really authentic, cool, Tampa vibe, with an awesome bar.
Let me start off by saying that I frequent this place, so I will try and give an unbiased opinion here. First, the beer is outstanding! Jai Alai and Maduro are great staples and I almost always grab a pint of one of these before any special offering. Second, yes, the service does need some work. There have been times that the bartenders look like they would rather be doing something else, but, I am giving them the benefit of the doubt because of the newness of the tasting room. And plus they are very busy, they not only do pint sales, but they also sell and fill all the growlers, and sell merchandise. But I will give em this, they always pour your beer properly and in the correct glassware. There are about 7 taps (maybe 8, can't remember exactly) 4-5 are dedicated to CCB brews and the rest are guest taps. There is no food or snacks, but you can bring food in if you want.
Overall, there are some kinks to work out, but I love coming here and drinking CCB beer.
Edit: Kinks have been worked out. This place is awesome!
1,214 characters
2.75
/5
rDev
-38.6%
vibe: 3 | quality: 3.5 | service: 1 | selection: 3.5
(March 20, 2010)
Coming from Michigan I have high expectations on micro-brews having been to about 12 different breweries. When a group of friends and myself walked into CCB we were looked down on. There was no clear area for ordering beer. The bar was packed with patrons and there were 3 guys working behind the bar. They were doing various things, like cleaning glasses, polishing growlers and talking amongst themselves. All while we were standing there, waiting to order. It took them about 10 minutes to acknowledge us and finally serve us. The beer was good but not stellar or better then anything I have had up to this point. The tasting room was too small and they had only beer, no snacks, nothing. The overall attitude of this place was that "hey, we have a beer that was rated 100 on ratebeer so we can act like we are the best and you can bow down before us if you want service". Well, I have news for you, no thanks and I will take my business elsewhere.
As for the beer, I had about 6 different samplings. The IPA (Jai Alai) was good, but not a traditional tasting IPA. The top beer there was their imperial stout (Zhukov's imperial stout). Very well balanced and flavorful.
Overall, if you decide to go to the tasting room then be sure that you either wear your "members only" jacket our figure out what the password is to get served beer.
1,359 characters
Cigar City Brewing in Tampa, FL
3.96
out of
5
based on
46,274
ratings.