East Village Tavern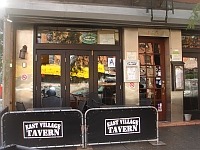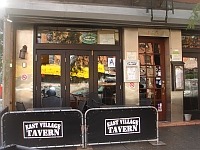 Bar, Eatery
158 Avenue C
New York
,
New York
, 10009
United States
(212) 253-8400 |
map
evtnyc.com
Notes:
3.44
/5
rDev
-20.7%
vibe: 3 | quality: 3.5 | service: 4 | selection: 3
After reading a few reviews of this place I made a point to stop by on my holiday trip. It was post lunch time so it was a bit slow. 16 taps and one cask. They waste a few with Stella, Guinness & Yuengling. So selection for me rates a yawn on this my first visit.
I chose a DFH 120 minute which was a mistake as an opener. The bartender was great and very friendly. He was the redeeming factor for me.
Crowd is typical east village a few New Yorkers sprinkled in with Midwest newbie hipsters.
Pricing was typical $6 drafts for most standards and 7-8 for the exotic stuff.
It's pretty far out of the way for a beer trip but if your in the neighborhood it's a good place to have a pint.
690 characters
4.72
/5
rDev
+8.8%
vibe: 4.5 | quality: 5 | service: 4.5 | selection: 5 | food: 4
WOW!!! what an intersting little place.The barkeep is a firey ole'cat with a cool disposition, very konwledgeable about the beers on tap and in casks.Thursday was a quiet after work evening at EVT.The atmosphere is typical for the area.A lot of easy goin'dudes&dudetts at the bar.There is outside seating,great for taking in the whole east village scene (hope that wasn't too corny).The food is standard bar fare although the Buffalo wings were outstanding!!!I really like the decor, very beer orientated lot's of posters and beer signs.It gives off a real Beer-bar vibe.So i will gather the after crew for future visits to this very,very exceptional beer estabilishment.
671 characters
4.04
/5
rDev
-6.9%
vibe: 3 | quality: 4.5 | service: 3.5 | selection: 4.5
Clean, small-ish and a bit too bright. Corner location makes for good people watching on the stools that face the windows. Great selection - things you won't easily find elsewhere in the city and nice to get lesser known IPA like Loose Cannon on cask. Servers are cheery though they didn't strike me as beer geeks. Standard bar food menu. Football on lots of TVs on Sunday, with lots of backwards baseball caps watching. Not the dark corner you'd expect of the neighborhood, but seemed more NYU-ish if I had to guess.
More about options than setting.
552 characters

4
/5
rDev
-7.8%
vibe: 4 | quality: 4 | service: 4 | selection: 4
Just as the name leads you to believe, this bar is located in the East Village.
Atmosphere is a little more upscale compared to some other bars in this neighborhood, a lot of polished wood, pretty clean, and some neat art in the bathrooms. TVs on the wall, so you can check on the game. They also have a few tables outside as well, where I plopped myself down on a warm summer evening. The taps are all from the U.S.. When I was there they had Brother Thelonious, Green Flash West Coast IPA, Heavy Seas Red Sky, Arcadia Hop Rocket, Ipswich Oatmeal Stout, Bruery Saison De Lente and another 6 or so offerings. The food looked good for pub grub, although I did not have any. All in all, a very good bar with a focus on american craft beer taps.
743 characters
4.44
/5
rDev
+2.3%
vibe: 4 | quality: 4.5 | service: 4.5 | selection: 4.5
I went at happy hour so all the beers were $3 instead of $6.
I had the place to myself, which seems like a cozy enough place even if it were to be full. Good selection of craft beers, I think they had about 10 or so on tap, and one cask. They had ommegang, victory, dogfish head, and some other good breweis. Food looked good, but I didn't get any; seems to be standard american fare, with some tex-mex foods. decent glassware selection, they had the right stuff, but wasnt correct label; the bartender was very friendly. Definitely a place to which I would go back.
567 characters
4.9
/5
rDev
+12.9%
vibe: 5 | quality: 5 | service: 5 | selection: 5 | food: 4
I took my boyfriend to the Dogfish Dinner in November 2008 and have been a regular ever since. It's a very chill, laid-back place. Everyone is knowledgeable about beer and how to correctly serve brews - which is very important. All the correct glassware is used. The beers are kept at optimal temperatures. Their selection of beers (16 on tap) are consistently rotated. The food is good - it's heading more toward standard barfare, but it's well executed. They have Ladies' Night every Thursday which is a huge boon for me! Brewers come by to visit which just goes to show what their quality is like. It's a true American Craft Beer bar - they do have bottles of Unibroue lying around on occassion...
700 characters

4.28
/5
rDev
-1.4%
vibe: 4 | quality: 4 | service: 4.5 | selection: 4.5
Imagine if your local dive bar offered a solid selection of craft brews at great prices (all beers $3 at happy hour --- before 7 pm). That's what you'll find at the East Village Tavern. Atmosphere is that of your typical neighborhood bar. Not a lot of frills, but the service is friendly and the beer selection is diverse. Brews on tap ranged from the West Coast, Rocky Mountains, to New England (and of course New York --- I had the Sixpoint Bengali Tiger on cask).
Do yourself a favor and start here for a beer or two, then for dinner head over to Back Forty (190 Ave. B., near 12th street), a great restaurant a few blocks away that has a small but well-picked selection of craft beers. It makes for a solid night in the East Village.
738 characters
4
/5
rDev
-7.8%
vibe: 4 | quality: 4 | service: 4 | selection: 4
Made my way over on a weekend afternoon. Nice place. Good selection of taps. Things seem to be leaning towards the more easily drinkable side of things. And by that I mean no ridiculous 11% beers on tap or something ridiculously esoteric. There's a lot of beer to be had in America, and you're going to find a lot of that good stuff here. Service was flowing. Everyone seemed in a chill zone. Didn't try the food, but there is a kitchen here. Overall a nice spot. A bit of a hike from any subway lines, so be ready to cab it if you get blasted here.
549 characters

4.14
/5
rDev
-4.6%
vibe: 4 | quality: 4 | service: 4.5 | selection: 4
Corner location in the far reaches of the east village. Medium sized with plenty of windows looking out onto the street scene. Has a much more of sports bar feel then expected in the neighborhood. Plasmas everywhere, lots of new looking wood, beeraphanalia all over the place. Selection certainly offerered numerous quality options. Offerings formt he usual quality suspects, Brooklyn, Defiant, Ommegang, Victory, Sixpoint, you get the picture. I wouldnt expect anything earth shatteringly rare, but do count on being able to find quality choices in a friendly, if sportsy environment. Pool table in the rear.I'd be here quite a bit if I was local.
648 characters

4.5
/5
rDev
+3.7%
vibe: 4.5 | quality: 4.5 | service: 4.5 | selection: 4.5
What a great new place in the lower east side/village. We stopped by here as stop 2 on my birthday tour a few weeks ago. Quite easy to find at Avenue C and 10th street and it is a fairly small homey feeling place. Lots of freshly stained wood with some nice artwork on both the outside and the interior of the place.
They had a fantastic selection of beers- plenty of which I had never tried before. There was Troegs Nugget nectar on cask--I had only had it on CO2 draft before and the cask does treat it well. They had some Captain Lawrence, Legacy, and a few other brands I had not tried before. It looks like they update their website regularly so if youd like to see what is currently on draught, I'd suggest taking a peek at their site. The freshness on the beers was excellent and the pricing was about typical NYC although that comping thing can really work to your favor as long as you tip well--it seems most of these places in NYC really take good care of you.
Staff was friendly as can be and down to earth. The guy wasnt a real beer afficionado that was tending when we were there-- but he was certainly enthused about learnig all about the wide variety of beers out there by trying as many as possible. The rest of the patrons and staff were quite friendly as well. This place is great--I look forward to hitting it the next time I'm in Manhattan.
1,362 characters
4.33
/5
rDev
-0.2%
vibe: 4.5 | quality: 4.5 | service: 4 | selection: 4.5 | food: 4
I've visited here on numerous occasions since it opened last May, but I only took notes from my last visit two weeks ago. I attended the Arcadia night, and it was a hopping crowd and a lot of fun. Even though the place was packed (due to a Jets game) the service was on point.
Gotta love the focus on domestic craft brews, and often some that I don't see on tap too often in NYC. Wasn't concerned with the bottle selection given that it's not their focus, but they do have quite a decent can lineup from Sly Fox, Butternuts, and Oskar Blues.
Great atmosphere, and strikes a nice balance between not straying too far from the East Village feel, but certainly ensuring that it stays well beyond grimy watering hole. Clean, welcoming, great selection, and the prices are pretty low relative to what they offer on draft. The food is definitely comfort driven, and accompanied their beer menu quite well. Love this place, and I drag people here quite often. Definitely recommend.
978 characters

4.63
/5
rDev
+6.7%
vibe: 4.5 | quality: 4.5 | service: 5 | selection: 4.5 | food: 4.5
Selection- about 15 beers on tap and one cask line, all american craft (Great Divine, Bear Republic, Stone, Stoudts, Southern Tier, Green Flash, Climax, Sixpoint. etc) Bottle selection was just the basics BMC, but its nice to see a place do that instead of wasting them on the tap line.
Food- had the macaroni & cheese done in an iron skillet, with breadcrumbs, smoked bacon. Really a nice twist on an American classic. The menu wasnt huge but it had a nice variety of foods prepared a little different than your usual bar grub. The buffalo wings were outstanding here too, get em hot and well done (thanks to the bartender eileen for that tip)
Atmosphere- went here on a Sunday to watch the Giants game, they had about 6 plasmas with the sunday ticket on, wasn't overly crowded mostly 20-40 aged crowd
Service- was great, bartenders knew there stuff, food came out quick
875 characters
4.28
/5
rDev
-1.4%
vibe: 4 | quality: 4 | service: 4.5 | selection: 4.5
Fact finding, something to start filling these pages again, it's been a bit. It's not like there ain't places to see, it's more a time and space and for want to jot, really. I will document here that Randy was strangely cooperative (until I mentioned that place just south west of the park and he became angry man, we'll take that one off the list)(for now), and he's not well known in these or any parts for being as such, so I was naturally suspicious. I asked him why now then and he said, "I was young, and foolish". Restless, me thinks, but curious still...
Easy to spy with them large colorful murals painted outside, it's a corner location and stand alone at that, as things that once stood alongside of it are torn down now. Some solid folding front window wall openness over C, and then (like) a curved and angled "L" shaped bar that got out of control, with a heavy lip and a brass foot rail off to the left. The barback on the outer brick wall is a framed wood counter & shelving, where tiered booze surrounds an old dented register. Just above, a mounted flatscreen, with shelved canned & bottled selections; 18 in all, mostly macros and poo imports plus some of everything else (Butternut, Oskar Blues & Sly Fox cans, Sierra Nevada Pale Ale & Anchor Steam, Schneider Weisse, 2 ciders and Red Bull). Glassware stored shelved beneath the bar with more booze there, and a center cooler.
A pair of forward raised tables on the bar side of the door peeking out on "C" and a dozen 2-seat tables running the other wall half way back, mostly sharing common benchage. Past there, Big Buck Hunter and a Wheel of Fortune pinball machine (Randy's down on them, "There's no point, they're frat boy games"), and to the rear rear, a single table nook and a CD juke across the way. Flatscreens, free or four mounted angled on the inner brick wall (which I guess is technically also an outer brick wall as again, it's a stand alone). Horizontal hard wood floorings, a cool tiled entranceway, and slight brewery signage & neons here and there. Tracks and red glass tulip lamps about the room, and drop "22's with the bottoms cut off" lighting dangling above the bar.
On the bar, 2 winged copper towers of 8 taps, one here, one there, and a handpump up front. 16 taps in all, offerings and ABV's listed on a big blackboard down past over there. The whole lot of 'em American craft beers, from across New York State (Brooklyn Lager, Sixpoint Sweet Action, Bluepoint Blueberry, Captain Lawrence Liquid Gold, Ommegang Wit, Southern Tier Unearthly IPA), regional (Smutty Old Brown Dog, DogFishHead 60 Minute IPA, Yuengling), and beyond (Flying Dog In Heat Wheat, Two Brothers Cane & Ebel, Lagunitas Lucky 13, Green Flash Hop Head Red, Rogue Chocolate Stout, Stone Arrogant Bastard, Anderson Valley Boont Amber), plus a cask Green Flash Le Freak (I had a taste and decided against the 9% Belgian style IPA this early in the day). Bartender let me try some a 'dis, some a 'dat. Would normally have gone with the Old Brown Dog or the Liquid Gold but I'm all about the something new, so I opted for the Cane & Ebel, which was pretty tasty, yeah.
Foodings, they do, and a much better menu than most corner taverns, although we didn't hit it up as there's lunch farther west further on. Makes me think now that I should have done din here that night we came in after freaky Mike's gallery showing across the street a few months back. Tomorrow and tomorrow.
Quiet just now, this comfortably lazy day, so very easy on C, taking in the sights. Hey, check out that lady across the street there, you need a crazy hat like that.
3,612 characters
East Village Tavern in New York, NY
Place rating:
4.34
out of
5
with
17
ratings