The Squealing Pig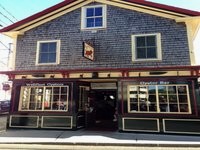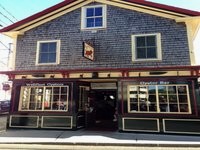 Bar, Eatery
335 Commercial St
Provincetown
,
Massachusetts
, 02657-2202
United States
(508) 487-5804 |
map
squealingpigptown.com
Notes:
Recent ratings and reviews.
| Log in to view more ratings + sorting options.
Ratings by Jayli:
Reviewed by Jayli from Massachusetts
4
/5
rDev
+4.4%
vibe: 4 | quality: 4 | service: 4 | selection: 4
Visited 1/1/10
In all my years of going down to Ptown, I had completely overlooked this place. From the outside it doesn't look like much. It's very easy to miss it while walking down Commercial St. This isn't a knock you off your socks kind of bar - but it is SOLID and the only place in PTown that offers a solid craft brew scene. On draft was Victory Golden Monkey, DFH 60 minute, Harpoon IPA, BBC Lost Sailor and a few others more widely distributed. Nice bottle selection - a few offerings from BBC, a few from Chimay, Dale's Pale Ale, Flying Dog, Haverhill, Cape Ann, Unibroue, Victory, and several others.
This is for sure more of a local joint, and was really quite busy for the offseason. Decent size bar that spans the left side, with a bunch of wooden tables and seats dispersed throughout the bar. Definite rustic, cape feel to the bar, complete with Oyster explanations on the wall (it is also an oyster bar). Bartender was attentive and pleasant.
Overall - this will be my go to bar in PTown from here forward!
Jan 15, 2010
More User Ratings:
Reviewed by brunop from Massachusetts
4.25
/5
rDev
+11%
vibe: 4.5 | quality: 4.5 | service: 4 | selection: 4 | food: 4.5
small but solid tap selection, but outstanding bottled selection. real good food. we always sit at the bar and the service is good. one of my favorite places in provincetown.

honest pours.
May 19, 2015

Reviewed by stella77artois from New York
3.11
/5
rDev
-18.8%
vibe: 2 | quality: 3.75 | service: 1 | selection: 4.25 | food: 4.75
As a yearly traveller to the Cape, I'm always looking to try new restaurants/bars. My girlfriend and I were walkign Commercial St and happened upon this place, which had pretty good reviews at Trip Advisor. I then noticed the Chimay sign hanging above the door, and knew we had to go in!

Place has a pub atmosphere with a bar and narrow dining area. I'm ok with being around a lot of people when I'm at a bar, but not when I'm eating dinner. Tables were very close together, which I didn't care for. They had an outstanding bottle selection which included plenty of American Craft beer, as well as many quality imports. Looked to have about eight beers on tap, none of which were outstanding from what I recall, mostly basic East Coast crafts. I settled on a bottle of Chimay Red. The food was outstanding. Had the Cape Cod Seafood Platter, which was very VERY good. Included the best fried scallops I've ever had, no BS. My girfriend ordered a veggie burger w/ a dill-yogurt sauce which she said was delicious.

But with the great bottle selection and outstanding food, this place gets the lowest possible rating for service. This place has a fair amount of poor reviews on their service on Trip Advisor as well, so it's not just me. First off, we had two servers, neither of whom introduced themselves, nor were either friendly. Not neccessarily rude, but certainly not friendly. I finished my beer just as our food came. I decided not to order one at the time, which I should have. A few minutes later, I placed my hand on my empty glass, assuming one of the servers would inquire as to whether or not I wanted another beer. They walked passed me a combined six times, and I was never asked. I tried to get the female servers attendence finally. She was bringing food to another table, so I didn't want to be rude, but we made eye contact and I held up my glass and smiled. Nothing. Next thing we recieved was the check. I sat with an empty beer glass on my table for almost twenty minutes, and actively tried to get their attention for ten of those. Let's just say, the "servers" did not get a tip, because they did not deserve one. Also, the "hostess" (I use this term loosely because she did nothing - she stood just inside the door with a menu in her hand) was completely useless, and of course, not friendly either. She said nothing when we walked in, and said nothing on the way out. Awful, awful service. Probably the second worst service I've experienced in a food establishment in my life. And to make things even worse, the place wasn't dead, but they were certainly nowhere near capacity, which makes me wonder if the service would be any better even if the place were dead.

To summarize - outstanding food and bottled beer selection. AWFUL service. I'd only recommend this place if it's very slow inside, or your options are limited. Maybe sitting at the bar for a few beers during a slower time would be more enjoyable. Plenty of other outstanding restaurants with immensely better service in P-town.
Aug 18, 2013

Reviewed by DoubleSimcoe from Pennsylvania
3.38
/5
rDev
-11.7%
vibe: 4.5 | quality: 3 | service: 3.5 | selection: 3 | food: 4
I chose this place based on BA's reviews, but anyways, there was nothing else available in this town on a Halloween weekend.

Indeed, pretty much the only place open around the heart of Commercial Street in Provincetown on a dead Sunday, October 30. Unassuming from the outside, cozy and narrow inside… reminds me of, huh, a British pub. TV's were quiet, music was good, lots of locals… quiet and familial.

Beer selection was disappointing, though: 10 taps with Delirium, Berkshire Lost Sailor, Blue Moon, Harpoon IPA, Guinness, PBR, Stella, Fisherman's Brew, Shipyard Pumpkin and Harpoon Okto. Blah.

My Delirium was flat and pricey at eight dollars. The wife had a Lost Sailor that was fine.

Service alright, not great, she had that New England "I-don't-give-a-fuck" thing to her, but not too bad. Warmer to the locals than visitors, a little cold. Food is basic but adequate. The local Wellfleet oysters were incredible; the $12.99 grass-fed Vermont burger was not worth the price and not cooked to the rare I asked for.

About 40 bottles in a small cooler with East Coast staples (Victory, Dogfish) and some Belgians. Pretty poor.

Overall, great ambience, great that it opens late even in autumn/winter when most bars are closed for the season, great oysters. Sad beer choices and outrageous prices just like everywhere else in P-Town. If this is the best beer option in town, then maybe next time I'll bring my own brews!
Nov 03, 2011
Reviewed by zoolzoo from Connecticut
3.9
/5
rDev
+1.8%
vibe: 4 | quality: 4.5 | service: 4 | selection: 3 | food: 4
Stopped in for lunch. Seems like a great place to grab a beer in P Town. The food is good, better than standard pub fare. The lobster toasty is awesome!

The beer selection is alright, maybe the best in P Town. Given whats available in MA, I expected more variety. What I found was a solid list of New England regulars and a few more typical mid to west coast selections.

The staff is friendly and knowledgeable, and the location couldn't be better. Overall a must visit if you are in P Town and like beer.
Jul 23, 2011

Reviewed by jneiswender from Massachusetts
3.93
/5
rDev
+2.6%
vibe: 4.5 | quality: 4 | service: 4 | selection: 3.5 | food: 4
Nice place located not too far from the main square. I didn't see any parking on-site. the place is a nice size for the town. Bar and table seating. The bathrooms are somewhat small. The place is also well lit.

Food is well made and tasty. My wife had the toasty sandwiches (lobster). I had the Cape Cod seafood platter. Both dishes came fairly quickly.

The food and beers were well priced and fairly inexpensive for high season (most beers below $5 and entrees $10-12).

The beers were a decent selection. A nice mix of local, domestic macros and imports. Nice tap selection. Staff knowledgeable about what they were serving as well.

Comfortable mix of locals and tourists.
Aug 30, 2010
Reviewed by sapvt from Colorado
3.68
/5
rDev
-3.9%
vibe: 3.5 | quality: 3.5 | service: 3.5 | selection: 4 | food: 4
This is a bar lovers bar. I love bars.

Good selection, much better than most places you'd visit, at least in my experience, and certainly on the Cape. Berkshire, Victory, Harpoon on tap, good bottle selection including a mix of some big name Belgians ( Chimay, Duvel) and some good craft. Decent local selection (Berkshire, Harpoon, Haverhill, Fishermans) but not as great as I like to see.

I didn't plan on eating but I had some oysters anyway. Very good, but with Wellfleet about 20 miles away, how could you go wrong.

I'd liked the Pig and will definitely go back.
Aug 27, 2009
Reviewed by phantomwyse from Massachusetts
4
/5
rDev
+4.4%
vibe: 4 | quality: 4 | service: 4 | selection: 4 | food: 4
I was in Provincetown for an extended weekend. My family and i have been coming to this end of the cape for years and years, the housewe rented was about a five minute walk from Commercial Street, and besides this being our favorite bar in town, it was also the closest. I'm also assuming this is the sister bar of the Squealing Pig in Boston.

Nice, sort of spartan saloon atmosphere. Long bar on the left hand wall when you walk in seats about 20 maxed out. There are tables that could maybe seat another 20-30 people in the rest of the space. The food is pretty good, better than pub fair. The smoked chowder bisque was fantastic, as was a bunch of their sandwiches. Service was standard, everyone was friendly.

As far as the beer goes, they have a decent list. Lots of variety, some standard Belgians, good American craft showing. They have some interesting snip[its describing the beers, not always accurate. Don't be fooled though -- they have more on draft than the menu states. I had the BBC Lost Sailor IPA a number of times, it was tasty, but was then told they had 60 Minute on tap, so I jumped on that.

One night they had live entertainment there. A sort of blues/Americana band. They were good, as per the genre's they displayed, but this place is rather tiny, so it became a little overwhelmingly loud.

Overall, I highly recommend The Pig, good food good beer, what more do you really want?
Apr 22, 2009

Reviewed by rousee from Massachusetts
4
/5
rDev
+4.4%
vibe: 4 | quality: 4 | service: 4 | selection: 4 | food: 4
Clearly this is the best beer bar in Provincetown and it may be the only true beer bar in P-town.

Located on Commercial street just a few blocks from where the boats come in --it is pretty close to the center of the action.

There really isnt anything too special about the decor here. Its a red wood building that could easily have been someone's house at some point.

You walk in and there is a wooden bar off to the left that seats maybe 15 - 20 people. They have some TVs--I believe 2 at the bar and then a large screen that runs along the back wall and they usually have some sporting event on when I have visited.

The beer selection is good and unforunately, I dont remember too many particualr ones --I usually just get Stoudt's APA in the bottle. I know they have Victory and DFH on tap and some other decent craft beers but Id say the strength in their selection is with their bottled offerings rather than the draft. They have about 20 different ones and I dont think they even carry the major macros here which is good.

The service is always pretty prompt and the prices are reasonable. I absolutely love the fish and chips here. Its as fresh as can be as Ive even seen the fish guy show up in his boat in the back and the owner go out to talk to him. So its not coming from a truck--its coming right off the boat. They also have some good french fries which are fried twice (I think) to give them a little more crispiness and a little more character.

I always hit this place when I'm in Provincetown. Its a friendly somewhat irish pub that has a pretty nice selection of craft beers and very decent food at reasonable prices. The staff is always friendly also.
Jul 29, 2008
The Squealing Pig in Provincetown, MA
Place rating:
3.83
out of
5
with
12
ratings