Gold Miner
| Freeminer Brewery Ltd.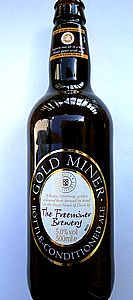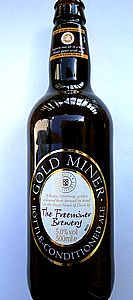 BEER INFO
Brewed by:
Freeminer Brewery Ltd.
England
,
United Kingdom
lineone.net
Style:
Extra Special / Strong Bitter (ESB)
Alcohol by volume (ABV):
5.00%
Availability:
Year-round
Notes / Commercial Description:
No notes at this time.
Added by BeerAdvocate on 10-16-2003
HISTOGRAM
Ratings: 14 | Reviews: 12
Reviews by crwills:
3.38
/5
rDev
-5.8%
look: 3.5 | smell: 3 | taste: 3.5 | feel: 3.5 | overall: 3.5
500 mL bottle purchased in Edinburgh and brought back to Canada. Poured a mildy cloudy deep orange into a pint glass. Good sized foamy head. Light aroma of sweet malt and some spicy hops. Taste is very hoppy, approaching an IPA, but not in the American way - more sour orange and dry, tangy spices. Decent mouthfeel. Some off flavours become apparent as it warms up - definitely one to drink cooler.
399 characters
More User Reviews:
3.67
/5
rDev
+2.2%
look: 3.75 | smell: 3.5 | taste: 3.75 | feel: 3.5 | overall: 3.75
Bottle conditioned 500ml: BBD end of Jul 2013. Poured into an Abbot Ale glass tankard on 7 Jun 2013. Co-Op badged as Gold Miner.
Good looking, gold and bright body with a full, deep head of white foaming bubbles.
The nose is subtle: biscuity malts and nuts mostly.
Malts to the fore in the taste as well: however, a crisp hop bitterness is also very evident in the flavour, it also gives the beer a dry finish. More complex than I thought it would be and interesting as well.
Lively and well carbonated: a very pleasant surprise to be honest.
546 characters
3.63
/5
rDev
+1.1%
look: 4 | smell: 3.5 | taste: 3.5 | feel: 3.5 | overall: 4
A copper colored beer with quite a lot of carbonation and a thin head.
Smell of malt with wood and smoke, with a fruity yeast smell that reminds me of ripe red apples. Somewhere hidden is a hoppy smell.
Taste is pretty bitter. The malt is smokey and leaves a light body. There are some higher alcohols, but the yeast does not leave very much taste. Hops are not as aromatic or raw as I expected from the First Gold hop. Drinkability is excellent.
449 characters

3.77
/5
rDev
+5%
look: 3 | smell: 3.5 | taste: 4 | feel: 3.5 | overall: 4
Nice!
A bottle conditioned ESB in the Co-Op meaning that at last the pub deprived man is never far from real ale.
And not too bad a pint either
pouring a burnished gold drink with little head that goes quicker than a fast thing in a fast plane lol.
Low carbonation means that swirling the glass will not summon a returning head but gives it a beer festival feel alongside the hoppy scents and biscuit malts and a citrus afterburner.
Good honest real bitter with a right hook of 5%
Good, very good even but not quite great.
527 characters
3.61
/5
rDev
+0.6%
look: 3.5 | smell: 3 | taste: 4 | feel: 3.75 | overall: 3.5
bb date 310114 Bottle gushed on opening after rough transport. ap: light gold, clear, well carbonated, rapidly subsiding head. sm: faint citrus. ta: oranges, medium sweetness and bitterness. mo: medium body. ov: pleasant strong bitter with orangey taste.
254 characters
3.84
/5
rDev
+7%
look: 3 | smell: 4 | taste: 4 | feel: 4 | overall: 3.5
Appearance: gold, good clarity, thinnish layer of froth
Aroma: lusciously fruity hops with peach, tangerince and passion-fruit in the mix
Flavor: dryish malt backbone with an up-front leafy bitterness kicking in; hint of soap, graiin, and orange peel; finishes dry with a lingering raspy bitterness
Mouthfeel: medium body, fine carbonation, crisp
Other comments: A good, solid pale ale. The crisp hoppiness makes this a good aperitif!
446 characters
3.85
/5
rDev
+7.2%
look: 4 | smell: 4 | taste: 4 | feel: 3.5 | overall: 3.5
Appearance - Amber to light brown, with a active and persistant head from the bottle conditioning. Only a slight swirl was required to completely restore a full head.
Aroma - Fresh citrus and piny hops.
Taste - Malty with overtones of citrus hops. A hint of orange at times, and a bitter finish.
Mouthfeel - Medium to light with an acid feel due to the substantial carbonation of bottle conditioning.
Drinkability - Good, tasty golden ale. The bottle conditioning really brings the beer to life.
499 characters
4.17
/5
rDev
+16.2%
look: 3.5 | smell: 4 | taste: 4.5 | feel: 4 | overall: 4
pale translucent with nice carbonation and big fluffy head
yeasty nutty aromas dominate the nose
starts off in typical bitter fashion with a smooth bready malt backbone, it also has the typical dry hop flavor of a bitter except a little more of it the interesting part is all of the interesting yeastiness. Very balanced and very flavorful
snappy carbonation, medium body and a nice clean extra (for a bitter) astringent hoppy finish
very nice beer! It's full of so much flavor, yet it's refreshing as well. It's just really flavorful beer without being extreme in anyway.
576 characters

3.85
/5
rDev
+7.2%
look: 3.5 | smell: 3.5 | taste: 4 | feel: 4 | overall: 4
I picked this up from the local Co-op supermarket, but having tasted their beer made by the Caledonian Brewery I wasn't expecting much. I am glad to say I was proved wrong.
The beer poured a light amber colour into a straight glass and developed a nice white(ish) head, with some surprisingly decent retention for a bottled beer. The nose was pretty non descript, mainly hoppy fragrences with a slight hint of bitterness from a different source (citrus fruits perhaps). However one thing I noticed was that this aroma could be summed up in one word: clean. This pint smelled like a very clean refreshing drink before even tasting it.
The beer's taste, similar to it's fragrence, was dominated by hops. A very refreshing pint swirlled around the mouth and then went down easily leaving a very pleasant bitter aftertaste of citrus fruits. This was very unexpected from a beer that was 5%, but this was incredibly easy to drink.
I would definately get this again, but at 5% I don't think I could spend a whole night on it.
1,029 characters

2.96
/5
rDev
-17.5%
look: 3.5 | smell: 2.5 | taste: 3 | feel: 3.5 | overall: 3
This beer is in a different bottle and branded by the co-operative although I bought this in Sainsburys.
This poured a golden orange with a white head.
Doesn't really have much smell a little malts.
Tastes a little sweet, some malts, a little bit bitter.
Feels slightly carbonated medium/heavy bodied quite thick.
Overall quite an average and boring beer. Won't buy again.
377 characters
2.4
/5
rDev
-33.1%
look: 3 | smell: 3 | taste: 2 | feel: 2 | overall: 2.5
Thanks to Robbeer bringing this beer all the way to Japan.
A - Flakey black floaties fall through a beautiful transparent amber body. The purest white head. This would have ben a 5 appearance for the beauty of the amber head but for the frightening flakes.
S - Herbacious.
T - Flat baguette, bitter finish, orange peels.
M - LIght body, fine carbonation.
D - This was quite the boring beer.
397 characters
4.35
/5
rDev
+21.2%
look: 4 | smell: 4 | taste: 4.5 | feel: 4.5 | overall: 4.5
Revisiting this beer, BB 03/09/06. Served cool in a goblet.
The same colour, less frothy head than the last bottle, but nice lacing remains. The nose is deeply, tangerine-fruity and zesty-tangy, going hand in hand with a bed of biscuity maltiness. Refreshingly semi-sweet and in the back a faintly sulphury+woody+floral and sour-sweet note sustains, a bit like a farmhouse cider~~ On the palate, the enjoyment is the same as every bottle I've tasted in the past--zesty, fruity esters and lots of semi-sharp yeasty, woody, even raw-mushroomy flavour lingers on the palate on top of a quieter, biscuitty-nutty maltiness, slowly settling and leaving a flow of pretty dry, bitter elements deep down the throat. The lingering bitterness with a slightly tannic edge on top of a refreshingly zesty fruity overtone, makes this beer incredibly drinkable, while the nicely-balanced body shows the craftsmanship of this exciting micro-brewery on the borders of Wales and England. This one remains the best British beer one could find constantly available at a Co-op store!
(07/27/05 review: 4.5, 4, 4, 4.5, 4.5 => 4.2)
Got this bottle from the Coop supermarket chain at 1.69pounds. The best before date is 30/12/05.
A: in a big tulip-shaped wine glass it pours slightly hazy, dark orange golden to amber colour with an effervescent white beer head so rocky and foamy that sustains very well, with nice lacing as well.
S: a spicy aroma of dried tangerine-peel and settled floral and refreshingly orange hops run deeply into the nose, plus yesty, mushroomy aroma against the backdrop of a quiet, nutty note.Not overly complex but with good depth and structure.
T: quite fizzy at first, seconds later a mushroomy, woody hop flavour gradually prevails... more dryish grapefruit-zesty hops follow and an intense, almost earthy kind of bitterness lingers extremely well in the long finish. The mouthfeel is generally smooth but remains dryish throughout and crisply clean towards the end.
D: medium-bodied and almost full-flavoured--if only the overall flavour was a bit more pronounced this would be a sensational and tasty pale ale. Very good bottle-conditioned beer produced for Co-op! (though it's a pity that very few people buy this beer as far as I have observed...)
2,270 characters
Gold Miner from Freeminer Brewery Ltd.
Beer rating:
3.59
out of
5
with
14
ratings