Bière Du Corsaire Cuvée Spéciale
| Brouwerij Huyghe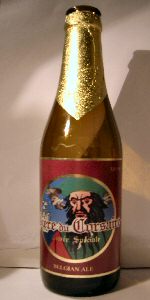 BEER INFO
Brewed by:
Brouwerij Huyghe
Belgium
delirium.be
Style:
Belgian Strong Pale Ale
Alcohol by volume (ABV):
9.40%
Availability:
Year-round
Notes / Commercial Description:
No notes at this time.
Added by rastaman on 06-04-2003
Ratings: 10 | Reviews: 9
Reviews by Rumrunner:
2.89
/5
rDev
+0.7%
look: 2 | smell: 3 | taste: 3 | feel: 2.5 | overall: 3
11.18 FL.oz. bottle poured in to a tulip glass. Bottle looks ceramic but is really a brown bottle colored red. A psychotic pirtate with flaming red eyes and smoke billowing from his ears adorns the sticker on the bottle and is certainly an eye catcher in the cooler at the store.
The appearance is gaudy. A burnt gold with a small white head. Tons of floaties, sinkies and yeasties fill the glass with the beer. There is so much sediment that the bottom of my glass was covered and I thought I was going to need a spoon to consume it. Some of the sediment floats up with the carbonation. This makes for a very rough appearance as every time the glass is lifted it stirs up the sediment.
This one is very tart on the nose. Sharp fruits and a white wine bouquet fill the nostrils. In the background there are various musty malty notes. Some alcohol sneaks through as well.
Flavors are very vinous. Heavy on the white wine grape. Even a kiwi flavor makes itself present. Very tart and sour. Some grassy flavors are in the background which try to smooth out the sourness but are then turned away when the alcohol interupts the flavors. The flavors don't mix well, instead they meander around and show up inexplicably. The flavors are not bad they just surprise the palate. A very grainy aftertaste at the finish.
The mouthfeel is a bit gummy. It really sticks to the roof of your mouth. Medium carbonation gives a lingering bubbly feeling. It drinks on the smooth side barely. Not harsh but not truly smooth either.
If you like sour ales, with a white wine quality then I would recommend trying it. If sour and tart ales are not your thing then stay away. This is a rough around the edges beer from appearance to drinkability.
1,740 characters
More User Reviews:
1.79
/5
rDev
-37.6%
look: 3 | smell: 1.5 | taste: 2 | feel: 1.5 | overall: 1.5
Sweet yeasty aroma, quite potent, but only due to the fact that the alcohol shows through. Sweet palate, bitter finish, but there was something in here that totally didn't agree with me. I don't really think i'm a big fan of the Huyghe Brewery either, they seem to keep pumping out either overly sweet brews, or brews where the alcohol shows too much, this is no exception, no elegance.
386 characters
3.31
/5
rDev
+15.3%
look: 4.5 | smell: 3.5 | taste: 3.5 | feel: 3 | overall: 2.5
Almost transparent pale gold with however many deposits in suspension. Nice foam. The nose is both alcohol and fruit (apricot and fisheries). Fairly full-bodied palate, little aftertaste of berries and card stock. Lingering aftertaste but with a little micro-key acidity barely perceptible. But certainly warm enough with a notable lack of flavor.
347 characters
3.37
/5
rDev
+17.4%
look: 2.5 | smell: 3 | taste: 3.5 | feel: 3 | overall: 4
I think there is some mistake if this beer is the 'normal' Biere de Corsaire or the Cuvee Speciale. I think this is the same beer.
Appearance is orange with lots of big chunks of yeast and a little head.
Smell is fruity with some tart notes and a sweet maltiness.
Taste is sweet and fruity with liquorice, woody and straw notes. There is some apricot and honey in there too. Body is medium and just a tad too thick for the beer. The yeast generates some pretty nice flavors. Drinkability is good.
505 characters
1.95
/5
rDev
-32.1%
look: 2.5 | smell: 2.5 | taste: 2 | feel: 2 | overall: 1
Best before jul 05. Poors in with hardly any head and has a far from clear golden beercolor. Nose is upleasantly alcoholic and old oxidised maltnotes. Taste is even more alcoholic and feels like snaps in your throth further sweet and heavy bitter. Very unbalanced and a attack to all tasting pupils and your estomic!
316 characters
2.13
/5
rDev
-25.8%
look: 3 | smell: 2.5 | taste: 2 | feel: 2.5 | overall: 1.5
11.2 oz red painted bottle with a foiled and capped top. Poured into a mini tulip it forms a rather fizzy head that falls to a solid finger of loose white head. Yeast chunks here and there inside a yellow highly carbonated body.
First drink and I was thinking this has a pretty intense alcohol bite amidst a kind of oily bodied pale. Metallic as a mutha towards the finish. Some musky fruits enter the picture. Sweet and slightly cloying. I can pick up a slightly breaded malt bill but thats being generous. Sweet, alcohol, metallic.
Notes: Not for me. I'm surprised that this came out of such a fine breweries front door. I'd like to try this again, closer to the source, and on tap. For now the version thats reaching me is no good.
741 characters
3.44
/5
rDev
+19.9%
look: 2.5 | smell: 3.5 | taste: 3.5 | feel: 3.5 | overall: 3.5
Golden color, initially a bit hazy but with lots of floating yeast at the last pour. It made a two finger head with low retention.
Very nice aroma of burn sugar cane and wood aged rom.
Similarly flavor with some complexity to it, besides sugar cane and rom, some dry fruits. Ripped pineapple all over the place. A sweet and bit spicy and condimented. Hints of citrus (mix of oranges and lime). Given its sweetness, drinkability is not that high. Aftertaste is a bit dry, but not bitter and with notes of white wine.
Medium body with good carbonation.
It was actually a good surprise, I was expecting a bad beer with strong alcohol taste. You sure can feel the alcohol but it fit perfect to it. I guess their trick is to do the most horrible label possible and fill it with good beer. Weir given what I read they just make it for exports, the marketing guy is from the family.
876 characters
2.88
/5
rDev
+0.3%
look: 3 | smell: 2.5 | taste: 3 | feel: 3 | overall: 3
This beer is still made!
I am an American who has lived in Belgium 20 years.
Yesterday, June 7, 2011, I saw Biere du Corsaire, Cuvee Speciale for the first time in 20 years in a grocery store. I bought two bottles, each $1.80 USD. A few things have changed:
The beer is now a blonde, light yellow color, and has almost no odor at all. Carbonation was evident, but soon stopped.
No sediment at all in the bottle, these days.
The label does not say 'Belgian Ale'.
The taste was similar to most ''generic triple Belgian private label grocery store beers'', which cost $1.10 . You can taste that it is a triple, 9+ % , but it will never be your favorite. I would never call it a ''pale ale''. The label mentions triple fermentation.
I am not ''slamming this beer'', but I would like to point out that the Huyghe Brewery, Melle, brews MANY beers for export ONLY; they are never sold in Belgium; it's all about the colorful label and the word ''Belgium''.
I have visited the brewery twice.
985 characters
3.46
/5
rDev
+20.6%
look: 2.5 | smell: 4 | taste: 3.5 | feel: 3.5 | overall: 3
Appearance: Golden straw yellow with a dense feild of globby floaters despite a careful pour. Tall, audible white head with good retention and a texture of whipped egg whites.
Smell: Intensely fruity: loads of pineapple, passion fruit, melon, mango, and sour cherries. Funky, musty yeast with an almost gueuze-like tartness. Subdued floral hops. Honey.
Taste: Not bad, very reminiscent of white wine, light and surprisingly mild. Lots of bitter-tangy citrus, a mix of lemon, lime, and oroblanco. Alcohol pokes through for a slightly medicinal heat. Yeast is funky and musty. Finish leaves a lingering boozy alcohol bittersweetness.
Mouthfeel: Beefy from the sediment, and oddly cooling. Chewable and sticky.
Drinkability: Certainly not the best example of the style - the flavor is a tad simplistic, it's not spicy enough, and the alcohol is poorly developed - but not bad. Possibly a good substitute for white wine in food pairings.
945 characters
Bière Du Corsaire Cuvée Spéciale from Brouwerij Huyghe
2.87
out of
5
based on
10
ratings.