Floris Kriek
| Brouwerij Huyghe
BA SCORE
77
okay
14
Reviews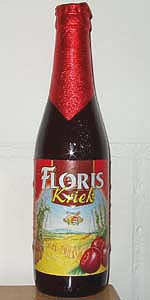 BEER INFO
Brewed by:
Brouwerij Huyghe
Belgium
delirium.be
Style:
Fruit / Vegetable Beer
Alcohol by volume (ABV):
3.50%
Availability:
Year-round
Notes / Commercial Description:
No notes at this time.
Added by Cwrw on 03-25-2006
Reviews: 14 | Ratings: 39

2.29
/5
rDev
-26.1%
look: 3.5 | smell: 2 | taste: 2 | feel: 3 | overall: 2.5
Format: a light brown 330mL bottle with a pretty tacky label.
Appearance: pours out a really lovely and vibrant cherry red colour (funnily enough), not much head to speak of - just a thin cap floating on top.
Aroma: a very strong aroma of artificial cherry - smells of a really nasty saccharin medicine. Not nice.
Taste: once again plenty of saccharin cherry in medicine form. Apparently Krieks are really not my type of beer.
Aftertaste: becomes slightly bitter on the finish, but still the cherry lingers for quite some time.
Mouth feel: medium in body with a moderate amount of fine carbonation.
Overall: between this beer and Timmermans Kriek Lambicus, I think it's pretty safe to say that Kriek is not my preferred style of beer. They both taste and smell like saccharin, medicinal cherry. Nasty. Particularly for over AU$110 for a case of 24 x 330mL. No thanks.
874 characters

3.13
/5
rDev
+1%
look: 4 | smell: 3.5 | taste: 3 | feel: 3 | overall: 2.75
330ml bottle poured into a Delirium Tremens Chalice
Look: DEEP cherry red - pinkish head which sticks around for a little while.
Smell: Cherries (duh!) with a slightly medicinal tang to it - perhaps comparisons to cough syrup are a bit wide of the mark, but there's definitely a bit of a whiff of antiseptic there.
Taste: I'll be straight - I love cherry beers but my palate tends to prefer the 'sour' end of the spectrum rather than the sickly-sweet 'artificial' cherry flavours. This sits somewhere in between, veering towards the sweet end of the scale. Which is a pity.
Feel: Bit of a lightweight, to be honest - not really helped by the sweetness, which can be a bit overbearing in large quantities.
Overall: Disappointing - give me a properly 'sour' kriek and I'm as happy as you like; this sits uncomfortably between sour and 'artificially sweet'.
859 characters

2.84
/5
rDev
-8.4%
look: 4 | smell: 2.5 | taste: 3 | feel: 3 | overall: 2.5
Floris Kriek is a brew I've been eyeing off for a while, and since I haven't officially reviewed a kriek beer yet, though I have tried many, I thought it appropriate to review one now. Cherry beers to me have two different slants, the first (and best) of which is sour cherry, and the second being sickly sweet like cough drops. I'm hoping for the sour cherry type but with this being Brouwerij Huyghe, a hit and miss brewer, I'm expecting cough drops.
Poured from a 330ml bottle into a St Feuillien chalice.
A: A perfect cherry red hazy body with a head that was pink before reducing to a thin ring around the edge of the glass.
S: And we have cough drops! Very full on the nose too. It feels like my olfactory senses are being assaulted violently with lashings of cough syrup. This is going to be a cherry-flavoured sugar bomb. Disappointing as it did look promising.
T: The flavour is as expected above with that cherry cough syrup taste. However there is a glimmer of hope with a touch of astringency thrown in to the mix, making it at least semi-dimensional. Though there is clearly too much sugar, this brew could benefit from a longer fermentation which would both bring up the ABV from 3.7% and decrease the saccharine levels.
M: Mid to light bodied with a dense but light carbonation.
D: This really is overbearingly sweet for something that is a mid-strength. If it was 5-6% ABV maybe I could let it off the hook but at this level it is completely overwrought and not really enjoyable for a drink. It also cloys a bit after drinking several sips and leaves that cough syrup after-taste that fills one with dreaded reminisce for a childhood memory of being forced to take cold and flu medicine.
Food match: Stick to desserts, specifically cherry pie with a side of cream.
1,787 characters

2.92
/5
rDev
-5.8%
look: 3 | smell: 3.5 | taste: 2.5 | feel: 3 | overall: 3
A - A small pink foamy head caps a dark red body. No lace.
S - Dark cherries caked in sugar. Extremely sweet.
T - Sweet cherry. A bit lacking in sourness and tartness. Quite artificial tasting.
M - High carbonation. Thin body.
O - One dimensional and soft drink like. Too sweet. Im off to brush my teeth now.
312 characters

4.13
/5
rDev
+33.2%
look: 4.5 | smell: 4 | taste: 4 | feel: 4 | overall: 4.5
330ml bottle poured into a 16oz wine glass.
A - About a finger of bright, pink-white head. Deep pinkish burgundy hue, almost totally opaque. Head dissipates, but leaves tons of lacing.
S - Really really really sweet. Tons of cherries. A slight bit of sourness, but this is really good.
T - Gobs of sweet cherries. A little tart, and fairly unbalanced. However, what else would one expect out of a beer like this? A slight bit of sourness pops up, but this is almost completely cherry sweetness. A little cloying and artificial, but I still like this.
M - Crisp carbonation, with a light but enjoyable weight in the body.
D - Delicious and easy to drink. Really enjoyed this one.
683 characters
3.38
/5
rDev
+9%
look: 3.5 | smell: 3 | taste: 3.5 | feel: 3.5 | overall: 3.5
We pour a brew the deep color of dark cherries. The head produced stands one and a half fingers high, and is a shade darker than cotton candy. It retains moderately well, leaving patchy lacing around the glass. There is decent clarity to the beer, but a definite haze exists. Otherwise the view is obstructed by the army of bubbles that stick to the inside of the glass, and the highly active carbonation. The aroma is bright with the tartest whiffs of cherry. They seem less synthetic than many other beers of this style, but they soon give way to the palest of malts and a thick coiny metallic twinge. To cut this there is a fruity, cherry sweetness that, again, speaks rather authentically. The taste begins with overt sweetness, of white sugar and candied cherries. As with most of these "cheaper" lambics/fruit beers this sweetness can mimic a tart candy, but here they do a relatively good job of keeping it smooth. The middle becomes a bit more serious, with the first hints of malt flavoring, with a deeper black cherry and cranberry flavoring seeping forth. The finish is even smoother, with a reassertion of the big sweetness and berry flavors, with a final tab of metals to wash everything down. The aftertaste breathes with pale malt and stale cherry pits. The body is light to medium, and the carbonation is medium. The feel is thin, and slightly watery, but the residual sugars give a thickness to it, weighing it down a bit. It puckers the mouth, and makes you want to suck the liquid around, as if it were a tart lollipop or ice pop. The mouth is otherwise happy, and left cooled. The abv is appropriate and the beer drinks as easily as any sweeter juice would.
Overall, what we enjoyed most about this brew was how authentic some of the flavoring was. It is quite easy to make one of these into a tart sugar bomb reminiscent of a sour, chalky candy, but here the cherry aroma and flavoring seemed to stem from somewhere at least partially genuine. This made for a more enjoyable beer, but by the end the sweetness becomes a bit much, making it hard to want to drink more than one glass of this.
2,116 characters

3.35
/5
rDev
+8.1%
look: 3.5 | smell: 3.5 | taste: 3 | feel: 4 | overall: 3.5
330ml bottle into Brainblasta goblet in the Porterhouse Dublin. Reviewed from notes.
A: Three finger pink head of nice thickness. Hazy dark red colour, sort of an off-amber if you fancy.
Sm: Cherry, cherry, cherry.
T: Cherry body - almost too syrupy. More concentrated at the climax. Clean finish. Well built for the style, but simple.
Mf: Smooth and wet, suiting the style and flavour, which is meant to be light and refreshing. At this, it succeeds.
Dr: Moderately low ABV, but very drinkable. Too pricey in Ireland at five quid per 330, but certainly worth a go if you can find it at a reasonable price.
616 characters
3.5
/5
rDev
+12.9%
look: 3.5 | smell: 3.5 | taste: 3.5 | feel: 3.5 | overall: 3.5
330 ml bottle. Best before March 2012.
A slightly hazy bright ruby with a one finger pink head which soon diminished to a ring.
Sweet. Ripe dark cherry smells. Dark cherry taste. Very little beer taste. The merest fraction of a tart finish.
Very light body. More of a fruit drink than a beer. Drinkability is good. Light refreshing and fruity.
346 characters
2.83
/5
rDev
-8.7%
look: 3 | smell: 2.5 | taste: 3 | feel: 2.5 | overall: 3
Appearance (3): Dark red with very light head.
Smell (2.5): Very very very sweet cherry smell, might be disturbing.
Taste (3): Cherry taste, sweeeet.
Mouthfee (2.5): The after-taste isn't so great, the taste of cherry vanishes after few second and the sweetness is all that rest.
Drinkability (3): I had a feeling that if I get a second one I will get a diabetic attack.
374 characters
2.18
/5
rDev
-29.7%
look: 2.5 | smell: 2 | taste: 2.5 | feel: 1.5 | overall: 2
The famous Floris Kriek not in any way approximates the sizes in the field of beer with cherries. Nose very sweet syrup artificial cherry, mouth of the same ilk and finish virtually nonexistent, except for sugar feeling strolling aggressively in our mouths. Extremely disappointed with this range of beer Floris which only offers products tailored marketing to youngsters.
Not a fruity Lambic but a fruity Witbier.
415 characters
3.3
/5
rDev
+6.5%
look: 3.5 | smell: 3.5 | taste: 3 | feel: 3.5 | overall: 3.5
330ml bottle at the Sugar Bowl. My gf and I couldn't decide on whether to have another beer and/or dessert, so we agreed on this compromise.
This beer pours a medium pinkish-red fruit juice colour, with two fingers of pale pink head, which leaves some broadly layered drooping cloud pattern lace around the glass as things quickly sink away.
It smells very much like cherry chewing gum, or cherry cough syrup, or cherry Halls, if you count the faint acridity, a touch of bready yeast, and some sugary pale malt. The taste is sweet, liquified cherry candy, sour cherry juice, a suggestion of sweet red wine, and some plainly innocuous pale grainy malt.
The carbonation is quite even, and goes a long way in convincing me that this isn't just spoiled cherry juice, the body medium weight, and rather fleshy in that certain fruity manner, the smoothness rolling just the same. It finishes well, well off-dry, with, yup, more multi-channeled cherry.
As far as cherry fruit beers go, this one is most definitely on the far sweet side, but the native fruit doesn't quite allow it to go completely off the reservation in terms of its cloying factor - it maintains a shred of respect there. So, yes, there's a basic balance here, though you would have to enjoy cherry in its various natural/processed/sweetened states to appreciate it, but this still worked nicely as a low-alcohol dessert alternative.
1,399 characters
3.01
/5
rDev
-2.9%
look: 3.5 | smell: 2.5 | taste: 3 | feel: 4 | overall: 3
This pours a dark pink colour with a pink tinged head.
Very sweet cherry aroma. There is something artificial about the smell though. There is something about it that reminds me of an old woman's smell.
The taste is again a touch artificial. Sweet soda like.
High carbonation gives it a big mouthfeel.
This was much more like a soft drink than a beer. Not really impressed.
377 characters

3.08
/5
rDev
-0.6%
look: 3.5 | smell: 3 | taste: 3 | feel: 3.5 | overall: 3
From a 330ml brown bottle, red foil around the cap and neck, best before date marked on the back of the label, deciphered to July of 2007. A yellow field of wheat on the label, with hop vines growing a bit closer up to the viewers front, with wooden barrels and ripe fresh cherries in the forefront.
Pours out a hazy garnet hue, a quick fizzy splash of pink head that recedes quickly. Webs of sticky pink lacing. The aroma at first is a delightful splash of fresh cherry juice, but then turns to cherry pop, and unfortunately to cherry cough syrup, a sharp medicinal quality to it. There was a time when I would have really enjoyed this stuff, but now I find the flavour far too sweet and candy-like, the flavour starts out akin to cherry cough drops, and then finishes with a sweet cherry pop taste, carbonation and all. The flavour and texture is also sticky sweet, and the aftertaste becomes almost cloying. I'm going to have to sip this whole thing down in increments. Not that it's a bad beer, simply just far too much of a good thing in a small package and my sweet tooth is in hibernation. Would make a good dessert beer though in small doses.
1,153 characters

3.25
/5
rDev
+4.8%
look: 3 | smell: 3 | taste: 3.5 | feel: 3.5 | overall: 3
Found this Floris Kriek at CSN Liquor Store in Calgary. A lambic rip-off I think. Red-wrapped cap and neck like Fruli. 330ml bottle. 3.6% listed on the label. This poured a very dark ruby-red colour, with a red-tinged head that went away mighty quickly. Very hazy and left rings of lacing around the glass. Smells like cherry pop with some odd wood notes. Sweet and a little syrupy smelling. Absolutely no complexity. The taste is actually better than the aroma. We get some extremely sweet syrupy cherry on the middle, as well as some of that wood-like taste. Not complex, but I love a sweet beer. This is a bit too sweet and uncomplex for my tastes though. Highly carbonated, and medium bodied. The finish is all candy-sweetness. Drinkable, but not overmuch. About what I expected. My expectations were low.
809 characters
Floris Kriek from Brouwerij Huyghe
3.1
out of
5
based on
39
ratings.