Glutaner Sorghum-Based Premium Pilsener
| Brouwerij Huyghe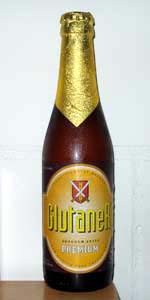 BEER INFO
Brewed by:
Brouwerij Huyghe
Belgium
delirium.be
Style:
Euro Pale Lager
Alcohol by volume (ABV):
4.70%
Availability:
Year-round
Notes / Commercial Description:
No notes at this time.
Added by Sigmund on 01-01-2007
Ratings: 6 | Reviews: 6
Reviews by DoktorZee:
1.68
/5
rDev
-14.7%
look: 2.5 | smell: 2 | taste: 1.5 | feel: 1.5 | overall: 1.5
From a bottle, best before date Feb 2011. Poured into a 3/4 pint glass.
A - Light amber/copper, mild carbonation. Light head with no lacing. Disappears quickly.
S - Slightly musty with a bit of a metallic touch. Not very inviting.
T - Very light, slightly sour without any appreciable hops or malt. Hints of apple, almost like a cider.
M - Light carbonation, slightly sour aftertaste. Very dry.
D - Should be drinkable, but really isn't very satisfying. Little to no thirst-quenching power at all.
Definitely not going to have this again, unless I develop a gluten intolerance, and even then I'd rather not try it again.
626 characters
More User Reviews:
1.81
/5
rDev
-8.1%
look: 3 | smell: 2 | taste: 1.5 | feel: 2.5 | overall: 1.5
Farmer: I keep telling you, I just grow sorghum here.
Man: Uh huh. And where are the hookers?
Farmer: [gestures] 'Round back. [realizes] Whoops.
This beer pours a clear medium golden colour, with one finger of soapy off-white head, which settles very quickly, leaving a few specks of lace around the glass. It smells of an earthy, fruity sweetness, quite cider-like. The taste is sweet, spicy 'grain', tart and musty at the same time - never having had sorghum or teff before, it's hard to differentiate them. The carbonation is average, the body light, and fairly crisp. It finishes off-dry, that musty, sour, cider nature belying the claim that this is indeed 'beer'.
The only thing that this offering does for me is instill a sense of sympathy for the gluten-intolerant beer enthusiast.
791 characters
2.77
/5
rDev
+40.6%
look: 2.5 | smell: 3 | taste: 2.5 | feel: 3 | overall: 3
This beer is a gluten-free beer
Appearance wasn't very beer-like. A very clear and very light golden color which is just too bright to look like beer. There was no head and carbonation was at a normal pilsener level.
Smell is grainy and somewhat oily, it reminds me of a rye beer. There is a herbal and spicy smell which is probably due to the grains which make the beer smell pretty fresh and inviting.
Taste is cider-like with all of it's charactaristics, dry, slightly tart with apple notes and grape-like dryness. There is some oiliness of the grains. I find the body to be too light, even for a pilsener. Aftertaste is dry and stops after swallowing.
I was not very impressed with this beer, but I assume that when you have a gluten-free diet, it comes closest to a 'real' beer.
796 characters
2.06
/5
rDev
+4.6%
look: 3 | smell: 2 | taste: 2 | feel: 2 | overall: 2
330 ml brown bottle, courtesy of Cardinal pub, Stavanger. Also available in Norwegian grocery stores. ABV here is 4.7%. Probably my first beer ever brewed without any barley malt at all. They call this is a "Premium Pilsener", so you'll know what they're aiming at. But it's a poor "pilsener", and there's only one reason (but for those affected, a very good one) to drink this beer: if you suffer from coeliac disease and need to have a completely gluten-free diet. Pale golden colour, moderate white head, leaves a nice lacing. Weak grainy and slightly fruity aroma, with some of the "boiled" notes that you find in n/a beers and industrial pale lagers. Flavour is bland and boring, but the beer is not totally undrinkable, and has some very moderate hops in the finish.
776 characters

1.86
/5
rDev
-5.6%
look: 3 | smell: 2 | taste: 1.5 | feel: 2 | overall: 2
Pours a pale golden appearance, with a bit of head, but not much. Thin but very nice, clingy lacing. Clear body with a little bead. Not bad, but fairly weak apart from that lacing.
Fair hint of apple cider on the nose with an unpleasant sour, almost meaty character hidden at the back. Fairly sweet with not much hoppiness, also fairly weak.
Really quite dreadful flavour, has a sugar-dissolved-in-water front palate with a slight hint of green apple on the back. A bit acidic, and kind of grainy like PERUVIAN THING. Weak, for the most part. Bit sour on the back, but mostly watery. Mouthfeel is quite thin. Can't say I expected much from this, and I was right. Mind you, having tried the O'Briens Gluten Free beers I can safely say that this is definitely the best and most drinkable of this variety.
804 characters
1.62
/5
rDev
-17.8%
look: 1 | smell: 1.5 | taste: 1.5 | feel: 2 | overall: 2
Golden honey colour, very thin, with no head apart from a very thin ring around the edge. It looks flat. No carbonation, no lacing. Very uninspiring indeed, possibly one of the most unappealing looking beers I've ever laid eyes upon.
Yeast cider on the nose, hints of floury apple, a little zing of metal, but not much. Nothing really prominent, rather flat over all.
Such a weird character on the palate; slightly yeasty and floury, like bread dough. Also some odd sugar flavour, reminiscent of those candy teeth you used to get. It's weird. Doesn't taste like beer.
Mouthfeel surprisingly carbonated, especially given the flat look to it.
This is incredibly dry and just a little disturbing. It's not that hard to drink, but it's just so unusual, and not really beer-like at all, in any sort of style.
807 characters
Glutaner Sorghum-Based Premium Pilsener from Brouwerij Huyghe
1.97
out of
5
based on
6
ratings.