Floris Chocolat
| Brouwerij Huyghe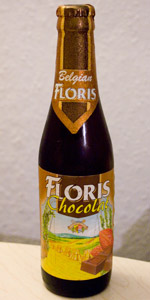 BEER INFO
Brewed by:
Brouwerij Huyghe
Belgium
delirium.be
Style:
Fruit / Vegetable Beer
Alcohol by volume (ABV):
4.20%
Availability:
Year-round
Notes / Commercial Description:
No notes at this time.
Added by sfprint on 02-10-2011
Reviews: 7 | Ratings: 31
2.33
/5
rDev 0%
look: 2.25 | smell: 2.25 | taste: 2.25 | feel: 2.5 | overall: 2.5
Hazy amber colour, poor head with no retention. Artificial aroma, with chocolate essence and darkj fruits. Thin palate, light body. Taste of chocolate, dark fruits and cider. Easy drinking, but nothing really special.
217 characters

2.76
/5
rDev
+18.5%
look: 2.25 | smell: 3 | taste: 2.5 | feel: 3 | overall: 3
Oh, come on guys. It's not all that bad.
For the guy who says this is worse than Budweiser or Heineken or Stella, you're full of it, or maybe you actually like that kind of beer.
I've never tried another chocolate lambic before, but this beer is to a chocolate stout as a tootsie roll is to a Ferrerro Rocher.
And sometimes I feel like chewing a tootsie roll.
In fact, one reviewer said its "tootsie roll-like". I'd disagree. The flavor is 90% identical to a tootsie roll. And tootsie rolls taste like beery synthetic chocolate. It's a totally different flavor than Nesquick chocolate, which is to me what Rogue Double Chocolate tastes like, with a double helping of sugar (yuck).
With a light mouthfeel, this is a beer I actually enjoy on occasion. Still prefer it over almost all fruit lambics beside Lindeman's Kriek.
Thing is, lambics just aren't very good beers in general.
884 characters

1.03
/5
rDev
-55.8%
look: 1.5 | smell: 1 | taste: 1 | feel: 1 | overall: 1
33 cl bottle, poured into a snifter.
This beer is infamous among beer geeks for being the most disgusting brew on the Belgian market. And with all the sub-50 cent supermarket swill available, that's saying something. Upon ordering it, the bartender asked: "aha! Who's the brave soldier then?" I knew I was going to be in for one hell of a ride.
A: Not attractive at all. Muddled brown pour with an artificial fluffy E405 head. In many respects, this is reminiscant of raw sewage, if you were ever unlucky enough to have waded through that at some point.
S: Good... lord. I can barely describe the disgust that took hold of me as soon as I got the slightest whiff off this beer. The aroma is sickeningly sweet and buttery. A chemical concoction of what chocolate should probably taste like in the mind of a stark-raving mad scientist. Nesquick cocoa powder, yoghurt and raw sugar overpowering anything that could possibly be considered "beery" on the nose. Absolutely vile.
T: Sadly I can't go into much further detail about the taste. As it contains so many chemicals, there isn't much nuance to be found between the smell and actual taste. So yeah, it tastes like it smells. Sweet upon sweet with an added touch of sweetness. I couldn't even recognize the malts, hops or anything vaguely beer-related in here.
M: I mentioned the buttery character in the nose and this manifests itself in the mouthfeel in a huge way. It somehow manages to feel both incredibly oily and thin. Kinda like the scum on soup, only without the beautiful flavors you usually get from home-made chicken soup. The texture of oil slick along with thin wateriness and low carbonation sent out signals to my body to violently expell this liquid. Gag reflexes at the bar are just not cool.
O: Well, Floris Chocolat officially takes the cake as the worst beer I have ever had. I had multiple cheap swill lagers that managed to induce a minor gag reflex, but that are still quite drinkable when heavily chilled and very drunk. This, however, I officially qualify as undrinkable. Sickly sweetness, buttery acidity and an oily mouthfeel make this brew gross beyond all forms of comprehension. The bad memories of a teacher that used to "reward" us with chocolate sweets that had gone off for months suddenly crept back on me, despite me wishing I had surpressed those forever. In case I haven't made myself clear by now: yeah, I'd skip this if I were you.
2,428 characters
2.92
/5
rDev
+25.3%
look: 3 | smell: 3.5 | taste: 2.5 | feel: 3 | overall: 3
33cl bottle into Floris pilsner type class. Amber in color. Unique deep chocolate aroma. Unexpected, considering the color. This smell is usually coming from a stout. Taste is chocolate, but not chocolatey, per say. Weird having this flavor in a thin body, sweet, maybe too much so. Probably a perfect beer for someone that "doesn't like beer". Otherwise...not so good.
369 characters
1.19
/5
rDev
-48.9%
look: 2.5 | smell: 1 | taste: 1 | feel: 1 | overall: 1.5
Saturated chocolate nose, mouth full of chocolate...
Not Belgian chocolate or quality chocolate but poor chocolate syrup (chocolate, of course if any) you put on cakes for birthdays of young children, which obviously gives the beer a taste disgusting fast or emetic.
Probably be in the running for adding the worst and most poorly negotiated in the history of beer. After a while, it might be that the brewery to realize that with all these additions nonsensical, it is clearly in the wall.
493 characters

3.72
/5
rDev
+59.7%
look: 3.5 | smell: 4 | taste: 4 | feel: 3.5 | overall: 3
330 ml brown bottle, best before date clipped in back label.
Pours a caramel tan color, thin but long lasting whitish head. Thin, sporadic sheets of lace.
The smell was the best thing about this one. A sweet and milk chocolate aroma, a very nice smell of amaretto liquer was also dominant. Chocolate flavor comes through nicely, grains and yeast are also present. This was suprisingly chocolaty, but not the thick rich flavor of a stout. This was more like a milk chocolate and more amaretto / hazelnut rounded out the taste. The mouthfeel and body were light and thin, but that matched the lighter flavors. Very interesting, lots of chocolate. I have introduced a few friends too this, and no one can beleive beer can have such different and unique characteristics.
A small glass for me is enough.
800 characters
1.4
/5
rDev
-39.9%
look: 2 | smell: 2 | taste: 1 | feel: 2 | overall: 1
Labeled "Fruitbeer based on wheatbeer"
A: Mild carbonation but otherwise soda like. Weak rootbeer color. Slightly reddish/orangy brown. Basically no head.
S: Tootsie roll like, except more artificial. It has a strange scratch and sniff sort of quality. Actually what it smells most like is Nestle quik powder in soda. Sweet.
T: Half of it is this chocolate soda flavor, the other half is a pretty bizarre, gross beer, reminding me of this red childrens cold medicine. Sweet and sour. Dump.
M: Soda like.
O: Horrible.
531 characters
Floris Chocolat from Brouwerij Huyghe
2.33
out of
5
based on
31
ratings.