La Malauze
| Microbrasserie Le Naufrageur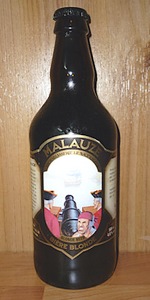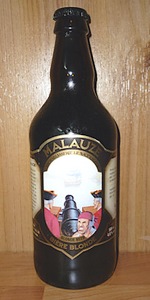 BEER INFO
Brewed by:
Microbrasserie Le Naufrageur
Quebec
,
Canada
lenaufrageur.com
Style:
American Blonde Ale
Alcohol by volume (ABV):
4.80%
Availability:
Rotating
Notes / Commercial Description:
No notes at this time.
Added by rodenbach99 on 02-16-2009
HISTOGRAM
Ratings: 14 | Reviews: 9
Reviews by Krakpoff:
More User Reviews:
3.1
/5
rDev
-9.1%
look: 3 | smell: 3 | taste: 3 | feel: 4 | overall: 3
Bottle from Gatineau Brou haha. Light golden colour, goodinitial head. Neutral aroma. An above average mouthfeel, fairly yeasty, no complex flavours. Ok drinkable at 18 IBU but nothing special as a beer even for a golden, not very drinkable.Carbonation suitable.
262 characters
3.71
/5
rDev
+8.8%
look: 4.5 | smell: 3.5 | taste: 3.5 | feel: 4 | overall: 4
First time I find bottled Le Naufrageur.
Nice looking label with some info. Bottled September13th 2010. Lot No. 192
A- Deep, clear gold. Lots of fluffy, airy, white head. Layer of head remains as I drink.
S- A mix of boiled greens, honey and a bit of citrus. Stinks and smells good at the same time.
T- Everything from the smell with honey being the strongest followed by equal parts boiled greens and citrus. Woody bitterness.
M- Close to high carbonation. Full, foamy mouthfeel. Dry finish.
D- I'd drink a few if I had them on hand. Clean drinking even with the slightly dirty veggie taste.
Good but I'm not sure I'd buy it again as long as I'm somewhere other quality stuff's available.
697 characters
3.23
/5
rDev
-5.3%
look: 4 | smell: 3.5 | taste: 3 | feel: 3.5 | overall: 3
On tap at Cafe des Artistes in Gaspe. Arrives in a frosty mug; I can't remember the last time I had beer served up in a frosty mug. I would have requested without but didn't know that's how it was going to be served. Definite nitro-tap appearance: cover of dense creamy, cream coloured head with the cascading nitrogen bubbles settling from the bottom up. Clear amber body. Looks like a cream ale.
Slight roast malt and light, earthy English hops on the nose. A bit of citrus and grain. The aroma could be intensified.
This one is a bit strange. The malt is a little too sweet and oddly sour, I can't quite figure it out. Weird minerals or something. The hops add a little bitterness but not much character. A bit empty and off-balance.
The feel is a bit thin, even in spite of the nitro tap format. Light carbonation.
I don't think I'd get this one again. Drinkable I suppose but nothing to seek out.
909 characters
3
/5
rDev
-12%
look: 3 | smell: 3 | taste: 3 | feel: 3 | overall: 3
Bottle: Poured a bright golden color ale with a medium size foamy head with light retention and minimal lacing. Aroma of light cereal notes with some sweet notes also noticeable. Taste is a mix of light sweet cereal notes with no clear hoppy notes detectable. Body is about average with OK carbonation. Standard golden ale lacking some character.
346 characters

3.53
/5
rDev
+3.5%
look: 3.5 | smell: 3 | taste: 3.5 | feel: 3 | overall: 4.5
Bottled on September 13th, 2010. Lot 192.
The beer color is copper (dark blonde). The head is creamy and sticks well to the glass. The aroma is floral with light notes of caramel. Taste shows bitterness of the beer, however it is faint. Nothing much, but doesn't expect much from a blonde beer. Woody in the mouth. Taste and smell are just above average. It is good for an ordinary beer, however not if you want to experience something out of this world! :)
Drinkability is high and I would say this is a good pale ale. Would drink more of this and would recommend this to someone who wants to move into the craft world. If you wish to get blown away by hops, this isn't for you. It is more inline with the english pale ale...
728 characters

3.45
/5
rDev
+1.2%
look: 3.5 | smell: 3.5 | taste: 3.5 | feel: 3 | overall: 3.5
500ml Bottle from Marche Omni QC for $4.29
Appearance - Clear yellow colour with a large size fizzy white coloured head. There is an average amount of carbonation and there is some fair lacing. The head lasted for 5 minutes.
Smell - Bread, grains/cereal, apples
Taste & Mouth - There is an above average amount of carbonation and I can taste bread/cereal mixed with a bit of lemon and some pear/apple juice. It ends with a grainy aftertaste with a touch of fruitiness.
Overall - I can see this working well as a decent session beer, but the price doesn't really allow that. Nothing here that would make me want to rush out and buy more but it was worth a try.
663 characters
2.99
/5
rDev
-12.3%
look: 3 | smell: 4 | taste: 2.5 | feel: 2.5 | overall: 3
Wasn't a big fan so I'll stick to the facts;
A - looks like you would expect a blond to be. It also had medium carbonation
S - slightly sweet and citrussy
T - bitter then expected after the initial smell. It does retain a bit of the sweetness and citrus flavors from the nose.
M - It felt as if i was missing something. the weight of the beer was off putting.
O - left me dumfounded. Wanted more from what my initial reaction to the beer. Since the color and nose had so much potential.
Cheers
496 characters

3.67
/5
rDev
+7.6%
look: 3.75 | smell: 3.5 | taste: 3.75 | feel: 3.5 | overall: 3.75
Pours pale straw with light head - not much aroma - flavour grainy, bready and honey - light / ucomplicated / refreshing
120 characters
3.75
/5
rDev
+10%
look: 3.75 | smell: 3.75 | taste: 3.75 | feel: 3.75 | overall: 3.75
3.08
/5
rDev
-9.7%
look: 3.5 | smell: 3 | taste: 2.75 | feel: 3.5 | overall: 3.5
3.19
/5
rDev
-6.5%
look: 2.5 | smell: 3.5 | taste: 3 | feel: 3 | overall: 3.5
brown growler of 1,82 litre.
A: nice golden colour, poor head retention.
S: nice malt aroma, some citrus
T: malty, some hops, good bitterness.
M: medium to full bodied beer
D: not bad for a blond ale
this is a good blond ale, canadian blond ale are not the best beer aroud and this one is a good exemple for the style.
329 characters

4.04
/5
rDev
+18.5%
look: 3 | smell: 4 | taste: 4.25 | feel: 4 | overall: 4
Clear amber color. Poor head and lacing...nothing special.
Balanced aromas and flavors of sweetness and sharpness. Strong but pleasant feeling of malty grains and herbal hops. Almost fruity and nutty.
A quite fresh, slick good body and lively carbonation. A short and faint finish, but well balanced in the mouth.
Overall, I really like the balance in this beer. Easy to drink with good flavors, well crafted and fresh.
422 characters
La Malauze from Microbrasserie Le Naufrageur
Beer rating:
3.41
out of
5
with
14
ratings