Pénélope Pils Tchèque
| Microbrasserie Le Naufrageur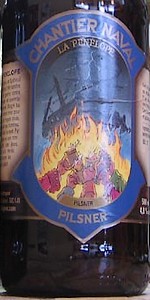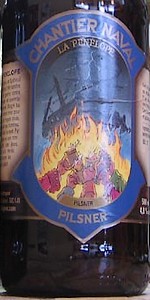 BEER INFO
Brewed by:
Microbrasserie Le Naufrageur
Quebec
,
Canada
lenaufrageur.com
Style:
Czech Pilsener
Alcohol by volume (ABV):
4.80%
Availability:
Rotating
Notes / Commercial Description:
No notes at this time.
Added by Phyl21ca on 06-14-2012
HISTOGRAM
Ratings: 13 | Reviews: 6
Reviews by Krakpoff:
More User Reviews:

4
/5
rDev
+15.6%
look: 4 | smell: 4 | taste: 4 | feel: 4 | overall: 4
500ml bottle in Duvel tulip
bottled Feb 10 2014
purchased at La Duchesse in Quebec City
A: Looks like a Czech Pils, very pale golden color with a thick creamy white head, lots of lace.
S: Sharp hoppiness, grassy, a hint of malt sweetness
T: Blast of hops up front, my gut says lots of Saaz, the malts are there, but they are not getting in the way of the hops. What malts there are leave a bit of graininess, very little of the pils sweetness that I usually expect from a pils.
M: Very crisp, nice level of carbonation, the hops leave a lingering bitterness on the tongue. Mouthfeel is closer to a German Pils vs Czech, but not in a bad way.
O: This may not be Urquell, but this is a pretty good example of a Czech Pils. I don't remember how much this cost, but at the right price, I could drink this all summer.
816 characters
3.92
/5
rDev
+13.3%
look: 3.5 | smell: 4 | taste: 4 | feel: 3.5 | overall: 4
Draft: Poured a light copper color pils with a nice white foamy head with good retention and some lacing. Aroma consists of floral and dry hops with dry cereal malt base. Taste is also a mix between some solid dry and floral hops with a clean crisp dry cereal malt backbone. Body is full for style with good carbonation. Well brewed and something I would love to drink on a regular basis.
388 characters

4.12
/5
rDev
+19.1%
look: 4.75 | smell: 4 | taste: 4.25 | feel: 3.75 | overall: 4
This si style that we don't find often here in Quebec.
Let's try this...
The beer is yellow, golden in color. Nice cloudy looking head. Sticky too. Nice looking. Love it. Clear beer.
On the nose, it is of medium intensity. I get the floral hops with nice cereal presence. It smells refreshing. The aroma is very good and inviting to take a sip. Mouth is well carbonated. Floral hops with a good bitterness that lingers for a long time in the mouth. Nice. Medium body. Refreshing. Very good.
A well done pilsner that I wish would be more regular. The best one available here in Quebec.
Cheers!
597 characters

2.89
/5
rDev
-16.5%
look: 4.25 | smell: 2 | taste: 3 | feel: 4 | overall: 2.75
My bottle matches the picture, but I thought the name might be "Chantier Naval".
Starts with nearly all head (90% of the glass). It settles quickly but in a lumpy fashion. Chunky spots left on the glass as the beer recedes. The color of the brew is greenish straw with a whitish haze.
Unfortunately, my bottle has skunked. I will give this a low but neutral rating because the brewer does use brown glass but there is no "drink by" date. I also smell a bit of bubble gum, earthiness and (forgive me) the smell of bile. Not so good.
The taste is less affected, but still a bit off from the true Czech pilsner. The malt is heavy and earthy, not at all what I'd expect. The hop bitterness is better but rather one-dimensional. The body is only a touch weak, but the carbonation is excellent. The aftertaste is bitter and lingers appropriately.
In the end, I find this to be a clear miss, both in style and in quality. There are some hints goodness, but the flaws outweigh the positives. Too bad because I love the style.
1,021 characters
3.75
/5
rDev
+8.4%
look: 3.75 | smell: 3.75 | taste: 3.75 | feel: 3.75 | overall: 3.75

3.25
/5
rDev
-6.1%
look: 3.25 | smell: 3.25 | taste: 3.25 | feel: 3.25 | overall: 3.25

3.02
/5
rDev
-12.7%
look: 3.5 | smell: 2.75 | taste: 2.75 | feel: 3.5 | overall: 3.5
L : A pale golden color. A ring of head tops the beer pretty much throughout the experience. A bit hazier than I expect a good pils to be.
S: Earthy with some spice. Herbal as well. I thought I almost got some belgian spice notes which would be totally out of place for a pils, but they could just be from some spicey saaz or noble hops.
T: Doesn't have the same 'clean' taste I expect from a pilsner. Fairly bitter. Hops come through as the most dominant note. Earthy and herbal are the most accurate descriptors. Malt takes the back seat in this beer; it's incredibly dry - perhaps one of the driest beers I've ever had. Bitterness is almost some sort of medicinal quality to it.
F: As mentioned before, incredibly dry, which is great for a pilsner. Carbonation is also on the higher side- within style and rather refreshing.
O: It was okay overall. A bit too earthy for my taste but not that bad.
903 characters

2.43
/5
rDev
-29.8%
look: 2.75 | smell: 1.5 | taste: 2.75 | feel: 2.5 | overall: 2.75
Clear dark straw color with a poor head.
Strong and sharp aroma of saaz...it stinks and not pleasing.
Strong bitter taste of malt with a little herbal spices and a hint of citrus.
Light body with a little too much carbonation. Slick but dry and mouth puckering.
Not a quality beer being excessive in all aspects, missing lots of balance and does not feel very fresh.
370 characters
Pénélope Pils Tchèque from Microbrasserie Le Naufrageur
Beer rating:
3.46
out of
5
with
13
ratings