Over Ale
| Half Acre Beer Company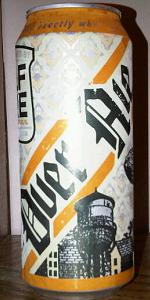 BEER INFO
Brewed by:
Half Acre Beer Company
Illinois
,
United States
halfacrebeer.com
Style:
American Brown Ale
Alcohol by volume (ABV):
6.00%
Availability:
Year-round
Notes / Commercial Description:
Originally brewed as an ESB, but is now brewed as an American Brown Ale.
Added by beerfairy on 02-18-2009
Reviews: 139 | Ratings: 402
3.95
/5
rDev
+3.1%
look: 4 | smell: 4 | taste: 4 | feel: 3.5 | overall: 4
Half Acre Over Ale poured brown/red with nice lacing and good sized white head. Smell was super citrusy hops. Taste was of dark berries, hints of sweetness, good sweetness, hints of chocolate. Mouthfeel was ok. Drinkability was good. This was a good beer. Very interesting flavors, good hops, and nice sweetness. I enjoyed this beer a great deal, and will buy this beer again.
376 characters

3.58
/5
rDev
-6.5%
look: 3.5 | smell: 3 | taste: 4 | feel: 3.5 | overall: 3.5
A: Translucent brown with a slight orange tint. Minimal white head with little retention.
S: Fruity and malty with a slight twang and the ever so slight hint of smoke. Aroma is not very strong.
T: Malt. A quick, sharp shot of bitterness on the first sip, that quickly fades to a mellow maltiness on the tongue. Roasted malts. Dark whole wheat bread.
M: Medium weight. Higher carbonation livens up the mouth.
D: A solid ESB, but not a great one. A nice, fresh offering for the locals.
490 characters
4.37
/5
rDev
+14.1%
look: 4 | smell: 4.5 | taste: 4.5 | feel: 3.5 | overall: 4.5
Pours a deep brown color with a small creamy off white head.
Scent of brown sugar, bubble gum and sweet hops. A simple and great scent.
Taste of light brown sugar and sweet somewhat bitter hops. Reminds me of an ESB.
Mouthfeel is light bodied and fairly smooth, but a bit thin.
280 characters
3.88
/5
rDev
+1.3%
look: 4 | smell: 3.5 | taste: 4 | feel: 4 | overall: 4
Poured from a 12 oz bottle into a glass, the beer is a lovely reddish-brown with a thick, creamy head. Great lacing.
Malts come to the front on the aroma, but hops definitely make themselves known.
Taste is bready, but very well balanced. I was pleasantly surprised by how much I loved this beer considering the brewery is so young. Delicious!
I will definitely be buying more of this!
389 characters
4.05
/5
rDev
+5.7%
look: 4 | smell: 4 | taste: 4 | feel: 3.5 | overall: 4.5
Not sure where this came from but my wife came home with it after shopping.
A: Dark copper color. Gave me a 3 finger fluffy, craggy head. Amazing lacing. Head retention was pretty good.
S: Nice strong musky, earthy hop bitterness and bready malt. Hint of diacetyl.
T: Bready malt. Some caramel coming through. Some nice hoppiness to balance. Has a nice hoppy finish with a dry aftertaste that makes you want to continue drinking. The finish also delivers a touch of diacetyl but not too much. It's pretty tasty and fairly well balanced.
M: Medium mouthfeel. Medium carbonation gives off very large bubbles that inhibit a bit of smoothness during the swallow.
D: It just didn't deliver like I think it could. The malt profile was a bit weak and at times it had a slight watery taste to it. The hop profile got the better of the malt. Generally though, a nice brew. I'd be happy to drink it again. You could definitely down a few of these. I'd like to try it on-tap.
969 characters

4.28
/5
rDev
+11.7%
look: 5 | smell: 4.5 | taste: 4 | feel: 4 | overall: 4.5
Over Ale pours a deep red-brown, brilliantly clear, and generous lingering two fingers of head. This is a beautiful looking beer: color, head, and lacing is very admirable.
Nose is full of sweet brown sugar and a hint of floral and piney hops. Caramel malt dominates with just a pleasant contrast from hops.
Taste is rich with the caramel malt sweetness without being sugary. A note of fruit and citrus accents the sweetness, followed up with a quick bite of mildly bitter hops. Flavors are bold, but all very smooth and palatable.
Medium body, smooth flavor, and slightly crisp/dry mouthfeel begs for another. Over Ale is very drinkable.
I'm quite impressed with this beer. Its solid, well built, and damn tasty. Half Acre is a welcome addition to the Chicago beer scene and I plan on drinking plenty more of these! La Chaim!
831 characters
3.75
/5
rDev
-2.1%
look: 3.5 | smell: 3.5 | taste: 3.5 | feel: 4 | overall: 4.5
A - A nice ruddy russet red-brown brew with a thick beige cap. The head shows consistent staying power.
S - Tight hops, grassy "green notes" that I'm really digging, and a very solid caramel base to my nose.
T - Yeah, that hits the spot. Hoppy, but not agressive. This one is toasty and lightly caramelized.
M - Medium bodied and firm. This one is well built and solid, but no where near foamy or full.
D - This is a session brew of the first order.
453 characters
3.68
/5
rDev
-3.9%
look: 4 | smell: 3.5 | taste: 3.5 | feel: 4 | overall: 4
A - Deep brown, amber with 3 fingers creamy tan head.
S - Herbal and grainy, biscuit and bready malts, toffee and a light herbal hops.
T - Bready and biscuity, herbal tea likeness, grainy, nutty with a touch of fruity hops.
M - On the light side of medium, slightly creamy with a dry, grainy feel in the mouth.
D - A solid session beer on the maltier side of esb's.
369 characters
3.88
/5
rDev
+1.3%
look: 3.5 | smell: 3 | taste: 4 | feel: 4.5 | overall: 4.5
A- It had a dark transparent brownish-amber hue with an attractively simlple laced head.
S- Holding an herbal and slightly floral...(hoppy) scent.
T- The draw brings a efferveccent tingling sensation to the tongue and rolls into an malty flavorful finsih.
M- Satisfying sensations are delivered to your lips, while the maltyness develops a sense of fufillment.
D- I think the beer should be in the low A level, while it's a great beer, it lacks ultimately unique qualities that many other micro's maintain. I like this beer alot and will continue to purchase it.
566 characters
4.05
/5
rDev
+5.7%
look: 4.5 | smell: 4.5 | taste: 3.5 | feel: 5 | overall: 4
Body pours a medium mahogany; red/brown; copper. Head is dense at 1.5 fingers, but quickly recedes to a decent lacing. Great color!
Nice caramel aroma mixed with a british hoppiness. Malts could even be called a butter toffee smell. Hops could be some kind of American hybrid. A bit of American Kent? Probably not, but I wouldn't be surprised at a british-american hop combination for this one.
The taste is hoppier than the smell. I know a bitter is supposed to be, well, bitter, but I could have stood for less bittering hops in this one. The Aroma hops are dead on, but I could have used more of a malt balance here. To be fair, though, this one gets a lot lot LOT better as it warms...malts really come out.
Mouthfeel is great. Smooth yet not thick, a fine session mouthfeel. I don't see how this could be improved for the style.
Very good. I like this one better than the Half Acre Lager, the flagship brew. This one on tap is hoppier than the bottle version to me, same as the lager. Go figure. I love hops, believe me, but both half acre brews, for my personal taste, could be, not less hoppy, but more malty for balance. Still good, though.
1,152 characters
4.35
/5
rDev
+13.6%
look: 4 | smell: 4 | taste: 4.5 | feel: 4.5 | overall: 4.5
Poured from a 12oz bottle, no ABV given on bottle or 6-Pack Carton. 6- Pack says an American Style Bitter but that is not a category on this site so I put it in the ESB section.
One thing I noticed is that when I opened the bottle, which had been in the fridge for 5 days, it came out overflowing the bottle. Not a lot, but enough to notice.
A: Nice copper color with a 1 inch thinck head. Very nice initial lacing on the glass but it doesn't last thourout the whole beer.
S: Malty, slight fruity smell. Hard to tell others, just getting over a cold so my nose isn't 100%.
T: Goes down easy, slight lingering bitterness at the end but not overpowering.
M: Coats the mouth well , slickness as it goes down and leaves that hint of bitterness.
This is definitely a drinkable beer as in by the case. Goes down easy, and real easy to pick up another one.
This is a fine brew by a new Chicago Brewery and I wish them much success.
950 characters
3.68
/5
rDev
-3.9%
look: 4 | smell: 3.5 | taste: 3.5 | feel: 4 | overall: 4
Appearance: A rich amber with a thick resilient head, that stuck around and left it's lacing all over.
Smell: A little faint but pleasantly sweet and malty.
Taste and mouthfeel: It was recommended to me for it's excellent balance and did not disappoint. Sweet up front but just a bit dryer in the finish. ESB? Maybe, but not very bitter. Another decent from these guys, inoffensive but not spectacular.
Drinkability: A very sessionable brew but for the price there are plenty with stronger flavors.
501 characters
4.2
/5
rDev
+9.7%
look: 4 | smell: 4 | taste: 4.5 | feel: 4 | overall: 4
A fairly robust beer that is simple in taste--the varieties of barley overpower the hops flavor, which is nice, but makes me only want to drink one or two at a sitting. I didn't detect any fruitiness, and the smell was on par with the taste--the essence of simplicity unfettered by all the extra additions that abound in so many craft beers
340 characters
3.55
/5
rDev
-7.3%
look: 3.5 | smell: 3.5 | taste: 3.5 | feel: 3 | overall: 4
Bottle bonused in a trade from d0b. Thanks man!<BR>
Pours a nice clear amber with medium lasting beige head. Smell is kind of fruity and malty with a nuttiness too. Mild, but nice. Taste is biscuity, dusty, and fruity, with a bit of nutty flavor as well. Balanced, and what I'd expect flavorwise in the style, and very drinkable. Medium bodied and good carbonation. I thought it was pretty nice and a very drinkable sessionable beer.
439 characters
Over Ale from Half Acre Beer Company
3.83
out of
5
based on
402
ratings.