The Empty Sea
| Half Acre Beer Company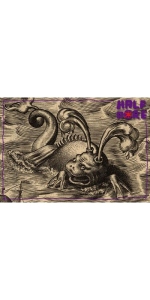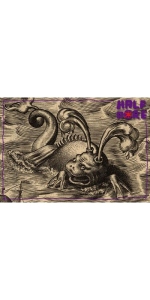 BEER INFO
Brewed by:
Half Acre Beer Company
Illinois
,
United States
halfacrebeer.com
Style:
Rye Beer
Alcohol by volume (ABV):
5.00%
Availability:
Limited (brewed once)
Notes / Commercial Description:
The Empty Sea, an Orange Chicory Rye Beer
Conceptualized and formulated by Half Acre Troubadour, Michael Carroll, this beer strays from the average. Lively citrus rises from loads of fresh peels, knocking out a seemingly bigger hop edge. The Chicory saves the beer from being one dimensional, adding a complex curve ball while the rye nails down a drier finish.
Added by paco1029384756 on 01-10-2010
This beer is retired; no longer brewed.
HISTOGRAM
Ratings: 8 | Reviews: 7
None found.
More User Reviews:
4.1
/5
rDev
-1.7%
look: 4 | smell: 4 | taste: 4 | feel: 4 | overall: 4.5
Thanks botham for sharing this growler...also GbVDave! Seemed better the 2nd time around.
Mellow orange with a more reddish center, fading into a lighter yellow orange at the edges. Well carbonated and retains a nice head of foam.
Grainy rye aroma, a little coarse, but interesting enough with the hint of citrus peel emerging.
Fairly raw milled grains in the flavor, identifiable rye but not especially spicy. Bitter orange peel and mild herbal hops. Dry bitter aftertaste. The orange flavor comes through nice and clear, which is probably the best aspect of this beer.
Light bodied with a fairly high level of carbonation. Some fizzy mineral water character. A little too raw and unrefined in this first batch. Still it's very drinkable, but needs a little more tweaking to achieve greatness.
802 characters
4.4
/5
rDev
+5.5%
look: 4 | smell: 4 | taste: 4.5 | feel: 5 | overall: 4.5
Brewed with orange peel, chicory, and rye. Believed to be named after the brewer's initials.
Orange-amber color. Decent sized head on the first pour, then flattened out a bit subsequently. Laced well.
Immense smell of orange peel, and that's really good. Some earthy character too. One-dimensional to me, but bright and potent.
Big orange peel flavor too. Best use of orange peel that I can recall. Rather than having too bitter of an edge, it adds brightness and a clean, slightly dry finish. Tastes really fresh. Rye is noticeable on the finish with some spice. Hops seem to blend perfectly with the orange peel, adding some bitterness. Chicory is really subtle, but after a couple of pints it comes through as a dry cocoa-like presence that melds with the orange well. It was borderline whether I would go to a 4.5, but the beer is so different, and I've had 120 oz of it without getting bored, so it gets the nod.
Smooth body with soft carbonation. What one would expect from a rye beer. This is perfect.
I drank almost a full growler of this myself two days ago, and I expect to put down the full thing tonight. The finish is supreme, and it calls for sip after sip. I believe the the brewer said it was 5%, but that's not official. It does seem about that number. Really interesting beer. No plans to bottle this, apparently, but based on the reception so far, they may want to think about it for the next batch. Try it while it's still here.
1,453 characters
4.1
/5
rDev
-1.7%
look: 4 | smell: 4 | taste: 4 | feel: 4 | overall: 4.5
Poured from a 64oz growler into multiple pint glasses. Special thanks to acme, joe1510, wilwfu, Jay23, and emerge077 for the assist!
A: Pours a tarnished copper color with a creamy, light orange colored head that surged to about two fingers in thickness and then fell to a nice skim that left some sticky specks.
S: Aromas of spicy rye, subtle orange peel, and maybe a pinch of spice.
T: Exactly as above. The orange peel tastes very natural and subdued.
M: Sticky, spicy, and with a nice peppery bite. Apparently, this batch doesn't exhibit the "graininess" of the earlier batch (or this IS the same batch thats mellowed a bit...)
D: The low abv and interesting spice and pepper notes make for a satisfying beer that kept getting better and better as we went along.
771 characters
4.07
/5
rDev
-2.4%
look: 4 | smell: 4.5 | taste: 4 | feel: 3.5 | overall: 4
01/12/2010
64 oz. growler poured into pint glass.
A: Rich, clear orange/amber. Off-white head that stuck to the glass when I got the pour right.
S: Orange peels hit your nose right away through the rye. Secondary notes of chicory. Described by Half Acre as a Orange Chicory Rye Beer, the smell is dead-on.
T: Malt and rye foretastes, chicory and orange peel aftertastes, then apparently back to rye. The first few sips were self-explanatory but after that the beer seemed to grow more complex. Good sign for repeat tastings.
M: Smooth with the first sip, a little sticky afterward.
D: I'm a big fan of Half Acre beers, so saying this one isn't my top choice from them doesn't knock it one bit. If this is what the first new brew of 2010 tastes like, it's going to be a good year.
785 characters

4.38
/5
rDev
+5%
look: 5 | smell: 4.5 | taste: 4.5 | feel: 4 | overall: 4
Pours a clear deep orange color with two fingers of smooth creamy white head and some nice lasting time.
Scent of dry earthy rye, fruity citrus, orange zest, and balancing subtle bitter hops. The citrus gives it a really nice refreshing kick.
Taste of citrus and rye immediately, spicy hops, and orange zest. The taste finds a better balance than in the scent. Yet another great new beer from a great new brewery.
Mouthfeel is light bodied and clean, though a little oily, with a nice tight bite of carbonation.
514 characters
4.3
/5
rDev
+3.1%
look: 4 | smell: 4 | taste: 4.5 | feel: 4 | overall: 4.5
Poured from a growler into a shaker pint.
A - Pours a clear yellow-orange with a half inch of sticky, off-white head.
S - Some cereal grain, toffee, orange zest, floral hop aroma.
T - Slightly bready, with toffee, orange juiciness, and a bit of citrusy hop flavor. Moderate bitterness. Chicory flavor harder to detect - it's quite subtle. Perfectly balanced finish, as the sweet orange flavor contrasts with a bit of dry graininess.
M - Light to medium body, gentle carbonation. Nice and smooth.
D - Endlessly drinkable. I hope this an an experiment Half Acre repeats.
573 characters

3.98
/5
rDev
-4.6%
look: 4.5 | smell: 4 | taste: 4 | feel: 3.5 | overall: 4
Picked up a growler of this from Half Acre taproom. Served in a Maudite tulip at Joe1510's place.
A - Pours with a couple fingers of orange-tinged foam. Settles to a thick ring and some haziness on top, a bit of patchy lacing. Attractive golden-amber color with a slight haze to it.
S - Fresh sweet orange peel, some earthiness imparted by the chickory. There's some spicy hop character as well, although I'm not sure how much of that is from the aforementioned orange and chickory additions. As it warms, there's a little more of the rye character, but it's still in the periphery.
T - I'm not sure I like the taste quite as much. It has some of that generic beer aftertaste. Otherwise it's mostly solid, with a combination of light orange, earthy rye, spicy hops, and light caramel malt. There's some nice residual bitterness that gets a little more intense the more I drink. Not sure what the ABV is, but it's well hidden. Both smell and taste get better as it warms up. This is more of a 3.75, bit I'm going to invoke the homer bias to round it up.
M - Zesty Belgian-style carbonation, medium body, some light stickiness. Nothing particularly interesting or special.
D - It was easy to have a few pours of this one. I probably won't seek it out again, but it was definitely unique and fun to try out.
1,309 characters
The Empty Sea from Half Acre Beer Company
Beer rating:
4.17
out of
5
with
8
ratings