Wake Of The Flood
| Half Acre Beer Company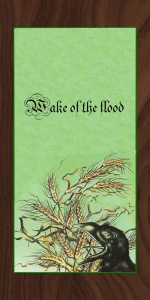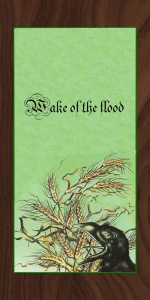 BEER INFO
Brewed by:
Half Acre Beer Company
Illinois
,
United States
halfacrebeer.com
Style:
American Pale Ale (APA)
Alcohol by volume (ABV):
6.00%
Availability:
Limited (brewed once)
Notes / Commercial Description:
The goal was to lean on some rye malt with this beer with a flash of pilsner malt, back it up with some crystal hops and serve up our take on a harvest beer.
Added by Sean9689 on 10-15-2010
This beer is retired; no longer brewed.
HISTOGRAM
Ratings: 13 | Reviews: 9
Reviews by hopjuicer:

4.1
/5
rDev
-2.6%
look: 4 | smell: 4 | taste: 4.5 | feel: 4 | overall: 3.5
Growler poured into snifter. Picked it up on release day.
Pours a dark amber red with a small and foamy head, adequate for a growler.
Nose is dominated by grain, with a hint of tartness/funk to it. Somewhat earthy smell. Touch of chocolate.
Thicker than your average harvest ale. Chewy graininess is the strongest flavor. Reminds me of a red ale with a very heavy grain bill. Pretty even balance of sweet and bitter. Some fruity notes, cranberry/cherry.
Not as sessionable as most harvest ales, but delicious none the less and does an excellent job of showing off the fresh rye grain.
588 characters
More User Reviews:

3.83
/5
rDev
-9%
look: 4 | smell: 3.5 | taste: 4 | feel: 3.5 | overall: 4
64 oz growler into a pint glass. Big thanks go to goodstrongbeer for this in a recent trade.
Pours a crystal clear and darker colored copper, topped with 1 ½ fingers of rigid off-white head. This retains with about a ½ finger of flat creamy foam, which keeps a fantastic richness to it, and throws a big frothy cascade of spotty lacing up on the sides of the glass. The aroma is floral and leafy, with that rye really sticking out to me with a zesty smelling toasted presence. This blends in with some green citrus flavors to impart a tangy richness. There is a good bit of spice present here as well, although it could be coming from either the rye or those fresh hops. The only drawback to this is some alcohol coming out underneath the other flavors and I'm not just talking about some light warmth. I'm talking about some fairly sharp fusels that slash the underside of the nose about every other whiff. It's a shame as this is otherwise pretty good.
The taste is very similar to the nose, with a sticky blend of toasted bread, light caramel, and some bright green citrus tones. Bitterness levels are lower, with most of it coming from some citrus peel flavors in the backend of the profile. The rye character creeps out in the finish, with lingering notes of dry peppery spiciness. Overall this is coming off as fairly mellow but yet still flavorful on the palate. The mouthfeel is medium bodied, with a crispness that prickles the tongue but still stays relatively smooth and easy feeling in the mouth. Unfortunately, I'm getting that same darn alcohol presence that I did in the aroma, although I will say that it isn't quite as intrusive as it was there and just lightly hangs on the breath some after each gulp of this.
I got what they were trying for here, going with those festive fall-like flavors of earth, spice, and rye, and for the most part I liked it. It was well balanced and quaffable; despite this showing more alcohol than it should have. This is a tough cookie to peg down style wise but I still enjoyed it for what it was. Half Acre comes through with another interesting offering.
2,113 characters
4.35
/5
rDev
+3.3%
look: 4 | smell: 4 | taste: 4.5 | feel: 4.5 | overall: 4.5
Poured from a 64oz growler into a 20oz imperial pint.
A: Pours a crystal-clear, rust/burnt orange. Beautiful fall color in a glass! When pouring, I got about three fingers of creamy, off-white head that showed signs of sticking around for a while but quickly settled down to a thin skim with a finely bubbled collar. A few whispy strands of lace were left behind.
S: Obvious aroma of rye in this one. Spicy and rich. When it came up to temp I picked out some dark fruit, lemon, toasted grains, and a touch of white grape. Some piney hops come about when it warms.
T: Much like above. Spicy rye and toasted grains are the dominant features. Lemony citrus, some dark fruit, and earthy hops (like dried and pressed wildflowers).
M: Starts off slightly bright. Then a fantastic mellow-ness kicks in that works hand in hand with some dry roastiness, spicy rye, and slightly sweet malt. Killer dry, spicy, and toasty malt finish lasts for ages!
D: What an excellent beer! No problems doing most of a growler in one sitting. I'm a big fan of rye beers and this had tons of great things going for it. Yet another excellent Half Acre beer!
1,137 characters
4.68
/5
rDev
+11.2%
look: 4.5 | smell: 4 | taste: 5 | feel: 4.5 | overall: 5
Growler transported via express from brewery to the Central Ohio area. Tasted 10/15 - 10/17 (Friday - Sunday)
A - Beautiful transparent reddish/coppery/ brown. Smooth off-white head with some lacing.
S - A blend of many aromas with the rye coming out first. Appears to have a alight scent of alcohol ...?
T- Wonderful blend of toasty grains with a nice hoppy back-ground balancing the rye and toffee/carmel flavors. A really great "finish" to the taste - nutty/toasty/caramel balance lingers in your mouth.
M- Satisfing carbination with a very smoooth mouth feel.
D - A wonderfully balanced beer! I really respect beers with balance and this one has it. A very easy beer to drink. Try it with a hearty vegetable soup or beef stew.
739 characters


4.35
/5
rDev
+3.3%
look: 4 | smell: 4 | taste: 4.5 | feel: 4.5 | overall: 4.5
Growler from the brewery.
A - Pours a pale reddish/yellow, off-white head, thin cap with some large bubbles on top.
S - Light fresh hops, slightly bitter, straw, rye malts. Everything is very light and allows it all to come through and contribute. The rye malts really add a wonderful addition to the floral hops.
T - Nice light hops (think APA vs. IPA), rye malts, very slight raisin sweetness, grain/bread. This one just does it for me...so tasty!
M - Light, good carbonation, smooth, and crisp.
D - The perfect beer for an October day in Chitown. This is one of my favorite offerings that Half Acre has released. The hops, rye, and dash of pilsner malts makes a wonderful combo. Recommend!
711 characters

3.98
/5
rDev
-5.5%
look: 4 | smell: 3.5 | taste: 4 | feel: 4 | overall: 4.5
First in line at Half Acre yesterday to get my growler filled. Brought this to a party, so it was served in a clear plastic cup.
A - Transparent coppery nut brown body. Pours with a few fingers of tan foam that eventually settles to a thin cap and leaves a bit of lace behind.
S - There's some vaguely floral hops, sharp grain and rye zest. I got a faint hint of alcohol, which was a bit surprising for a lower ABV brew.
T - Lots of toffee and caramel, nuts, and toasted grains. There's some mild hop bitterness in the finish and only a light kiss of rye flavor.
M - Smooth medium body with medium carbonation. Some light stickiness in the finish. Pretty clean and refreshing for sure.
D - Pretty easy drinking beer. It's hard to peg, as it reminds me of an Oktoberfest lager but with ale yeast and rye malt. This was pretty successful at the party, and I had a few pours but I probably won't buy a second growler.
919 characters


3.65
/5
rDev
-13.3%
look: 3.5 | smell: 3.5 | taste: 3.5 | feel: 4 | overall: 4
A: Reddish chestnut brown in color, but still very translucent. Forms a small, weak-bubbled tannish head. Very little retention or lacing.
S: Caramel malt, rye malt, maybe a little toast, then some more malt.
T: Sweetish caramel malt with a mild bitterness. The rye pepper bite on the finish becomes more pronounced as the beer warms. Some dark fruit and deep earthy hops with a pronounced nuttiness.
M: Medium in body, a bit chewy with appropriate carbonation.
D: meh, I could pass on this one. This one is not an APA, though to the brewer's credit they are neither calling it an APA nor even suggesting it's an APA. I believe they call it a "harvest ale" but, unlike many other harvest ales, this one really focuses on the deep, earthy, autumnal flavors of the season. Personally, it doesn't work for me: too damn malty with nothing to balance all that malt.
868 characters

4.75
/5
rDev
+12.8%
look: 4.5 | smell: 4.5 | taste: 5 | feel: 5 | overall: 4.5
I realized I never reviewed this one and felt compelled to do so....with it easily being one of the best brews i've had from Half Acre this year.
In the nose, this is just a perfectly gorgeous brew. Beautiful floral and piney hop aromas mingle with lemon zest, black tea, crushed dried leaves and a hint of earthiness.
In the mouth, this beer continued to amaze me. A touch of rye flavor with an impeccably balance malt bill. Flavors of tannic tea, lemon, rye bread. Just outstanding. I would be devastated if they didn't brew this one at least one more time!
563 characters
3.57
/5
rDev
-15.2%
look: 3 | smell: 3.5 | taste: 3.5 | feel: 3.5 | overall: 4
On tap at the Map Room...A clearish brown with a little tan head, looks watery in the light, not good looking...The aroma is rye mixed with floral hops, not a great combination as the hops are muted by the rye...Taste is toasted rye with toffee with a bitter finish. You can taste way to much alcohol. This is not one of my favorite Half Acres, skip.
350 characters
Wake Of The Flood from Half Acre Beer Company
Beer rating:
4.21
out of
5
with
13
ratings