The Crusch
| Half Acre Beer Company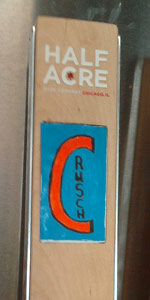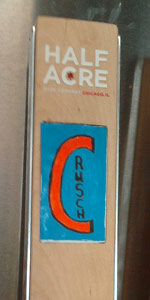 BEER INFO
Brewed by:
Half Acre Beer Company
Illinois
,
United States
halfacrebeer.com
Style:
Kölsch
Alcohol by volume (ABV):
5.50%
Availability:
Limited (brewed once)
Notes / Commercial Description:
No notes at this time.
Added by emerge077 on 04-06-2011
This beer is retired; no longer brewed.
HISTOGRAM
Ratings: 14 | Reviews: 10
None found.
More User Reviews:
4.08
/5
rDev
+1.2%
look: 4.5 | smell: 4 | taste: 4 | feel: 4.5 | overall: 4
Attractive copper gold color, bright clarity, some lazy trails of carbonation ascend through it. A healthy inch of foam on top that settles to a skim after a few minutes, and never breaks. Great retention overall, the foam laces in drippy arcs towards the end of the glass... random flecks here and there at first. Coloration is slightly darker for a Kölsch.
Fresh citrus in the nose at first, it was dry-hopped with a small amount of Citra for aroma. Soon after the malt dominates, lending a light breadiness that blends with notes of dried orange peel and wildflowers. It's relatively mild, as traditional for the style, though there isn't much in the way of yeast esters.
Lightly grassy, mild citrus notes meld seamlessly with a firm malty breadiness. Light residual bitterness in the aftertaste. Yeast esters are minimal, understated, but there is depth if you look for it. Carbonation is light to medium, much less gaseous than other Kölsches, though it is dry and crisp. Extremely drinkable and dare I say sessionable. It really drinks like a lighter version of Daisy Cutter somehow. A non-traditional Kölsch, but successful when judged on it's own merits.
The perfect accompaniment to grilled dishes and warm Springtime barbecues.
Simplicity is vastly underrated.
1,279 characters
4.15
/5
rDev
+3%
look: 4 | smell: 4 | taste: 4 | feel: 4.5 | overall: 4.5
Poured from a 64oz growler into two imperial pints. Thanks to HeatherAnn for the assist!
A: Pours a crystal clear, deep copper color with 1 finger of just off white foam on top. Retention was fleeting with the head settling down to a thin skim and collar in no time. A few whispy strands of lace were left behind to decorate the glass. Carbonation was ample.
S: Bright citrus in the beginning with some interesting toasted bread crust coming on later. Mild floral notes.
T: Very close to the smell. Big time Citra citrus hop flavors with herbal/earthy qualities.
M: Crisp and clean with lingering hop bitterness and a nice bit of malty smoothness that keep everything in check.
O: I know this really isn't to style, but so what? This would fit in great at a cook out, party, or really anywhere.
800 characters
3.7
/5
rDev
-8.2%
look: 4 | smell: 4 | taste: 3.5 | feel: 4 | overall: 3.5
Had at SMBDC growler tasting thanks to BlessedBeBeer.
A: Light fluffy head, crystal clear honey color.
N: Light fresh grassy aromatic hops, light toasty Kolsch like malts, clean, crisp and light citrus fruity hops, fruit like peach and apricot.
T: Light and crisp to start, some nice toasty malts, but fruity, some nice fruity lager flavors but not a lot, light grassy mild hops and a little spicy, bit of bitterness, finishes a bit dry and fairly bitter with more fruits. NOt quite the delicate flavors a Kolsch should have IMO.
M: Lighter bodied with decent carbonation.
O: Good flavors, a lot more like a pale lager than a kolsch with all the bitterness and fruit and hop flavors.
689 characters
2.52
/5
rDev
-37.5%
look: 4 | smell: 2 | taste: 2.5 | feel: 4 | overall: 2
Sorry, guys. This is way too similar to Gossamer. This is /not/ a Kolsch. A light summer ale, maybe. Way too much hop aroma, and a definite blast of hop flavor. It really doesn't appear to have been lagered at all. I'm all for stretching the interpretations of style, but it really should be called something else. How about a California Kolsch?
345 characters

4.13
/5
rDev
+2.5%
look: 4.5 | smell: 4 | taste: 4 | feel: 4 | overall: 4.5
Not my favorite style, but here goes. Growler served thanks to MasterSki.
A - If you do a nice Kölsch, you should be able to get that classic "beer commercial" look going. A solid, golden colored beer with a large foamy, white head that left behind some spots.
S - Pale, sweet malts, some grain, and an unexpected load of hops. The Citra on this is not overwhelming, but melds well with the lighter flavored brew.
T - One of the better beers of this style I've had. Sweet malts, some sugary white grapes, grain, and hops are blend together pretty impressively. Very refreshing and easy to get down, without any offensive flavors.
M - A little grainy, light, carbonated.
O - Great beer, maybe not a traditional take on the style but pretty well done. Easy to drink and quite 'crusch'able.
793 characters
4.08
/5
rDev
+1.2%
look: 4 | smell: 3.5 | taste: 4.5 | feel: 4 | overall: 4
Consumed 4/22
Acquired from GbvDave so a big THANK YOU goes out to him!
Poured in to a pint glass
A: This beer pours a clear, honey color with a two finger of off white bubbly, sudsy head. Head recdedes at a moderate pace leaving sticky sheets of lacing.
S: Nose is citrus and pine hops, and a good deal of biscuit.
T: Taste starts with a heaping earthy, piney hop flavoring. A good deal of biscuit moves in through the middle and continues to hold as a balanced citrus hop profile comes in during the finish. A bit of grapefruit holds in the after taste.
M: Medium body, medium carbonation, crisp as first with an oily finish.
O: Goes down very easy, very tasty, not too filling, mild kick, not a great representation of the kolsch style - however a fantastic tasting beer that I would absolutely hit up again1
819 characters

4.13
/5
rDev
+2.5%
look: 4 | smell: 3.5 | taste: 4.5 | feel: 4.5 | overall: 4
Bought a growler tonight and I am at the end of it, so I'm pretty satisfied with this brew.
I love the hoppy take on the kolsch style. Drinks easy, but with the familiar backbone that I (as a self proclaimed hophead) crave. I'm not usually a fan of the summer style brews, but this is very tasty.
This was my first trip to Half Acre, and I am very excited to make this a more regular visit to see what these guys come up with other than the standards I see in every store (Daisy, Gossamer)
491 characters

4.3
/5
rDev
+6.7%
look: 4.5 | smell: 4.5 | taste: 4 | feel: 4.5 | overall: 4.5
Picked this up at Half Acre in preparation for Game 1 of Hawks-Canucks. Served in a Half Acre pint glass.
A - This is a very attractive beer. Big persistent white foam that settles to a thick cap, leaving behind splotchy lace. The body is a transparent dark golden color with a few stray bubbles.
S - A Citra dry-hopped Kölsch eh? While it certainly isn't traditional, it does smell quite nice. Floral and citrus hop notes, some light mustiness, and a white grape and pale malt backbone.
T - Tangy, some peppery yeast, sweet malt, and toasted grains. Finishes with light white grape juice in the finish.
M - Pleasant zesty carbonation. Smooth medium body, and a clean finish with lightly sticky residuals.
D - Really easy to drink. A few of us killed a growler with no problems, and I would have had more had it been available. I hope this gets brewed semi-regularly at Half Acre.
886 characters

4.15
/5
rDev
+3%
look: 4.5 | smell: 4.5 | taste: 4 | feel: 4 | overall: 4
Picked up a fresh Growler yesterday. Upon hitting your nose, you get a blast of the Citra hops right off the bat. Grapefruit zest, tropical fruit with a nice bready-toasty malt characteristic.
In the mouth, the front of the palate is quite sweeter than i'd thought it would be. Definitely a candy-like malt characteristic, which makes it a bit heavier than expected. Nonetheless, well balanced with the hop bitterness and bright carbonation. A really nice beer and a fun take on the style.
491 characters

4.12
/5
rDev
+2.2%
look: 3.5 | smell: 4 | taste: 4.5 | feel: 3.5 | overall: 4
Growler into a wine glass; sampled in line before DLD - big thanks to the generous donor of the pour.
A: Crystal clear light amber body with a wispy off-white head. Poor retention, but nice light lace. Ok.
S: Hoppy as heck. Tons of pine + citrus, and that's about it. Doesn't smell like a Kölsch, but that's fine by me.
T: Follows the nose, with crisp hoppiness completely dominating. Clean finish. Tasty and refreshing, which is the purpose of the style. Excellent.
M: Smooth and light-bodied, with moderate, prickly carbonation. Ok.
O: This was a very enjoyable beer, partly because it was so bizarre as an example of its style. If I weren't told that this was a Kölsch, I'd peg it as a very good APA 10 times out of 10. The hops were strong and well-done. As good as it was, though, I chugged the last few ounces of my pour so as to make room for Boulevard Rye on Rye as soon as it became available - it was the right decision.
Cheers!
946 characters
The Crusch from Half Acre Beer Company
Beer rating:
4.03
out of
5
with
14
ratings