Tomten
| Half Acre Beer Company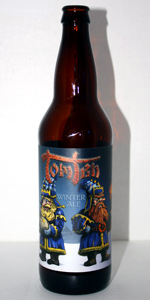 BEER INFO
Brewed by:
Half Acre Beer Company
Illinois
,
United States
halfacrebeer.com
Style:
American Amber / Red Ale
Alcohol by volume (ABV):
6.50%
Availability:
Limited (brewed once)
Notes / Commercial Description:
The staff here at Half Acre Beer Company was tasked with creating a beer that we'd all like to drink. Many different styles, names, and label concepts were pitched, but the one that stuck was Tomten. A fruity aroma atop a sweet 6.5% ABV amber base, Tomten suits an evening of staring at the stars over top a snow covered landscape, farm or city.
Added by MasterSki on 01-04-2013
This beer is retired; no longer brewed.
Reviews: 7 | Ratings: 27

3.3
/5
rDev
-10.8%
look: 3.5 | smell: 3.5 | taste: 3 | feel: 3.5 | overall: 3.5
Received this for free from the Half Acre store front, I think it was due to the Half Acre shirt I was wearing...awesome either way. Poured into snifter, pours a deep red/amber with minimal light passage, some cloudiness, coat of tan head with heavy lacing left behind. The nose starts with biscuity caramel character with some oaky dryness as well as mild herbal hop character. Taste features mild sweetness with more caramel notes. This is quickly countered by deep earthy hops which seem to actually clash with the malt profile. The aftertaste leaves a strange bitterness on the palate. Mouthfeel is moderate with mellow carbonation. Overall, this recipe isn't really working for me. Not offensive by any means, just not all that great.
739 characters

3.5
/5
rDev
-5.4%
look: 3.5 | smell: 3.5 | taste: 3.5 | feel: 3.5 | overall: 3.5
A: Clear amber in color. Forms a fizzy light tannish colored head that settles down fairly quickly. Very little lacing.
S: aroma is a mix of heavy caramel malt, cocoa, and spice. There is a bit of citrus zest in the mix as well.
T: Taste starts off with a blend of chocolate and caramel malts. Neither sweet nor dry, but rather malty. A little nondescript baking spice. A little citrus and fusel alcohol on the backend.
M: Medium bodied, with lower carbonation and a moderate, but persistent, bitterness. Somewhat prickly in the mouth.
O: eh, not so sure about this one. Very malty and rather alcoholic for a 6.7% ABV beer (which is what the label says).
662 characters
3.84
/5
rDev
+3.8%
look: 4 | smell: 3.75 | taste: 3.75 | feel: 4 | overall: 4
Dark caramel brown, clear, with a dense tan head and spotty lacing.
Really malty. Caramel, bready, nutty smells.
Chestnut, brown sugar, toffee, pumpernickel, and light spice.
Heavy body but smooth.
A very fine winter ale, too bad it took me until summer to make my way to it.
283 characters

3.85
/5
rDev
+4.1%
look: 3.75 | smell: 3.75 | taste: 3.75 | feel: 4.25 | overall: 4
Bottle from the source. Served in a plastic cup at the Ale Obsession script read-through.
A - White foam settles to a thick collar and a few specks of lace. Dark, slightly hazed-amber body.
S - Caramel and chocolate, with a dash of red fruit notes as well. It's got that stereotypical crystal malt vibe. Perhaps a touch of citrus zest hop. More cocoa and roast that you get from a typical amber, but it's appropriate for a winter ale.
T - The taste is quite similar. It's a sweet red ale, with hefty doses of caramel, red fruits, a bit of chocolate, and a moderate dose of hop bitterness to balance things out. Not a ton of hop flavor, and a fairly clean finish otherwise.
M - Smooth, medium body, pleasant moderate carbonation. Dry and crisp finish, and no alcohol. Style-appropriate, with nice heft for cold winter nights. Spot-on for the style.
D - I liked the bottle significantly more than the draft sample I tried, which seemed much more bitter. Still, the cardamom cask variant was my favorite take on this beer. If you like malty beers, check this one out, but if you go in expecting something like Ginger Twin you may be disappointed. Split the bottle a few ways and it went down pretty easily.
1,208 characters
4.02
/5
rDev
+8.6%
look: 4.25 | smell: 4 | taste: 4 | feel: 4 | overall: 4
Auburn chestnut color as it pours into a tulip glass. Billowing head of creamy tan foam, sticky rings of lacing in the glass. After ten or so minutes and a couple sips there's still a sturdy unbroken veil across the surface.
Roasty aroma, bakers chocolate and vaguely nutty. Very dry and not at all sweet.
Flavors are similarly dry, roasty, and bitter. Roast malt and earthy piney hops emerge and linger for awhile into the aftertaste. Body and carb levels are both medium-ish. As a "winter ale" it succeeds in conjuring up elements of the season without the use of any adjunct spices.
588 characters
4.02
/5
rDev
+8.6%
look: 4.25 | smell: 4 | taste: 4 | feel: 4 | overall: 4
Poured from a 22oz bomber into a St. Feuillien goblet.
A: Pours a rusty/dark amber with a thin slice of off-white foam on top. Retention was fair with just a thin collar remaining after a few minutes. Lace was random & specky. 2nd pour is cloudy and features a stickier lacing program.
S: Boozy, home-made carmels and bakers chocolate with hints of pine needles and tangerine zest.
T: Very close to the smell with some roasted malt, as well.
M: Slick and pillowy at first with a gradually emerging dry middle and finish. Suprisingly astringent finish that lasts a long time.
O: This treads that dangerously likable ground of hearty, stick to your ribs winter beer that doesn't feature skull crushing alcohol content.
723 characters
4.04
/5
rDev
+9.2%
look: 4 | smell: 3.75 | taste: 4.25 | feel: 4 | overall: 4
Pours a burnt amber into my 3 Floyds Nonic. A nice three finger head with spotty lacing.
A subtle nose of roasted malts and earthy hops.
Taste has much more pronounced medium roasted malts and earthy hops. Crisp and clean with a touch of sweetness. Nice and rounded.
Mouthfeel has a light/medium carbonation and medium body. Crisp and clean.
This is a nice session winter ale that my brother and I crushed a growler ice fishing. Just as good out of the bottle several months later. Cheers Half Acre!
503 characters
Tomten from Half Acre Beer Company
3.7
out of
5
based on
27
ratings.