Cervesa Del Montseny + Malta
| Companyia Cervesera del Montseny
BA SCORE
77
okay
11
Reviews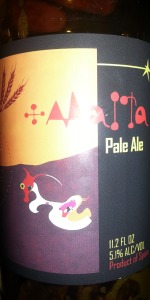 BEER INFO
Brewed by:
Companyia Cervesera del Montseny
Spain
cervesamontseny.cat
Style:
English Pale Ale
Alcohol by volume (ABV):
5.10%
Availability:
Year-round
Notes / Commercial Description:
Malts: Pale Ale,Crystal
Hops: Challenger, East Kent, Fuggles
Added by atis on 03-19-2009
Reviews: 11 | Ratings: 22
2.02
/5
rDev
-33.6%
look: 3.5 | smell: 2.75 | taste: 1.75 | feel: 1.5 | overall: 1.5
330ml bottle from Carrefour Supermarket, Barcelona (€1.85):
Not an offering that I was impressed with or one that I enjoyed in the slightest. It was overly malty (even given the name) & the balance was poor with to much earthy flavours & little else; off-putting & difficult to drink. There was some caramel sweetness & the odd funky flavour early on but these were soon drowned out by the malts; poor stuff really & not one that I'd have again.
★
447 characters
2.54
/5
rDev
-16.4%
look: 3 | smell: 2.75 | taste: 2.5 | feel: 2 | overall: 2.5
Recently stumbled across my notes from The Festival 2012. Lets do this!
A - Poured a crystal clear light brown with a light brown head that it just keeps bubbling up, almost like a soda.
S - Aromas are mediocre, old hops, light citrus, faint grains/cereal. Just old.
T - Taste is rather meh too, like the nose it just tastes old. Light lemons, grains/cereal malts, super faint hops.
M - Mouthfeel is SUPER thin and watery.
O - Overall a very poor example of an English pale ale, thin and old.
★
497 characters
2.78
/5
rDev
-8.6%
look: 3 | smell: 2.5 | taste: 3 | feel: 3 | overall: 2.5
330 ml bottle from the brewery. Have to mention that guys working there are quite strange and rather unpolite and although we had a previously arranged visit, we were treated like a nuissance.
The beers hazy amber with foamy head that fades to a dense layer. Aroma is sourish medium bittery with low citrus esters.
Taste is above moderate bitterness that soon turns to sweet malty, medium dry finish with sweet malty aftertaste, felt a bit sulphury. Mouthfeel is light-medium with below average carbonation and very light alcohol warming.
Overall, not very drinkable brew, something slightly below average.
★
615 characters
2.9
/5
rDev
-4.6%
look: 3 | smell: 3 | taste: 3 | feel: 2 | overall: 3
Into a pint glass pours a murky and dull dirty gold color under a foamy cap (bottle sediment into my pint contributes hugely to cloudy appearance). Aroma is mild with an overall light note of earthy roasted malt. Body here is really much more roasted malt than I'd have guessed it would be and I really think that overall profile here leans much more into the world of a brown ale. Notes of caramel and cocoa come through most in the taste, ending in a dry finish.
★
464 characters
2.98
/5
rDev
-2%
look: 3.5 | smell: 3 | taste: 3 | feel: 2.5 | overall: 3
Murky pumpkin with butter rum edges and a massive head of skinned almond colored froth. The crown is so large because there's a ridiculous amount of carbonation that caused a foam eruption and a minor mishap on my desktop. Things look pretty good though, including some scraps of sticky suds.
This pale ale uses primarily Nugget hops, but that's difficult to discern given the severely underpowered nose. More than half the head has disappeared, so physical interference can't be the reason why. No negatives and no positives... just average.
Still not impressed with this Spanish-brewed English pale ale. It's way too thin and the flavor just isn't there. Note: if you wonder if you have the right beer (picture above is old), check out the Shelton Brothers website for the new label.
The malts taste primarily pale and add almost no underlying sweetness. Hop bitterness is acceptable. Hop flavor is not. Lemon juice, along with hints of white toast and tea is the sum total. The beer could be past its prime, but with no dating it's hard to tell for sure.
Too thin and too boisterously bubbled is the short version of the body/mouthfeel. It isn't pleasant enough to make me care about relating the longer version. This attribute is the weak link in an already weak chain.
The new label is a painting by Joan Miro from Spain. It actually looks like it could have been painted by another Spaniard, Pablo Picasso, given what appears to be a melted rooster on a simple background. Miro's work has been described as rich, quirky and mysterious. Too bad this brew is none of those.
★
1,582 characters
3
/5
rDev
-1.3%
look: 3 | smell: 3 | taste: 3 | feel: 3 | overall: 3
Orange to red colour, medium off white head. Good lace. Smell of malts, caramel, cholate liquor, Medium body, high carbonation, creamy palate. Taste of chocolate, fruits, malts, cheeries. Sweet with some bitterness in the end.
★
226 characters

3.48
/5
rDev
+14.5%
look: 4 | smell: 3.5 | taste: 3.5 | feel: 3 | overall: 3.5
330ml bottle. ½ Pint glass. Enjoyed many times. Pours amber in color. Hazy appearance. White, medium bubbled, froth. Complex aroma profile: underlying crystal malts,floral & herbal notes, citrics & slightly spicy touch. Flavor shows light sweetness from mildy malts, spycy touch, fruity hues & kind acidity in the middle. Medium body. Lively, moderate intensity, carbonation. Moderate earthy bitterness. Subtle tartar dry & finish. Refreshing. Easy drinkable.
★
460 characters
3.48
/5
rDev
+14.5%
look: 4 | smell: 3.5 | taste: 3 | feel: 4 | overall: 4
Cloudy amber, with a super thick, three finger creamy white head that thins out gradually. Thick lacing.
Smell is bready malts with some light, grassy hops and some faint notes of caramel and toffee. Bready and malty at the end.
Taste is malty up front, with a little bit of hops following. Some faint notes of ginger and grapefruit. Little bit of malt on the finish, but overall the finish is a bit bland and watery.
Mouthfeel is crisp, with a slightly dry, clean finish. Light body.
Drinkability is good. Decent beer overall.
★
527 characters
3.52
/5
rDev
+15.8%
look: 3 | smell: 3.5 | taste: 3.5 | feel: 4 | overall: 3.5
From Hipercor, last units. In Duvel glass. After dinner.The sell it as pale ale but isnt pale. The taste is a bit rancid but is enjoyable anyway. It was near BB date.
★
166 characters
3.56
/5
rDev
+17.1%
look: 4 | smell: 3 | taste: 4 | feel: 3 | overall: 3.5
While trying to hunt down some interesting beers in a Spanish Grocery store, I came across this one. It Looked like some kind of craft beer, so i decided to pick it up.
It pours a medium, slightly hazy amber colour with a nice foamy head.
The aroma is grainy, but there is a strong piney hop aroma coming through too. However, it has this weird background aroma that kind of reminds me of dog food for some reason... Some yeast also comes through in the background, but nothing overpowering.
The flavour is quite good. It's much fruitier than I had expected. There is a nice spicy hop flavour towards the end, and the finish is distinctly tobacco. Quite interesting indeed.
Overall, I have some mixed feelings about this one, but It's worth trying and certainly different from a typical pale ale.
★
801 characters

4.03
/5
rDev
+32.6%
look: 4.5 | smell: 4 | taste: 4 | feel: 4 | overall: 4
I admit it was the snazzy label (not what I see in the BA profile as of May '10) that first drew me in, maybe because I had never seen it though. At second glance, "Spain's first craft brewery" sounds intriguing, and if the Shelton Bros like it, chances are it is pretty tasty. Pours heartily with a huge head and nice clumps of foam and lace left on the glass all the way to the bottom. A little cloudy, did not carefully decant. Seems very healthy after the trip over-seas. Nice dry hop aroma and husky malt. Flavor is a bit more complex but maintains a nice balance. Musty hops out front, pale malt, and a more pronounced yeast flavor than in most American pale ales. Lightly fruity, not really so sweet, but definitely an interesting flavor, almost homebrew-y. Rustic. Smooth though and refreshing, definitely drinkable. Glad to be drinking a Spanish craft beer, and interesting to see how they've interpreted an American style brew, and how it translates to the American palate.
★
983 characters
Cervesa Del Montseny + Malta from Companyia Cervesera del Montseny
3.04
out of
5
based on
22
ratings.