Blowing Rock Winter Ale
| Blowing Rock Brewing Co.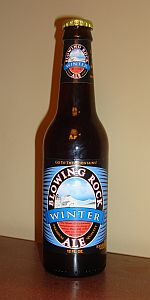 BEER INFO
Brewed by:
Blowing Rock Brewing Co.
North Carolina
,
United States
blowingrockbrewing.com
Style:
Winter Warmer
Alcohol by volume (ABV):
not listed
Availability:
Winter
Notes / Commercial Description:
No notes at this time.
Added by oberon on 01-07-2009
Ratings: 13 | Reviews: 12
Reviews by cdizinno:
4.38
/5
rDev
+35.6%
look: 4.5 | smell: 4 | taste: 4.5 | feel: 4.5 | overall: 4.5
A: Clear deep amber with a nice thick light tan head with moderate lacing.
S: Some spices with a nice mixture of mild hop and bready malt scents.
T&M: Smooth spicy flavor hits up front. Nothing overpowering with a mostly malty, slightly sweet taste. Mild fruitiness on the fade. The sweetness is very nice but it doesn't overpower any of the hops that are still present. Not like a caramel but different.
I have to agree with the review prior to mine. This winter ale is very good and more reviews are probably needed to bring the overall rating up to where it should be. This is a very good winter warmer without being over the top on spices or sweetness.
659 characters
More User Reviews:

3.68
/5
rDev
+13.9%
look: 4 | smell: 3.5 | taste: 3.5 | feel: 4 | overall: 4
Noticed this beer for the first time today and picked one up,poured into a standard pint glass a hazed amber/red with a slight off white 1/2 finger head that left shotty lace as it settled quickly.Aromas of clove,vaniila,and toasted grain in the nose mainly.Flavors are alot like the aromas,clove spice and vanilla/caramel flavors with an underlying toastiness.Nice full body it glides down easy,a solid offering,flavorful and pretty easy to drink for the style.
462 characters
3.22
/5
rDev
-0.3%
look: 3.5 | smell: 4 | taste: 3 | feel: 2.5 | overall: 3
A: Pours a dark amber color with a decent head that sticks around a while.
S: The smell of pine is abundant with aroma of raisins and a slight hint of vanilla.
T: Quick hop bitterness up front with a strong following of warming spices. Finishes malty with the flavor of apple peal in the aftertaste.
D: Not bad overall, maybe tone down the spices a bit and use the vanilla to smooth it out a bit.
400 characters
2.93
/5
rDev
-9.3%
look: 4 | smell: 3.5 | taste: 2.5 | feel: 2.5 | overall: 3
12 oz bottle poured into a Sprecher nonic. No info, 30509 on the neck.
Thanks to Onenote81 for this trade.
A - Completely clear bronze-amber with a tall two-finger, light cream head. Dense with good retention, it left a clumpy collar of lace upon descending.
S - Initially it smells like a subtle dopplebock with virtually no hops and rich malting. Caramel sweetness is big and a little toastiness gives it an edge. Spice is delicate to the point of being indistinguishable. It's one-sided towards malt but I like it.
T - The flavor is surprising...but not in a good way. An overpowering metallic flavor lingers through the whole brew, destroying the caramel malt backbone and subtle spice flavor.
M - The metallic flavor feels like you've chewed on tinfoil. Otherwise it's a good medium body with a sweet feel.
D - Towards the end of the beer it started to shape up slightly but it could be that I was just getting used to it. A solid offer that has a lot of room to grow.
979 characters
2.85
/5
rDev
-11.8%
look: 3.5 | smell: 3.5 | taste: 2.5 | feel: 3 | overall: 2.5
Bright cherry amber in color. Nice lasting 1/2" beige head.
Interesting aroma with a nice mix of hoppiness and spices. Pine aromas with hints of vanilla, clove and other spices. Kind of smells like going into one of those pipe stores with all of the incense burning.
Taste is similar to the aroma but doesn't mix as well. One of the hoppier winter warmers I've had. This normally would be a good thing b/c I'm a hophead, but the hops and spices don't really mix all that well. Flavor, while interesting, is all over the place.
Mouthfeel is light/medium, creamy, but the carbonation needs to be toned down just a bit.
It's an interesting beer to try and I would recommend one trying it. With that said I don't think I'll be buying another sixer of it.
750 characters
3.3
/5
rDev
+2.2%
look: 4 | smell: 4 | taste: 3 | feel: 3 | overall: 3
Aggressively poured into pint glass...
A: Pours a crisp ruby amber hue with a huge four finger creamy head that falls fairly quickly leaving very nice lacing behind and eventually settles to a thin cap.
S: Big malt presence reminiscent of a scotch ale and has some nice fruitiness and a little spice as well. Very nice.
T: Starts off with a huge scotch ale like malt profile, driven by pear and crisp green apple and just a hint of cinnamon and coriander spice. The finish has a lingering bubblegum flavor and faint bitterness from the hops, but not in such a good way.
M: Medium moutfeel with active carbonation, slightly harsh lingering bitterness in the finish.
D: Pretty smooth and drinkable but the harshness on the finish makes it a little hard to get through.
773 characters
2.25
/5
rDev
-30.3%
look: 3 | smell: 3 | taste: 2 | feel: 2.5 | overall: 1.5
The Blowing Rock Winter Ale is poor. Not lacking. But a derelict construction of flavors and aromas.
The manner in which the clove and vanilla mingle is like geriatrics trying to salsa dance. I drank this beer quickly to get rid of it so I could drink something better. I was severely dissappointed in it.
306 characters

3.48
/5
rDev
+7.7%
look: 4 | smell: 3.5 | taste: 3.5 | feel: 3 | overall: 3.5
This NC brewed winter showed up in local stores at the beginning of the calendar year. I have been meaning to try it but other things kept intriguing me more. I like the color, a bright translucent orange with a healthy inch of cream colored head that sticks around longer than most in this style. The nose is heavy on the sweet malt with notes of cherry and vanilla.
The sweet malt register goes past brown ale right on to winter warmer. There are touches of vanilla and spice but mostly this is an unadorned barley beatdown. The hops are almost nonexistent and the thin mouthfeel allows for some late cloying that crashes the party somewhat.
This is solid and drinkable but not as quixotic or fresh as what we've come to expect from the breweries in the western part of the state.
786 characters

4
/5
rDev
+23.8%
look: 4 | smell: 4 | taste: 4 | feel: 4 | overall: 4
I have to admit I was a little disappointed to see that this beer averages so low with my fellow BAs, but such is the nature of the beast I guess. I got this in a trade from Onenote81 (an amazing trader!) and I don't feel I can thank him enough as I really enjoyed this beer, so my numbers are going to be skewed compared to those of most others.
Appearance: Pours a deep rusty/coppery color and starts with a one finger head that is light than; body is pretty cloudy and shows strong carbonation; head fades slowly to a thin and uneven skim; spotty lacing is left clinging here and there to the sides of the glass.
Smell: Nice and sweet caramel matiness and a nice sweet spiciness (nutmeg, ginger, coriander) lingers in teh nose; there is a hidden dark fruitiness like raisins or dates hidden the back; slight vanilla and chocolatey notes left over as well.
Taste: Tons of that rich caramel maltiness and those spices are very present as well; slight presence of alcohol in the back but it's very well-blended; slight flavors of vanilla and chocolate sneak in there as well. The flavors with this are very reminiscent of an Old Ale in my estimation, so I'm really digging on this one.
Mouthfeel: A little thick and chewy with a solid coating left on the roof of the mouth; belly is left quite warm.
Drinkability: As mentioned above, it's very reminiscent of an Old Ale in my estimation and that's definitely one of my favorite styles; great flavors combined with a great smell; I wish I knew what the ABV was, but I can admit that I definitely feel a bit of a buzz sneaking up on me, so I would probably limit my intake, but I could really sip on something like this for a night. I hope to come across this again.
1,719 characters

3.4
/5
rDev
+5.3%
look: 3.5 | smell: 3.5 | taste: 3.5 | feel: 3.5 | overall: 3
Pours a clear amber color with about an inch-sized head on it. This disappears to ring and a thin sheet. Decent webbing, but not the most sticky. Smells of vanilla, clove, cherries, flowers, and some mineral presence.
This is not a bad winter warmer at all. I've only started drinking these this winter, but I've had worse for sure. Can taste the mild vanilla flavor, but the spiciness that I expect from this style is lacking. Slight hop bite at the finish, but nothing spectacular. Mouthfeel is creamy, but with just enough snap in the carbonation. Drinks ok. Drinkability is lower for me, b/c I really couldn't see myself wanting to drink one after the other. Not bad though. Check it out if you get the chance.
716 characters

3.3
/5
rDev
+2.2%
look: 3.5 | smell: 3.5 | taste: 3 | feel: 3.5 | overall: 3.5
Aggressive pour gets about a finger and a half of eggshell white foam, fair amount of moderately sized bubbles here and there, cycles downwards without wasting time, nothing unique about the lacing and it too lacks staying power. Very deep red to mahogany in color, you notice its spotless clarity even given the darkness of hue, bright presence in the glass. Cinnamon, anise, ginger, toffee, vanilla pudding and milk chocolate ensure that the nose is sweet and easy to access, really nothing there to serve as an adequate foil, the oatmeal and plum to raisin scents too parrot the party line. Full-bodied, low in carbonation and flat-footed, a fat dude crashed on the couch. More cinnamon, ginger spice, vanilla bean, toffee, caramel, chocolate, keep the list going. Soft and creamy mouth texture, yet with both the sweetness and ability to soak into the palate lacks length through the finish. Some oats, grains, cereal, bare minimum of hops presence, maybe dried orange peels. Another of so many technically correct, not unpleasurable beers which aren't even close to developing a personality.
1,096 characters
2.93
/5
rDev
-9.3%
look: 4 | smell: 3.5 | taste: 2.5 | feel: 3.5 | overall: 2.5
2 12oz bottles into a Duvel tulip. Pours a hazy dark orange with a thin khaki head that lasts as a thin layer and leaves spotty lacing. Aroma is as mentioned in the previous reviews, a mixture of vanilla and clove, strange to say the least. The taste is interesting at first, then quickly turning a to sour mess as it lingers. The beer is medium bodied with slight carbonation. This is not anything I'll likely be trying again.
427 characters

2.75
/5
rDev
-14.9%
look: 2.75 | smell: 2.75 | taste: 2.75 | feel: 2.75 | overall: 2.75
Blowing Rock Winter Ale from Blowing Rock Brewing Co.
3.23
out of
5
based on
13
ratings.