Blowing Rock Bock Lager
| Blowing Rock Brewing Co.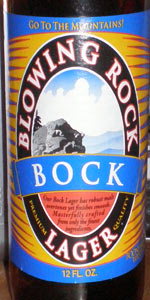 BEER INFO
Brewed by:
Blowing Rock Brewing Co.
North Carolina
,
United States
blowingrockbrewing.com
Style:
Bock
Alcohol by volume (ABV):
not listed
Availability:
Spring
Notes / Commercial Description:
No notes at this time.
Added by LuckySevens82 on 03-29-2009
Ratings: 7 | Reviews: 7
Reviews by gosurfobx:
3.57
/5
rDev
-0.8%
look: 3 | smell: 3.5 | taste: 3.5 | feel: 3.5 | overall: 4
Picked this bottle up at my local beer store. 12oz with a twist off cap and no freshness date.
After letting the bottle warm-up a little on the counter I poured it into a pint glass. Beer pours out a clear amber color with a large head the settles down to a film. The nose is malt with some carmel and a faint hint of hops.
The first sip is all malt with little evidence of hops. There is a slight carmel aftertaste. As the beer goes down the roasted flavors from the malt become more upfront.
Beer is has a decent mouthfeel to it and quite a bit of carbination. Overall pretty good but there is room for improvement.
621 characters
More User Reviews:
3.56
/5
rDev
-1.1%
look: 4.5 | smell: 3.5 | taste: 3.5 | feel: 3.5 | overall: 3.5
Served from bottle into a Mother Earth strange. Poured red-orange with a fluffy three finger light tan head that subsided to one and a half finger very slowly. There was no lacing evident throughout the glass. The aroma was comprised of sweet malt, roasted malt, nuttiness, and dark fruit. The flavor was of sweet malt, nuttiness, and dark fruit. It had a medium feel on the palate with high carbonation. Overall this brew wasn't overly exciting for me. In all fairness it was a decent Bock, but not very memorable. All of the aspects weren't bad, but just lacked complexity and depth.
585 characters
3.65
/5
rDev
+1.4%
look: 3.5 | smell: 3.5 | taste: 4 | feel: 3 | overall: 3.5
Mahogany-colored beer with large fluffy tan head that lasted awhile. Minimal lacing though. Smelled of sweet malts & raisins. Tasted like it smelled: malty fruity raisins, very little hopiness, therefore a rather refreshing change from teh current trend of overhopping everything. Creamy mouthfeel. This was a very sessionable bock "lager" - I would drink several pints at the bar. Very interesting beer. Homer like!
416 characters

3.53
/5
rDev
-1.9%
look: 4 | smell: 3.5 | taste: 3.5 | feel: 3.5 | overall: 3.5
The beer pours a dark amber color with a thick frothy off-white head that slowly fades to lacing. The aroma is decent. It has a dry, pilsner and crystal malt scent that's a bit sweet, yet not overly so. The taste is decent as well. It has a good amount of caramel sweetness that goes down easy and finishes dry and slightly metallic. It has a bit more crystal malt character than your typical bock. The mouthfeel is fine. It is a medium bodied beer with adequate carbonation. This is a good drinking bock. It's not overly complex, but it may be too sweet for some traditional lager converts.
591 characters

3.87
/5
rDev
+7.5%
look: 3.5 | smell: 4 | taste: 4 | feel: 3 | overall: 4
Poured into a mug. This pours a crystal clear amber with a thick off-white head on top. Retention was weak; left little lace. Scents of roasted malts, caramel, and light cocoa. Nice.
The body was a bit on the spritzy side. Carbonation level could be tamed down somewhat. Nice malty backbone with a touch of hoppy bitterness, and a sweet finish. This was plenty quaff-able. I enjoyed this one a lot. Could become a staple this spring.
435 characters
3.65
/5
rDev
+1.4%
look: 3.5 | smell: 3.5 | taste: 3.5 | feel: 4 | overall: 4
12 oz bottle.
Pours a hazy reddish brown with a pretty nice 2 finger off-white head. Lacing is non-existent, but the collar is pretty nice.
Smell is bready malts, some spice as well (mostly cinnamon, nutmeg, etc). Also a little bit of german hops in there as well.
Taste is a little crisp with nice bready malts, Definitely some spicing in this one as well...tastes like it smells with the cinnamon and nutmeg. A bit more hops in the flavor than I expected from the nose, but it works and all balances out quite well. A very pleasant, almost chocolaty aftertaste as well.
Mouthfeel is about spot-on for the style. Smooth, not over carbonated, and just rolls around the palate quite easily.
Overall, nothing to get excited about here, but this is still a decent bock. Nothing out of the ordinary, executed well, and pretty easy drinking.
841 characters
3.36
/5
rDev
-6.7%
look: 3 | smell: 2 | taste: 4 | feel: 4 | overall: 3.5
Got this beer at the new Common Market in Charlotte NC.
Beer pours a transparent dark brown amber. Thin white head that quickly disappears.
Smell is roasty and a little sweet smokey malt. Not a huge complexity in the nose, a little disappointed, boone brewing company typically gives some good smells on their beers.
Taste is roasted barley and smokey malts with a very obvious typical lager backbone and finish with hops. A good solid bock taste.
Mouthfeel is creamy and very smooth.
Easy to drink but you need to appreciate a bock first before jumping on this one.
568 characters
Blowing Rock Bock Lager from Blowing Rock Brewing Co.
3.6
out of
5
based on
7
ratings.