Hop Villain
| Big Al Brewing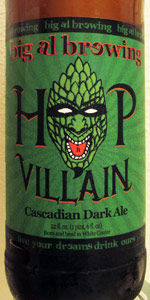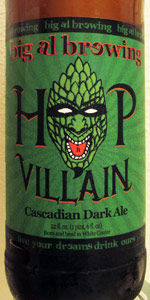 BEER INFO
Brewed by:
Big Al Brewing
Washington
,
United States
bigalbrewing.com
Style:
American Black Ale
Alcohol by volume (ABV):
6.40%
Availability:
Rotating
Notes / Commercial Description:
No notes at this time.
Added by barleywinefiend on 02-15-2011
This beer is retired; no longer brewed.
HISTOGRAM
Ratings: 14 | Reviews: 7
Reviews by ncfranklin:
3.83
/5
rDev
+10.7%
look: 4 | smell: 3.5 | taste: 4 | feel: 3.5 | overall: 4
Growler into a pint glass.
A: Deep dark brown to black. Nice frothy finger head.
S: Roasted malt and coffee, some citrus underneath. Also sweet sugar smells present.
T: Bitter from both burnt malt and hops, but a flavor full of coffee, sweet chocolate and grain. No real citrus tones here, fairly dominant in malt.
M: Medium in the mouth with some average carbonation. Some remaining flavors from the grain stick to the gums.
D: More malt than hops for sure, as the hops seem to only be present in the bittering notes and not so much in flavor added. But, if you enjoy sweet notes with some bitter balance (and not orange, grapefruit hop flavors), this is right up your alley. A very drinkable brew, might i add.
721 characters
More User Reviews:
2.86
/5
rDev
-17.3%
look: 3 | smell: 2 | taste: 3 | feel: 3.5 | overall: 3.25

3.71
/5
rDev
+7.2%
look: 4 | smell: 3.5 | taste: 3.75 | feel: 3.75 | overall: 3.75



3.71
/5
rDev
+7.2%
look: 3.5 | smell: 3.75 | taste: 3.75 | feel: 3.5 | overall: 3.75
This is my first Cascadian Dark Ale, I bought a Bombere since I recently toured Big ALS brewery and loved the small funky brewery, very cool. This beer fits that experience. Pored slow into a.glass with big foamy head. Had to be patient and let that calm down but I enjoyed the chocolate/ coffee aroma and taste. Great for a cold seattle night.
344 characters
3.85
/5
rDev
+11.3%
look: 3.5 | smell: 3.5 | taste: 4 | feel: 4 | overall: 4
A murky dark brown served in a pint glass with a thin off white head. The nose is very much like a stout with a roasted malt and coffee style. The taste is very much coffee and only slightly bitter. The mouthfeel is silky smooth with low carbonation and a soft bitter finish. There is descent retention and is a very easy drinker.
330 characters

3.26
/5
rDev
-5.8%
look: 4 | smell: 3 | taste: 3.25 | feel: 4 | overall: 3
A nice looking dark brown brew poured in the Kasteel chalice, with a frothy foam and plenty of lacing. Spritzy on the tongue. Body is light and refreshing. Some malty and grainy sweetness on the lips.
Flavor is that classic dank, gummy, and bitter. It's funny, but there is a distinct chocolate taste in the midst of the bitter hops. Some burned caramel taste. Long herbal tea aftertaste. I thought this tasted more mellow at first, but after some sipping the Cascadian cat is out of the bag and it's a black and bitter one-eyed stray.
The sudsy mouthfeel is the nicest feature. For enthusiasts only. From the 22 oz bottle bought at Ken's Market in north Seattle.
665 characters

3.71
/5
rDev
+7.2%
look: 4 | smell: 3.5 | taste: 3.75 | feel: 3.75 | overall: 3.75
22oz bomber purchased at Jim's Homebrew in Spokane for $4.42. According to the label, which also lists the hops, malts and yeasts used for brewing the beer, the abv percentage is 6.4. It also states that it has 65 IBUs and 25 SRM. It does NOT indicate when it was bottled, but I'm thinking it was fairly recent as I see no other reviews from a bottle.
Poured a very dark brown that looked black until held up directly to light, which brought out a very dark rubyish tinge. Big, creamy tan colored head that left a fair amount of lace.
Initially the aroma was of faint, piney hops. Soon, as things warmed up, there was also a coffeeish, chocolaty malt aroma, also rather faint.
Thankfully, both hop and malt aromas came through much better in the flavor department. Things are pretty equally balanced between hops and malts, except at the swallow, where a hoppy dry note finshes things off.
Medium bodied, with a mouthfeel that is creamy and slightly oily.
While it's not the most flavorful "Cascadian Dark Ale (I have to admit that while I like the style, I really don't like that name - too stuffy sounding)" I've ever had, it has more than enough flavor to be an enjoyable one, with none of the infection issues of my last bottled beer from Big Al. I would drink this again.
1,281 characters
2.71
/5
rDev
-21.7%
look: 3.5 | smell: 2.5 | taste: 2.5 | feel: 3 | overall: 3
A: Poured black with good carbonation leaving a tannish cap to it
S: Not much on the nose to speak of. Smell some roasted notes but not much in the hop category
T: Believe this beer is far from being a hop villian. It should have stolen alot more hops. No fruit, floral, citrus notes as I from any average Black IPA/CDA. Instead any bitterness seems to come from the burnt black malt. The body was there, hops were not.
M: Not bad, mouthfeel was average, no issues but the lack of taste had me underwhelmed
D: Pass
518 characters
3.8
/5
rDev
+9.8%
look: 3.5 | smell: 3.5 | taste: 4 | feel: 3.5 | overall: 4
Served in straight pint glass. Poured a lightly translucent dark brown with about a half-inch of light brown head that low retention and light lacing.
The aroma is mostly roasted malts some citrusy hops in the background. The flavors as well were fronted by the roasty notes. The hops were secondary, but solidly present. Mostly citrus, but also bits of floral and pine.
The body was fuller than average, but not heavy or sticky. Drinkability was good, I'll revisit this beer while it's around.
Overall, a decent but not special beer, worth a shot if you see it.
565 characters
Hop Villain from Big Al Brewing
Beer rating:
3.46
out of
5
with
14
ratings