St. Elias Brewing Company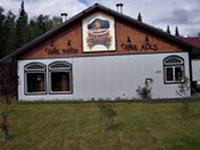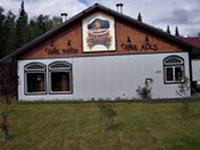 PLACE INFO
Type:
Brewery, Bar, Eatery, Beer-to-go
434 Sharkathmi Ave
PO Box 1141
Soldotna
,
Alaska
, 99669-1141
United States
(907) 260-7841 |
map
steliasbrewingco.com
Notes:
No notes at this time.
Added by juzy on 08-18-2008
HISTOGRAM
View: Beers | Place Reviews
Ratings: 14 | Reviews: 7
Reviews by coldriver:
3.84
/5
rDev
-1%
vibe: 4 | quality: 3.5 | service: 4.5 | selection: 3.5
Soldotna/Kenai could arguably be one of the best beer towns in the USA, measured on a per capita basis. Two breweries that bottle/can (Kassiks and Kenai River), restaurants that seem to go out of their way to feature local/Alaska beer offerings, and the St Elias brewpub are all crammed into a smallish municipality that puts almost any similarly sized city (not counting suburbs) in the lower 48 to shame beer-wise. Granted you don't have any Three Floyds or Russian River equivalents here, but plenty of great stuff on hand, and you can tell the place is proud of what they have.
On our way to Homer my wife spotted the Fred Meyer and I simultaneously spied St Elias. We agreed to meet back at the car in 45 minutes...
The place was not busy mid-afternoon and I ordered the sampler flight of ten beers. Most were good, with the Williwaw IPA and Puddle Jumper Pale Ale being my favorites. The woman working the bar and local dudes sitting at the bar were all extemely friendly and by the time my wife stopped to pick me up I felt like I was saying goodbye to old friends. Definitely worth a stop if you're in the area.
1,121 characters
More User Reviews:
4.23
/5
rDev
+9%
vibe: 4.25 | quality: 4.5 | service: 4 | selection: 4 | food: 4.5

3.81
/5
rDev
-1.8%
vibe: 3.25 | quality: 3.75 | service: 4.25 | selection: 3.5 | food: 4.25

3.78
/5
rDev
-2.6%
vibe: 3.75 | quality: 3.75 | service: 3.75 | selection: 3.75 | food: 4

4.1
/5
rDev
+5.7%
vibe: 4 | quality: 4.25 | service: 4.5 | selection: 3.5 | food: 4.25
Good pizzas and good beer. Small section hurts em but in small town Alaska, it's great.
88 characters
4.25
/5
rDev
+9.5%
Both the food and the beer are a worth while stop when on the Kenai
68 characters



3.13
/5
rDev
-19.3%
vibe: 3 | quality: 3 | service: 3.5 | selection: 3 | food: 3
Stopped in after hearing some rave reviews from some of the locals while staying in Soldotna.
Pros: Probably one of the better places to eat while in Soldotna and their beer is decent. Staff was very friendly.
Cons: Most beers were average as was the food. The wouldn't really accommodate food allergies (i.e. they would happily leave off ingredients, but would charge to substitute--which is a pain). The atmosphere is a little cheesy--like they tried to pull off a vintage style family friendly environment that is rustic, but kind of strange.
Bottom Line: Its worth a shot. Their Saison was very good and a couple beers were solid. If you are looking for the best drinks and food in Soldotna go to Buckets a few blocks away. After eating at St. Elias' we ate at Buckets twice during our trip.
800 characters

3.65
/5
rDev
-5.9%
vibe: 3 | quality: 4 | service: 3.5 | selection: 3.5 | food: 4
Pulled up in here on the way back down to Homer from Denali after a morning at the Kenai Lake and just had to have a beer or two. Sat up at the bar with the lady and ordered a few, tasted a few, drank some beers, chatted for a bit.
They've got the sorta cool, sorta cheesy thing going with the old circus posters plastered in the bathrooms and "old" stuff smeared all over their walls. The place would do better trying to carve its own identity, but I get it, you gotta do what you think is right. Even if it's silly.
They had 8-10 on tap, ranging in styles. We just missed some vanilla porter thing (if I remember correctly) and were in between cool draft releases. Most of their beer was good, a few were decent, nothing done poorly. The food was pretty good bar food, the people were decent to us but wanted to chat Soldotna life with each other more. Its what it is..
Wish we'd brought a growler.
900 characters

3.96
/5
rDev
+2.1%
vibe: 2.5 | quality: 3 | service: 4 | selection: 3.5
Makes it worth stopping in Slowdotna, on the way to Homer. the beers they have year round are pretty true to style, and they do make some very good seasonal, I'm a big fan of their barleywine. the atmosphere is a little hoity-toity, but the staff are always friendly, and they seem to love it when someone comes in who knows a thing or two about beer, regardless as to weather they meet some unspoken dress code or not. I'm not sure as to what the food is like as I've never tried it in the multiple times I've been here (it's the perfect spot to start hitchhiking north out of slowdotna from), but i've heard it's good. well worth a stop, even if it's just to snag a growler or two, and avoid the uppity vibe.
710 characters
3.88
/5
rDev 0%
vibe: 4 | quality: 4 | service: 4 | selection: 3.5 | food: 4
Recently visited this place while out on the Kenai Peninsula. Overall it is a fairly good place. It has a rustic Italian/European feel on the inside with a unique American decor. It is fun to be able to see the pizza oven right as you walk in. You can watch them cook your food right up front.
I ordered a sampler of all their beers on tap and was impressed by the selection and the quality.
We were in at a slower time of day so it happened to be the bartender waiting on us at that time.
The menu is fairly small, mostly pizzas.
The service is very nice and the staff is knowledgeable. They are able to tell you about the beers availble there and actually know what they're talking about.
Overall it was an enjoyable experience for me and I would recommend visiting this establishment if you are in the area.
815 characters
4.33
/5
rDev
+11.6%
vibe: 4 | quality: 4.5 | service: 4 | selection: 4.5 | food: 4.5
Last visited December 2010.
I wanted to update my original (July 2009) review with some new developments over the last 18 month. St. Elias has installed more fermenters and additional taps, allowing them to typically have of their 8-10 beers on tap. The Owner/Brewer Zach Henry has purchased additional whiskey barrels and has begun serving cask-conditioned beers on special occasions, such as Firkin Fridays. He has also made something of a name for himself with blended beers, such as his Tin Hat Brown Ale.
They have also purchased the house next door to help alleviate the parking situation.
(Original Review)St. Elias opened in May 2008 and has consistently improved since then. The pizzas, sandwiches, and soups on the menu are excellent, the atmosphere is friendly, and they are now open for lunch, seven days a week. The decor is eclectic, with a cool concrete bar, a fireplace in the winter and seating outside on the patio in summer.
The beers have continued to improve as Brewer Zach Henry has gotten more familiar with his brewhouse. Usually there are 6 or seven beers on tap. His Williwaw IPA, Marathon Mild, and Even Keel Kolsch are especially good, not to mention he has begun aging special beers in whiskey casks.
St. Elias keeps moving from success to success and has become very popular with both locals and the summer tourists.
Growlers and party pigs available for take-out beer orders.
1,413 characters

3.88
/5
rDev 0%
vibe: 4 | quality: 4 | service: 4 | selection: 3.5 | food: 4
This is an update on my initial review, which took place shortly after they opened. I am pleased to say that service has improved, beers seem to have been tweaked some and we actually bought a 5 gallon corny keg of their Williwaw IPA for the house. A very nice IPA. The menu is still a bit limited, but overall the food is good. They have added patio pavers to the back so there is now proper outdoor seating. They are also open for lunch now.
(July 2009)
(original review, 2008) We visited this place several times while we were at our campsite for the month of July. They are packed almost from the moment they open. This will change as the tourists leave for the summer and the brewpub is left with only local business. I'm sure locals will revel in this though.
It opened in June, 08. Needs to work out some kinks. Such as service time, maybe beer serving temps need to be revisited. They had some outdoor seating, but I think it was slapped together last minute to accommodate the crowds that have been turning up. Basically it's just a bunch of patio furniture placed on their back lawn. Too many small flying things around my head on one visit. I would expect a more permanent outdoor seating area for next summer, something concrete or stone perhaps? Sat inside for the other two visits. Inside decor is pretty funky, this took someone some time to do. Lots of faux brick and stucco work, cool decorations, very bright and open....and loud. Acoustics were sort of weird, could hear every conversation, but could not hear the music over these conversations.
All three times we went we waited for our initial beverages after ordering them longer than we felt was acceptable.
They have a nice sampler of their beers. I highly recommend getting this before choosing one of their beers to go with your meal. Most of the beers are thin in body. All of them are served waaaay too cold. Odd....there is no IPA on tap! I don't think I've ever been to a brewpub that didn't offer some version of an IPA! They fill growlers and kegs. Hopefully the off-season will allow them some experimentation time in the beer realm. I hope to see some winter/seasonal offerings.
Their menu is small, limited to brick-oven pizza, salads, calzone-style sandwiches, and a few desserts. Good to start small, I suppose.
We shared a green salad, big enough for two to share. The dressings were pretty good, maybe house made? Nothing extraordinary though, looked like spring green mix from Costco. A few tomato and cuke slices on it, a smattering of fresh mushrooms and red onions.
The pizza selections are creative, we had the Smokestack pizza on one trip and the Brewhouse (meaty) on another. Both are very good pizzas. The Smokestack went great with their Copperweizen, the Brewhouse was a match to their Irish Stout.
We thought the pizzas were very good. The crust was nice and thin, chewy, the pizzas were small, but totally sharable for two. The sauce was a little sweeter than I like, but good none the less.
Didn't try any of their desserts, but saw several being served and they looked good.
The servers need some beer education, especially when it comes to them describing each of the 7 tap selections! You want to jump in and correct them, but have to hold your tongue. The servers also need to be more time efficient. It just seemed like many of them had never waited tables before.
I'll chalk all of that up to the brewpub being new and getting on it's feet.
Totally great place to visit if you find yourself in Soldotna...considering that Soldotna has no other brewpub.
3,577 characters
St. Elias Brewing Company in Soldotna, AK
Brewery rating:
3.84
out of
5
with
94
ratings