The Judge's Bench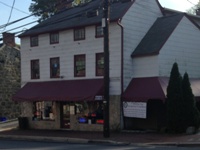 PLACE INFO
Type:
Bar, Eatery
8385 Main St
Ellicott City
,
Maryland
, 21043-4605
United States
(410) 465-3497 |
map
judgesbenchpub.com
Notes:
No notes at this time.
Added by John_M on 08-21-2008
Reviews: 18 | Ratings: 30

4.71
/5
rDev
+14.9%
vibe: 4 | quality: 4.5 | service: 5 | selection: 5
:) This is one of my favorite places. The taps rotate frequently and there is always something that I LOVE (Heavy Seas, Southern Tier) or something that I've been wanting to try. I advise to try a Sun or Mon night with reduced prices and not a huge crowd so you can take your time and explore what all the taps have to offer. There's also a nice bottle selection but I get so happily distracted by what's on tap i've never paid that close attention to the cooler.
Bartenders know their beers and are willing to pour you a taste if you are afraid of committment. The owner is usually around and is also a homebrewer so he knows what he's putting on tap.
Haven't tried much of the food due to lack of veggie love on the menu, but everything looks good.
754 characters
4.43
/5
rDev
+8%
vibe: 4 | quality: 4.5 | service: 5 | selection: 4.5 | food: 3
A mistaken exit of 95, a bisection of downtown Balti. and finally I find myself at JB. Its 3:30P -- I missed lunch -- and then find out JB opens at 4PM. D'oh! No prob. Mike the owner was opening and welcomed me anyway. I spent the next couple of hours+ sampling the 16 (I counted them 3 times) taps. Hmmm..What to drink when I still got 200 miles to go? I prioritized, got the last glass of a kicked keg (Weyerbacher SlamDunkel) and was introduced to the SouthernT Unearthly IPA (I'm more of a Malthead). Whoa! Anybody that can turn my "head" like that deserves high accolades.
Final note? Married? SigO doesn't groove on suds? Tell them you'll be at the bar -- let them go shopping -- Ellicott City is a very attractive, easily walkable historic area. Use the JB as a base of ops...
784 characters

4.3
/5
rDev
+4.9%
vibe: 4 | quality: 4.5 | service: 4 | selection: 4.5
Finally got to Judge's Bench after hearing good things from folks. It turned out to be quite a comfy place to have a couple of excellent beers. Less than 20 taps, but I have no doubt that there would always be something good on. I had the new Southern Tier IBA, which I wasn't even aware of before that evening. The service was pretty friendly and offered recommendations to patrons. When kegs kicked, they were replaced quickly, and I imagine it would be fun to see what pops up on a busy evening. For a Friday, it wasn't a complete zoo, which I prefer. The live music was fun without a pesky cover charge and not ridiculously loud. Prices were a little high, so I'd love to return during happy hour, but I suppose one could do worse. Regardless, I will be back
762 characters
4.68
/5
rDev
+14.1%
vibe: 4 | quality: 5 | service: 4.5 | selection: 5 | food: 4
Moved to Ellicott City last year and was lucky enough to find this place early on. It is now my "go to" bar.
The beer is always exceptional and the taps are constantly on rotation. This place introduced me to Nugget Nectar, Oaked Yeti, World Wide Stout, Maharaja, and countless other amazing beers. I go there almost weekly and never have a clue what I will find on tap.
Mike, the owner, can talk your ear off about anything, but has a passion for good beer. He homebrewed for years and sometimes brings in his own for us to try. He is also incredibly generous with sampling any beers. One time we were talking about strong beers and he mentioned world wide stout and i said i knew it was strong, but had never tried it. He immediately left and came back 2 minutes later for a bottle for us to try.
When I first went there they had maybe 10 taps, half were standard crap, but Mike has almost erased the light beers from the bar, besides a few bottles here and there.
The food is pretty tasty, especially the Reuben.
If you're anywhere near Baltimore, make a detour to the Judge's Bench.
1,094 characters
4.63
/5
rDev
+12.9%
vibe: 4.5 | quality: 5 | service: 5 | selection: 4.5 | food: 3
I've been to the Judges bench several times now. They get some very good beers on tap here such as North coast old stock, Allagash Interlude or many others on there twenty or so rotating taps. There staff is very knowledgeable and it's very comfortable inside. The food is average bar food but still quite tasty. It's a very old beautiful building with alot of character. As previously mentioned the upstairs here as really cool. Very cozy chairs, Great Beer and a large tv all to yourself most nights. Can life get any better? I submit that it cannot!
552 characters
4.64
/5
rDev
+13.2%
vibe: 4.5 | quality: 4.5 | service: 5 | selection: 4.5
This is a gem. The Judge's Bench is cozy, approachable, unassuming. Mike, the owner, is generous and passionate about beer and local history. The bar and some tables are downstairs. On nights they have music it is loud due to the small space. Upstairs you will find a few more tables, over sized arm chairs and a large screen TV. Sit back with your beer on the side table, remote in hand and tell me you don't feel like you're at home. A couple of dart boards provide battery free entertainment. While I have not eaten here, Mike proudly describes his pizza.
A solid selection of tap craft beer minus the crowds. Gather your own jury of beer's and decide for yourself, but my verdict is let this bar live a long prosperous life.
I discovered the Bench a few months before moving from Baltimore to Asheville...oh well, better to have drank and lost than never to have never drank at all.
888 characters
4.08
/5
rDev
-0.5%
vibe: 3.5 | quality: 4 | service: 4 | selection: 4.5
Stopped in on a Friday night. Easy parking, at least early (I was there around 6 p.m.), there's a lot right across the street in the otherwise difficult parking situation that is downtown Ellicott City.
Really tiny downstairs bar area. I didn't notice an upstairs area, but the first floor there's a tiny L shaped bar, maybe 12 seats.
The good thing is there are ~17 taps, mostly locals when I went (McHenry + at least four Heavy Seas taps). I was expecting a little more since, but its not bad either. There's a tiny craft beer fridge with Belgians and other assorted bottles worth taking a look at.
The prices are nice, they vary by beer which is unusual but offers really reasonable prices for much of the tap offerings. Curieux was actually priced at $8.00 where most beers were $4.50 or less but thats sort of intelligent pricing, all things considered.
Not to make judgments, but it was not a craft beer crowd while I was in there. Hopefully they can expand their clientele and make money from those taps, but I think I was the only person there for at least an hour drinking from the taps while everyone else was having Bud Light, Miller Light, Natty Ice etc. bottles.
In essence this place is a hidden gem, I hope more BA's go there and help the business so it doesn't sink and reduce the already limited Howard County craft beer scene.
I didn't try the food/menu, seemed like pub grub, guy next to me had nachos.
Overall, cannot complain about 17 taps, a bit heavy with the locals but also some interesting stuff (they print a sheet with about 30 beers, of which 17 or so are on tap at any time, just ask and they should have your first or second choice available), prices are good, parking easy enough in quaint downtown Ellicott City. Just a bit small/shoulder-to-shoulder for my tastes as far as ambience.
UPDATE: Wanted to update my review a bit. Went back again recently, finally got the gist of this place. They've got a static bottle list of some really good stuff. The tap list was improved, talked to the owner a bit he's a really nice guy and actually lays off the good stuff so customers can enjoy (I told him that's crazy -- good for us beer drinkers but I'd be all over the good stuff if I ran an establishment).
Still haven't checked out the upstairs, looking online it seems they've got some kind of mug club or whatever. I also arrived at a less-crowded time and there were serious beer drinkers there and it was much more relaxed. Small place, but they've got the right idea and I'll be back.
Another Update: I've discovered they have some sort of take-home beverage options. You can purchase bottled beers and they have special rates for combinations of beers, worth looking into.
My service score is staying the same but like most places the more regular you become the service starts to really improve as they know your face. Looks like they're open until 2 am nightly for the night owls like myself, happy hour is $0.50 off most tap beer.
They're somewhat limited in selection due to the keg size limits they're burdened with, but the owner works his tail off to supply good beers and there's a constant flow of interesting offerings to go with a well-organized and thoughtful bottled beer selection.
Really a mixed crowd here, got all kinds of people in a tiny space.
3,311 characters
4.13
/5
rDev
+0.7%
vibe: 4 | quality: 4.5 | service: 4.5 | selection: 4 | food: 2.5
Have been to the Judge's Bench on several occassions now, and have to say that it is a welcome addition to the West Baltimore beer scene. Oh wait; that's right; there really isn't a West Baltimore beer scene. Well this is a good start.
In any event, the Judge's Bench is a smallish beer bar located in the upper end of downtown Ellicott City. As you walk in, the bar area is in front of you to the left with a few tables interspersed throughout the bar. I think there are something like 10 or 12 seats at the bar, and the place is very low key, with a couple of flat screen TV's at either end of the bar for entertainment/distraction. There is also a small upstairs room as well here, though I've never gone upstairs to check it out.
The owner of the beer bar is an older gentleman by the name of Mike. Mike is quite friendly and chatty, and is extremely knowledgable about beer. The first time I visted he was wearing a BA extreme beer t-shirt, and he was excited to tell me all about his experiences at this festival. So as you can imagine, service here is friendly, quick, and well informed (usually this is the case; Mike works behind the bar far less frequently than he once did, and some of the other staff working here can be a bit slow at times).
At present JB's has something like 17 tap lines, which is impressive given the size of this place (there is no cellar or basement). Mike indicated that he buys everything in sixtels so he can run as many tap lines as possible in the small area behind the bar. As a result, the beer here is invariably fresh, though some of the more popular beers kick pretty quickly (I think the SN anniversary ale came and went in a day or two). The bottle selection is growing, though Mike indicated it is now up to over 100. What I saw available (considerable Belgian selection and some bottles of Celebration ale, just to mention a few items), looked very impressive.
The quality of the beers avaiilable on tap is top notch, and the last time I was there included the Maharajah, Allagash curieux, flyig dog oaked porter and ST Creme Brule. Taps rotate frequently here, so one can count on seeing something new on tap pretty much any day you come by.
Have only tried the fries and sliders here, both of which were pretty good. Otherwise, this place has pretty basic pub grub. Also, the bar has a happy hour every day until 7:00, which makes the fairly reasonable prices here (no one will mistake this for Victoria's gastropub when it comes to pricing) even more reasonable.
This is a very solid place, one I only wish I had learned about sooner (they've been open for 16 months now in the current incarnation according to the owner). Recommended.
Edit from 11/8/11. I come here from time to time now, and the beer selection is as solid as ever. However, I'm not sure what the problem is in the kitchen, but there really seems to have been a drop off in the quality of the food of late. It's not awful, but increasingly I just go with the wings here (which are still pretty good), as the nachos are really pretty lousy, and increasingly I feel as if I'm eating at a "greasy spoon." Consequently, I've started keeping my visits here pretty brief, as I just don't want to have to fuel up on anything coming out of the kitchen (and as I'm not always in the mood for wings). JB's is still a solid place, but I now come here almost solely for the beer selection, and whenever possible, eat elsewhere.
3,444 characters
The Judge's Bench in Ellicott City, MD
4.1
out of
5
based on
30
ratings.