Dismiss Notice
Gale's Prize Old Ale Matured In Calvados Casks (2003)
| George Gale & Company Ltd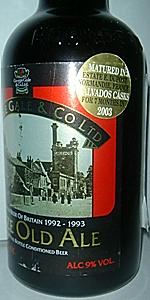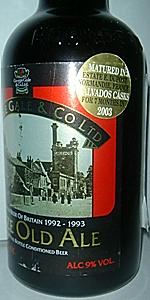 BEER INFO
Brewed by:
George Gale & Company Ltd
England
,
United Kingdom
gales.co.uk
Style:
Old Ale
Alcohol by volume (ABV):
9.00%
Availability:
Limited (brewed once)
Notes / Commercial Description:
No notes at this time.
Added by BeerBeing on 03-19-2006
This beer is retired; no longer brewed.
HISTOGRAM
Ratings: 10 | Reviews: 10
Reviews by Sephiroth:
4.17
/5
rDev
+32.8%
look: 3.5 | smell: 4 | taste: 4.5 | feel: 4 | overall: 4
Thanks to BeerBeing for the birthday present. Cork looks good, that seems to be the key with these beers from George Gale. Pours with zero carbonation, the beer is somewhat murky and brown. Good aroma of wood, apple, and caramel malt.
Alcohol is apparent, as is the barrel aging. Nutty caramel malt blends smoothly with the apple and the wood. Mouthfeel is thin, but the finish lingers. Good drinkability.
409 characters
More User Reviews:
3.25
/5
rDev
+3.5%
look: 3.5 | smell: 3.5 | taste: 3.5 | feel: 3 | overall: 2.5
I like this style, normally. This 6-year old possessed but a small bubble for a head. It looked like an old ale, chestnut and on the thick side. It smelled a bit boozy, apple cidery. The taste was old ale of splinter wood and years gone past.Found at Premiere Gourmet.At best a sipper, it improves with room temperature and leaves an aftertaste of apple cider.. and splinters.
376 characters
3.18
/5
rDev
+1.3%
look: 3 | smell: 5 | taste: 2.5 | feel: 3 | overall: 2.5
I decided to try this beer this weekend. I picked up one of these a while back and am a fan of the regular prized old ale.
A - off brown with a reddish tinge at the edges. absolutely flat. Not even a stray bubble running up the glass. Not necessarly atypical of this brewery.
S - unbelievably good. Sat there and just savored the aroma for a while. Sweet malts, oak, apples and a vinous alcohol character that is just plain amazing.
T - sorry, fell apart. there's a harsh astringent character in the beer that I did not expect after tasting this one. It steps in and distracts and overwhelms the wonderful aromas.
M - medium bodied, flat. Definitely a warming effect from the alcohol.
D - Didn't finish it. I love the other style and enjoy it on special occasions. I wanted to like this one but just couldn't get past the astringent character.
It might turn out ok in 5 years but I can't give it a pass on this tasting for potential. Save it for years and take a chance if you like. I'm going to keep the other bottle and try it around year 8 to see if it got better. I'm not going to add to my cellar though.
1,129 characters
3.27
/5
rDev
+4.1%
look: 3.5 | smell: 4 | taste: 3.5 | feel: 3 | overall: 2
9.3oz bottle received from oracle as part of the NoBS BIF. Thanks for the opportunity.
Poured into a heavy glass chalice, no head over the heavily murky reddish brown brew. No lace present. More or less as expected from a barrelled old ale. Aroma is sweet malts, with heavy yet rounded alcohol presence. Taste is hard to describe, the whole experience being somewhat unique since not many beers present toally still. Starts with a watery wort flavor, which quickly gives way to smoky alcohol, with the alcohol flavor getting more raw as the experience goes on. Mouthfeel was quite light for such a heavy and strong brew, and drinkability was hard for me, actually. Have to see what the other example I have (aged longer) does for me.
736 characters

3.79
/5
rDev
+20.7%
look: 3.5 | smell: 4.5 | taste: 3.5 | feel: 4 | overall: 3.5
Corked 9oz. bottle had at the Brickskellar on 11/7/06
The brew pours a murky brown colour, no head to speak of ( no surprise here), maybe a bubble or two, nah just my imagination. The aroma is rather outstanding, plum and prune, toffeeish malt, and a whiff of apples and funk. A little sweet initially, then some serious barnyard funk comes through in the flavour, along with plummy fruits, grapes, apples, and a fairly dry finish. A very vinous beer, a little bit of an oily mouthfeel, and quite complex. Not perfect by any means but certainly worth checking out
566 characters

2.07
/5
rDev
-34.1%
look: 2.5 | smell: 3 | taste: 1.5 | feel: 2 | overall: 2
A: No carbonation or head to speak of. Looks like a murky ice tea. Murky muddy water with a slight amber tinge to it. Alcohol legs for sure.
S: Smells more like a red wine than a beer. Some malt is presence, along with a bit of apple and alcohol is not hiding at all, very prominent.
T: A little bit of sweetness with dark fruits and apples, but that's about all I can pick up. Maybe some malt too? The alcohol just takes over since this has got to be way higher than 9% now since it's bottle conditioned. Hot finish in the way that it's like a strong mixed vodka drink.
M: Watery, yet really slick and oily. Its really odd since there is no carbonation to speak off.
O: Past it's prime for sure. Would like to have tried it when it was still drinkable. Pretty much undrinkable, but glad I got to try it. Obviously, they did not intend for it to taste like this, but figured I still review it since it's rare
914 characters
3.84
/5
rDev
+22.3%
look: 3.5 | smell: 4.5 | taste: 3.5 | feel: 3.5 | overall: 4
Thanks to ClockworkOrange for opening this up. "Here Adam you like apple brandy barrel beers don't ya? Why yes Jason...yes I do!" poured from a small corked bottle into a snifter. The brew pours a hazed brown with a very fine thin tan film for a head that leaves spots of lace on the glass. When held to the light, some yellow is seen through the edges.
The smell includes vibrant apple character that is seemingly candied and sweet smelling. The apple character covers the whole spectrum from apple skin to core as flesh. There is caramel malt present that really drives home the thought of caramel candy apple smell. As it warms up, there is a mild spiced aspect as well as a fusel alcohol inclusion.
The taste is very warming with alcohol. It mixes with the apple brandy flavor and some mild spices reminiscent of cinnamon. The alcohol while quite bold is fitting for the style and has a light tangy element across the back.
This is a medium bodied brew with a light level of carbonation. Huge alcohol presence for being like 9 years in the bottle. I'm having a really hard time believing that this brew is only 9%. Thanks again Jason for sharing!
1,154 characters
3.21
/5
rDev
+2.2%
look: 3 | smell: 4.5 | taste: 3 | feel: 2.5 | overall: 2.5
Bottle found in NY for five dollars plus tax.
A- GPOAMICC2003 has a cork that's a pain to get out. Upon pouring, this old ale has a murky dark brown color with zero head. Very dead looking.
S- Has a nice old ale smell with similarities to thomas hardy's and the like. Malt, dried dark fruit, alcohol and some wine like scents. The smell is this beers strong suit.
T- The taste really hurts this beer. I get all the above mentioned scents in taste plus some minimal Calvados from the cask and a lot of plums. They just don't meld well together leaving me looking for a chaser.
M- Zero carbonation and a thick syrupy feel. The alcohol is there but it does not burn. This one coats the tounge quickly leaving a sweet aftertaste. It is a 6 year old beer so perhaps any carb that was there initially faded over time.
D- Small sips are the way to go, if I took anymore I would probably throw up. This would be a good beer to dare somebody for money to drink at least 3 oz in a gulp, I sware it can not be done without upchucking.
1,028 characters

2.39
/5
rDev
-23.9%
look: 2.5 | smell: 3.5 | taste: 2 | feel: 2 | overall: 2
Poured from bottle into a Dogfish Head snifter. Beer was a dark, rusty brown color. No head, no carbonation, no lacing.
Aroma was apples, toffee, oak, booze, raisins and white wine. Smells rich and complex.
Taste was caramel and wood. Light, spicy aftertaste. Not very appetizing.
At 7 years old, it's way past it's prime... Aroma is excellent, but the taste just isn't there anymore. Syrupy mouthfeel and low drinkability. A sipper, borderline drainpour.
459 characters

2.19
/5
rDev
-30.3%
look: 3 | smell: 4 | taste: 1.5 | feel: 1.5 | overall: 1.5
Grabbed a few vintage brews to see what was what. I like Old Ales just fine...
Cork gave the old pop and looked in great condition - thought maybe a hint of carbonation would be present here on the pour, especially given all the sediment, but nope barely a bubble on the pour. This one smelled pretty darn good, very sweet and fruity without any overbearing alcohol yet with a bit of a vinous touch here and there.
Moving to the taste is where this goes very wrong - it feels a bit thin and of course flat - it just does not come together here. I get a bit of sweet and complex fruit and then it disappears and just gets weird - like nothing i have had before and do not want to. I had to sip this so slowly because it was just not appealing.
I have no idea if more time will help this beverage.
797 characters
Gale's Prize Old Ale Matured In Calvados Casks (2003) from George Gale & Company Ltd
Beer rating:
3.14
out of
5
with
10
ratings