The Flavor
| Trinity Brewing Company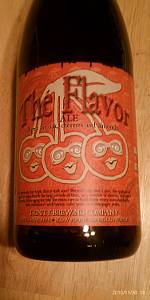 BEER INFO
Brewed by:
Trinity Brewing Company
Colorado
,
United States
trinitybrew.com
Style:
American Wild Ale
Alcohol by volume (ABV):
7.00%
Availability:
Limited (brewed once)
Notes / Commercial Description:
No notes at this time.
Added by Anaz on 09-28-2010
This beer is retired; no longer brewed.
Reviews: 15 | Ratings: 31
4.14
/5
rDev
+5.6%
look: 3 | smell: 4 | taste: 4.5 | feel: 4 | overall: 4
Bottle pour at Woodshop 7 held at Beachwood BBQ & Brewing in Long Beach, CA.
Barrel # NBB 4-5B6. Bottle # 436-11.
Pours a murky dark brown with a foamy dark khaki head that fades to nothing. No lacing on the drink down. Smell is of malt, cherry, berries, and some slight nutty and almond aromas. Taste is much the same with a tart and funky flavor and an acidic quality on the finish. This beer has a good level of carbonation with a crisp mouthfeel. Overall, this is a good beer that is easy to drink but the aroma really doesn't indicate the sourness that is present in the flavor.
589 characters
2.99
/5
rDev
-23.7%
look: 3.5 | smell: 3.25 | taste: 3 | feel: 2 | overall: 3
750 mL bottle poured into a snifter.
Appearance - Very dark body. Almost black with some red flecks. No head but a thin collar.
Smell - Lots of malt, but an equal amount of acidity. Cherries too.
Taste - God it's sour. Lots of cherries. Some malts. Even maybe some nuttiness. Very sour finish.
Mouthfeel - Medium to heavy body. Medium carbonation.
Overall - Overpowering in every way. So sour.
399 characters
4.29
/5
rDev
+9.4%
look: 3.5 | smell: 4.5 | taste: 4.5 | feel: 4 | overall: 4
Thanks to FooFaa for sharing this 750ml bottle on 10/3/10.
A - Poured a lovely, rich deep burgundy, black cherry-toned liquid with reddish brown hues a thin off-white ring that dispersed to spotty patches of foam around the glass. Reninds me of cough medecine.
S - Initial aroma artfully combines woody, tart and nutty attributes, with the toasted almond character really cutting through more than I had anticipated. The nuttiness really works well with the cherry character here, and the barrel wood adds depth and complexity to the aroma.
T - DThe flavor demonstrates a dominant woody quality with ample cherry tartness and a pleasant toasted almond character with a pinch of vanilla sweetness underneath it all. Finishes with a hint of nutty astringency amid an pretty intense tartness and lots of dry woody notes.
M - Medium bodied with a syrupy texture, perhaps a tad watery overall. Dry, prickly and tart on the palate.
D - Extremely flavorful Wild Ale that is unique and complex... and very tart! The cherry, wood and almonds all work nicely together, and the brew remains quite drinkable throughout despite the assertive tartness and dryness.
1,157 characters
4.2
/5
rDev
+7.1%
look: 3.5 | smell: 4 | taste: 4.5 | feel: 3.75 | overall: 4.25
Bottle (2010)
Acquired via trade
Thanks, quirkzoo!
(Aged for ~3 years)
Hazy dark ruby and brown. Small off-white head. Dots of stick left down the glass. Appropriate.
Lots of oak and sharp, sour cherry notes combine nicely in the aroma. There's some vinegar as well, but the cherries and oak are certainly the most expressive elements. There's something else here as well; there's an earthy nut character--something like a cherry pit.
The flavor is similar to the aroma: cherry flesh, sour cherries, cherry pit, vinegar, sharp sour notes, oak, and earth combine to make an incredible drinking experience. Very nice.
Medium bodied with moderate carbonation.
A delicious, decidedly American cherry sour ale.
712 characters

3.32
/5
rDev
-15.3%
look: 4 | smell: 2 | taste: 3.5 | feel: 4 | overall: 4
Thanks Bill!
Pours a brownish red with little head. The nose is really, really weird. Smells like muddy, slightly spicy and slightly acidic cherry. Like a mud covered sour cherry. Really odd. The taste is totally different. Oaked cherries, maybe black cherries with a very slight amount of tartness. Really goes down easy and is a nice, different kind of beer. A little dry and bretty, but not much. Maybe after some time. Pretty big body and low carbonation. This beer is such an oddity, but I kind of liked it.
513 characters
3.17
/5
rDev
-19.1%
look: 4.5 | smell: 2.5 | taste: 3.5 | feel: 3 | overall: 3
Pours a very dark reddish brown. No real head. Smells weeeeird. Like... Gross shitty outhouses in a dry heat. Dirty barnyard funky but it's a bit off. Tastes tart and cherry heavy. I get a lot of pepper on the tongue as well. Very reasonable mouthfeel but man the nose is throwing everything about this beer. Not enough carbonation for me overall weird.. Interesting..
368 characters
4.17
/5
rDev
+6.4%
look: 3.5 | smell: 4 | taste: 4.5 | feel: 4 | overall: 4
Bottle reviewed thanks to quirkzoo as part of the Blind BIF 7
Bottles 5A & 5B from Quirkzoo, not necessarily a pair but hell, why not.
Both bottles are lightly waxed, red and yellow. good grief, these bottles look beautiful together, and I can smell the aromas already.
5A Pours a dark cherry red with very little foam. There is a ring of bubbles around the glass but no real foam. The aroma is all grape tannin. It smells like a young merlot. Wow, the taste is very grape like. I'm getting a lot of grape skins and bitterness. Its very good and enjoyable,and finishes very tart. I keep going back for another sip. Very tart and slightly acidic. I really have no guess on these. I'm guessing this could be a flanders red, but not sure.
5B Again, a lot of grape skins but a bit sweeter. this beer is like a chardonnay compared to the merlot of 5A. Light bodied, a bit more foam, there is some apple, pear, maybe a bit of coriander, grape skins. I'm picking up some oak as well. Very light bodied and well carbonated. Again, I don't have a guess. Its definitely something I've never had, along with 5A.
5B is way more drinkable, while 5A is definitely more flavorful.
so I guess its time to see what quirkzoo sent me…
I almost don't want to tear off the labels because these beers are so enjoyable that its nice to drink them without knowing what they are…
5A-Trinity The Flavor
5B-Trinity TPS Report
Well excuse my language but holy shit! This is just insane. Quirkzoo you went above and way beyond with these. What I thought was wine flavor was the cherries and oak in The Flavor. I'm really at a loss for what to say after this. To me these were two beers that I thought I'd never get to try and tasting them blind is exactly what this BIF is about. Big wants for sure and all I can say is thank you.
1,813 characters

4.67
/5
rDev
+19.1%
look: 4 | smell: 4.5 | taste: 5 | feel: 4.5 | overall: 4.5
750ml from the brewery, $35. Barrel #NBB4-SB6. Bottle #363-11. Into a New Belgium Globe.
A: Incredibly dark red, think coagulated blood, with a slightly pink layer of foam on top. Even an aggressive pour barely coaxed a measly little head. A ring of bubbles is left around the edge of the glass. No lacing to speak of. The initial pour is quite clear as well.
S: Big sour oak barrel smell right off the bat. Sour cherries and a faint amount lemon. There are definitely some toasted almond notes in here as well. Definite funk here as well. I can definitely tell this spent some time in a New Belgium barrel as well, lots of house sour smells reminiscent of La Folie.
T: Tons of layers throughout this one, incredibly flavorful. Sour cherries, melt in to a bit of chocolate, some slightly nutty almond flavors, a little bit of earth, and a definite oak presence as well. Holy shit this is impressive. I almost feel guilty swallowing the stuff because I want to hold it in my mouth. Not bracingly sour, but definitely starts to reach that point. Nice amount of malt in here to add a decent layer of sweetness to balance things. Damn, this is tasty.
M: Light carbonation, fairly thick body, puckeringly sour, with a ton of lactic presence in my mouth. My spit is thick from the lactic acid. Finish is dry and oaky. Really nice here.
O: This is my first sour from Trinity, and it definitely did not disappoint. Is it worth $35 a bottle though? Mostly, but it is still an expensive treat. I really enjoyed the nice layer of malt sweetness that came on right during the sour onslaught, made it even more enjoyable. Definitely in the upper tier of American sours for me though. Nicely done, can't wait to try the other goodies I got from Trinity.
1,749 characters

3.82
/5
rDev
-2.6%
look: 3.5 | smell: 4 | taste: 4 | feel: 3.5 | overall: 3.5
Thanks to christoj1969 for this one (again!). 750ml bottle with handwritten bottle # 325, NBB4 from 7/21/10.
Pours a clear, dark brown with mahogany highlights. Only slight traces bubbly legs on the side of my tulip. Low fizz on the pour with ample cabonation in the mouthfeel.
Lots of nasty, stinky gym socks on the nose with sour cherries.
I get funk followed by sour cherries on the flavor. Wine tannins are present from the oak involved in the aging. I can't pick up the almond much until get a nuttiness on the aftertaste, but the BA'er newtonty I am sharing it with gets the almond presence much more than I picked up. I get a splash of cider in the mix, as well.
Mouthfeel s moderately thick for this style of beer. Good carbonation in the mouthfeel. I liked it and my buddy really liked it alot. Recommended!
820 characters
3.88
/5
rDev
-1%
look: 4 | smell: 3.5 | taste: 4 | feel: 4 | overall: 4
2011 vintage. Thanks to quirkzoo for opening this, awesome opportunity because of your generosity! Reviewed from tasting notes.
This pours a cloudy muddy brown with very interesting pinkish highlights. No head forms, but some carbonation is apparent. I have not ever seen a beer that has both brown and pink/red in its color at the same time.
The aroma is layered and complex. Cherries are the most prominent, but I also detect a significant amount of brett funk, some slight enteric (vomit) notes, honey, almonds, and a touch of vanilla. That is a lot for one beer!
On the palate this beer remains as complex as the nose, and presents wisps of chocolate, vinegar, cherries, vague but complex notes of almonds and vanilla, and finally a bit of a sweaty character.
The mouthfeel is neither heavy nor light, and and would probably tend towards the lighter side if it were more carbonated. I usually prefer lower carbonation, thus I like the feel of this beer.
Conclusion: This beer pushes the boundaries of beer as many other Trinity sours do. Sometimes I wonder how many ingredients can be thrown into a beer and still show through in the final product- apparently many! Other than the vomit notes in the aroma, I think this beer is quite well done. My highest respect is still reserved for beers that achieve complexity from simplicity, but cherries, almonds, oak, and brett are pretty interesting when combined. If your budget allows, try this beer!
1,457 characters

3.5
/5
rDev
-10.7%
look: 4 | smell: 4 | taste: 3 | feel: 4 | overall: 3.5
The beer was packaged in a very classy champagne bottle and was dated as 2010. I drank the beer on Christmas day 2011 so it was at least a year old.
The beer pours a dark brown color with some red present in the highlights of the beer.
The aroma is of dark malts and sourness. It is that funky aroma that comes from a sour beer that is somewhat sharp like vinegar.
The beer started off sweet and soon turned into a cherry pie flavor that kicked you right in the face. The sourness pukered your lips it was so intense.
Overall the beer was a good one timer. It was a unique mix of malt and cherry but it was just too sour to be all the enjoyable.
649 characters

4.2
/5
rDev
+7.1%
look: 4 | smell: 4 | taste: 4.5 | feel: 4 | overall: 4
The tasting group is all over the place on this one.
A. Pours very dark with brown and some red.
S. Funky muddy character with cherry and a touch of lemon and oak. A bit of chocolate comes out as it warms.
T. Tons of cherry up front with a bit of oak. I don't get any of the almond at all. Good, but not as tart as expected. A nice black cherry tart character. There's good chocolate there as well.
M. Good body. A nice thickness with fairly low carbonation.
D. The smell detracts initially, but everything improves as it warms.
533 characters
3.43
/5
rDev
-12.5%
look: 1.5 | smell: 3.5 | taste: 3.5 | feel: 4 | overall: 3.5
Dark red-maroon pour, light brown head diminishing to nothing. This beer could actually be one of the ugliest beers I've seen. Like muddy river water. If it didn't have a head I think it'd give it a 1.
Cherry and yeast up front in the aroma. Weird toasted nut/oak smell. Some antiseptic cleaner.
Dirty dark cherry and pit flavor. Moderate sourness with a light rubber note. Lemon like acidity. The nuts are kind of lost. This was drinkable and surprisingly nice after having some stomach churners from this brewery. It was just not very complex but sounded ambitious.
570 characters
4.09
/5
rDev
+4.3%
look: 3 | smell: 4 | taste: 4.5 | feel: 3.5 | overall: 4
Barrel # NBB4-SG6 Bottle # 418-11 (2011 edition)
Pours a very strange dark crimson, looks like half prune juice half cranberry juice, with lots of debris.
Smell is very funky, with a strong cherry tartness to it. Brett funk is very sour (another taster smelled some vomit on the nose). Taste is more of the same. The sourness was well balanced, especially if you have tried their old growth. The mouthfeel is where this beer is very unique, it had a very dry mouthfeel but still had a good amount of body, perhaps owed to the nuttiness of the almonds that are added. As I continued to taste the beer I got a little bit of vanilla and nail polish after the initial shock of the sour cherry subsided.
Overall a very interesting sour, definitely one to seek out if you like to try something a little different, though at the high price point ($35) not one that I plan on having again anytime soon.
It seems to have a lot of body and I think it would stand up well to some extended aging (5-10 years) and would be very interesting to see how it evolves over time.
1,063 characters

4.32
/5
rDev
+10.2%
look: 4 | smell: 4.5 | taste: 4.5 | feel: 4 | overall: 4
I really loved the hazy red color of this beer, and the reddish tinge that the head had. The wild funk and sour cherries that had macerated in some really good sipping vinegar (yes, I've had some vinegars that are good enough to sip on their own), and earthy smell of the oak really lured me in.
The powerful, mouthfilling sourness is amazing. There are so many levels and kinds of sour going on, from the sour cherries, acetic acid sour, the bit of lactic acid sour...so nice. There is a lovely toasty flavor that comes through after a while in the finish that melds with the sourness and the earthy, yeasty flavors. The oaky tannins and slightly buttery, vanilla notes don't really seem like flaws, just background accents in the torrent of sour, lip smacking fruit.
This is an intense beer, not very carbonated, but very hard to stop drinking. I was really happy to share this with a group of friends since drinking the whole bottle by myself might have been a bit much, but I really didn't want to finish, and was sad when the last drops went down. A really great sour beer, with lots of complexity and character.
1,125 characters
The Flavor from Trinity Brewing Company
3.92
out of
5
based on
31
ratings.