Field Rat Wheat Beer
| Cellar Rats Brewery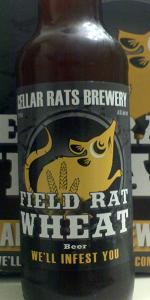 BEER INFO
Brewed by:
Cellar Rats Brewery
Ohio
,
United States
ratbrew.com
Style:
Witbier
Alcohol by volume (ABV):
4.50%
Availability:
Year-round
Notes / Commercial Description:
"Belgian inspired wit-style beer. Cloudy in appearance, unfiltered to preserve the taste of our special yeast. Floral and citrus aroma from two kinds of orange peel. Creamy and spicy from coriander seeds used in our careful conditioning process. 4.5 % alc."
Added by adamette on 08-25-2008
This beer is retired; no longer brewed.
Reviews: 7 | Ratings: 16

3.12
/5
rDev
-15.4%
look: 3 | smell: 3.5 | taste: 3 | feel: 3 | overall: 3
12oz bottle poured into a pint glass
A: Dirty yellow color with a 1/2 finger head
S: Sweet wheat/malt, banana, a hint of spices
T: Somewhat matches the aromas but everything is quite muted- mostly flavorless malt/yeast, few if any hops. This has more flavor than any generic mass-market beer but nothing stands out
M: Same as the taste- better than anything mass market but most craft brews bring more to the table
O: No flaws but nothing stood out
448 characters
4.47
/5
rDev
+21.1%
look: 4 | smell: 4.5 | taste: 4.5 | feel: 4.5 | overall: 4.5
Live review. Poured from the 12 oz. brown bottle that I bought as a single at World Wines & Liquor in Mentor a few days ago for $1.60 into a clean, clear pint glass.
Note: I added this beer to BeerAdvocate and I have been a big fan of it since I first tasted at the brewery 3.5 years ago. I was pleasantly surprised to see it in my local bottle shop (along with Rat Tail Ale by the way) and interested to see if they captured all that I recalled being good about this beer in the bottle form. Here goes:
A Hazy medium caramel body under a one inch head that dissipated down to almost nothing within about 90 seconds. That is exactly how it appeared on tap and from the growler that I bought of it. I have always liked the look. 4.0
S I am brought immediately back to the pleasant experience I had in the past with a great citrus/wheat smell and plenty of malt. There might be an apricot presence as well. I find the smell to be very inviting and interesting. 4.5
T/M I really enjoy this beer. There is a gentle smoothness with the wheat malt and the apricot/peach goodness with an unexpected effervescence stractches me where I itch. I am happy to report that the bottled version of the beer is very much like that which you would find at the brewery in Madison. 4.5
D/O Again, highly drinkable. It would be easy for me to put 3 of these back in an evening. Overall I really like this beer! 4.5
1,400 characters

3.48
/5
rDev
-5.7%
look: 4 | smell: 3.5 | taste: 3.5 | feel: 3 | overall: 3.5
Poured from a 12oz bottle courtesy of RocPorterFanatic.
A: Chalky golden color. Less-than aggressive pour leads to big fizzy 3 finger head that rapidly disappears. Not much lacing to speak of.
S: Big wheat smell with plenty of clove and banana and some acetic smell to it as well. Not hugely complex but not offensive either.
T: Not a ton of flavor but what is there is pretty typical of your average wheat beer.
M: Above average carbonation. Kind of deters from the beer. Makes the feel sharp instead of silky which is how I prefer my Wits.
O: A slightly above average Wit but one that I was glad to try. This is my first Cellar Rats offering.
650 characters

3.34
/5
rDev
-9.5%
look: 2 | smell: 3 | taste: 4 | feel: 3 | overall: 3
Poured from a 12 oz. capped bottle (No Date) into a pint glass.
A strong pour yields a 1/2-finger tan-colored head that completely vanishes in less than a minute. The body is a cloudy deep copper amber that looks just like apple cider. Almost no lacing can be seen at any point during consumption.
The nose is primarily wheat with some yeast characteristics. Light and grainy, the wheat adds a little sweetness to the nose. The yeast aroma contains notes of apples, pears, and bananas. Unfortunately, the nose is rather light and is not quite aromatic enough to really analyze it properly.
The taste is filled to the brim with wheat. Sweet and grainy, the wheat flavor takes over with notes of orange rind and banana. Spicy hops flavors sting at the tongue and give this beer an earthy quality.
Medium bodied with moderate carbonation, this beer is crisp and drinkable. The body is a little thick for the style but is not off-putting. The carbonation is only lightly noticeable and could use a bit more strength.
1,016 characters
4.03
/5
rDev
+9.2%
look: 2.75 | smell: 4.75 | taste: 4 | feel: 3.75 | overall: 3.75
Color is deep amber. Clear with a thin layer of foam. This does not look like a wheat beer.
However, the aroma is spot on. Vanilla, banana and baked bread. Powerful scent that lasts.
The vanilla and banana are evident in the taste as well. Has a nice hop balance that keeps this from being too sweet.
This is a surprisingly tasty wheat beer. Maybe a little heavier than a traditional wheat, but it's a nice variation.
421 characters

4.22
/5
rDev
+14.4%
look: 4 | smell: 4.5 | taste: 4.5 | feel: 4 | overall: 3.5
This cellar rat wheat poured a nice golden brown color with ample turbidity as one would expect from an unfiltered wheat beer. The head was very modest, ie. one finger, and that was very short lived. There was no lacing evident.
The aroma was of ripe fruit and grain, perhaps banana and apple with a cereal background.
The flavor was sweet malt, and grain. There were nice fruity notes as one would typically come across in a Belgium style ale which added to my drinking enjoyment.
The mouth feel was rich and full, but not overbearing. All-in-all, a very enjoyable drink. I can't wait to try some of Cellar Rat's other offerings. Drinkability was good.
656 characters

3.95
/5
rDev
+7%
look: 4 | smell: 4 | taste: 4 | feel: 3.5 | overall: 4
A: Nice copper and moderately clear. Offwhite head.
S: Hint of banana. Very pleasent. Not at all overbearing.
T: Good flavor. Sweet, semi fruiitiness. Malty, very lightly roasted after taste. Tastes like wheat. Just a touch of dryness in the finish. Hops stay hidden.
M: Bright. Steady stream of carb bubbles throughout. Carbonation definitely creates a fuller feeling. Got a small bite to it.
O: Good beer. Had this immediately after a Breckenridge Agave Wheat and would take this one over it every time. Good flavor and pretty easy drinking. Glad to have come across it.
573 characters
Field Rat Wheat Beer from Cellar Rats Brewery
3.69
out of
5
based on
16
ratings.