Black Rat Imperial Stout
| Cellar Rats Brewery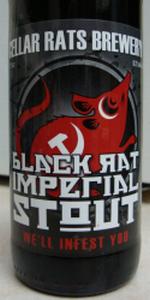 BEER INFO
Brewed by:
Cellar Rats Brewery
Ohio
,
United States
ratbrew.com
Style:
Milk / Sweet Stout
Alcohol by volume (ABV):
9.20%
Availability:
Year-round
Notes / Commercial Description:
No notes at this time.
Added by adamette on 12-30-2009
Reviews: 32 | Ratings: 98

3.95
/5
rDev
+0.3%
look: 4 | smell: 4 | taste: 4 | feel: 3.5 | overall: 4
Received in trade from barak316, thanks for the opportunity.
Pours a solid black with a small creamy tan head that shows some retention. Smells of milk chocolate, lactose, coffee, and roasted grains. The bottle says Imperial stout, but this smells like a sweet stout. Taste is creamy with milk chocolate and caramel and bits of roast and coffee. Tastes like a sweet stout as well. Medium body with a moderate level of carbonation and a sweet coffee milk kind of mouthfeel. This is a nice milk stout that doesn't show one bit of its 9.2% abv.
★
541 characters
4.32
/5
rDev
+9.6%
look: 4 | smell: 4.5 | taste: 4.5 | feel: 4 | overall: 4
12 ounce bottle. Served in a snifter, the beer pours dark brown/black with a half inch tan head that didn't stay around for long. There's also a good amount of lacing. Aroma is very sweet, the brew smells mostly like milk chocolate, along with some roasted malt, coffee and molasses. Taste is pretty much just like the aroma, I think the milk chocolate flavor is the strongest, but there's also some roasted and burnt/charred malt, coffee, and cream noticeable. Mouthfeel/body is medium, it's a bit slick and creamy with moderate carbonation. I certainly don't notice the alcohol in this brew, it's really easy to drink. At $10.99 a 4-pack, I'll buy it again.
★
659 characters

4.25
/5
rDev
+7.9%
look: 3.5 | smell: 4 | taste: 4.5 | feel: 4.25 | overall: 4.25
12oz bottle poured into a snifter. Pours black, barely any light getting into this one. Off-white head which fades, nice retention and decent lacing. Lots of roasty characteristics up front. There's a nice touch of smoke and milk chocolate. The flavors are pretty sweet. Irish coffee in the mix with lots of cream and sugar, just how Cellar Rats described it. Finishes bittersweet, with an expresso aftertaste. Body is extremely fluffy, smooth and creamy, but light and not heavy or chewy. It would be hard to drink more than one due to the sweetness, but it's pretty tasty and has alot going for it.
I really like the Irish coffee, cream and sugar vibe. This is such a nice stout, sweet, but it's supposed to be. Great unique take on the style. Recommended.
★
760 characters
3.62
/5
rDev
-8.1%
look: 3.5 | smell: 4 | taste: 3.5 | feel: 3.5 | overall: 3.5
12oz bottle with no freshness date.
Pours a very dark brown color (almost black). The head stood about one finger tall following a medium pour, but has since settled to a pretty thin layer of light brown colored foam. Decent head retention, but almost all of it makes it's way back into the beer after a bit.
The aroma was much bolder immediately after the poor with hints of chocolate, coffee, and roasted barley, but it's mellowed some, and is actually pretty clean at this point.
The malts hit you first, but there's a pretty significant sweetness that sweeps over the palate shortly after. I'm getting a bit of chocolate towards the middle with a hint of cola in there as well. There's just a touch of bitterness that surfaces near the back end, but the sweetness and chocolate dominate the finish.
Medium bodied (which is thin for a RIS) with moderate to light carbonation.
I've heard that this is actually a milk stout? It definitely taste like a milk stout that's for sure.
Morey's Bottom Line: If I was rating this as a Milk Stout, I would have probably given it a higher score, but as a RIS, it falls a bit short for me. Still a good beer, but it's on the sweet side.
★
1,184 characters
4.15
/5
rDev
+5.3%
look: 4.5 | smell: 4.5 | taste: 4 | feel: 4 | overall: 4
Dark tan head forming thick, fine even speckled lacing with a pitch black body absorbing all of the visible light. Aroma has dark chocolate/mild coffee accents from the dark roasted malts, mild fruitiness with herbal hops in the backend. Flavor has creamy dark chocolate notes almost like a big milk stout caliber creamy sweetness. I like the red rat on the label with the soviet hammer and sickle on it's side. "The Black Rat is a juggernaut of a beer. This imperial, milk stout is big and full of flavor and may remind you of an Irish coffee with lots of cream and sugar. This monster beer clocks in at 9.2% A.B.V. It truly is bitter sweet and velvety smooth." Yep I knew this was too laden with milk sugar not to be a sweet stout, it's imperial and has some serious alcohol that I can't even taste. Big smooth mouthfeel big body with big creamy textures, even carbonation mellow smooth big beer at it's best for a small brewer in Ohio. Drinkability overall it's one and done for me the roasted malts get hidden by big layers of fruitiness and big layers of lactose infused sweetness, which makes it lack some much needed balance. I may get diabetes if I drink too much of this but for an enjoyable imperial stout experience this is good up there with the new Southern Tier 2X Imperial Milk Stout.
★
1,299 characters

4.25
/5
rDev
+7.9%
look: 4 | smell: 4 | taste: 4.5 | feel: 4.5 | overall: 4
Finally....bottles are available. I swear the bottle says 8.2% abv, But I will have to believe what it says on all the sites. Poured Dark Brown/Black with a short light tan head. Light lacing. Looked a little weak for an imperial, but smells pretty good. I'm thinking Chocolate milk & strong coffee. Taste is Chocolate, light Molasses and Espresso. I was explaining to my friends it was more like a Milk Stout because it was so Creamy smooth, and now I see it is a Imperial Milk Stout. Looking at some of the other ratings, the Keg version of this must have more of an "imperial" taste. The bottle just don't seem to be an Imperial. But...this is delicious, and I will buy it again. fine job to another Ohio Local Brewery.
★
722 characters

4.1
/5
rDev
+4.1%
look: 4 | smell: 4 | taste: 4 | feel: 4 | overall: 4.5
A- Pours a pitch black color with a nice brown head. Head is a thick layer of foam, that doesn't go any where and leaves pretty thick lacing.
S- I'm picking up roasted malts, bakers chocolate, and light char. Nothing over powering.
T- Taste is really solid too. Char, bitter chocolate, roasted malts and a bit of sweetness that I can't quite figure out what it is, but I like it.
M- Full in body and low carbonation.
O- Wow this is pretty easy to drink.
★
458 characters

4.28
/5
rDev
+8.6%
look: 4.5 | smell: 4 | taste: 4.5 | feel: 4.5 | overall: 4
Sampled several times at the Winter Warmer Tasting 2011. Thanks to the kind brewers at Cellar Rats for bringing this great beer along!
Right off the bat, this beer started as a stand-out. It has great head retention and nice lace. The color is a bit more brown and red around the edges than others, but mostly black.
That had me worried that the smell and taste would be subdued, but that was not the case. Not at all! This has huge notes of Chocolate, molasses and coffee – sweet and roasty without being too burned. There's a creaminess holding it all together, and the scent and flavor progression make this deep and enjoyable. I really like the level or roast here - it reminds me of a beer like the Founders Imperial Stout with a bit less booze. Speaking of which, there's little to no booze here!
The mouthfeel was extraordinary as well – perfect creamy carbonation and a hefty body. This is a killer stout from an up-and-comer. Very drinkable and enjoyable. Thanks to the Rats for bringing this out and I look forward to being able to grab this in bottles next year! I plan on making this a staple at my place and for trades.
★
1,140 characters

4.13
/5
rDev
+4.8%
look: 4.5 | smell: 4 | taste: 4 | feel: 4 | overall: 4.5
Picked up a growler at World Wine & Liquor in Mentor, Ohio. This batch is up around 9.2%.
Poured into a snifter.
Pours a jet black, with no light getting through anywhere. Slow rising light mocha head of about two fingers that gently drops to a mere wisp of foam. Some light lacing.
Aromas of light cocoa, coffee, slight roast. Aroma is very subdued. Not overwhelming.
Flavors of sweet malt, roast malt, some anise, light cocoa and coffee. Finish is medium with roasted malt and sweet cocoa in the fade.
Mouthfeel is full, chewy, mouthcoating roastiness.
Overall very drinkable, nice RIS. Alcohol doesn't really come through, very dangerous brew.
★
652 characters
4.2
/5
rDev
+6.6%
look: 4.5 | smell: 4.5 | taste: 4.5 | feel: 4.5 | overall: 3
My 1000th review. Again, this is a live review. Poured from the growler that I bought last Thursday at the brewery. I was motivated to revisit this Stout again as I remembered it, having had it on tap at the brewery some time ago. Cost for the re-fill was $12 plus tax. Poured into my Cooperstown Beverage Trail pint glass.
A Great 3 inch medium brown creamy head over an absolute black body. The growler clearly retained the freshness of the beer as I heard a release of air when I took off the cap and the cascading head also suggested that the beer is fresh. Very good look for the style. 4.5
S Dark roast malt of course but also a nice dark chocolate smell to accompany it. I do not get a sense of the 8.7% ABV that was listed above the bar at the brewery. It is well hidden. 4.5
T/M Dark chocolate washes over me followed by a great, dark deep roast malt with a thick, syrupy feel that is not only appropriate to the style but is one that I really like. The beer commands your attention and satisfies with its big, heavy tastes and feel. 4.5
D This is not a highly drinkable style or a drinkable version of the style. It is meant to be savored and drank slowly in my opinion. I certainly enjoyed it but I will only be having one or two of them (I need to try to work through most or all of the growler in the next 24 hours of course!). 3.0
Notes: Glad that I picked this one up in the growler last week. Cellar Rats Field Rat Wheat continues to be my favorite from the brewery but that and this huge Imperial Stout are such different styles that comparisons fall short. This beer stands on its own as a fine Imperial Stout.
★
1,633 characters
4.3
/5
rDev
+9.1%
look: 4 | smell: 4 | taste: 4.5 | feel: 4 | overall: 4.5
form tap to a 8 ounce taster glass
A: black with a tan head
S: roasted malts, coffee, dark chocolate.
T: imperial milk stout that has the perfect amount of lactose in it. Chocolate and espresso. complex and tasty one of the best stouts i had at the tasting i went to.
M: creamy and robust, clings to the pallet and lingers. although it is typical of the style in this category
D: high I would put this with some of the top RIS that I have drank. this is a tasty stout not to creamy; just right. delicious.
★
506 characters
3.99
/5
rDev
+1.3%
look: 4.5 | smell: 3 | taste: 4.5 | feel: 4 | overall: 4
Pours to a 1.5 finger head, bone white in color and the beer is black as night. Lives up to the Black Rat namesake. Slight malt sweetness but big roasted malt taste up front. Smooth to drink and that slight sweetness flows in and out of all the flavors. Hint of hop bitterness in the middle.
There is a little burnt aftertaste but nothing really distracting. Could be that the beer needs time to mellow for another month. Tasty enough that a whole growler was purchased!
~Jonathan Passow
★
489 characters
Black Rat Imperial Stout from Cellar Rats Brewery
3.94
out of
5
based on
98
ratings.