10th Mountain Stout
| Aspen Brewing Co.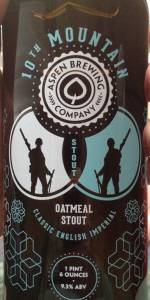 BEER INFO
Brewed by:
Aspen Brewing Co.
Colorado
,
United States
aspenbrewingcompany.com
Style:
Oatmeal Stout
Alcohol by volume (ABV):
9.30%
Availability:
Year-round
Notes / Commercial Description:
No notes at this time.
Added by Seanibus on 08-24-2008
Reviews: 8 | Ratings: 25
4.28
/5
rDev
+12.9%
look: 4.25 | smell: 4.25 | taste: 4.25 | feel: 4.5 | overall: 4.25
We crack a bomber, pouring a brew as dark as a starless night into our Great Lakes pint glasses. It holds a two and a half finger tall head of shimmering, crystallized bubbles, showing beautifully tight retention. Lacing is light and patterned, but thick enough to clearly show the oily brown color of the foam. No haze or sediment is noted, and carbonation appears to be active. The aroma gives molasses bite, sweet boozy fumes, English brown and chocolate malty base, lightly grassy and floral hops, singed iron of cooking ground chunk, rich charcoals and smoke, espresso zing, salted popcorn, deep cocoa nibs, and vinegar acidity. Our first impression is that the beer is rich and heavy as hell, with great charcoal depth and bitterness that lingers. As we sip, the taste opens with thick chocolate, coffee, and bitter brown malts, dark chocolate syrups, figgy sugars, chalk, powdered sugar, seaweed saltiness, beany metallics, biting baker's yeast, and waxed hotness. The middle comes to a peak with continued depth, darkness, and roast to the malt bill, soapy and floral hops, soy sauce, burnt corn husks, chalky charcoal stones, coppery metallics, vanilla icing sugars, dark fudge, basement must, and dried grassiness. The end washes through with medicinal phenolic bite, tinny sheen, plum and prune juiciness, cloying milk chocolate sugars, chalky crystal grain, coffee and bitter brown maltiness, sea saltiness, and store bought leather. The aftertaste breathes of Fiji water heaviness, crumbling parchment paper, green bell pepper vegetals, soapy and grassy hops, dried oregano, smoky campfire, spicy black pepper, Christmas ham, sweat, tin, mineral, and dustiness. The body is full to the brim, and carbonation is medium. Cream, froth, pop, glug, and foam saturate each sip, keeping things inviting and flowing. The mouth, too, is left dripping, hanging low and heavy with coating that only eventually becomes chalked and mildly astringent. The abv is appropriate, and the beer drinks nicely.
Overall, what we enjoyed most about this beer is its boldness in, well, just about every category. The look is like motor oil, the nose is brightly acidic and heavy, the taste is wildly roasted, and the feel will weigh down on you with gravity. For an oatmeal stout, each one of these exceeds the upper limits of the style, making for something that is rather unexpected. This flavoring is actually very interesting in that it goes back and forth between being cloyingly, tooth-decaying sweet, with the most roasty, bitter stout bomb out there. The balance is odd, but welcomed. On to the fell, this is about as chewy and full as you can get without being "too" full. This beer is perfect for the mountains, or for sharing it with folks you care about. Either way, you will have a hard time disliking this experience.
2,827 characters
4.23
/5
rDev
+11.6%
look: 4.5 | smell: 4 | taste: 4.25 | feel: 4.5 | overall: 4.25
the best aspen beer to date without question, and a way good oatmeal stout with lots of sweet oat taste and a ton of body from the oats as well, really well built brew here. dark dark shiny black, with over an inch of tan frothy head, dense and lasting, and when it finally does fade, a light swirl of the glass makes it come right back. some decent hops in the aroma, bittering things up with the dark roasted barley and chocolate malt. its a huge beer, but soft in feel. it starts with dark malt and the sweetness of the oats, and gets maybe a little more bitter than it has to in the finish, which is really the only thing limiting drinkability because the alcohol is invisible and the mouthfeel is so rich and smooth, bubbly, but delicate feeling for being so big. a little less bitterness would go a long way, but this is already amazing, one of the best oatmeal stouts in recent memory in fact. just a huge beer that drinks light as anything, full of dark malt and bakers chocolate notes, and definitely not sparse on the oats and all that they bring. great beer, especially for the price.
1,095 characters

4.07
/5
rDev
+7.4%
look: 4.25 | smell: 3.5 | taste: 4.25 | feel: 4.25 | overall: 4.25
Bomber served at cellar temperature into an imperial pint glass.
Tenth Mountain is a deep dark brown color with thick crema colored head.
Aroma is rich, roasty, and chocolatey but also has a hint of astringency.
Flavor is balanced and enjoyable. It has sweetness up front like a milk stout. The roast and coffee-like bitterness comes through in the middle. It finishes with a bit of creamy dark chocolate.
Mouthfeel is medium-full bodied and low in carbonation. Balanced and drinkable with no hint of it's nearly 10% ABV.
Overall a very good oatmeal stout that is only slightly let down by the aroma.
615 characters
3.9
/5
rDev
+2.9%
look: 3.75 | smell: 4.25 | taste: 3.75 | feel: 4 | overall: 3.75
32oz growler poured into a 22oz snifter. Big thanks to BA Smoked for sending this my way. The brew pours black in color with a dark brown head that is quick to fade holding with a couple bubbles around the perimeter.
The smell is roasty and earthen. Some trace oats blend to raison and chocolate thats milky. A touch of solvent alcohol almost some hints of oxidation.
The taste is very bitter like charred grain and earth with hints of tobacco. Some citrus to herbal hop bitterness accents the roast of the grain. A bit of anise into the finish with mild raisony alcohol notes.
This is a medium bodied brew with a low level of carbonation. A big bold siper that is complex and enjoyably dry. I bet the barrel aged version of this is tasty since this base brew can hold it's own. Thanks again Dan!
800 characters

3.81
/5
rDev
+0.5%
look: 3.5 | smell: 2.5 | taste: 4.5 | feel: 4 | overall: 4
From a bomber bought at their tasting room.
Two fingers of dark tan head on a black body. Low retention on the head though.
The smell has a faint roasted malt and smoke.
The taste is dark bitter chocolate and roasted malt. Pretty good.
Smooth texture, low carbonation and heavy body.
A great stout with a solid profile.
321 characters

3.7
/5
rDev
-2.4%
look: 4 | smell: 4 | taste: 3.5 | feel: 4 | overall: 3.5
Pours a deep black with a rich, off color head. The smell is strongly chocolate and black malt. The flavor is chocolaty and roasted, though it is surprisingly thin in the middle. The mouthfeel is creamy, leaving a nice chocolate finish on the back of your mouth. This is a good beer, though not the best from this new brewery.
326 characters

3.56
/5
rDev
-6.1%
look: 4.25 | smell: 3.25 | taste: 3.5 | feel: 4.25 | overall: 3.5
Interesting beer. Undeniably powerful but it has a soft character that makes me think of a low-alcohol nitro stout. Maybe it's the creamy mouthfeel, which adds to the pleasure. In any case, this is less winey than a lot of big black brews.
Near black in the Bellevue Gueuze glass with a persistent and very dark brownish foam. Lacing everywhere, beautiful appearance. Tastes burnt and chalky with some background sweetness. Hoppy aromatics along with the bitter chocolate flavor. Moe than a little sourish scorched grain.
Overall, this is quite sippable, but it's a more austere strong Stout. From the 22 oz bottle purchased at Grapevine Liquors in Denver.
659 characters
2.86
/5
rDev
-24.5%
look: 4 | smell: 3 | taste: 2.5 | feel: 4 | overall: 2.5
22oz bomber $7.99. Typical dark black color, coffee colored head, looks just fine. Aroma is roasted malts, oats and then metal? Flavor also has a weird metallic component and a slight touch if band-aid. It's really too bad because it also had a rich coffee flavor but the off notes overshadowed it. Reminded me of what I tasted in the double conundrum and now I'm not sure if these beers were infected or their yeast us just terrible. Either way I think I'm done with Aspen brewing.
482 characters
10th Mountain Stout from Aspen Brewing Co.
3.79
out of
5
based on
25
ratings.