Dismiss Notice
Dismiss Notice
Redhook Winterhook
| Redhook Ale Brewery
BA SCORE
81
good
463
Reviews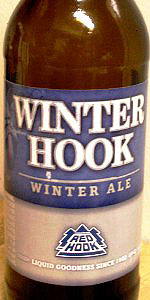 BEER INFO
Brewed by:
Redhook Ale Brewery
New Hampshire
,
United States
|
website
Style:
Winter Warmer
Alcohol by volume (ABV):
6.00%
Availability:
Winter
Notes / Commercial Description:
Regardless of whether you spend your winter months on the slopes, shoveling your driveway or just hiding out, Redhook Winterhook is a great way to chase off the winter chill. This year will be our 27th consecutive release of Winterhook. The recipe changes slightly every winter because nobody likes getting the exact same Holiday present year after year. Redhook's 27th brew of Winterhook has roasted chocolate notes that smooth out the quick, spicy hop finish. The rich body and nutty, malty backbone make this winter ale slighty naughty and very nice.
38 IBU
Added by Todd on 10-08-2003
Reviews: 463 | Ratings: 916
4.3
/5
rDev
+20.4%
look: 4 | smell: 4 | taste: 4.5 | feel: 4 | overall: 4.5
Poured from a 12 oz. bottle into a NB globe glass.
A: Pours clear, a dark copper/amber color with a two finger head. Leaves a sticky, bubbly film as it settles. Looking very good so far.
S: Malt and toasted grain, light hop scent. Caramel sweetness.
T: Sweet malt, herbal grain, and toasted caramel up front with a nice hoppy backbone. Flavorful, and very well balanced. Some spiciness but not as much as other Winter Warmers.
M: Light and bubbly with a dry finish.
O: Overall I really enjoy this beer. The Winter Warmer designation always throws me b/c you never know what you'll get. This beer is warming, well balanced and perfect for a cold night. Very drinkable, will buy again.
★
690 characters
4.3
/5
rDev
+20.4%
look: 4 | smell: 4 | taste: 4.5 | feel: 4 | overall: 4.5
Winter 2005/06 release. This has long been one of my favorites from Red Hook, and this years' is probably their best ever. Pours dark brown with a lighter brown cascade flowing nicely. Smells of roated coffee and burnt toast (two things I love). The taste really put it over the top for me, though. The heavy, malty taste combined with the rich, but not too strong mouthfeel, makes this seasonal brew a winner, and certainly one to buy by the case, as putting down more than a few is really easy.
★
496 characters

4.33
/5
rDev
+21.3%
look: 4.5 | smell: 4 | taste: 4.5 | feel: 4 | overall: 4.5
A: Deep clear amber with a thick off-white head.
S: Spicey, piney hops, as well as some sweet caramel.
T: Sweet caramel noticed first, then toasted grains. Hops flavor with slight bitternes in the finish. Nice balance.
M: Medium body with medium carbonation.
D: Smooth, well balanced beer. No harshness present. Easy to drink.
★
331 characters
4.33
/5
rDev
+21.3%
look: 4 | smell: 3.5 | taste: 4.5 | feel: 4.5 | overall: 5
Poured from 12 oz. bottle - dated 10 19 10
Poured into beer glass - Red chestnut in color, one finger head that quickly dissipated into a clinging lace that left it's mark all the way down the glass, great carbonation.
Smell -light hint's of toasty malts slight spices ,mild coco.
Taste - Toasted malts with light spicing,light chocolates.
Drinkabilty - Winter HOOK Ale is a rich, full bodied beer. caramels, chocolate and toasty malts, w/a plethora of hops.
Beautifully balanced, very drinkable.
★
502 characters

4.35
/5
rDev
+21.8%
look: 4 | smell: 4 | taste: 4.5 | feel: 4.5 | overall: 4.5
Bottled date of 10-20-08. Consumed 11/14/08
A - Pours a deep amber with a finger's worth of off white head. Disapates leaving some lacing.
S -Smells very piney on the nose. Great hop aroma
T - Oh my! Super smooth. Definite hop flavor but no bite. The malts blend nicely.
M - Dry bitter aftertaste, but its a good thing. Lacing is sticking like webs down the glass.
D - This really reminds me of SNPA but with a smooth start and thicker body. Great winter beer!
★
469 characters
4.37
/5
rDev
+22.4%
look: 4 | smell: 3.75 | taste: 4.75 | feel: 4.25 | overall: 4.5
one of the better Hooks...
deep copper appearance with decent lacing that settles
a smell of malts smothering some hops that can't wait to get to the tongue...would be a 4.0 if
it came on stronger. maybe the lager glass didn't help (try the next one in a belgian tulip?)
everything is righted once it hits what counts: taste. a really nice, almost mellow, yet certainly bold (balance) blast of rich malt guising with hop-masks...though i don't get the spice i expected, there is something really warming and calming about this. the finish is a bit short, so i have to keep taking little gulps/big sips....mouthfeel is far from thin, just right, not thick or chewy. again pretty darn good.
Red Hook's 2013-14 seasonal is pretty much spot on. and after a winter break of nothing but stellar belgian and american belgian-style winter warmers, etc, this is a nice way to save some dollars and get back to reality. recommended.
★
927 characters
4.39
/5
rDev
+23%
look: 3.5 | smell: 4.5 | taste: 4.5 | feel: 4 | overall: 4.5
Pours a clear amber color. 1/3 inch head of an off-white color. Decent retention and good lacing. Smells of strongly of hops, slight spice aroma, and some sweet malt. Fits the style of a Winter Warmer. Mouth feel is smooth and crisp with an average carbonation level. Hops bitterness is present up front, slight spice comes through second (all spice), then there's a sweet malt background, with a very smooth finish of hops and a slight alcohol flavor. Wow, this is a well blended beer, heavy on the hops (my favorite). Easy to drink, and low enough in abv to allow me to drink a few. I wish I had more of this, great beer - worth a try.
★
637 characters
4.45
/5
rDev
+24.6%
look: 4.5 | smell: 4.5 | taste: 4.5 | feel: 4 | overall: 4.5
Enjoyed this 12oz bottle out of a large snifter glass.
A: Pours a clear amber hue with a thick, 2-finger, white head that slowly dissipates, leaving a nice trail down the glass, and finally ending in a solid persistent lace.
S: Malty aroma with a solid hop background.
T: Sweet toasted malt up front, followed by caramel, and finishes with a hoppy background.
M: Medium body and medium carbonation.
O: I really enjoyed this beer. The hops add an awesome finish to this brew.
★
480 characters
4.48
/5
rDev
+25.5%
look: 5 | smell: 4.5 | taste: 4.5 | feel: 4 | overall: 4.5
Pours a deep chocolaty opaque brown; tan head has fine bubbles and persists some. Aroma is rich and creamy and fairly malty with strong hints of spice and coffee. Flavor is mainly malty and has a roast coffee overtone and hints of spice and hops. Very smooth, perfect for the winter holidays.
★
292 characters
4.5
/5
rDev
+26.1%
look: 4.5 | smell: 4.5 | taste: 4.5 | feel: 4.5 | overall: 4.5
This beer pours a golden brown color, with a very light tan head. The head fades slowly, leaving many laces.
This beer has a spicy aroma. It smells very festive. Some nutmeg, some ginger. It also has a nice caramel sweet aroma. Not much hop aroma, but some citrus hops are present if you look.
This beer tastes exactly like it smells. Spicy up front, with a sweet caramel malt flavor. It also has a slight citrus hop flavor.
This beer goes down smooth, leaving a spicy aftertaste. It is carbonated just right.
This beer would probably make a decent session beer. It tastes good, and it is not too high in alcohol.
Overall: I am not usually a fan of Redhook stuff. That being said, this beer is good. I was surprized when I had it for the first time. I might even buy it again.
★
791 characters
4.5
/5
rDev
+26.1%
look: 4.5 | smell: 4.5 | taste: 4.5 | feel: 4.5 | overall: 4.5
Winterhook pours a clear, light-chestnut/copper body with glowing auburn highlights beneath a massive, frothy head of tan foam. The head retention is excellent, and it leaves solid walls of lace behind.
Toasty, nutty, and caramelish malts greet you in the nose. With each swirl of the glass it seems to get richer. There's an almost buttery-cocoa, or nut-laden cookie side to it, and some light spice (nutmeg, cinnamon, clove) as well as a touch of piney hops (or spruce extract). Very welcoming!
In the mouth it's medium-bodied and creamy smooth with a fine-bubbled, moderate carbonation.
The flavor is rich without being full, and it never becomes cloying. Initially, the toasty malts appear quite strong, even bordering on heading into roastiness as the caramel flavor is dark like burnt brown sugar. Then the spiciness and spruce-like flavors set in, helping to lead it to a dry, lingering finish. I'm not sure what spices are there, or are not there, but I picked up notes of nutmeg, cinnamon, and clove. The bitterness is solid, but restrained, appearing at first only in the finish, and then more so across the middle as you progress through the glass and the spiciness builds a little on the palate. There are some beautiful subtleties going on here that would certainly be missed at draft temperature.
A really nice winter ale! Perfect with a holiday dinner or a cold night beside the fire. Enjoy it at cellar temperature to get the most out of its varied flavors.
★
1,486 characters
4.64
/5
rDev
+30%
look: 4 | smell: 5 | taste: 4.5 | feel: 4 | overall: 5
12oz bottle from the local Shaw's. Pours a translucent dark copper color with a good half inch of off-white head. Smells fruity, spicy, hoppy, malty, caramel/toffee... Tastes fruity, with cinnamon, nutmeg, orange zest, nut, toffee, caramel, just a tinge of butter... A wide plethora of flavors with the malt and hops both playing huge roles. Medium bodied with moderate carbonation combines with the pleasant flavors to make this one super-drinkable. A new favorite winter beer!
★
478 characters
4.76
/5
rDev
+33.3%
look: 5 | smell: 4 | taste: 5 | feel: 5 | overall: 5
This has got to be one of the best winter seasonals on the market, that no one cares about.
This beer pours an amber color not to light and not to dark.
Great taste not to hoppy not to malty, which adds to the drinkablity of this beer.
Unlike many other winter beers this does not have that heavy alchol after taste.
This ale is great for the novice or the snob, and makes a great beer to take to grandma's house for Christmas dinner for all to enjoy.
★
455 characters
Redhook Winterhook from Redhook Ale Brewery
81
out of
100
based on
463
ratings.