Dismiss Notice
Dismiss Notice
Redhook Winterhook
| Redhook Ale Brewery
BA SCORE
81
good
463
Reviews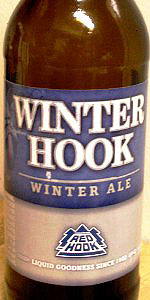 BEER INFO
Brewed by:
Redhook Ale Brewery
New Hampshire
,
United States
|
website
Style:
Winter Warmer
Alcohol by volume (ABV):
6.00%
Availability:
Winter
Notes / Commercial Description:
Regardless of whether you spend your winter months on the slopes, shoveling your driveway or just hiding out, Redhook Winterhook is a great way to chase off the winter chill. This year will be our 27th consecutive release of Winterhook. The recipe changes slightly every winter because nobody likes getting the exact same Holiday present year after year. Redhook's 27th brew of Winterhook has roasted chocolate notes that smooth out the quick, spicy hop finish. The rich body and nutty, malty backbone make this winter ale slighty naughty and very nice.
38 IBU
Added by Todd on 10-08-2003
Reviews: 463 | Ratings: 916
3.21
/5
rDev
-10.1%
look: 4 | smell: 3 | taste: 3 | feel: 3.5 | overall: 3.5
Poured from a 12 oz bottle with a newer label than the one pictured (as of 2/27/06) and an embossed "Bottled" date on the bottom-right of the label.
Appearance: Nice reddish-brown hue. 1/2 beige head with impressive retention and lace.
Smell: I detect a fate toasted caramel scent accompanied with some citrus.
Taste: The taste presents the caramel and a toasted malt flavor. The hops add the bitterness and aroma, but I would say to a mild to medium extent. The fruity and spice flavors add to the mix. The alcohol is detectable, but not immediately.
Mouthfeel: Thin-to-medium and smooth body. The carbonation is right on track.
Drinkability - A tasty winter treat that (at 6.0%) will warm you up nice. Also, the alcohol is balanced well with the malt and hops making it easy to drink several before noticing its "warmth".
Notes: It may not be exceptional (a little on the thinner side for a winter beer), but definitely worthy of a six-pack in the fridge for the winter months.
★
999 characters

3.13
/5
rDev
-12.3%
look: 4.5 | smell: 4 | taste: 2.5 | feel: 3 | overall: 3
Color-Dark Red almost garnet like. Head is frothy long lasting and nice lacing.
Aroma-Deep Malty warm aroma caramel notes light hop aroma.
Taste- Strong alcohol taste. Not sure what hop was used but it smells good taste not so much.
Drinkbability- Would be a great winter beer without the scary spice/hop
★
307 characters

3.18
/5
rDev
-10.9%
look: 3.5 | smell: 3 | taste: 3 | feel: 3.5 | overall: 3.5
A: pours a transparent red/brown with minimal head and lacing.
S: smells malty with hints of carmel and fruit
T: this is a winter? much lighter than i expected. malty/carmel taste to it with very slighty hoppiness.
M: again much thinner, smoother, and lighter than i expected from a winter.
D: very drinkable. doesn't pack the punch of most winter beers. not what i had expected, but by no means a bad beer.
OVERALL: A tasty beer from Redhook. Not your typical winter, but still a very drinkable beer with a winter twist. Worth a taste.
★
541 characters
3.77
/5
rDev
+5.6%
look: 2 | smell: 2.5 | taste: 4.5 | feel: 4.5 | overall: 4
This beer at first appeared to have a nice caramel color to it with a nice head, but upon looking closer, the color appears quite cloudy and the head all but disappeared within a minute.
I get a odd smell out of it, almost smokey, almost flowery...a whole lot of confusion for my nose.
The taste was great, really smooth, good finish. The flavor was plesant but hard to describe. Maybe a little bit of spice to it? A friend tasted it and said it tasted like Bass, but this is much fruitier, not as dry and just not at all like Bass. I've concluded that he doesn't know what he's talking about.
As I drank it I enjoyed it, but searched too hard to describe it to really get the full appreciation for it. It seems like a good balance and just as the smell confused my nose, this is like a combination of personalities in my mouth.
Overall, I really liked the flavor, but to describe it was tough. It's a good winter ale.
★
922 characters
3
/5
rDev
-16%
look: 3 | smell: 3 | taste: 3 | feel: 4 | overall: 2.5
I'm having this one at room temperature. It pours amber with not much of a head. I can smell the spice in it, but just barely. Tastes bitter and dry, slightly spicy. Mouthfeel was smooth and aptly warming. Drinkable? Not very. Too dry. Too boring. Not as good as the Anchor Christmas for sure.
★
293 characters
3.57
/5
rDev 0%
look: 3.5 | smell: 4 | taste: 3.5 | feel: 3 | overall: 3.5
Pours a dark amber with a moderate amount of carbonation. Decent sized head that drops off gradually (not before I could get in the first few sips) and a bit of lacing.
Smell is nutty, caramel, hint of chocolate. Detecting a hint of fruit. Spicy as well.Very rich, great smelling beer.
There is a definite presence of malt here. Also, the chocolate smell is complemented by a mild chocolate flavor.
This beer is a little lighter on the palate than I would have expected, but still has a relatively strong body to it. Slightly bitter aftertaste that causes me to take sip after sip.
This beer goes down well. I find myself detecting new flavors with each sip. The folks at ESB have made this year after year since 1985 with good reason; it is a deliciously drinkable beverage. It will not knockout Bell's Winter Wheat as my favorite winter beer, but I will enjoy this 6-pack and maybe another.
★
898 characters
2.91
/5
rDev
-18.5%
look: 3 | smell: 2 | taste: 3 | feel: 2.5 | overall: 4
Appearance: Poured deep amber/brown with a small, bubbly beige head that faded quite quickly.
Aroma: Not very aromatic at all, nothing jumps out. With a bit of swirling I picked up some caramel or roasted smells as well as a bit of spiciness of some sort.
Taste: Quite balanced but a little sweet in the end. Caramel flavor dominate with some roasted malts in there as well. Towards the end there's a tinge of bitterness but there's also a nice earthy spice to ponder.
Palate: For the most part it was smooth but below average carbonation left me with a watery consistency.
Overall: Easy to drink and perfect for cold temperatures so can't ask for much more, but it seems all the flavors and aromas are so bland and subtle there's no reason to choose this over another winter ale.
★
784 characters
3.65
/5
rDev
+2.2%
look: 3.5 | smell: 3.5 | taste: 3.5 | feel: 4 | overall: 4
Bought the last bottle on the shelf at Redmond Trader Joe's. And the brief:
Appearance: med-dark amber or deep copper - clear, w/ a decent head, and lacing still on my empty glass. I thought the beer would pour a darker color.
Smell: light malts and some Cascade hops... more on the citrus hop side of things to my schnoz, but I'm getting over a cold. Inviting (the beer, not the cold).
Taste: nice balance between caramel malts and the hops, with a little biscuity sweetness peeking in at times only to be brought back by the firm hop presence. Finish is lightly bitter and made me salivate ("watery"), which made me want to take another sip.
Overall Thoughts/Opinions: nice and pleasant but not freaking amazing. I think this little option would fit more in a NW IPA category rather than a Winter Warmer, but who am I to advise Redhook? I'll have to try a Jubelale, Snowcap, Celebration, and Sammy Smith Winter Welcome in the near future to see if the Winterhook is more like an IPA or if my preferences/familiarities have changed.
★
1,036 characters
2.55
/5
rDev
-28.6%
look: 3.5 | smell: 3.5 | taste: 2 | feel: 2 | overall: 2.5
This Beer did not impress me (much like other of the Redhook beers I've tried). I thought that the beer was going to change my mind about Redhook, but instead it isn't showing much in the way of flavor. It is winter in a place notoriously bombarded with snow so I was feeling chipper to drink a WinterAle. I was persuaded by a beer salesman to give it a shot. It poured a dark copper color with a two finger head. The smell was a caramel and toasted malts with whiffs of chocolatiness as well. First, taste. Hmmm... Where'd it all go? I didn't taste much more than what I could just smell. The mouthfeel is nothing short of lame. No chewiness to it at all. The drinkibility may be there where you can keep drinking it without savoring it, but that also means I do not care for savoring, much less drinking too much more of this beer. There are better winter ales that are cheaper than this too! Oh well.
★
903 characters
3.18
/5
rDev
-10.9%
look: 4 | smell: 3.5 | taste: 3 | feel: 3 | overall: 3
Pours great with a big head that doesn't stick around long.
Smells wonderful, taste was a little disappointing compared to the smell but still good. This was my first Winter Warmer and I really appreciated the spiciness, it has quite a great full flavor.
★
255 characters
3.21
/5
rDev
-10.1%
look: 4.5 | smell: 3.5 | taste: 3 | feel: 3 | overall: 3
This beer has been going downhill every year I've tasted it. Three years ago it was wonderful: a nice, rich, dark IPA is the only way I could describe it. It had a very cascady nose, and a nice, rich, malty body. Every year since then, it has gotten thinner, less hoppy, and less complex. It is still a good beer, but what are they doing to the recipe? Or is it something else? Redhook produces some great beer for the mass market. This is one that they shouldn't be "watering down".
★
483 characters
3.28
/5
rDev
-8.1%
look: 3.5 | smell: 3 | taste: 3 | feel: 3.5 | overall: 4
This is my first beer review after visiting this site regularly for over a year..!!
Part of a 6 pack purchased at Beverages & More in Orinda for $5.99 on special. Bottled on 10/11/05. Gently decanted into my red hook pint glass. Color is a nice roasted brown. Very thin head due to the type of pour. Slow-moving, even carbonation throughout. Immediate aromas when pouring were of toffee and and subtle malts. This beer has a very minimal and unique smell to me. It reminds me of samuel smith's nut brown ale, except less hop presence.
After letting the beer warm for 5-7 minutes I took the first sip. The beer has a very calm mouth feel and a pretty clean aftertaste which doesn't seem linger for very long. I noticed some small flavors of bitter chocolate, toffee and subtle hops.
This is one of the easier drinking winter ales I've had, and it's taste somewhat surprised me for a winter ale. A 6.11% ABV is somewhat low for this style, in my opinion. Overall, It has a very unique, easy to enjoy flavor. I'd buy this again in the future.
★
1,048 characters
3.55
/5
rDev
-0.6%
look: 3.5 | smell: 3.5 | taste: 3.5 | feel: 3 | overall: 4
The beer pours a deep chestnut color, and is topped by a toasted-marshmallow head. The smell is dominated by aromas of roasted malts and has a strong coffee/toffee component as well.
On the palate the beer is sweet but balanced, with a touch of bitterness. The toffee flavors are great and are accompanied by notes of chocolate and macadamia nuts. Actually, if I had to sum up this beer en an extremely primitive way, I'd say it tastes the way I would expect a half IPA, half nut-brown Ale to taste. It has notes of chocolate, cream, and roasted malt, but it also has a bitter hop component that you can expect from a good IPA.
The alcohol level is low for a winter seasonal and this beer seems like it would be a very easy beer to pair with food.
If you see it on sale, definitely snatch some up, but otherwise-with so many great winter ales in the market-you could pass on this one without fearing that you had missed anything Earth-shaking.
★
946 characters
Redhook Winterhook from Redhook Ale Brewery
81
out of
100
based on
463
ratings.