Redhook Ben Harris Beer
| Redhook Ale Brewery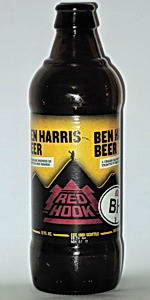 BEER INFO
Brewed by:
Redhook Ale Brewery
New Hampshire
,
United States
redhook.com
Style:
Cream Ale
Alcohol by volume (ABV):
4.70%
Availability:
Limited (brewed once)
Notes / Commercial Description:
This beer was brewed in memory of an employee of Redhook Brewery, Ben Harris, that was killed in a keg explosion at the brewery in Portsmouth, NH. It is a limited batch, only avalible on tap at the Portsmouth location. The staff at Redhook did say there is a possiblity of it being bottled, but only shipped to a limited market of New England states, New York and Pennsylvania. When you buy a pint of this at the brewery part of the proceeds go to Ben's family.
Added by Cavanaghty on 08-24-2012
This beer is retired; no longer brewed.
Reviews: 5 | Ratings: 24
3.63
/5
rDev
-6.2%
look: 4 | smell: 3.5 | taste: 3.5 | feel: 4 | overall: 3.75
Poured into an imperial pint glass. Color was a very clear straw, with a very thin white bubbly head that only lasted for a minute. Fair amount of streams of carbonation rose from the bottom. Very subtle aroma. Prominent was a bit of grainy with a tad of malty sweetness. Flavor had a small amount of creamy sweet upfront, but was finished off by a corn or grainy flavor. Good in the mouth, coated nicely and had a good bit of carbonation bubbly feeling on the tongue. Overall didn't see anything special about this. Not bad, but seemed to be veering close to macro territory.
★
576 characters

3.85
/5
rDev
-0.5%
look: 3.5 | smell: 3.5 | taste: 4 | feel: 4 | overall: 4
Stopped by the Redhook Brewery in Portsmouth to pick up some of the last of the summer seasonal, ended up at the bar and had this brew. Back in April of 2012 there was a keg explosion at this brewery killing one of the employees, his name was Ben Harris. This brew was made in his memory and all the proceeds go to his soon to be born baby. Served on tap only at this location, possibly going to be bottled soon in a limited market.
Appearance: Golden amber with mild carbonation. White head that disappeared quickly.
Smell: Mild smell, maybe some sugars, but not much could be smelled on this one.
Mouthfeel/Taste: Smooth light bodied and well balanced beer. Taste was that of a good lighter ale, mild hoppy bitterness and not too much on the sweet side.
Overall: Not a bad beer, and it went to a good cause. I'll buy it again.
★
832 characters
3.87
/5
rDev 0%
look: 4 | smell: 3.75 | taste: 4 | feel: 3.75 | overall: 3.75
Pours a light fizzy pasty white 1/2 finger head that fades at a med pace, lots of bubbles streaming up from the etch, with decent lacing, over crystal clear honey golden color.
Nose starts with straw, toasted malt aromas, light grainy bread and corn like, faintest hint of grassy hops, typical creamy malt aroma.
Taste starts with a light creamy malt taste, and right into the toasted straw and hay like flavors. Light grainy bread and again a light corn like but not really corn flavor just the association. Light and a bit crisp and a hint of a fruity like flavor so that this could even pass as a lager practically. The grassy hops come on towards the end, and give a decent bitterness but hint of a spicy hop. Finish is a decent bitterness, some lingering grassy and slightly spicy hops, as well as creamy malts and light grainy toasty straw flavors lingering.
Mouth is med to lighter bodied, lots of fluffy carbonation maybe a bit too much.
Overall not bad, a decent overall cream ale, nice toasty straw flavors, mild grassy decent hops, decent profile, could almost pass as a lager.
★
1,093 characters
3.88
/5
rDev
+0.3%
look: 3.75 | smell: 3.75 | taste: 3.75 | feel: 4 | overall: 4.25
12oz bottle purchased as part of a 4-pack from Yankee Spirits, Sturbridge, MA.
Poured into an imperial pint glass, formed a minimal 1/4" white head over the slightly cloudy golden amber brew. Head falls to a skim rather quickly, and lace is amazingly long-lasting. Aroma is pale malts and earthy hops.
Taste starts sweet, rounds out with moderate bitterness in the middle and through the clean close. Mouthfeel is smooth, and drinkability is very easy. Good brew for the style and great cause.
★
496 characters

4.19
/5
rDev
+8.3%
look: 4.25 | smell: 4 | taste: 4.25 | feel: 4.25 | overall: 4.25
A - 4
Poured a nice light golden hay with a nice fluffy snow white head that holds on well, leaving a good lace veil down glass. Crystal clear brew as well.
S - 3.5
Grainy huskiness that is ever so slightly hopped with just a whisper on the nose.
T - 3.75
Wonderful light malt and grain flavors that are accentuated well by the low hopping. Hugely approachable for the uninitiated, well suited to the style for those in the know.
M - 4
Immensely quaffable brew that is for a good cause.
O - 4
Good brew good cause & now I am gonna bump my scores up for the good cause
★
567 characters
Redhook Ben Harris Beer from Redhook Ale Brewery
3.87
out of
5
based on
24
ratings.