Blondage Pale Ale
| Redhook Ale Brewery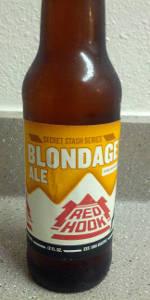 BEER INFO
Brewed by:
Redhook Ale Brewery
New Hampshire
,
United States
redhook.com
Style:
American Pale Ale (APA)
Alcohol by volume (ABV):
not listed
Availability:
Limited (brewed once)
Notes / Commercial Description:
No notes at this time.
Added by Hopmodium on 03-09-2013
This beer is retired; no longer brewed.
Reviews: 8 | Ratings: 49
3.25
/5
rDev
-12.4%
look: 3.25 | smell: 3.25 | taste: 3.25 | feel: 3.25 | overall: 3.25
This is a very easy drinking pale ale...not real assertive but it has some redeeming qualities.
There is a light citrus flavor of overripe oranges....the same impression is evident on the aroma.
Body is light side of medium..
Slightly hazy look but drinks pretty clean...
This would be a nice beer for a BBQ...just enough flavor to keep it interesting but nothing overwhelming. Certainly as far as APA's go this is nothing special but it has its place.
457 characters

3.6
/5
rDev
-3%
12 oz. bottle, with bottled on date December 05, 2013 printed on the label. Thanks to the local Binny's for selling me old beer. Acquired as part of a mixed six pack. Bottle lists a 5.60% abv.
Poured into a Duvel tulip glass.
A - It pours a cloudy lemon orange colored body, with one finger of frothy off-white head. Some good sheaths of lacing slowly cascading down the glass. Appears adequately carbonated, with some strong bubbles streaming topside. Lots of very fine sedimentation in the glass. Looks pretty nice for what it is. 4
S - The aroma is fairly light, but pleasant - lots of bready honeyed malts, some herbal / grass / pine, lemongrass, light citrus. Smells pretty good for the style, also. 3.5
T - Taste follows the nose - crisp, bready malt, honey, lemongrass, lemon / orange / pine. The dry-hopping is definitely apparent, and the hops are still pretty fresh / herbal / grassy and dominant to the malt bill. 3.5
M - The feel is crisp, and clean, with a bit of pine resin / sweet malts lingering on the finish. Very nicely done. 4
Overall, a nice pale ale that has held up well. It's been a while since I had something new from Redhook also, and this one was a pleasant surprise. Recommended if it is available to you.
Redhook Blondage Ale -----3.5/5
1,280 characters
3.67
/5
rDev
-1.1%
look: 3.75 | smell: 3.5 | taste: 3.75 | feel: 3.5 | overall: 3.75
Appearance: Pale cloudy gold with an excellent head, good lacing, and plenty of carbonation.
Smell: Floral and citrus hops, caramel.
Taste: Floral and citrus hops, caramel, wheat, and grass.
Mouthfeel: Light bodied with a bitter hop aftertaste.
The Verdict: Not bad. Entirely drinkable, and much better than I expected from Red Hook. More flavor and more hops than they usually stick into their beers.
405 characters

3.75
/5
rDev
+1.1%
look: 3.75 | smell: 3.75 | taste: 3.75 | feel: 3.75 | overall: 3.75
Pours a semi-cloudy golden, with nice white head. Lace is loopy and attractive.
Nose is floral and citrus hoppy, with a touch of sweet malts. Pleasant.
Taste is nice hoppy grapefruit and plenty of citrus with a dry bitterness at the finish. A solid, hopped-up wheat beer that's a pleasure to drink. Would easily enjoy more of these.
334 characters
3.81
/5
rDev
+2.7%
look: 3.75 | smell: 4 | taste: 3.75 | feel: 3.75 | overall: 3.75
Type: 12-oz. bottle
Glass: Stone Ruination IPA pint glass
From: VONS in Normal Heights (San Diego), Calif.
Price: $15.99 (w/ VONS card) for a variety Redhook/Kona/Widmer 12-pack
Purchased: Feb. 21, 2014
Consumed: Feb. 21, 2014
Misc.: Born on date of Dec. 5, 2013
Poured a golden straw clear color with two fingers of frothy off-white head. Light semi-layered lacing on the sides of the glass. Very good retention on the top of the glass all the way down.
Smelled floral hops, citrus hops, caramel, pine, light orange rind, honey wheat, grass and unknown spices. Very inviting.
Tasted not quite as good as the smell, but decent nonetheless. Got floral hops, caramel, honey, wheat, grass, soapy notes and light pine, all with a bitter aftertaste.
Light body. Oily-to-creamy texture. Average carbonation. Abrupt, but refreshing finish.
Really enjoyed this pale ale, which I originally thought was a blonde. Would definitely have it again.
941 characters
3.82
/5
rDev
+3%
look: 3.75 | smell: 3.5 | taste: 4 | feel: 4 | overall: 3.75
A - Pours crystal clear, light amber in color with a frothy with head that clings to the glass.
S - Earthy hops, dirty citrus, kind of has a dish rag aroma. As it warms a generic hop pellet aroma comes through.
T - Bright citrus hops, oranges and slightly toasted caramel, some pine comes through mid palate, the malt is very delicate and adds a nice backdrop for the citrus/pine hops, notions of honey sweetness come to mind. Finishes with a citrus crisp, dry and clean with a hint of tannins left on the palate.
M - Medium body, perfect carbonation, crisp and dry feel.
This is my favorite Redhook beer so far. Very crisp and clean with a good amount of bright hops.
674 characters
3.96
/5
rDev
+6.7%
look: 4.25 | smell: 3.75 | taste: 4 | feel: 4 | overall: 4
Appearance - Light straw color with some orange. Looks like a slightly darker pale ale. I really like the color and it isn't one I see often.
Smell - Not too strong of a smell here, it is a pale ale after all. There is a faint smell of hops that is very pleasant.
Taste - I was surprised by the way the hops come out in this. It is almost like an India Session Ale, but not quite as hoppy. Hop smell is light citrus
Mouthfeel - Very light mouthfeel and extremely drinkable. Good carbonation, I feel like a little more then a normal pale ale.
Overall - Impressed with this beer and would recommend. I got it in a variety pack and didn't really look at the label until after I took a sip. I was expecting a standard pale ale but the dry hopping really adds something different. It is just enough that you notice it, but it doesn't take over the beer.
852 characters

4.31
/5
rDev
+16.2%
look: 4 | smell: 4.25 | taste: 4.5 | feel: 4 | overall: 4.25
Beer was quite memorable in taste, no notes, hopefully somebody else has tried this gem. I was not expecting this beer to be so tasty but it was despite the name making it seem like a Blonde Ale. True APA, crisp and clean, perhaps a Session in the making. Would suggest but nobody I have talked to has heard of it so I do not know if they still brew it. Tried it in April 2012.
377 characters
Blondage Pale Ale from Redhook Ale Brewery
3.71
out of
5
based on
49
ratings.