The Angel's Share - Bourbon Barrel-Aged
| The Lost Abbey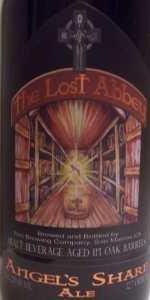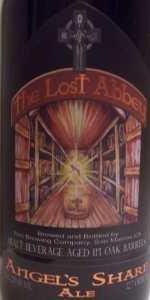 BEER INFO
Brewed by:
The Lost Abbey
California
,
United States
lostabbey.com
Style:
American Strong Ale
Alcohol by volume (ABV):
12.50%
Availability:
Rotating
Notes / Commercial Description:
Down in Kentucky and across the pond in Scotland, distillers who age their whiskeys for many years refer to the evaporation of the spirits from their barrels as "The Angel's Share." We couldn't agree more. Each time a barrel is filled, a measure of liquid seeps into the oak and is lost for good.This striking Strong Ale is brewed with copious amounts of Caramel malt to emphasize the vanilla and oak flavors found in freshly emptied bourbon or brandy barrels. The beer spends a year in oak before it is packaged for release.
Added by scottoale on 08-23-2006
HISTOGRAM
Ratings: 1,914 | Reviews: 706
4.5
/5
rDev
+4.9%
look: 4.5 | smell: 4.5 | taste: 4.5 | feel: 4.5 | overall: 4.5
I was very excited to try this one and got lucky at the Great American Beer Festival this year in Denver. The last Port beer I tried was Cuvee de Tomme at Michael Jackson's University of Pennsylvania Dinner a couple of years ago.
This American Strong Ale pours a dark brown with a slight ruby colored highlight. A thin, one finger tan head.
Aromas of sweet malt and alcohol dominate. Followed by some oakey, woody notes. Also some chocolate and a hint of vanilla. Also some dark fruit.
Taste is oak/wood and alcohol upfront. Melded nicely and not overwhelming. Followed by some chocolate, vanilla and dark fruit flavors. Maybe even a hint of rum.
Mouthfeel is very full and creamy with a wonderfully strong alcohol warmth.
Overall an amazing beer! This is one you would consider as a brewing achievement. Pushing the envelope of style while still incredibly tasty.
865 characters

4.87
/5
rDev
+13.5%
look: 4.5 | smell: 5 | taste: 5 | feel: 5 | overall: 4.5
What a way to close out my 30th birthday, it is time to indulge in one of the most desired beers in the country! 750ml bomber poured into a Duvel tulip glass at 11:16pm
Appearance- The hue is a dark brown hue with tinges of crimson peeking out at the edges, my slow pour resulted in a thin one-finger layer of tan coffee cream head with a small area of dark bubbles gathered near the edges that is mostly sustaining, streams of tiny bubbles can be seen climbing the walls of glass, spotty patches of lacing spot the glass
Smell- The aroma is a unique bouquet of scents, initially dominated by sweet malts, oak, bourbon, and alcohol, there are some lingering tones of chocolate and vanilla sweetness that balance out the strong ethanol presence
Taste- Waited for the ale to warm, initial taste follows the aroma with a strong wave of oak wood and bourbon reminiscent of a milder desert wine, some moderately sweet malts are balanced by an interesting dryness that leaves a sense of vanilla and transitions to a finish that has some slight alcohol warming and dark fruits
Mouthfeel- A very full-bodied Strong Ale with plenty of heft throughout, the texture is smooth and creamy with low low viscosity, carbonation is lively and ample
Drinkability- Falling in lockstep with other reviews, I've found this to be an ale worthy of the prized top-tier, the overall taste sensation is that of a creamy and complex barleywine with excellent drinkability despite the 11%abv, the flavor profile jumps across a range of flavor sensations but somehow wraps it all up into a well-balanced package, given the scarcity of Angel's Share, this is a primo Strong Ale that should be reserved for special occasions assuming you can get your hands on one!
1,739 characters
4.87
/5
rDev
+13.5%
look: 4.5 | smell: 5 | taste: 5 | feel: 5 | overall: 4.5
A: looks like a stout, but when held to the light the ruby red shines through
S: I don't know if there is a better smell than a well crafted American strong ale in barrel. The two go so well hand in hand.
T: Love it, its a bit on the strong side, but this is probably due to the 11.5 abv. Which is hidden well for that volume.
M: Like I said before American Strong Ale and Oak together are a winning combination
D: Glad I got one bottle, for sure. Thanks to rallison.
472 characters
4.85
/5
rDev
+13.1%
look: 4.5 | smell: 4.5 | taste: 5 | feel: 5 | overall: 5
Ouch!
It is truly painfull that I only have one bottle of this beer.
Ouch!
Yes, pours an opaque dark amber that is almost black with a full finger of white foam that melts to a ring of tiny white bubbles.
Yes, the aromas are heavy with dark fruits like raisins and plums and dark brown sugar and sugary sweet smelling dark malts.
Yes, there is a wonderful blending of dark fruit, dark brown sugars, dark roasted malts, chocolate malts, pure Special Dark Herseys chocolate and a touch of bitter hops as you swallow.
Yes, a touch of the oak barrel smooths and mellows it all together.
Yes, the mouthfeel is incredibly smooth like no barleywine or American Strong Ale I've ever had the privilage of drinking.
And finally, YES, this is truly a remarkable brew...the best I've had from Lost Abbey ever and Lost Abbey makes incredible beers daily.
841 characters
5
/5
rDev
+16.6%
look: 5 | smell: 5 | taste: 5 | feel: 5 | overall: 5
appearance-looks dark with nice head
smell-almost like oatmeal cookie....and awesome...best nose ever of any barrel aged beer I have ever had...
taste...wow super oatmeal cookie like...and way more complex with tastes of tobacco and perfectly balanced sweetness
mouthfeel...creamy and perfect
drinkablility....someone want to share some more with me...my favorite beer I have ever tried...well of the barrel aged at least...I could drink this everyday...yummm
463 characters
4.87
/5
rDev
+13.5%
look: 4.5 | smell: 5 | taste: 5 | feel: 5 | overall: 4.5
Bought my 6 bottle limit back in November and still have a couple from last year. This is the first bottle from this year that I have opened and since I was traviling to Brasil to visit the in laws for christmas thought it would be a cool time to pop one open. Shared with 5 other brazilians in Sao Paulo during christmas eve.
Poured into clear plastic 6oz cups. Poured a muddy brown color with nice white head. Smells is upfront sweet malt mixed with alcohol, oak, and an almost port smell. Taste is a mellow blend of carmel, sweet malty liquid bread, dark fruit, chocolate, oak, warming alcohol, and a hint of coffee. Mouthfeel is smooth and creamy with a light supple carbonation. While far from a session beer this beer is highly drinkable for such a malt and alcohol bomb, the oak aging really pays off on the finish.
By the way only my brother-in law and my cousin who works for mtv brasil liked this beer the others thought it was to strong and went back to drinking their skol. To each his own.
1,004 characters

4.5
/5
rDev
+4.9%
look: 4.5 | smell: 4.5 | taste: 4.5 | feel: 4.5 | overall: 4.5
A muddy dark caramel brown. I've had the pleasure of sipping this one at least five times at various beer fests in the bay area. The most recent tasting having been at the 2007 barrel aged beer festival at the bistro in Hayward, California. This brew like mentioned above is a dark muddy colour with a small and thin off-white/brownish head of foam that dies quickly and is hard to revive. This brew in my chalice glass just reeks of bourbon and oak with a heart dose of candied bready malts as well. Hopheads may want to look the other way as this brew is all about the over the top sweet malts and their caramel sugary flavours which are enhanced by the notes of bourbon and oak that are left on this brew after Tommes aging process take hold. Mouthfeel is thick and coating, and reminiscent of a petite champagne cognac. Drinkability is good for one so heavy. Truly a legend in the oak/aged strong ale/barley wine category.
926 characters

4.51
/5
rDev
+5.1%
look: 5 | smell: 4 | taste: 4.5 | feel: 4.5 | overall: 5
Big Thanks to franksnbeans for sharing one of these treasures.
Beautiful muddy, and thick, brown color with a light brown head that leaves very little lacing. Every swirl of this Angel produces a generous head back. Smell is of doughy, cookie and a rich toffee, buttery, and maple syrup boozy bourbon notes. Taste is sweet and awfully creamy. Mouthfeeling is great and allows you palate to soak in all the tasty bourbon and leaves a lingering warming. Great beer!
465 characters
4.38
/5
rDev
+2.1%
look: 5 | smell: 4.5 | taste: 4.5 | feel: 4 | overall: 4
This beer pours a very dark brown color, with a brown head. The head fades slowly, leaving a good lacing.
This beer smells of whiskey. It has a nice oak aroma as well as some mild vanilla. I smell some dark fruit. Some raisins, prunes, and figs. I can smell some sweet, carmel malts also. Also, the alcohol is present in the nose.
This beer tastes just like it smells. Whiskey up front, with some oak, and vanilla. It tastes sweet,with some fruity notes of fig, prunes, and raisins. The alcohol is present in the flavor also.
This very full bodied beer, goes down surprisingly smooth, leaving a whiskey like aftertaste. This beer is low in carbonation, suiting the style well. The alcohol warms the throat as it goes down.
This beer is probably not the best session beer. It has an aggressive flavor, and it is high in alcohol. Also, its price and availabality get in the way.
Overall: Thanks to oodeftone for hooking me up. Without you, I wouldnt have ever had the chance. This beer is great. I would drink it all the time if I could. Another great beer from Port.
1,070 characters
4.55
/5
rDev
+6.1%
look: 4.5 | smell: 4.5 | taste: 4.5 | feel: 5 | overall: 4.5
On cask at the brewery. Aroma perks forth with suave, sleek grandeur enticing in so many fruits, rich nuttiness and bold gout-inducing richness. Sprightly. Out of the hand engine, the beer comes as a ruddy hued mahogany, clouded with a fine, silky smooth cream head in tobacco tinted cloud. Flavor is redolent with extravagant creamed malts, mature sugar density and a whole pantheon of nuts, fruits, chocolate, nips of tobacco and fragrant plums. Texture completely sublime, the cask presentation heightening the sickening drinkability of a beer so hefty. The bourbon smoothes corners, draws deep breaths of moist woodiness and clean nut-dry parching quality. More rounded and deep than the Brandy-barrel version and it shows. I really didn't think this beer could get any better.
782 characters
4.7
/5
rDev
+9.6%
look: 4 | smell: 4 | taste: 5 | feel: 5 | overall: 5
Deep, deep brown color-poured from the bottle a beautiful burgundy. Small head gone all too quickly. Sweet smelling-very port and raisen like. Wonderfully deep and rich flavor. Great notes of vanilla and oak. Noticeable alcohol flavors. Whiskey like flavors as well. Very smooth and creamy considering the abv. Lingering whiskey bite on the tongue. Very impressive beer. Night cap describes it all. Many thanks to callenak for this treat from Secret Santa 2006. Best US strong I have had-period.
495 characters
4.87
/5
rDev
+13.5%
look: 4.5 | smell: 5 | taste: 5 | feel: 5 | overall: 4.5
Got a chance to try this at the Port brewery last time we were there during a tasting. Rich, complex strong ale with strong oak overtones. Almost as much of a 'port' as their Older Viscosity. As nutty as a good porter but without the heaviness. Definitely a sipping beer; sort of the opposite of a lawnmower beer.
313 characters
4.65
/5
rDev
+8.4%
look: 4.5 | smell: 4.5 | taste: 5 | feel: 4 | overall: 4.5
Holy cow! I can't even begin to follow CharlesDarwin's review. There nothing left to cover! So, I'll just say that this is a huge, complex, delicious Barley Wine. If you hopheads that like your American BWs to be 1st cousin to an I2PA could pull yourselves away for one moment and give this stuff a whirl….
Yes, it's worth the price.
341 characters

4.47
/5
rDev
+4.2%
look: 4 | smell: 4.5 | taste: 4.5 | feel: 4.5 | overall: 4.5
A new Strong Ale from the Lost Abbey that will be available soon at all Pizza Ports and a few local retailers. From the bottle pours a burgundy-brown with no head.
The smell is sweet fruity malt with bourbon , a very boozy ale.
The flavor is somewhat Port like with dark ripe booze soaked grapes with some complexity untold. Dark ripe fig and plum with a light liquer like alcohol from the aging in the bourbon barrel give this sweet brew a dessert apperitif essence.
Big body, yet light and earthy from the booze barrels, this stuff is dangerously delicious and very potent. Can't wait too get my hands on some more!
Note: this beer make-up will change with the different barrels that it's aged in and a few other variables.
738 characters
The Angel's Share - Bourbon Barrel-Aged from The Lost Abbey
Beer rating:
4.29
out of
5
with
1,914
ratings