Box Set Track #12 - Heaven & Hell
| The Lost Abbey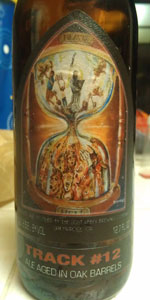 BEER INFO
Brewed by:
The Lost Abbey
California
,
United States
lostabbey.com
Style:
American Wild Ale
Alcohol by volume (ABV):
8.69%
Availability:
Limited (brewed once)
Notes / Commercial Description:
Track 12 is a non fruited sour ale. It is a blend of three base beers (Avant Garde, a previously unreleased sour brown ale, and Gift of the Magi). There were two barrels of Avant Garde, one oak barrel of the sour brown, and a splash of the Magi in the final blend.
Added by MasterSki on 11-22-2012
This beer is retired; no longer brewed.
Reviews: 12 | Ratings: 63

3.53
/5
rDev
-11.8%
look: 4 | smell: 3.5 | taste: 3.5 | feel: 3.5 | overall: 3.5
Hazy orange-amber with decent head formation and carbonation (impressive). Lot of brett on the nose, barnyard and a touch of plastic and sulfur. Little bit of peach and pineapple. Palate is oaky with stonefruit, pineapple and funk. Lot of drying brett and oak. A bit phenolic. This is pretty good, but Track 3 was superior despite its lack of carbonation.
★
355 characters

3.6
/5
rDev
-10%
look: 4.25 | smell: 3 | taste: 3.75 | feel: 4.25 | overall: 3.5
Thanks Todd!
A - White foam settles to a thin collar, wisps, and specks of lace. Hazed dark golden body.
S - The aroma is very bizarre, with sulfur, dishwater, rancid funk, a bit of baby vomit and diaper, and an odd oxidized note. Some of the dirtiest funk I've encountered, and not in a good way. Perhaps a faint hint of sweet malt in the periphery.
T - The taste is much better, with lactic sourness, tart stone fruits, light sweet malts, oak, and some medicinal brett in the finish. Still a bit odd,
M - Smooth, creamy, medium body. Pleasant carbonation, and no obvious alcohol. Pretty nice stuff here.
D - Don't mind this one, other than the rank aroma, but it's one of my least favorite beers in the set. I can't see others finding it downright disgusting, as the funk was verging on too much even for me.
★
816 characters
3.72
/5
rDev
-7%
look: 3.5 | smell: 4 | taste: 3.5 | feel: 3.5 | overall: 4
375 mL bottle poured into a snifter. Reviewed from notes.
Appearance - Murky orange. Thin collar and a couple bubbles.
Smell - Fruity, like peaches. Acidic and bready malts.
Taste - Bretty sourness. Lots of fruit flavors and grainy malts. Less exciting than the smell.
Mouthfeel - Bretty and dry. A little heavy.
Overall - Quality flavors, but it's not really intense. I want a more intense flavor.
★
403 characters
3.84
/5
rDev
-4%
look: 3.75 | smell: 4 | taste: 3.75 | feel: 4 | overall: 3.75
Thanks to GRG1313 for sharing this one at his tasting.
Pours a hazy orange with a foamy off-white head that settles to a film on top of the beer. Small dots of lace form around the glass on the drink down. Smell is sour and tart with some fruity and acidic aromas. Taste is much the same with a fruity flavor on the finish. There is a mild amount of acidity on the palate with each sip. This beer has a good level of carbonation with a crisp mouthfeel. Overall, this is a pretty good beer but it seems slightly unrefined in my opinion.
★
536 characters

3.97
/5
rDev
-0.7%
look: 4 | smell: 4.5 | taste: 3.75 | feel: 4 | overall: 3.75
A - Dark orange with red highlights
S - Tart raspberry, lemon, and lactic acid 4.5
T - Light tart fruit with nice blue cheese funk. Definitely was much funkier than it smells . The funk also lingers on in the finish.
M - Medium body with light carbonation to it. Dry finish
O - Solid funky yet not too tart beer.
★
316 characters

4.02
/5
rDev
+0.5%
look: 4.5 | smell: 4.25 | taste: 4 | feel: 3.75 | overall: 3.75
Bottle shared thanks to starrdogg from an awesome trader in CA! Tried in order with all tracks in the series. This one was pretty good, but compared to others not overly memorable.
Pours a murky orange with a sudsy white ring of head, looks nice.
The smell reminds me strongly of yeasty barnyard belgian sour lambics or saisons, not much like an american wild, if blindfolded I would have guessed it wasn't a US beer. Some stone fruit. light tartness and oak.
The taste isn't as tart as hoped but has some nice flavors of oak, straw, yeast, and apricot to round out the flavor. The feel is just ok too, some body and ample carbonation. This is one of those beers that you would just say, 'that was good' and then not think much about.
★
738 characters

4.12
/5
rDev
+3%
look: 4 | smell: 4.5 | taste: 4 | feel: 4 | overall: 4
Lost Abbey track beer tasting.
The beer appears golden hued and hazy with a quarter inch of white head. The aroma is quite nice, with fruity gueuze like tones. The flavor is nice, but perhaps a notch below the aroma. Again, fruity malt and grain with just a hint of vinegar. Light sourness and tartness. Medium bodied with appropriate carbonation. A decent beer, but nothing to get incredibly excited about.
★
408 characters

4.17
/5
rDev
+4.3%
look: 4 | smell: 4.5 | taste: 4 | feel: 4.5 | overall: 4
11/24/2012
Bottle at Lost Abbey into stemware.
A: Dark reddish orange with a finger of beige froth. Nice color.
S: Lactic with notes of aged blue cheese, oak, lemon, and red wine. A touch of plastic with some horsey funk. Firm lemon presence accompanies a blend of earth and leather. Cherry, grape, and plum are evident.
T: Dark fruits with leather and earth. Cherry, plum, and grape meld with oak. Restrained acetic acidity with some citric and brackish notes. A hint chlorine. Drying tannic finish.
M: Lower medium body with upper medium carbonation. Dry and sticky mouthfeel.
Overall: The aroma and mouthfeel are my favorite aspects of this beer. I think with a little time the flavor will further develop so I'll probably cellar my bottle for a while before opening it.
★
782 characters
4.19
/5
rDev
+4.8%
look: 4 | smell: 4.25 | taste: 4.25 | feel: 3.75 | overall: 4.25
Nice split with rudzud.
Very small fizzy head fades pretty quickly, no lacing semi clear slight hazy orange red color.
Nose big sour tart funk, acetic acid, tart flemmy like sour malts and sour fruit, a little jammy raspberry seed like.
Taste brings more sourness, light with decent sour funk, little bready note, sour malt but a blonde malt like, tart berry funk, sour raspberry like with little seed, hint tangy flemmy, little acetic acid, little malty sour malt flavor. Finish little flemmy sticky sour berry seed and acetic acid, little sour malt, etc.
Mouth is med to lighter bod, light carb, little sticky flemmy.
Overall pretty interesting, nice blend of sour malt and fruity sour thing.
★
703 characters
4.19
/5
rDev
+4.8%
look: 4 | smell: 4.25 | taste: 4.25 | feel: 3.75 | overall: 4.25
Split with JLindros.
A - Poured into a Kate the Great tulip a hazy amber hue with a thin wispy head that fades to leave light wisps and a thin halo.
S - Aromas of loads of avant garde base beer, nice light berries, raspberries, nice funk, light sour tartness, sooo much genetic berry seed.
T - Taste is similar to the nose, nice avant garde base, loads of tartness, generic berry seeds, raspberry, nice funk, good golden notes, really pleasant tang.
M - Mouthfeel is lightly carbonated, could user a bit more.
O - Overall this beer was really tasty, one of the better tracks, incredible fruity tartness. Just delicious berries.
Serving type: bottle
★
659 characters

4.21
/5
rDev
+5.3%
look: 3.5 | smell: 5 | taste: 4 | feel: 4 | overall: 4
On tap at the 2012 LA Barrel Night.
Pours a light golden color, essentially flat but with some largish bubbles on the surface. Aroma is… holy shit, amazing cherry, oak barrel, incredible. A little vanilla and spice, phenomenal moderate tartness and a little mustiness. Taste is a bit of a let down: slightly tannic with an off flavor there. Otherwise, similar flavors as the nose, bright with mild mustiness but not really that sour. Medium body and medium-light carbonation. Overall, I would acquire this beer just to smell it all day. The off flavor detracts from it, though.
★
580 characters

4.42
/5
rDev
+10.5%
look: 4 | smell: 4.5 | taste: 4.5 | feel: 4 | overall: 4.5
A: poured brownish orange in color with burgundy highlights and a really thin head that barely left any lacing sticking to the glass.
S: very inviting aroma if you like wild ales, which consisted of acidic character, hints of bretty funk, good oaky prsence, semi cherry qualities some vinous notes coming through and citrusy zest were noticeable.
T: funkiness from the brett was more apparent on the palate alongside a little vinegar, some citrusy zing, had some vinous wine barrel character, hints of cherries oaky accents and a touch of acidic character.
M: the brew was medium in body with moderate amount of carbonation which had a acidic, citrusy, vinous, wine barrel, oaky,semi sweet and sour finish.
O: very good beer all around that had signature lost abbey sour qualities. It said no fruit but I tasted a little fruit.
★
831 characters
Box Set Track #12 - Heaven & Hell from The Lost Abbey
4
out of
5
based on
63
ratings.