't Poatersgat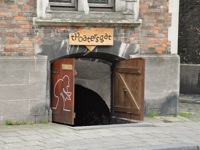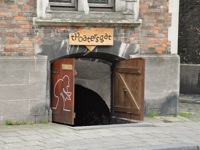 Bar
Vlamingstraat 82
Brugge
, 8000
Belgium
+32 477 244 905 |
map
poatersgat.com
Notes:
3.01
/5
rDev
-28.7%
vibe: 4 | quality: 3.5 | service: 1.5 | selection: 3.5
Really awesome location, quite a reasonable beer selection (6 on tap, ~50 bottles) with moderate prices too. Service... not so much. While we were there the single bartender spent most of his time standing at the top of the stairs smoking with friends. Not only made it difficult to get service (about 15 minutes after we arrived) but it also filled the room with smoke. Found it very difficult to enjoy the beers with my eyes tearing up. Left our drinks half consumed.
469 characters

4.14
/5
rDev
-1.9%
vibe: 4.5 | quality: 4.25 | service: 3.75 | selection: 4.25
My favourite bar in Brugge. A nice selection of beers in a nice atmosphere. I love the whole vibe here in particular the 80s music on the stereo. Prices are very reasonable and all in all a pretty nice little place to hang out very close to the city center. Just watch your head on the way down.
295 characters

4
/5
rDev
-5.2%
Located in a cellar, with dim lights and big, wooden tables, has a somehow ancient look. The range of beer is huge, there are also 4-5 beers on tap. What impressed me most, every beer got its own glass, which is totally unusal for german beer, but standard in Belgium. Perfect atmosphere to have a vew drinks after a busy day in town. Pub growths full in the later hours of the evening, which never occured as a problem, because the place is huge.
449 characters

4.86
/5
rDev
+15.2%
vibe: 5 | quality: 5 | service: 5 | selection: 4.5
A fantastic pub with an amazing atmosphere and a solid beer list. It's a short walk from the main square and you could easily miss it waking by. The awkward but intriguing entry way is like a portal to another time. The brick walls and ceiling are absolutely amazing. And to add a modern touch, the wi-fi is great. Joel the owner is a fantastic guy that likes to talk beer. Between the atmosphere, beer, service, very reasonable prices and nostalgic 80s music (I'm showing my age here), this is one of my favorite beer bars anywhere!
537 characters
4.06
/5
rDev
-3.8%
vibe: 4.5 | quality: 4 | service: 4 | selection: 4
"Popular with locals,'t Poatersgat fills an underground passage that the owner claims used to be used by monks sneaking out of the nearby church and into the brothel at the end of the road. Nowadays, the rabbit-hole-like entrance (through a door embedded in the church wall) leads to a great place for a casual drink."
Was aware of this place but wasn't really planning on stopping here. We were actually planning on stopping in at Comptoir des Arts, which was closed on this evening (poor planning). As luck would have it, this bar is directly across the street, which I was not aware of. It was one of those funny fate moments.
Beer list was fine - they were out of the 3F Gueuze, so I opted for the Cantillon varietal.
It's dark, grimy and full of antiques. It's old and outdated and strikingly charming. Unique spot - I think I enjoyed it more by stumbling ass backwards into it than I would had I planned a visit ahead of time.
938 characters

4.16
/5
rDev
-1.4%
vibe: 4.75 | quality: 4 | service: 4.75 | selection: 3.5
I marked this place down on a map, walked straight there, and was standing right in front of it and didn't even see it at first. The door is very low to the street and watch your step (and head!) on the way down.
We were fortunate to get the couch area but there are plenty of tables and seating compared to other beer bars in Bruges. Hops line the ceiling and and the support arches throughout the basement and the atmosphere. The beer menu was small but they did have beers that weren't on the menu so it does pay to ask. One of the waiters came over and chatted with us for quite a while and really liked our Pug, who we had brought with us.
There was a somewhat musty smell in the corner with the couches, but I guess that's to be expected in the basement of a building that's that old.
As we left we experienced some of the younger crowd that other reviewers have mentioned as they swooped in to get the couch a bit too eagerly before we could get our coats on. It's a good alternative to some of the more popular bars in Bruges, but go early.
1,051 characters
4.3
/5
rDev
+1.9%
vibe: 4 | quality: 4.5 | service: 4.5 | selection: 4
We went here four nights in a row, Tuesday-Friday in Sept 2012. First evening it was quiet, and were able to enjoy good beers, quiet chat to the owner (?) barman, who was very helpful and knowledgable about the beers. Excellent beer range, though a few surprising omissions, and decent prices, many a little cheaper than other well known bars in Brugge. Music was mainly pop and rock from the 1960s-1980's which we enjoyed, so no screaming hysterical women wailing or rap crap! Just what I like for an old codger!
Beer list of about 120 beers, plus 5 on tap, including the Bruges Zot, a lager, a white beer and a fruit beer.
The barman was happy to come to the table and bring beers and chat. The next three nights it was jam packed with younger students, many standing, but we managed to get a table for the two of us, and despite it being very busy, the barman saw us came over and served us at the table the whole evening. This same was repeated each following evening we went, and to be honest I don't know how the barman (who was often alone) managed to serve the crowds (many paying for each drink at the bar) yet serve us at table and collect glasses and bottles too!
We did feel a bit out of the crowd with it being mainly under 25's, but we really enjoyed it here, despite three evenings being very busy and noisy because of it. Good beer, good service, decent prices make this one of our favourite Brugges bars. Note it does not open till 7pm each evening.
As with most bars now in Belgium, no smoking inside.
JohnW
B'ham UK Sept 2012
1,552 characters
4
/5
rDev
-5.2%
vibe: 4 | quality: 4 | service: 4 | selection: 4
well,
1 of the bars I frequent once in a while. If you want a quiet atmosphere go there from 17pm on. In the evening it get's more crowded, especially in the weekend. They have a good beer selection, with some special local ones! Have some nice christmas beers when time comes.
If you're lucky and you want a lazy, relaxing couch moment, you can walk in and slip in the couch corner on your left. Nice environment, only thing you miss is a fire place.
recommended when it get's too crowded in Brugs Beertje or Cambrinus. A lot of younger folks...
552 characters
4
/5
rDev
-5.2%
vibe: 4 | quality: 4 | service: 4 | selection: 4
Popped into here after an early evening few at the Little Brugge Bear. Daisy's place was getting too busy (it was the night before the 3rd Brugge Beer Fest, 13 Nov 09).
't Poatersgat (Priest's Hole) is currently the in place for the young upwardly mobile of Brugge and a very popular late night drinking joint. I believe it is owned and fronted by the same guy who first opened De Zolder across the road some years back. He moved here to expand, this being bigger than De Zolder.
I have been in here before, but it was with a stag party and I was a little tired and confused by the time we reached here and was therefore unable to review it then!
As you step down into the bar you see it is a lot larger than it appears from the street, it goes back and widens out a long way. This is a true celler bar, you are underground and thick columns hold the ceiling at bay, hops are festooned between the columns giving it a pleasant beery feel. Mixed selection of chairs and tables, standing by the bar too. Relaxed, informal and friendly, that covers customers and staff. When quiet it is table service, that isn't very often by all accounts, so bar service is what we used on our visit, can't remember who or why they served me the first time I went.
Music is varied and at times loud, but it is full of 'well off student types' who obviously prefer their music louder than an old fart like me. Old farts are welcome though.
Good selection of beers, is there a bar in Brugge that hasn't got a good selection? I seem to think there were 5 taps and a host of bottles to choose from, we stayed by the bar and only drank from the fonts.
1,633 characters
3.74
/5
rDev
-11.4%
vibe: 5 | quality: 4.5 | service: 2 | selection: 4
't Poatersgat is a cool bar in the basement of what looks like an old church. Arched ceilings are supported by thick stone columns, and the arches are decked out with dry hop vines. The lighting is dim and the atmosphere is cozy; we sat at a grouping of comfy old armchairs gathered around a coffee table. We visited in September 2009.
The beer list is excellent and extensive. There were 5 taps (1 of which rotates) and over 100 bottles including twelve Trappists, twenty lambics and ouid bruins, and a wide selection of other brews. The service was similar to most places we went in Bruges--inattentive and on the cool side of friendly. Most Americans would consider it terrible service, but (a) it's not unusual for Bruges and (b) the advantage was we felt free to sit and and sip for as long as we wanted, no pressure to drink up or clear out. I had an Ichtegems Grand Cru and a St Bernardus Wit, my husband had a Caracole Nostradamus and an Abbaye Des Rocs. We enjoyed them all thoroughly.
't Poatersgat offers free wifi, which is nice (can't decide what to get? look up tasting notes!), but has the disadvantage that it became video-chat-central for a large group of college-age Americans who were all simultaneously chatting with their boyfriends back home. This gave it a less beer-geeky feel than other bars, but did not detract from our enjoyment. Be aware that electrical outlets are few are far between.
We would like to have seen some sort of food offered, even if only a salad or a cheese plate. There is currently no food of any variety on the menu. We would have stayed longer, but we were hungry.
't Poatersgat is close to the Markt Square and well worth a visit. I think it would be a particularly perfect place to take refuge from a snowstorm...duck down the steps into a comfy warm cavern where beer flows freely, what more could you want? It is also very close to Cambrinus, making it a good before- or after-dinner spot on a Bruges beer bar crawl.
1,974 characters
4.22
/5
rDev 0%
vibe: 4.5 | quality: 4.5 | service: 4 | selection: 4
This is a bar, and a bar only. I am in my 20s and came with a group of friends on our vacation. The selections of beers was very good, with a number of awesome selections, but not the equal of some other places in town. We ended our night here and the environment was loud, smoky, and filled with other 20 somethings. Not a problem at all for me, in fact this was one of the few bars I found on my trip that seemed to be frequented by younger people. The staff was a little thin, but as table service disintegrated, we were able to go to the bar and quickly get what we needed. I don't believe they have any food.
I would recommend this place as an after dinner hang out, a place to hear some cool music and have some awesome beers in a loud and smoky atmosphere. If you are looking for the peaceful, pristine Belgian cafe atmosphere, you may not be happy here. If you just want to relax and drink some great beers, listen to cool but loud music, without worrying about the international beer rating implications, then this place may just be what you are looking for.
1,069 characters
't Poatersgat in Brugge, Belgium
Place rating:
4.22
out of
5
with
27
ratings