Amazeballs
| Peekskill Brewery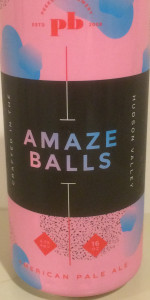 BEER INFO
Brewed by:
Peekskill Brewery
New York
,
United States
peekskillbrewery.com
Style:
American Pale Ale (APA)
Alcohol by volume (ABV):
4.70%
Availability:
Rotating
Notes / Commercial Description:
Single Hop American Pale Ale using Australian Galaxy hops. Offers all the hop flavor without bitterness.
Silver Medal Winner, (GABF 2013)
Added by merc7186 on 09-11-2012
Reviews: 15 | Ratings: 186
4.9
/5
rDev
+12.4%
look: 4.75 | smell: 4.75 | taste: 5 | feel: 4.75 | overall: 5
Went to the old Peekskill brewpub last October and was blown away; I also hear great things about the new one that opened up down the block this past January. Peekskill started distributing to NYC in February, and the appearance of their beers on tap lists throughout the city has been a game-changer. In particular, their reception of the Governor's Cup for best brewer in the State of New York this past weekend cemented how quickly they've risen to prominence.
Appearance: Stunning light orange.
Smell: Monster citrus aroma, instantly reminiscent of Zombie Dust and Susan, two of the finest beers I've ever had the good fortune of tasting. A wonderful, big, memorable smell for an APA.
Taste: The substantial aroma is more than backed up by huge citrus taste. Amazeballs is very likely the east coast's answer to Zombie Dust, made all the more impressive by the fact that it checks in at a mere 5.2% ABV.
Mouthfeel: Smooth, medium-bodied, medium-carbonation.
Overall: This is a damn near-perfect APA. If Peekskill ever starts packaging, this beer could be New Yorkers' opportunity to finally have a locally brewed trade target as desirable as ZD.
★
1,164 characters

4.83
/5
rDev
+10.8%
look: 5 | smell: 5 | taste: 4.75 | feel: 4.75 | overall: 4.75
On first look the froth and color are perfectly tuned.
Hoppy aroma is striking like the teamster; very nice, outstanding really. The smell is bright, with a spruce feeling that's not very bitter. Word has it, they used galaxy, which were put to good use.
The taste imparts a balanced mouth feel, without a lot of heat. I like it.
This is great stuff and worth a trip for a growler and a pint while you wait.
★
413 characters

4.75
/5
rDev
+8.9%
look: 4.75 | smell: 4.75 | taste: 4.75 | feel: 4.75 | overall: 4.75
The beer comes in a clear golden yellow color with foamy white head.
The aroma has almost a Citra aroma, but it's actually Galaxy, with its citrus and tropical fruit and passionfruit. This was lighter though and less full on the sweetness.
The flavor follows with crisp citrus and orange. It's actually a very hoppy beer. Like other extremely hopped beers, it's not really a bitterness or flavor. It's just pure hops that rolls around your mouth. It just rolls and rolls of hop juice character of a light tangerine, slight orange, pineapple.
There's a bit of crackery malt in there, but it really just stands out as mostly hops, juicy fruits with a slight bitterness on the end.
I was not sold on this beer the first few times having it. However, having it a bit past refrigerator/tap temperature, this beer really started the shine as the hop and fruit character came through. Highly recommend having this slightly warmer than cold.
This stands up with the best out there.
★
978 characters
4.67
/5
rDev
+7.1%
look: 4.25 | smell: 4.75 | taste: 4.75 | feel: 4.25 | overall: 4.75
Finally got a chance to try this on tap at Peekskill Brewery - it had kicked right before my first visit to the brewery. Heard great things about this beer, and having just had my first 6-er of Zombie Dust, wanted to see how this compared.
A: Served in a Peekskill 16oz pint glass. Nice foamy white head with decent lacing. Beer looks delicious, if that's such a thing, with a light orange tinge on a clean beer.
S: Ripe oranges, grapefruit zest, tropical fruit, fresh cut grass. This thing hits your nose like a mack truck. Beautiful bouquet of citrus and tropical fruit mingling with some grassy pine notes. I almost didn't want to drink this, as my nose would be deprived of the scent. If you've ever been to Disney World/Land, and been on the ride "Soarin'", there's a section where you "fly" over California orange groves, and they pipe in the scent of fresh oranges. That was the first thing my mind shot to when I smelled this beer.
T: See above. Just amazing. Ripe citrus hits your tongue immediately, followed by a nice pine suggestion just subtle enough to poke through, yet the bitterness is tame compared to other APAs. Great job by the Chief attaining amazing balance while showcasing the wonderfulness that is the Galaxy Hop. I honestly can't believe this thing isn't just loaded with Citra hops. Finishes clean, with slight bitterness, and refreshing orange notes on the back of the tongue.
M: Good carbonation for the style. Light feel but prickly on the tongue. Very refreshing.
O: Maybe I'm a bit biased because this is a local NY brew, and I have better access to it than I do ZD, but damn, this APA is as good, if not slightly better than Zombie Dust. Sacrilege, I know, but regardless, this is a MUST try for anyone who loves citrusy Pale Ales. Anytime Peekskill has a tap takeover in NYC, this thing kicks within an hour or two. Definitely my favorite beer brewed in NY right now. Keep up the good work, Chief!
★
1,938 characters
4.54
/5
rDev
+4.1%
look: 4 | smell: 5 | taste: 4.5 | feel: 4 | overall: 4.5
On tap at the brewpub.
Blonde and a little hazy, frothy white head up top. No, not the girl at the end of the bar; we're talking beer here, people!
First whiff of the aroma gets me excited. Juicy, citric hops settle themselves over a mild base of sweet grains. Fruity, floral, and pleasantly pungent. This aroma is neck-and-neck with the very best of the style. Wow.
Juicy, fruity, creamy hops bombard my palate. A kiss of sweet malty goodness shows up in the middle before being ushered away by more fresh, delicious hops. Not resinous or piney at all. Really tasty and imminently drinkable. Geez, this is dangerously close to Zombie Dust territory.
I was certain it was brewed with Citra hops from the smell alone and was stunned when the bartender revealed it was a single-hop Galaxy brew. Difficult to believe since I rarely enjoy Galaxy, but Benz really knew his stuff and I have no reason not to believe him.
Amazeballs lives up to its name. Still kicking myself for not bringing a growler home.
★
1,006 characters
4.47
/5
rDev
+2.5%
look: 3.75 | smell: 4.75 | taste: 4.5 | feel: 4 | overall: 4.5
On tap at the brewpub both times I went.
Pours a light orange, golden color. Soft white head, about 1 inch. There's latticework-style lacing as I gulp this one down.
Smells incredible. Pure mango and pineapple puree. This is apparently single-hopped with Galaxy- this in an incredible solitary hop in brews.
The taste follows as expected. Intense juiciness with little bitterness. Basically pure hop juice. Slight tastes of sweet malt sometimes poke through, but the hop flavors, so fruity and juicy, push it away pretty quickly.
The mouthfeel is light, slightly fluffy, if you will. Slightly resiny, lightly carbonated.
Just one of the purest expressions of hops in a pale ale I've ever had. Just amazing.
★
711 characters
4.42
/5
rDev
+1.4%
look: 4.5 | smell: 4.25 | taste: 4.5 | feel: 4.25 | overall: 4.5
subtle aromas of honeysuckle melon, candied orange, citrus peel, bubblegum. taste follows, super clean malt profile to compliment. pretty tasty for the low abv and feel is about where it should be.
★
197 characters

4.41
/5
rDev
+1.1%
look: 4 | smell: 4.25 | taste: 4.5 | feel: 4.5 | overall: 4.5
Served on-tap at The Peekskill Brewery (although it is nice to see a good amount of places near it and in the city, serving this, among other offerings from them. Anyhow, here goes....
Appearance is a cloudy gold color with a finger of white head. The nose contains pineapple, mango, bread, some hops. Upon tipping it back, I taste more of the citrus fruits, some resin, caramel as well. Mouthfeel is low-med, a bit creamy, finishes with a small amount of bitterness. This beer drinks very easily, but has such a great flavor and texture. A fantastic session beer...wish they were a little closer to me.
★
604 characters

4.32
/5
rDev
-0.9%
look: 4.25 | smell: 4 | taste: 4.5 | feel: 4 | overall: 4.5
I don't know about "balls" at 5.2% but this beer has definitely got something. ...a douchey name for such an "amazing" beer. I've had it before and will have it again. This time it was a growler I took to go. After a 3 hr. ride home and a quick chill, it tasted great. Obviously, it didn't taste as crispy fresh as at the brewery the night before, but I did take a 1 hr. detour to pick some up . Clearly, it holds a special place in my heart. Medium/light straw hue. Foamy, finger head with strong lacing. Nice hoppy nose, and flavor to follow. Balanced taste, delicate citrus and just slight bitter end for a perfect finish. I love the new wave of full flavor light beers now. This is similar to Carton Boat Beer, but with a little more abv. yet superb balance. This is an awesome beer. If you're into the strong stuff this might not blow you away, but otherwise it's a must have.
★
881 characters

4.29
/5
rDev
-1.6%
look: 4 | smell: 4.25 | taste: 4.25 | feel: 4.25 | overall: 4.5
On draft at the brewery.
Poured a light copper hue with a one finger foamy white head. There was good retention and lacing.
The smell featured clean piney hops and a light doughiness.
The taste offered waves of vibrant pine and citric hops supported by a grainy light caramel.
The mouthfeel was toward the cleaner side of the style.
Overall a very nice an quaffable APA.
★
375 characters

4.27
/5
rDev
-2.1%
From 10/31/14 notes. Had a 16oz pour of this in a pint glass for $5 at Alewife...gott alove that happy hour deal.
Pours a deep amber-yellow color with one inch of bright white fluffy head and moderate carbonation evident. Super hoppy nose, citrus, grains, wheat, bready malts, floral hops, and tropical notes. Taste has more pineapple and tropical fruits, stone fruits.Medium body and low to moderate carbonation.
Overall I thought this was awesome; can't believe the ABV is only 4.7%. Not the hoppiest beer in the world but hoppy for an APA and for the low ABV especially; I would drink this all the time if I could. Highly recommended.
★
639 characters

4.25
/5
rDev
-2.5%
look: 4 | smell: 4.5 | taste: 4.25 | feel: 3.75 | overall: 4.25
On-tap at the brewpub
The body sits a bright orange, super clear, with some stray bubbles. The head was a soft white with clingy lace. Some thick spider web lacing on the glass.
Galaxy hops, oh how I love you. Waves of tropical fruit with a touch of pine. Mangoes, papaya, pineapple, and white grapefruit all over a firm bed of slightly sweet malt. A little bit of graininess poke through here and there.
Sweet, juicy tropical fruits coat the palate and slide off easily. Some sweet malt pops through the middle before a mix of sweet tropical fruitiness and mild bitterness in the finish. All of the same flavors as the nose. Pineapples and grapefruit with papaya, mango, and pine playing a supporting role.
Oily, resiny feel, but still fairly smooth.
Galaxy hops can really do no wrong. Big nose, fruity flavor with moderate bitterness, pretty delicious.
★
860 characters

4.22
/5
rDev
-3.2%
look: 3.75 | smell: 4.25 | taste: 4.25 | feel: 4.25 | overall: 4.25
Growler filled @ the brewery yesterday, galaxy single hop APA
The beer pours a crystal clear, light golden amber color with a loose white head that sparsely laces and fades rather quickly to nothing. The nose is potently hoppy highlighting the lovely galaxy varietal with notes of grapefruit and a slight peachiness. This is a moderately bitter, juicy, balanced, mildly malty APA that puts the spotlight on the galaxy hop in a way I've only experienced with HF's double galaxy. The mouthfeel is mildly malty and sweet with a lingering, lightly drying/crisp tropical hoppiness. This is definitely a beer worth grabbing a growler of and more pints will ensue shortly!
★
666 characters

3.94
/5
rDev
-9.6%
look: 4 | smell: 3.75 | taste: 4 | feel: 4 | overall: 4
Freshie growler filled @ the brewery yesterday, galaxy single hop APA ($16)
Pours hazed lighter almond amber, frothy off white head, leaves ungodly amounts of fine ass and nice looking sheeting.
Moderate nose of fruity hops.
Quality APA with tropical fruit notes running all through it. Pineapple juice, clementines, and fruity goodness. Light dough in evidence to provide the balance.
Easy drinking and super tasty. More world class beer from Peekskill Brewery, so glad I live only 10 minutes from this high quality beer production facility!
★
546 characters
3.49
/5
rDev
-20%
look: 3.75 | smell: 3.5 | taste: 3.5 | feel: 3.25 | overall: 3.5
On tap at Peekskill.
Hazy pour, copper color, with a finger or so of white head that sank to a thin layer, leaving a few strands of lace on the glass. Aroma was herbal with hints of underripe fruit, doughy malts. Flavor of green pineapple rind, leafy, quite bitter, with a good dose of bready, doughy malts. Light-medium body, mouthfeel was a bit thinned out. It was okay, but nothing really memorable.
★
403 characters
Amazeballs from Peekskill Brewery
4.36
out of
5
based on
186
ratings.