Marion Street Market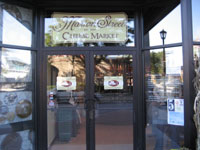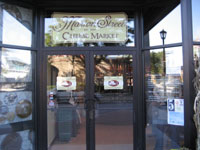 Bar, Eatery, Beer-to-go
100 S Marion St
Oak Park
,
Illinois
, 60302-2809
United States
// CLOSED //
Notes: Growlers available.
Recent ratings and reviews.
| Log in to view more ratings + sorting options.
Ratings by JIMTRK16:
More User Ratings:

Reviewed by DoubleSimcoe from Pennsylvania
3.7
/5
rDev
-10.4%
vibe: 3.5 | quality: 4 | service: 3 | selection: 4 | food: 4
On the other side of the Metra tracks but still on the "nice" part of town, Marion Street Cheese Market is a "fancified" joint with a beer-and-wine store, gourmet-food section and dining area.

The bistro area is casual yet fancy, and features a great dinner menu (braised pork, scallops with risotto). Alas, it was 4pm when we visited and they were only serving cheese-and-meat boards and small bites.

They had six beers on tap, including New Holland Poet, Lagunitas Lil' Sumpin, Great Lakes, New Belgium Grand Cru and two locals: Chi-Town and 5 Rabbit.

Service was a little slow but solicitous, and the ambience is slightly chain-y but adequate. I bet it is more exciting at night for dinner service.

As for the store, there is not a lot to choose from but what they have is good. Basically one shelf with room-temp bombers (Flossmoor, Jolly Pumpkin, 3Floyds Lager, Sierra Life&Limb) and a section with cold six-packs featuring Flying Dog, Boulevard, Finch's, Great Lakes, Founder's (Breakfast), Chi-Town.

These packs can be bought as singles, which is a plus when you just want to try one beer without committing.

All in all, a good stop when in Oak Park visiting Frank Lloyd Wright, but beware the prices! Drafts were as high as $8 for my New Belgium.
Sep 24, 2011
Reviewed by sgoro from Illinois
4.41
/5
rDev
+6.8%
vibe: 4 | quality: 4 | service: 5 | selection: 4.5
Discovered this place back in March when I was calling around looking for some KBS. This was the only place I was able to snag a bottle from because Binny's had a secret list of reservations.

The staffers here are very knowledgeable about their inventory and speak passionately about their offerings.

You can find all the locals here. Half Acre, Flossmoor Station, Metropolitan, and Three Floyds. They also have a nice selection of Founders and various bombers.

The best thing about this place is the ability to purchase individual bottles. I was there the day they received Boulevard and picked up a mix of Tank 7, Sixth Glass, Double Wide and Dark Truth and also added Ommegang BPA and Metropolitan Iron Works Alt to complete the sixer.
May 12, 2011
Reviewed by jrallen34 from Illinois
3.98
/5
rDev
-3.6%
vibe: 4.5 | quality: 4 | service: 4 | selection: 3.5 | food: 4.5
In Oak Park for the day signing up the debtors so headed to this place only a mile away. Located on a quiet street, looks dead, and bring change to pay for parking. This place has a cool set up, a wine/beer, cheese, deli, and restaurant all rolled into one... They have about 20 different six packs, about 15 singles to tick, and nice bombers to buy. Mostly local selection but I was able to get any Three Floyd's sixer I wanted, along with some Killer Kapowski. Price is average, expecting it to be a little lower than downtown... The service was friendly, not overly knowledable... Lunch was awesome, cheap and nicer organic and local fresh farm foods. If I lived in OP I'd frequent this place for lunch. Draft list sucks, 5 sub par locals, but nice bottle selections.

Not a destination drive but if in the area stop for lunch.
Mar 22, 2011

Reviewed by JohnnyChicago from Illinois
4.2
/5
rDev
+1.7%
vibe: 4 | quality: 4.5 | service: 4 | selection: 4 | food: 4.5
Visited this place on a double date. The place is tucked away in downtown Oak Park, within walking distance of the Lake theatre and a number of other restaurants.

We went in without a reservation and the wait was short. We ordered a couple of cheese and meat flights and a few pints. The waitress was extremely friendly and knew a good deal about the beers and food, making appropriate suggestions. Our beers were fresh and properly poured (mine was an Old Raspy on nitro). The selection was decent, with local favorites including 2 Brothers, Goose Island, and 3 Floyds, some nationwide classics and a well as a connected mini bottle shop.

Prices were fair (surprising for Oak Park) and the food was absolutely delicious. Just before we left, some guy came in with a guitar and started playing some free-form jazz. This is a great place to hit up with a date if you want some class, but can't part from you beloved craft beer. Wonderful little place.
Mar 01, 2011

Reviewed by emerge077 from Illinois
4.2
/5
rDev
+1.7%
vibe: 4 | quality: 4.5 | service: 4 | selection: 4 | food: 4.5
08/10: Still a solid selection, noticed they have growlers displayed. Great locally sourced food, rotating seasonal menu and occasional beer dinners.

08/09: Scaled back beer selection, seems like they are discontinuing some of the 750's they carry unfortunately. Maybe 30 beers total now, just the top sellers. Port Wipeout IPA was on tap.

02-16-2009

Stopped here today for dinner, it was an impressive experience. First and foremost, they make a focused effort to incorporate craft beer on their menu, and offer pairing advice. Amazing cheese selection here, from Winnimere, to Red Hawk and many others that were new to me. The retail beer cooler had just about everything that was on their list at the bar, roughly 50 beers. All quality US craft offerings, many from Founders, Bells, and Victory. Ommegang Biere de Mars, Jolly Pumpkin Luciernaga, and several other gems. The taplist in the cafe is limited to 5 beers, but they are quite varied and rotate often.

Currently on draft: Ommegang 3 Philosophers, Rock Bottom Abbey Ale, 2 Bros. Northwind, Metropolitan Dynamo, and Bear Republic Racer 5. 12 oz.

Bottles: DFH 90, Raison, Corsendonk Xmas, Founders Breakfast & RIS, GL Ed Fitz & Dort, GI Pere Jacques & Matilda, 3F RtB & GB, 2 Bros Nothwind, Ebel's, Domaine DuPage, Lagunitas Pils, IPA, Hairy I-ball, DH Crooked, Amber & Perkulator, Bells 3rd Coast Old Ale, Winter White, & Hopslam, Brooklyn Brown & Monster, Rogue Brutal Bitter & Mocha Porter, Trois Pistoles. 750s: Rodenbach GC, Dupont Cider, Lost Abbey Judgement Day & Avant Garde, Port Santa's LH & Hop-15, Ommegang Bdm, JP Bam, Luciernaga, & Biere de Mars, Flossmoor Brown & IPA.

The atmosphere is upscale in the cafe/restaurant, but I wouldn't feel out of place stopping here for a beer after work. It's very close to the green line Harlem/Lake stop. Most of the beer was in a cooler, with a warm shelf of mixed singles. Past the deli counters there was a bar and dining area with a modern feel, lots of wood and a copper colored tiled ceiling. The food was really excellent, I tried a charcuterie plate, and others had a special prixe fixe dinner. They offered a beer pairing with the courses for $18, each one was on tap specifically for this menu. On the dinner menu there were a handful of specialty entrees, and sandwich options on the lunch menu. The coppa and heirloom prosciutto were very tasty, as was the Red Hawk washed rind cheese from Cowgirl Creamery. Service was attentive and helpful, they brought a bottle chiller and an extra tasting glass, which was nice. I'll return when in the area. This is a unique place, definitely one for beer/cheese geeks, and also for those seeking high quality dining, and/or artisan deli goods to take home.
Feb 16, 2009

Reviewed by hawks10 from Illinois
4.16
/5
rDev
+0.7%
vibe: 4 | quality: 4.5 | service: 4 | selection: 4
Walked in on our way to Poor Phils bar to check out the beers. Did not go to the cafe or try any food, just looked at the beers, although the place looked really nice inside and had a couple taps (not sure what though). Picked up a Bell's Kalamazoo Hopsolution 6er and made my own six pack of beers that were mostly $2-$3 each (Couple Rogue, Dogfish 90, Dogfish Raison, Allagash Tripel, Two Bros Cane & Ebel. Had a decent selection of 6-packs, Bells, Two Brothers, Rogue, Left Hand, Goose, etc...also had some bombers and a wide variety of Lost Abbey bottles.
Jan 15, 2009
Reviewed by kballer from Illinois
4.2
/5
rDev
+1.7%
vibe: 4 | quality: 4 | service: 4.5 | selection: 4.5 | food: 3.5
This was a great place in general. The beer selection is vast. They rotate with five brews on tap. You can get the beer flight for 9 dollars which is a about a 4 or 5oz. sample of the five beers they have on tap. I paired that with their cheese and meat flight. I would recommend that. Otherwise the food isn't that great because they mostly concentrate on cheeses but they do cheese well. They also have a cooler where you can buy some beer and wine. They have a deli and a cafe too.

If you want some great beer and cheese that pairs well with those beers then this place is for you.
Jan 12, 2009
Reviewed by MacDomer from Illinois
3.93
/5
rDev
-4.8%
vibe: 4.5 | quality: 4 | service: 4 | selection: 3.5 | food: 4
Lots to offer beyond beer - cheese, bread (from a great Chicago bakery called Red Hen), a small kitchen with hot food, coffee, kitchen gadgets, etc...it's a fun place overall.

On to the beer...They usually have four or five beers on tap and have gotten some decent stuff lately (Allagash, Flossmoor, Bear Republic, etc). MSCM usually has 25-30 beers, mostly in their cooler, but also some that are on the shelf. It's a limited selection, but a good one. I've seen Founders, Three Floyds, Dark Horse, Bells, Victory, DFH, others.

Best part is that they recently starting doing a mix-a-sixer deal. I will take them up regularly on this to try out their rotating selection.

Not a destination to seek out anything rare, but a nice local spot nonetheless.
Nov 19, 2008
Marion Street Market in Oak Park, IL
Place rating:
4.13
out of
5
with
13
ratings