Tailgaters Smokehouse & Spirits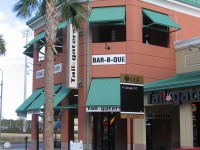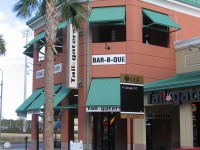 Bar, Eatery
4000 Central Florida Blvd.
University of Central Florida
Orlando
,
Florida
, 32816
United States
|
map
tailgatersatucf.com
Notes:
Recent ratings and reviews.
Ratings by Hallbrauhaus:
Reviewed by Hallbrauhaus from Mississippi
4.18
/5
rDev
+9.4%
vibe: 4 | quality: 4 | service: 4 | selection: 4.5 | food: 4.5
Where else in te USA can you go to a Bar on a college campus. Hmm Just UCF? I was very happy with the selection of German Beer on tap. I was lucky enough to talk with the owner Greg. After trying several Octoberfest brews from Hofbrau and Spaten, Greg gave me a sample of Warsteiner. See you Friday night Greg for another round of German brews. Wiess Beir is up next. Some of the choices were: Konig Ludwig, Hofbrau, Spaten, Paulener, Warsteiner. Greg had a very large selection of bottle beers as well. Word is the seafood is very good. I had the hamburger and Onion rings. Tomorrow night will be seafood night. Plenty of TV's to watch. Cute girls on the wait staff. Wearing tight ref shirts and black shorts.
Sep 25, 2009
More User Ratings:

Reviewed by chickenflea from Florida
3.46
/5
rDev
-9.4%
vibe: 3 | quality: 4 | service: 2 | selection: 4.5
This bar is the closest beer bar to my house, so I was very excited when it opened. Unfortunately on the night I chose to visit it was packed with college kids. (It is located on the UCF campus near the arena.)

I must say that the selection was the best part about this place.

The atmosphere was OK. A little too cavernous with a high ceiling and a lot of windows.

The worst thing was the service. The bartender was only marginally knowledgeable and very rushed even though at the time I ordered there really wasn't that much going on.

My Tremens was served in a nice glass. It was a little pricey. I will stop in again when on campus, but I will not go out of my way when I can go to several nice bars that are also close by and have better service and ambiance.
Mar 23, 2010

Reviewed by clayrock81 from Florida
4.13
/5
rDev
+8.1%
vibe: 4 | quality: 4 | service: 4.5 | selection: 4 | food: 4
Hit this place on a Saturday afternoon and it wasn't that busy, but still my buddy and I sat at the bar. This is sports bar that is set up for sports - has the packages on dish and TVs everywhere. Server was friendly, attentive, and actually had beer knowledge. Plus, if you're nice they allow you to have little samples of what's on tap so you don't have to order something blindly. That little thing goes a long way in my book. Beer selection seems to rotate slightly with 30+ taps and I'd say about 100 bottles (might be a little off). No extreme diamonds in the rough that you can't find anywhere else, but a good solid selection ranging from known micros such as DFH and Flying Dog to Belgians and a few Germans. You'll find something you like and probably haven't tried. Ordered wings and the pulled pork plate - huge serving, came out on time and tasted good. Better than your average pub fare. Only beef is bleu cheese is 45 cents extra...WTF! Yes, I really did type that. Noentheless, glad I checked this place out while visiting my buddy and will hit this spot up again when visiting in the fall - football season!! This place will be a UCF Knights fanbase central.
May 17, 2009

Reviewed by cjgator3 from Florida
3.5
/5
rDev
-8.4%
vibe: 3.5 | quality: 3.5 | service: 2.5 | selection: 4.5 | food: 3.5
Located on the Univertsity of Central Florida campus right next to the basketball arena and a couple stores over from the Barnes and Noble. It is also within a short walking distance from the football stadium as well.

If you are not a student, you have to pay for parking at the parking meters. First off, the beer selection is pretty solid especially considering that it is an on-campus bar. Most of the taps are craft beers including taps from Brooklyn, Dogfish Head, Rogue, Stone, Lagunitas. Bell's and others.

My first two choices of beers (Stone IPA and DFH 90min IPA) were turned downed because the kegs were empty which was a little frustrating. I ended up deciding on a Dogfish Head Palo Santo Marron. The beer was poured into a a frozen pilsner glass, wtf? I bit my tongue and let the beer warm up before drinking it. Once it did warm up the beer was fantastic but I was a little annoyed at the choice of glassware and the fact that the glass was frozen.

I had a pulled pork sandwich that was pretty good and really went well with the beer but my main grief is the price. The pulled pork sandwich and my one beer rang up to $18, that is pretty damn pricey in my books for a beer and a sandwich even though the beer was a high gravity beer.

Overall, Tailgaters is a decent place to go enjoy a good pint while on campus before a sporting event, but the high prices and the bartenders lack of beer knowledge turns me off from this place. Not bad, but I'd much rather go to Underground Bluz right across the street.
Jan 26, 2009
Tailgaters Smokehouse & Spirits in Orlando, FL
Place rating:
3.82
out of
5
with
4
ratings