Jefferson St. Brewing Company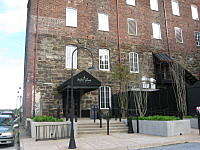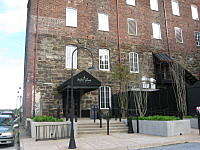 Brewery, Bar, Eatery, Beer-to-go
1390 Commerce Street. 2-A
Craddock Terry Hotel, 1312 Commerce St
Lynchburg
,
Virginia
, 24504
United States
// CLOSED //
Notes:
Reviews by dtivp:

dtivp from Pennsylvania
3.75
/5
rDev
+10.3%
vibe: 4 | quality: 4 | service: 4 | selection: 3 | food: 4
The Brewery is on the upper floor, beer and food are located in the Waterstone Restaurant on the first floor. Very nice location, older building with exposed beams , nice stone work, making a nice rustic ,comfortable atmosphere.
The beer selection was average, approximately 8 beers on tap with a few selections other than Jefferson Street brews. They offered 7 Jefferson Street selections, a nice variety for a sampler.
The servers were friendly, timely and had some beer knowledge.
The food was very good, excellent salads, good pizza and some of the dishes delivered to other tables looked good. The food and beer was very reasonably priced. There was a very nice crowd when I visited and all seemed to be having a good time.
Very nice place to visit and enjoy a casual meal. If your going just for the beer, you may be a little disappointed.
It appears that Lynchburg is attempting to develop their river frontage area and Waterstone fits this historic area very well.
May 29, 2010
More User Reviews:

avisong from Virginia
3.05
/5
rDev
-10.3%
vibe: 3 | quality: 3.25 | service: 3.25 | selection: 2.75 | food: 2.75
Jun 29, 2015
beerrat from Virginia
4.46
/5
rDev
+31.2%
vibe: 4.75 | quality: 4.75 | service: 5 | selection: 3.25 | food: 5
Outstanding pizza good beer next to the river.The honey wheat ale was refreshing. The stout was good.All located in downtown Lynchburg VIRGINIA next to the river in 120+ year old Tobacco warehouse. Jerry Falwell's town has its own brew.
Jun 25, 2015
Gagen15
2.8
/5
rDev
-17.6%
vibe: 2.5 | quality: 3 | service: 3 | selection: 2 | food: 4
May 20, 2015

LXIXME from New Mexico
3.6
/5
rDev
+5.9%
vibe: 3.5 | quality: 3.25 | service: 4 | selection: 3.5 | food: 4
Apr 10, 2015


bigkingken from North Carolina
2.54
/5
rDev
-25.3%
vibe: 4.75 | quality: 2 | service: 2.75 | selection: 1.5 | food: 4
Downtown Lynchburg is a lot cuter than I thought it'd be. Full of historic buildings – some renovated and some falling apart – the cascading hillside and meandering river provides the perfect scene for some nice brewpubs. Unfortunately, small-sized, right-wing cities aren't exactly hotbeds for open-mindedness when it comes to intoxicating substances.
At least not publically.
Nonetheless, one small brewpub has managed to pop up. The Jefferson Street Brewery shares a renovated former shoe factory with a couple of restaurants and an impressive-looking hotel. Marked by the giant shoe attached to the exterior, the 1st floor features a joint called the Waterstone that serves its beers alongside a menu mostly composed of pizzas.
The Waterstone is gorgeous. The walls are either brick, stone, or what looks like reclaimed wood. The bar is beautiful, the lighting is on point, and the general ambiance is warm and laid back while still managing to be classy. It's damn near perfect. The only issue is the terrible logo and font choices adorning every available surface that screams corporation. It reminds me of a Bone Fish Grill.
On the menu, there's a few entrees, a few sandwiches, and a few salads. But the main focus is obviously their pizza. And with good reason. The corner of the restaurant sports an encouragingly authentic-looking pizza oven. I'm not sure if it is wood-, gas-, or coal-fired, but whatever heats it up, it makes a great pie.
My wife and I ordered a Thai-inspired creation with chicken, carrots, peanuts, cilantro, Serrano chilies, mozzarella, and sesame sauce. The title claims it is spicy, even though it isn't. But that's okay because its tasty anyway. The second pizza we tried was the Sicilian, which featured red sauce, sausage, cappicola, salami, oregano, pecorino-romano, and fontina. Also a winner. The best part of their pizza is the thin, crispy crust. If I had any complaints, its that the toppings were a bit sparse, but perhaps it'd be a shame to cover up the delicious carbs with too much going on up top.
So far, so good. This place has the makings of an outstanding establishment. Unfortunately, that's where the wheels fall off. The crux of any brewpub has to be its actual beer. And Jefferson Street's libations fall well short of the rest of the establishment.
There's not much on tap – just five beers on tap and no seasonals to speak of. And of those six, the amber inexplicably is the highest ABV at 6%. All of the beers were dry and drab with little or no complexity to their grain bill or hop profile. I didn't even bother ordering a pint after sharing a sampler with the Mrs., which is a rarity for me.
Too bad. The place has such potential.
Jan 17, 2014
jamesfrazer from Virginia
2.78
/5
rDev
-18.2%
vibe: 4 | quality: 2 | service: 3 | selection: 2.5 | food: 4
Let me start off by saying i am a local, so my views my be biased.
Jefferson St has had the same 5 beers on tap for 4-5 years, progressivly getting worse. The only beer they make that is relitively good in my eyes is the oat stout. It seems like the beer is not being fermented long enough, or they are getting to big for thier britches. Needless to say the place used to have great beers, and the crowd that frequents JSB doesnt really know good beer.
They have Growlers to take home if your into that kinda thing and tee shirts if you want to represent the home team.
I still go there cause my band members work there, but at 5$ a pint plus a tip, i dont drink there as much as i would like to, but i still get a sampler every time i go there to see how things change
Cheers
Mar 20, 2011
oxguru from Virginia
3.84
/5
rDev
+12.9%
vibe: 4 | quality: 3.5 | service: 4 | selection: 4
I visited this place an a Friday evening (November 5, 2010) while in town for a conference. It was packed, partly because the available seating is somewhat limited; there was a decent sized line out the front door. The atmosphere was quite nice, open space, can see the pizza oven, etc. I found it very noisy though, more so than I'm used to at similar establishments. It's part of a complex that includes what looked to be a higher end restaurant on the fourth floor, and the brewpub/restaurant on the first floor. Not sure what's between, though others have mentioned that the brewery is on the second.
Service was as attentive as it could be at the full bar. Selection was also ok, with a Light, wheat, American pale, brown ale, oatmeal stout, and Octoberfest available at the time of my visit. I found the pale ale to be a little watery, but nicely hopped. I wasn't thrilled with it, but did have two of them. In between, I tried the oatmeal stout, which I thought was quite good. I thought $4.50 a pint was a little high, but that might be appropriate for Lynchburg.
The wood-fired pizzas looked pretty good, but I didn't try any food on this visit.
I'd probably have to visit again before I gave a proper recommendation, but I would definitely go again to try the food and sample further beers.
Nov 09, 2010

Seanibus from California
3.58
/5
rDev
+5.3%
vibe: 3.5 | quality: 3.5 | service: 4 | selection: 3.5 | food: 3
A cool little place. The brewery is upstairs, fronting on Commerce Street, but the food and drink part comes by way of Waterstone restaurant, which is one street down the hill, on Jefferson Street.
The atmosphere is at once hip and rustic, in the basement of what seems to be an old mill, with exposed beams and stone facing into a modern wood and steel restaurant.
The service is crisp and friendly. The food is decent, if not inspired - mostly pizza. I was not wowed by the ingredients, but it was good enough.
The beer, however, was quite good, surprisingly good for a part of the world not known for its highly evolved beer culture. There were five beers on tap and the restaurant offers all five in a reasonably generous sampler. The standout was the oatmeal stout, which is rich and surprisingly spicy, though the amber and the Orange Wheat were both good and the basic lager was decent. The Pale Ale was a little strange - it smelled watery. I don't mean weak, I mean it smelled like fragrant tap water. The flavor was decent, but a little watery. Strange to say, but that was my immediate and lasting impression.
Worth a stop in if you're in the area. Not worth a long pilgrimage.
Dec 30, 2009

Deuane from Pennsylvania
3.75
/5
rDev
+10.3%
vibe: 4 | quality: 4 | service: 3.5 | selection: 3.5 | food: 4
Located in the Waterstone restaurant, in a beautiful, old, riverside building that is leading the way in a bit of a resurgence in this section of Lynchburg.
I found the location quite nice with a good beer selection offering 8 taps and quality offerings.
The stout was STOUT (read roasty, full bodied and flavourful) and the APA was crisp and hoppy. I had the opportunity to chat with the brewer for a few minute. I learned he has 14 years of brewing experience at 4 HOPS locations in Florida (a now defunct company) so he has a good, solid brewing background.
Food was solid and filling. I had a fish sandwich that was nicely done and the wife enjoy a portobello sandwich that was well prepared and presented nicely. The pizza's looked great but we simply were not in the mood for one. Maybe next time.
Service was decent but unremarkable. I recall her being pleasant and being there within a reasonable time frame when we needed something.
If jonesing for decent craft brew in Lynchburg I strongly suggest you give this place a try. I know I will stop in again when/if I am passing through the area.
Sep 12, 2009
Jefferson St. Brewing Company in Lynchburg, VA
Brewery rating:
3.33
out of
5
with
77
ratings