Dismiss Notice
Extreme Beer Fest:Los Angeles
Join us December 9th in Los Angeles for the ultimate throwdown of craft beer creativity!
Learn more...
Dismiss Notice
Brewers Union Local 180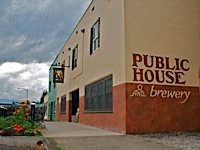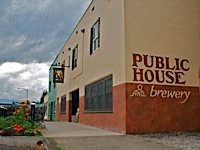 PLACE INFO
Type:
Brewery, Bar, Eatery, Beer-to-go
48329 E 1st St
Oakridge
,
Oregon
, 97463
United States
(541) 782-2024 |
map
brewersunion.com
Notes:
"Oregon's only Real Ale Pub and Brewery"
Hours vary seasonally:
http://www.brewersunion.com/hours/
Added by RedDiamond on 10-07-2008
HISTOGRAM
Ratings: 10 | Reviews: 9
Reviews by tjensen3618:

4.43
/5
rDev
+1.1%
vibe: 5 | quality: 4.5 | service: 4.5 | selection: 4 | food: 4.5
This place is quite a bit off the beaten path but very much worth the trip. Situated in the very small and quaint town of Oakridge, it's off the main road of town and would probably be tough to find unless you knew exactly where you were going.
The decor is like a mix of a pub and somebody's personal home, I've heard the term "public house" thrown around in the beer circles for some time, but never really understood what that meant until now. There's table, couches, pool table, books, games, a computer, all seem like they're free to use with no charge.
Ordering is done up a the bar, all house beers are brewed on site and served on cask, I got an IPA which was absolutely fantastic, after that I got a half-pint which was nice as well, both were served in English style pub glasses.
The food was fresh, delicous, it looked and tasted amazing. I got the cheeseburger. I wish we had more time to spend up there, but we didn't. When I make it back up to Oregon I am going to try to schedule a day or 2 in Oakridge so that I can better take in the scenery and to more thoroughly take in Brewers Union Local 180.
1,117 characters
More User Reviews:

4.46
/5
rDev
+1.8%
vibe: 4.5 | quality: 4.25 | service: 4.75 | selection: 4.5 | food: 4.25

4.01
/5
rDev
-8.4%
vibe: 5 | quality: 4 | service: 4 | selection: 3.75 | food: 3.75
Excellence atmosphere. It's the perfect little English-style pub outside of England. There's something for everyone: the bar, the family rooms with boardgames, the living room and dining areas. The place was empty when we went for lunch on Friday around 1230. Service at the bar, food brought out to your table. The food was good, the three beers we had were quite enjoyable. They focus on the cask ales, which is awesome, but they also had their own IPA and stout, as well as some guest taps. The prices are great: $2.50 for a half pint of 10 oz, and double that for the 20 oz pint. I wish this place was in my town.
617 characters
4.43
/5
rDev
+1.1%
vibe: 4 | quality: 5 | service: 4 | selection: 4.5 | food: 4
Real ale lovers rejoice!
Cask conditioned beers are becoming more common in the US. British style beers may also be occasionally found (such as a recent increase in bitters). You see lots of IPAs but they're super hoppy American-style IPAs with little resemblance to their British origins. This place is unusual in that it has six (SIX!!!) British ales brewed on the premises. They also have some guest taps and a cider but who cares? Did I mention the six real ales?
Most British pubs have only two or three real ales on tap (along with the tragically popular extra cold lager). Half of the ales we tasted would be at home at any British pub with a balanced flavor which is rarely the aim of American brewers. The other half were less traditional but still delicious.
We had the fish and chips and the reuben which were tasty but the beers are clearly the stars.
Oakridge is a short, pleasant drive from Eugene. We didn't spend any time in Oakridge but it seemed nice enough and the people we encountered were friendly.
1,024 characters
5
/5
rDev
+14.2%
vibe: 5 | quality: 5 | service: 5 | selection: 5 | food: 5
This pub is everything it claims to be, and more; my score reflects the fact that it claims to be everything I value in a pub and I rejoice in finding it authentic.
If you value traditional cask conditioned english-style ales prepared well and dispensed properly at the right temperature into imperial pint glassware, you'll be at home. And you will get more beer quality per abv than is typical these days.
If you can appreciate a casual, friendly public house - this is it. Many pubs claim it and don't deliver like this. There are multiple rooms & cozies; billiards, darts & games; and in-house meals prepared fresh with local ingredients. Staff are friendly and knowledgeable - about beer as well as local recreation choices. Customers will be your new best friends.
If you like what you read in these reviews and on their web site, don't sweat the location. For an experience like this it's worth the trip into one of the most beautiful areas in the northwest, and therefore the hemisphere. It's the closest thing like it this side of the English Lake District. Take a few hours for a hike or a bike ride on your way up, spend the evening in the pub and then overnight in one of the nice local motels. It will give you a new perspective on life.
1,253 characters

4.2
/5
rDev
-4.1%
vibe: 4.5 | quality: 4.5 | service: 4 | selection: 4 | food: 4
Located far from any cities, in the vacinity of mountain biking and ski resorts, Oakridge is a sleepy town in the shadow of the Cascade Mountains; and for beer enthusiasts, the Brewers Union Local 180 Brewpub is the crown jewel situated in Oakridge Oregon.
Brewers Union Local 180 is a throwback gem from the days when cask beer was the standard in the U.K. Owner Ted Sobel trained there after falling in love with the whole package of great cask ales and that living room feel that a classic English pub offers. The cask beer is CAMRA compliant, meaning among other things, that the taooed casks allow oxygen to permeate and therefore gradually oxidate the product. However, this is actually a desireable deterioration as the beers taste different at each stage of the process.
The beers, and I sampled five while there, were all complex and flavorful representations of classic cask style beers and are brewed on premises, their fullest flavors brought out by a proper serving temperature coupled with skilled brewing. There are (roughly) eight beer engine handles of beers brewed on premises as well as a handful of other craft beers on draft.
Food also reflects UK traditional as well as American favorites. I had a tasty bangers and mash and tasted some very good thick cut bacon as well.
Owner Ted strives for a family friendly and living room armosphere and hits the mark here as well. There are games to play, including a perfect scale mini pool table for kids.
Prices are reasonable and value good. I'd reccomend this for anyone looking to have a unique beer and pub experience.
It seems as if Owner Ted has hit his mark here. I highly reccomend this place.
1,678 characters

4.65
/5
rDev
+6.2%
vibe: 5 | quality: 5 | service: 5 | selection: 4 | food: 4
I can't add too much to the other reviews already here, but this place is totally legit! Make Brewers Union a destination on your next beer trip. Call ahead ask Ted if you can get see the brewery! You will not get a cask conditioned hand pumped pint any better than this in the Northwest.
Oakridge is a really gorgeous 45 minute drive from Eugene. You can occasionally find Brewers Union at festivals, Belmont Station in Portland, and Block 15 in Corvallis. If you have a chance to get a pint - don't miss it!
510 characters
4.75
/5
rDev
+8.4%
vibe: 4.5 | quality: 4.5 | service: 5 | selection: 5 | food: 4.5
Alright. So this is a real gem of Oregon brewpubs.
First of all, know that their specialty is traditional English cask "Real Ale". All of their own offerings are pulled from engines, served at a balmy 55 degrees, and utterly flavorful and well-crafted.
Obviously started with a sampler flight and from there downed a couple pints. They have some amazingly sessionable brews, a few around 4%, which is really a boon to my beer-to-sobriety ratio.
They also have a row of guest taps, including wonderful brews from Upright, Walking Man, Double Mountain, HUB, and other goodies.
The food was delish beyond description. We had uber-fresh handpicked morel mushrooms in a house made cream sauce, with a salad and housemade dressing. It was heavenly. They also have English pub menu with things like bangers n' mash, fish n' chips, and oddly enough, spam.
The atmosphere inside is comfortable. They have a parlor, reading room, tables, and a bar.
The only downside of this pub is the location. Taking two hours to drive there is cruel!
1,036 characters
4.15
/5
rDev
-5.3%
vibe: 4.5 | quality: 4 | service: 4.5 | selection: 4 | food: 3.75
On my way back from Roseburg today, I figured what the hell, let's make a little detour over to Oakridge and Brewer's Union.
If you have a chance to read over the website discussion of what the owners are aiming for, that will give you an excellent idea of what this place is like. It's really a good size pub, with a couple of pool tables, board games, free wifi, and a decent collection of paperback books. They also have a computer with internet access, which I think is available to the public. I don't know if they charge you to use it (sort of like an internet cafe), but even if they do, I'll bet the usage prices are gentle. My point being that the owners have gone out of their way to make this a very comfortable, homey, relaxing place to hang out and have a beer. Service is friendly and knowledgable, which further adds to the atmosphere and ambiance of the place.
With respect to the beer selection, on this particular day they had 6 of their own beers, all of which were cask conditioned (real ales). There was also a very solid line-up of guest taps (ten fidy, el jefe, acme pale ale, barney flats and the oakshire duck billed platypus), along with one cider. The quality of the house beers wasn't bad, though I thought it a shame that the one beer they still had on cask that Red Diamond reviewed was the completely forgettable Union Dew. Otherwise, the porter and hoppy pale ale were both well made, and the other beers at least "serviceable."
Didn't try the food, but what I saw appeared to be nicely prepared and quite good.
This is really an interesting pub, and a place I'm glad to have visited. It's a bit out of the way, no doubt, but the scenery is pretty easy to take, and Oakridge is an interesting little town. Not sure I'll take the time to make this side trip again in the future (there are so many great places to go for a beer in Oregon), but it's certainly the kind of place no one who visits will regret making the trip.
Edit as of 5/15. Now that I live in Eugene, it's a short easy drive to head over here periodically. Stopped by the other day, and the beers were as enjoyable as ever. Tried the mushroom pouitine (sp?), and found it to be pretty tasty. The brewpub has expanded the menu since I was here back in 2010, with a very nice selection of pub grub (with an English pub emphasis). As others have mentioned, pricing is very gentle here. I got three 10 ounce half pints and and a half order of the pointine for right around $13.
2,484 characters
3.7
/5
rDev
-15.5%
vibe: 5 | quality: 3.5 | service: 3.5 | selection: 3.5 | food: 4
The most immediate distinction of Brewers Union is that they're the only brewpub in the Northwest whose house beers are all cask conditioned. Ales receive a vigorous regimen of Brit-ification including water hardening, and liberal use of Maris Otter malts, torrified wheat, and isinglass finings. Stouts, pales, bitters, and even a ginger ale are allowed to condition in plastic firkins imported from England and are then hand pumped at the bar at a controlled serving temperature of 50°F.
As the ales make their way out the goose-neck spigots, they are forced through a sparkler - a plastic fixture common to Northern England that aerates the beer. You might notice so much aeration as to think that the beers are served on nitro. That's just the sparkler effect. It smoothes the body and induces exceptional head retention.
Beer quality at this preliminary junction is thus far mixed. Most recipes aren't yet fixed and the smallness of the operation assures artful inconsistencies. Just bear in mind that a number of Union beers are brewed to old world designs which may not resonate with "extreme" beer fans. These aren't adrenaline inducing "WOW" beers. They're simple, session-range real ales - the kind Churchill drank.
The menu also draws upon English pub grub but includes modern flourishes such as fried sweet potato, a hummus plate, and tempeh "hot wings." The items I had were tasty and modestly priced, but in accordance with public house rules, you'll need to order at the bar.
Perhaps Brewers Union's greatest appeal lies in its authentic ambiance. It's not merely that the interior of an English pub is reconstructed. It's the social environment that's recreated. As brewer/ co-owner Ted Sobel told me, "I keep telling people it's not a restaurant. It's not a bar. It's a public house." He's right. But the issue isn't one of semantics. Think of the comfort, warmth, and familiarity of a house. Now open the doors to the public and you have a public house. That's what Brewers Union is.
On top of that there's free pool, free WiFi and internet access, live music, and the artistic grace of co-owner Patti Sobel's artwork and design.
In sum: though I hope beer quality improves over time, I wouldn't miss the chance to stop in for bangers & mash and an imperial pint of bitter. And nearby recreational opportunities make the area an ideal day trip from Eugene.
2,385 characters
Brewers Union Local 180 in Oakridge, OR
Brewery rating:
3.49
out of
5
with
14
ratings