Pilsner
| Napa Smith Brewery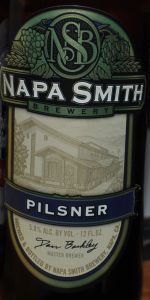 BEER INFO
Brewed by:
Napa Smith Brewery
California
,
United States
napasmithbrewery.com
Style:
Czech Pilsener
Alcohol by volume (ABV):
5.00%
Availability:
Year-round
Notes / Commercial Description:
No notes at this time.
Added by Offa on 05-10-2009
Reviews: 7 | Ratings: 23
2.54
/5
rDev
-22.6%
look: 4 | smell: 2.5 | taste: 2 | feel: 3 | overall: 3
I could almost copy/paste my review of their Amber Ale. This beer is OK. It's a OK beer but not a great pilsener.
A -Golden in color. Somewhat clear but it seems to have a little haze. The beer pours nicely with a white head... but <poof> it deflates as quickly as it rose. That was disappointing! Just like the
S - This is where it fell flat for me. It smelled old.
T - Some hops. Some bitterness but that soapy aftertaste - ugh.
M - Not a very lively beer. You can tell they force carbonated this beer and then it fizzled out? Dunno. Not much there. Very light but missing some life.
D - It's a drinkable beer. You could session this beer. I just can't get past that soapy aftertaste.
★
699 characters

2.62
/5
rDev
-20.1%
look: 3 | smell: 3.5 | taste: 2 | feel: 3 | overall: 2.5
I had this on tap at Tres Hombres in Petaluma, having never seen it among the bottles of other Napa Smith beers at the store. It's a decent pale lager, but not great.
Golden, it has a smallish white head steadily shrinking to a thing ring and wisps, leaving only brief hints of lace.
The aroma is a pleasant but simple, subdued pilsner aroma. It is mostly apple with light fruity grain, hints of lemon.
The taste is fairly balanced between malt and hop,bitterness and sweetness, both being clearly noticeable. It tastes mostly of grain with a little lemon, apple, old wet grass, and hint of faintly caramelly vegetable. The flavour holds up pretty well but isn't great, it's rather thin in character, and faintly off-tasting, although it does have a definite hint of similarity to some Czech pilsners I've had. Overall, it's at best a mediocre pilsner and little more in character than a slightly different take on a basic lager.
★
932 characters
3.33
/5
rDev
+1.5%
look: 3.5 | smell: 3 | taste: 3.5 | feel: 3 | overall: 3.5
Clear gold with a fleeting rise of white lace.
Grainy nose, with pear hints, and grassy hops.
Quickly grainy through the mouth, then sweetens a bit with apples and pears. Brisk and clean through the midsections, concluding with a trace of grassiness and minerality.
Very light bodied with and initial onslaught of bubbles, which fade gradually as it flattens.
Pretty pedestrian and templatic. A decent brew to refresh with or wash down something spicy, but nothing more.
★
471 characters
3.55
/5
rDev
+8.2%
look: 3.5 | smell: 3.5 | taste: 3.5 | feel: 4 | overall: 3.5
When in Rome, or in Napa. I always like drinking local...
Pours a very light straw gold color with an ok head.
Aromas are grassy, yeasty, creamy, and kind of sweet.
Taste is clean, with a doughy and grassy character. Beer then settles into a dusty and lightly earthy hop bite.
Mouthfeel is good. Nice and full, with good carbonation.
Drinkability is not bad. This is pretty good Pilsner, not great, but worth drinking. Just needs a little more flavor to be above average.
★
476 characters
3.58
/5
rDev
+9.1%
look: 4 | smell: 3.5 | taste: 3.5 | feel: 4 | overall: 3.5
Appearance: Pours a clear golden color with a pillowy white head; nice persistence and a fair job of lacing, too
Smell: Bready, with a herbacious, somewhat grassy character
Taste: Delivers a loaf of bread on the opening and then moves in a grassy, herbal direction by mid-palate; after tne swallow, the finish is fairly crisp and clearn
Mouthfeel: Light to medium body with crisp carbonation
Drinkability: A decent stab at the style, but I would prefer a more noble hop character
★
483 characters
3.66
/5
rDev
+11.6%
look: 4.5 | smell: 3.5 | taste: 3.5 | feel: 3.5 | overall: 4
22 ounce bottle purchased in Redlands, on to the beer:
A little tint of golden grass makes the color of this beer. Plenty of bubbles running through the body. The head is soapy and thick, and is retaining well on top, which in turn gives lots of lacing that sitcks to the glass. A lot of raw hay in the nose, which is made more tolerable by the underlying honeysuckle sweetness from the malt.
Its taste is easygoing and approachable. There are hay characterisitcs in the begining, then a bite of bitterness enters. A light apple flavor appears and dissapears, and the hay appears again. There's a light sweetness which is the at the base of all this. It's light bodied with a little crispness. There's a pinch of herbal hops lingering around in the aftertaste.
This is a surprisingly refreshing pilsner from Napa Smith. Who would a thunk, given my first two experiences with this brewery.
★
893 characters
3.98
/5
rDev
+21.3%
look: 4 | smell: 3.5 | taste: 4 | feel: 4 | overall: 4.5
Pours a clear, bright straw color with white head. The nose is faint - some hints of lemon peel, freshly cut grass, and lightly kilned malt. The taste is incredibly balanced. It's very light and crisp - not much bitterness, but there's just enough at the end to quench your thirst. The carbonation is appropriate, and I detected no off-flavors that typically flaw craft pilseners (DMS or acetaldehyde).
In a style that is arguably the subtlest in taste, but the hardest to master, I think Napa Smith has created one of the best American craft pilseners I've ever had. If only there was a little more lemony Saaz in the nose. Overall, I'd rank it 3rd place after Prima Pils and Lagunitas - but better than Stoudt's, Sly Fox, and Scrimshaw.
★
740 characters
Pilsner from Napa Smith Brewery
3.28
out of
5
based on
23
ratings.