BJ's Restaurant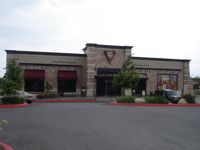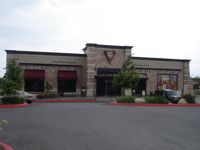 Bar, Eatery
22406 US Highway 281 North
Village of Stone Oak
San Antonio
,
Texas
, 78258
United States
(210) 497-6070 |
map
bjsrestaurants.com
Notes: Beer is brewed at another location (perhaps Dallas).
MOB210SA from Texas
4.5
/5
rDev
+15.4%
vibe: 4.5 | quality: 4.5 | service: 4.5 | selection: 4.5 | food: 4.5
I dont exactly remember how I found out about BJ's but I know I was extremly happy when I was finally able to go. Ive been multiple times since, its always great. I would warn not to go on a friday night because it can get too overwhelmed and busy, plus the wait. I found it enjoyable the other day around 4 when it was realatively slow.
The atmosphere is nicely dimmed 2 large eating areas- the main area and a smaller area connected right next to. A pretty impressive full, higher end bar that looks great- very nice. It has a very large multiple TV in the middle of the bar and probably about 6-7 other flatscreens playing various sports and such around the entire inside. Always one in view. Seems almost like a place that wouldnt have sports playing on the tv's, but it makes it really chill and have something entertaining to watch if you want. Upscale but down to earth, to say.
Service has always been good except for when it was extremely busy. Always have nice and helpful waiters/waitress that are pleasant and are outgoing for any requests we had.
Food is fantastic. The pizza is just my favorite though.
The menu seems to go on for ever, so selection is vast. I think they have everything from burgers, to steaks, pastas and everything in between. Great selection on the food half, and decent selection on the beer half. Full bar. The food is great but honestly I dont go there for the food. My love is the beer, then the food. The main food I love there is the pizza. I remember my first visit the hostess saying they are known for their pizza, and it is understandable. Great to say the least. The beer selection is pretty good and a nice selection of styles. They have a blonde, heffe, porter, Irish red, stout and others. I havent gotten to the lighter but I love the Tatonka hands down the most. Their Pumpkin seasonal was great, try it next time around Oct./Nov. Their Belgian Grand Cru which I tried yesterday was pretty impressive. The Belgians menu could of been better, but their selection does contain some nice ones- Westmalle Triple, all Chimays and Duvel are a few.
Value, overall its not the cheapest but their beer is reasonably priced. Also if you are getting a pizza the larger sizes are a lot better deal of course. The bar, the usual $9 drink of Hennessy. The "value" slighlty expensive but overall the food and beer are great and def. worth it.
*I also told our waiter about BA, and he said he would check it out. Seemed very interested, for he recently started craft beers and such. Glad I was able to spread the word to at least 1 person yestereday.
Jan 18, 2010

Radome from Florida
3.73
/5
rDev
-4.4%
vibe: 4 | quality: 3.5 | service: 4 | selection: 3.5 | food: 4
I was in town for business and made this my first stop based on the review that talked about Belgian style house beers.
The dining room was attractive but a little bland and clinical. My waiter was friendly and enthusiastic, but his beer knowledge was a little sketchy. For instance, he told me the Nit Wit was a "German wheat beer". When I asked about Belgian style house beers, he was confused and asked the manager. It turned out there were no Belgian-types on tap and I had to settle for a small bottle selection to get my fix. I chose a Pawel Kwak, which of course was solid, but tasted like it was beyond its prime.
The food was good, fresh and plentiful.
For my second beer, I chose the Jeremiah Red, which sounded tempting as an Irish Red Ale on steroids. Unfortunately, I found my beer to have an underlying vinegar note that was unpleasant, as well as lacking in mouthfeel to the point of being watery. There did not seem to be enough malt or hops backbone to stand up to the strong alcohol. As the beer warmed, it took on a strong lager yeast note that I found out of place. All in all a disappointing beer.
I was willing to give BJ's another chance and try a different beer, but could not because I had to continue my long drive to my hotel. All in all I found it to be a good place for dinner, but disappointing on the beer front.
Aug 29, 2009
BrewsCrewSA from Texas
4
/5
rDev
+2.6%
vibe: 4 | quality: 4 | service: 3.5 | selection: 4.5 | food: 4
Anytime a place in San Antonio offers their own beer, I get a little interested. Located in a new, shiny, sprawling community near Loop 1604 and US-281, BJs restaurant offers an upscale feel with reasonable prices and a great beer selection.
At first look, BJs on the inside is ultra-modern, with glossy marble tops, accented woods and brushed steel. The bar had well-visible taps and the tender had solid knowledge of the brews. The place had a handful of TVs playing ESPN and playoff basketball. The restaurant offers an American menu (burgers, chicken, pastas, tex-mex) - I had their standard cheeseburger and shoestring crispy fries. Both were well-cooked and delicious for around $12.
In terms of beer, BJs offers 10-12 of their own beers including a mocha porter, an IPA, a Blonde, a Pale Ale, An American Amber and a Pils. They also have an expanded selection of Belgians in the vein of Delirium Tremems, a few of Lindeman's like the Kriek and Framboise, and even a few Trappists (on tap!) like Chimay and Westmalle.
Overall a great experience. I just live a bit far from it to make this a regular for me. The yuppies up north will love it. I gave the service a 3.5 because my waiter seemed more interested in flirting with the maitre d' than checking up on us.
Apr 24, 2009
BJ's Restaurant in San Antonio, TX
Place rating:
3.9
out of
5
with
6
ratings