The Thirsty Scholar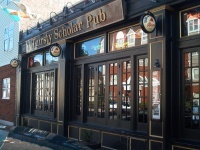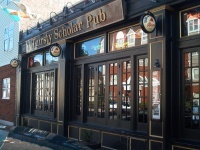 PLACE INFO
Type:
Bar, Eatery
70 Beacon St
Somerville
,
Massachusetts
, 02143-4322
United States
(617) 497-2294 |
map
thirstyscholarpub.com
Notes:
No notes at this time.
Added by BeerAdvocate
PLACE STATS
Reviews:

11

Ratings:

pDev:

15.22%
HISTOGRAM
Ratings: 14 | Reviews: 11
Reviews by bewareOFpenguin:
3.13
/5
rDev
-6.6%
vibe: 2.5 | quality: 3 | service: 3 | selection: 3.5 | food: 3.5
Right next door to my vet (veternarian) is this place. I had to wander in. Loud with what I call "barn" seating, it seemed to be filled with the eclectic bohemian types who tend to settle in this lower rent area north of the river. It was loud, with music blasting in the background. The food was good and the beer selection just average. The type of place I would have been in in my twenties, the place I avoid now. But do judge it for yourself. And it is very smokey.
469 characters
More User Reviews:

3.38
/5
rDev
+0.9%
vibe: 3.75 | quality: 3.5 | service: 3.5 | selection: 3 | food: 3.25

3.78
/5
rDev
+12.8%
vibe: 4 | quality: 3.75 | service: 4 | selection: 3.5 | food: 3.75
3.51
/5
rDev
+4.8%
vibe: 4.25 | quality: 3.5 | service: 3.5 | selection: 3.25 | food: 3.5
I have a soft spot in my heart for this place mostly because of the memories. The service, selection, and ambiance are what you'd expect for an Irish Pub on the Cambridge/Somerville line. But if you go with good company, at the right time in your life, all bets are off...
272 characters

2.35
/5
rDev
-29.9%
vibe: 3 | quality: 1 | service: 3 | selection: 3
This place looks great from the outside -- like a classic English pub -- but inside it's not much more than a sports bar for college kids. They have a lot of draft lines, but they lean heavily to macro beers, with a smattering of craft here and there.
I ended up here on a Saturday night with friends and was at first excited to see that they had one of my favorites, Pretty Things Jack D'Or, on tap at a ~relatively~ decent price ($7 for 20 oz. glass). But then I took a sip. It tasted absolutely foul, like filthy tap lines -- easily one of the finest examples of an infected tap line that I've seen in years. Very disappointing. Avoid this place if you can. If you can't, order something in a can or bottle.
712 characters
4.53
/5
rDev
+35.2%
vibe: 4 | quality: 5 | service: 4.5 | selection: 4 | food: 5
I've seen this place a few times over the years, but never stopped by until yesterday. It's really close to Harvard, so it's a nice stop-by if you're on campus. Also not far from MIT, so there's a great college crowd many evenings. Typical pub environment with dark wood and a worn look about it. The service was friendly, but not especially fast. But, who cares when you're lingering over good brew and exceptionally exceptional food! I had the paella, which wasn't much like the bona fide paella that I have when I'm on the beach in Valencia, Spain. But, boy, was it delicious. Succulent fresh calamari, stupendous mussels, shrimp to make you weep, and tasty rice with green peas. My wife had a fettucini dish with chicken, peppers, and a cheesy sauce that was also good. The portions were large, and the prices were very reasonable. I definitely will return to this one on my occasional trips to Harvard.
907 characters
3.86
/5
rDev
+15.2%
vibe: 4 | quality: 4 | service: 4 | selection: 3.5
The location of this place isn't great, since it isn't in Davis Square, nor is it in Inman Square or Porter Square, but somewhere in between all of them. The highlight of this bar is the windows which open wide onto the street which lets you take in the people and the view. The beer is good, naturally I had to have the Guinness, but there is a decent selection. When I asked my wife recently if she wanted to go in for a beer, she told me it was a young person's pick up joint. Maybe there is some truth to this since I do remember some memorable experiences from my younger days here. The atmosphere is subdued enough that it isn't cloying, pushy, rushed, or uncomfortable. You'll like it for the view and the beer, if nothing else.
735 characters

3.2
/5
rDev
-4.5%
vibe: 3.5 | quality: 3 | service: 3.5 | selection: 3
Just a stone's throw from Harvard Square, but far enough away to be saved from too much of the hyper-intelligence. The usual Irish pub tap handles and food offerings, the one thing about this place that stands out for me is the atmosphere - lots of dark wood, yes, but also floor to ceiling windows on the street side that open during the summer months. And during the colder months when the snow is falling, the TS is truly a great place to slowly down pint after pint, your worries evaporating in a mist of fizzy Magic Hat #9.
528 characters
2.6
/5
rDev
-22.4%
vibe: 3 | quality: 2 | service: 3.5 | selection: 2.5 | food: 2
A and I have tried this place 3 times. Gotta give it a chance, right? All 3 times
I was really unimpressed. The beers selection is nothing special, the food
was not all that good, I can't abide rubbery fish n' chips. The only bright spot
was a friendly bartender the last (and final) time we went, even though he
was nursing a hangover. Its too bad since it is currently one of our
neighborhood bars, but there are others in Inman and Union squares that
are more comfortable, or have better selection or food.
521 characters

3.03
/5
rDev
-9.6%
vibe: 3 | quality: 3.5 | service: 3 | selection: 2.5
Located between Inman and Davis squares, this place is extremely average. The first thing I noticed was when we pulled up was that they had a Shipyard sign out front. Not an especially encouraging sign as I am not a big fan of Shipyard beers. I wonder if they have a stake in the place as the beers inside did include a few of their offerings.The rest of the draft selection was very average too. On a more positive note, I will say that the place seems pretty clean and the woodwork of the decor is nice but again--its just so average. Service was decent. If you live right near here, it is probably a decent place to hit once in a while. Otherwise, I wouldn't bother.
669 characters
3.35
/5
rDev 0%
vibe: 4 | quality: 3.5 | service: 3 | selection: 3 | food: 4
Located on Beacon St in Somerville a few blocks up the street from Inman Square, the thirsty scholar is a classic Boston pub with a very warm atmosphere. A square room with high ceilings. The bar runs along the back while the rest of the room is mixed with tables and a few booths. It very dark inside with lots of old worn wooden tables and some exposed brick. TV's are usually tuned to sports, but the bookcase filled with books along one wall give this place a nice "scholarly" touch.
The beer selection is decent. Two dozen taps and an equal number of bottles mostly focusing on the standard Boston selection of marcros with Sam Adams, Harpoon, Magic Hat, Sierra Nevada Tremont, Guinness, and others. Tap pours are in the popular 14oz pint glasses, but that's ok. Beer is always good and they do carry bottles of Duvel. One thing I found amusing is that the menu went out of its way to mention that Hoegaarden was "imported from Belgium" but not Duvel.
The food is actually quite good. A standard selection of pub grub items: burgers, appetizers, salads, soup, sandwiches, and some larger entrees. They also serve classic English fare like shepards pie, bangers and mash, and fish and chips. The food is all very tasty and quite hearty.
I'm not sure what it is that I like about this place. It's essentially your typical Boston "English/Irish" pub but without the same cookie cutter feel or too many of the annoying drunk college student clientele. It actually reminded me a lot of being in a true London pub. All they need is a cask engine.
It's not really worth going out of your way for, but if you're in the area or just looking for a good bar with a great atmosphere to sit and drink some session beers while eating some yummy pub grub, this is the place to go. A great local place to watch the Sox game.
1,836 characters
3.3
/5
rDev
-1.5%
vibe: 3 | quality: 3.5 | service: 3 | selection: 3.5
the thirsty scholar is basically what i have come to see as your basic boston area pub. they have a decent amount of taps (20 or so?) with your typical new england beer fare (magic hat, harpoon, guinness, sam adams, etc). nothing bad, but nothing earth shattering. the room has a pretty simple layout, being a large square, with a pretty cool semi-private table/mini room just as your enter. i would guess it's nothing more than a glorified table holding 7-8 people, perhaps. a somewhat big minus for me: it's a pretty smokey place. would i go back...yes. would i go out of my way to go back...no. if i'm in the cambridge/somerville area i'd give it another go, but when i'm back in boston lately, being in cambridge or somerville has become a rarity.
751 characters

3.36
/5
rDev
+0.3%
vibe: 3.5 | quality: 3.5 | service: 3 | selection: 3.5
The Thirsty Scholar is an Irish style pub located between Inman and Porter Squares in Cambridge. It attracts the usual students and Irish expatriates. I have been here several times over the years when in the area.
The place is basically one large, square room. The bar is wooden and seats about 18, but the remainder of the pub is filled with tall tables and booths. The ceilings are high with fans. The front is windowed facing Beacon St. The wall behind the bar is mirrored. There are at least 2 TVs above the bar. They have an internet jukebox. Some nights they do karaoke.
As for the beer, they have about 22-24 taps. The selection is typical with Guinness stout, of course. They also had Hoegaarden white. The service was very slow, but this was mostly due to the single bartender being overwhelmed by the crowd. They sell food, but I haven't had any recently enough to review.
Overall, a good place to stop in for a pint.
937 characters
The Thirsty Scholar in Somerville, MA
Place rating:
3.35
out of
5
with
14
ratings