Main St. Grille & Brewing Company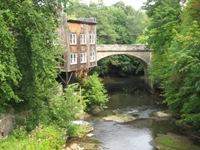 PLACE INFO
Type:
Brewery, Bar, Eatery
8148 Main St.
Garrettsville
,
Ohio
, 44231
United States
(330) 527-3663
// CLOSED //
Notes:
No notes at this time.
Added by nashvk07 on 10-31-2008
Ratings: 14 | Reviews: 10
Reviews by greg4579:

4.22
/5
rDev
-4.5%
vibe: 4.5 | quality: 4.5 | service: 4 | selection: 4.5 | food: 3
The wife and I stopped here on our way back from Cleveland to Pittsburgh. It was about a 20 minute detour through the middle of no-where, but wound up being a hidden gem. We first tried their beer at the Big Tap In festival, and were excited to visit because it is located in an old grist mill.
We stopped on a Sunday, and nothing was really open in the town. We had time to kill so we checked out the rock ledges at the nearby state park (well worth the 5 mile drive).
Teh brewery itself is beautiful. The beers were served in a half-circle replica of the grist mill itself, a nice touch. You could get 4 oz samples of all 8 styles for $10. They ranged from great (American Joe Coffee Porter) to good, and the only one I was not really feeling was the IPA. My wife loved their pumpkin ale, and we both really enjoyed the '35 Extra Stout.
I ordered a flatbread and my wife ordered the chicken nachos. The food was good overall, allthough my flatbread was a tad undercooked.
We thought about getting a growler, but we both thoguht $10 for the growler (plus the additional cost of beer) was a bit pricey. We each settled for another pint instead.
Overall we were really glad we stopped and I am sure we'll be back.
1,219 characters
More User Reviews:

4.54
/5
rDev
+2.7%
vibe: 4.25 | quality: 4.5 | service: 5 | selection: 4.25 | food: 4.5
Nice rustic feel in a rural area, front outside seating looks out onto the Main St. in question, rear seating sees the river. Peaceful and serene.
Both beer and food quality are impressive, very nice little gem tucked away off the beaten path.
The service was quick and cheerful. Nothing to complain about.
Selection is impressive for such a small location, and at least a few beers seem to turn over regularly to make room for seasonals and one-offs.
The selection is decent, includes the standards for microbreweries and a few experimental brews. If anything was missing when I was there, it was something at the high ABV end.
Food was excellent. The menu is fairly limited, but if you can find something on it for you, you are sure to be pleased. A place I hope to return to in the future.
812 characters
4.25
/5
rDev
-3.8%
vibe: 4 | quality: 4 | service: 5 | selection: 4 | food: 4

4.53
/5
rDev
+2.5%
vibe: 4.75 | quality: 4.5 | service: 5 | selection: 4
Great little village brewpub. Very nice people. Up scale menu for brewpub. Eight of there own beers on tap. Kind of out the country. The location is scenic on so is the drive. Probable a good place to take a date. Menu chooses from $ 4.99 to 28.99 for a New York strip.
269 characters
4.33
/5
rDev
-2%
vibe: 4.5 | quality: 4.25 | service: 4.75 | selection: 4.25 | food: 3.5
Really like this place. And on top of that, really like the little Main Street thing going on in Garrettsville.
As noted in other reviews, the rear of the brewpub has a nice little waterfall thing going on with a small walkway to enjoy all of the peace and quiet. The inside of Main Street is a lot of wood that builds on the old mill theme that the place is built on. Brewing equipment is upstairs with the second level only extruding halfway out on the floor plan so that you have a clear view of everything going on.
Service. Normally I just like to be left alone, but my server was very friendly and on top of things. Beyond that, every other employee on the floor, and the owner, eyed me up at some point during my visit to read how I was enjoying my experience.
The beer was good. Somehow, many of the beers were a ride of flavor on numerous levels. I found myself getting much more on the back end of things as opposed to just getting the initial hit of flavor.
This is a place that you should absolutely visit and it's way under the radar. It is not to be missed. Expect a more subtle experience as opposed to one that is hammering away as hard as they can to blow you away.
1,187 characters
4.49
/5
rDev
+1.6%
vibe: 5 | quality: 4 | service: 4.5 | selection: 4.75 | food: 4.75
The atmosphere is really nice and picturesque views on the outdoor patio. Selection of in house beers is wide and all above average in quality. All the food I have tried is great and would highly recommend visiting this place...
This past holiday season the had a christmas ale of thier own I highly enjoyed.
308 characters
3.4
/5
rDev
-23.1%
vibe: 3.5 | quality: 3 | service: 4 | selection: 3 | food: 4
Upon enter the "Mill" or, the Main St. Grille & Brewing Company, I was greeted by the very friendly waitress and bartender. In attendance were only two or three people at the bar for a Steelers Playoff game. Considering it was a sunday evening I did not expect the place to be packed. As the evening progressed a number of couples came in for dinner, although the "bar" crowd remained the same.
The beer over all was unexciting. I had the beer sampler first with an appetizer of chips and cheese dip (Delicious! and cheap!). I found a number of the beers to be to weak (ABV under 5) and lacking taste. The only interesting beers I found, was a coffee porter and a Scottish ale. I found the porter to be to strong in coffee, and the Scottish Ale was almost perfect for me, except the ABV was through the roof (near 9). I had a strawberry beer as well that tasted like a breakfast cereal. I ended up having two of thier golden pale lagers, which was a very drinkable beer, a good stable, but nothing special.
The food over all was good bar food. Excellent appetizers. I had a very tasty burger.
The scene outside behind the bar had a waterfall with a nice porch. Unfortunately, it was freezing out so I was unable to enjoy the patio and nice view.
This is an excellent bar to take a date or group of friends to drink a lot of the Garrets Gold beer and have great appetizers with excellent service.
I would definitely go again to enjoy the patio, with an anticipation to try a summer seasonal beer.
1,502 characters
4.47
/5
rDev
+1.1%
vibe: 4.5 | quality: 5 | service: 4 | selection: 4.5 | food: 4
Heard about this place from a business card I received at a local Pittsburgh beer bar a little over a year ago. Finally got to check it out Thursday night.
A- Garrettsville OH is pretty much in the middle of nowhere between Youngstown and Cleveland. It was dark and rainy the other night but this place is a historic old mill located on main st of the old town. The inside is pretty cool. We sat in the pub area. Its opened up so you can see all the way to the ceiling and the brewery part is actually on the top floor overlooking the bar area.
Q+S- 8 Beers on tap. A pale lager, honey wheat, amber ale, porter, IPA, stout, seasonal (oktoberfest), and a specialty (belgian triple) available. The sampler comes out on a wooden replica of the top of a water wheel. All were well done, good examples of the styles-the highlight was definately the porter. A good variety of different styles, seasonals, and a big beer.
Service- Our waitress knew about the beer and was able to ask all our questions about it-also delt well with a little mishap with the food.
Food- A good menu ranging from reasonable to expensive. Plenty of apps, salads, sandwhiches, and entres. Some items unique, some items typical.
Overall I really enjoyed this place. Charming and has great beer. Can't wait to go back!
1,293 characters
4.38
/5
rDev
-0.9%
vibe: 4.5 | quality: 4.5 | service: 4 | selection: 4.5 | food: 4.5
Ran into these folks at the Big Tap In & thought I'd make a visit. The atmosphere here is almost perfect, housed in a historic building with a great view (aside from the construction outside) of the creek and the beautiful copper kettles above the bar. I'm really impressed with the selection of craft beers for a small establishment. I tried all 8 beers that were on tap (all brewed on premesis). I enjoyed everything, my least favorite being the light beer, but it's light beer. I loved the Razzle Dazzle Ale. I was expecting something a lot sweeter, but found it to be very well rounded. The service was great & the waitress was very knowledgable about the menue and the beers. I had the fish & chips (beer battered in house ale) which were some of the best I've eaten. The only complaint I have is that they are not bottling. I guess I'll just have to be patient.
867 characters
4.33
/5
rDev
-2%
vibe: 4.5 | quality: 4.5 | service: 4 | selection: 4.5 | food: 4
I'll start by echoing bigkingken, Main St. is awesome, incredible on almost every level. We stopped en route to Oregon, OH after negotiating a minor detour around OH-82.
Atmosphere: The brewpub is an old grist mill, located on the Silver Creek. I'm sure that the creek powered the mill at some point in time. A spacious bar is to the left on entrance with plenty of table room. Further down a walkway is the general dining area. The bar is nicely decorated, plenty of wood, and the dining area has plenty of mill-related artifacts. The best part is the outside deck and walkways that lead down towards the creek and a waterfall. Too bad it was raining, but it looked fantastic.
Quality: Clean, fast service, good food and better beer. I really liked the whole package.
Service: Prompt from initial entrance through ordering. Impressive considering that the entire akorsak clan of steppe foxes was in tow. I did ask our waitress about bottled beer and she never got back to me on it, so the place isn't perfect. The manager was also friendly as we filled a growler.
Selection: 8 beers, all made on premise. I went with the flight of all eight, starting out with the Gold lager and Amber ale. I didn't like either but the next six blew me away. Coffee Porter, English DIPA aged on oak chips (wtf is the category on that one?), a hoppy wheat beer, and a raspberry ale (really!) were excellent. Also on tap were a Scottish Ale and an American Stout. I loved the last six.
Food: My The Big Sandwich was thick with corned beef, excellent for sopping up the ale. Plenty of sandwiches and entrees, including a menu for children.
The current bridge re-construction on OH-82 shouldn't deter anyone from visiting Main Street. I'm thinking that I need to swing through on my way home. A Class A joint.
1,795 characters
4.58
/5
rDev
+3.6%
vibe: 5 | quality: 4.5 | service: 5 | selection: 4.5 | food: 3.5
Hey! First review! Alright! I was highly skeptical of a brewery located in the middle of nowhere Ohio, but boy am I glad I made the trek as this brewpub is one of my favorites of all-time. The location is amazing. Set in a gigantic mill that has stood for 200-some-odd years on the river next to a waterfall, the interior wood is obviously ancient and the views are amazing. A three-tiered patio supplies wonderful outdoor seating in the summer, the interior bar gives high-top tables and numerous tv's to catch a game, and the dining room gives a casual, quiet setting for a nice meal. I guess I'm saying its good for all occasions.
The menu is extensive and imaginative. However, I can only speak for the more traditional pub fare, since that's what I was in the mood for. The burgers are good - not spectacular - and the fries are gigantic wedges and battered and fried. The ribs are perfectly tender. The fall apart when pressure is applied but otherwise hold together. There was a bit too much sauce on them for my tastes, but that's more of a personal opinion.
The brewpub featured eight different beers on my visit, which is a lot for such a young brewpub out in rural Ohio. Luckily, it wasn't eight different examples of crap. Each beer was very well done. The lighter varieties of a light ale, amber and ESB were simple, straightforward, but very tasty. Wonderful session beers. The heavier barley wine and Christmas Ale were too sweet when combined with the high alcohol for my palette, though if in the mood I would enjoy them.
The stout and pumpkin ale were my favorites. The stout was unique and complex, apparently a happy accident. According to the brewer, he originally used too much of the seven malts for his system and they did not completely ferment. People told him to keep it that way, and he did. Good choice. The pumpkin cream ale was likely the best pumpkin ale I've ever had. Brewed with real pumpkin and not just the spices, it gives a lingering taste of pumpkin pie that keeps you coming back for more. The brewer said it was a pain to use real pumpkin in the brewing process, but hopefully he endures it again next year. It's well worth it.
2,173 characters
Main St. Grille & Brewing Company in Garrettsville, OH
3.9
out of
5
based on
69
ratings.