Zatek
| Buckeye Brewing Company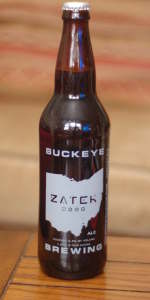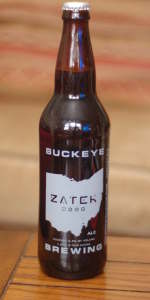 BEER INFO
Brewed by:
Buckeye Brewing Company
Ohio
,
United States
buckeyebrewing.com
Style:
American Strong Ale
Alcohol by volume (ABV):
9.30%
Availability:
Limited (brewed once)
Notes / Commercial Description:
No notes at this time.
Added by Sammy on 10-23-2008
This beer is retired; no longer brewed.
HISTOGRAM
Ratings: 11 | Reviews: 9
Reviews by Crosling:
4.23
/5
rDev
+13.1%
look: 4.5 | smell: 4 | taste: 4.5 | feel: 4 | overall: 4
Red bronze color. Thin, wispy white foam. Nose has some bright and delicious hops. Super fruity, lemony, citrus, new pine. Flavor is delicious fresh and succulent and juicy hop. Orange, tangerine, mango, pineapple, grapefruit. Super hoppy and delicious. Get this and get it now. A terrific display of fresh hop. Thanks mullet man.
330 characters
More User Reviews:
3.87
/5
rDev
+3.5%
look: 3.5 | smell: 4 | taste: 4 | feel: 4 | overall: 3.5
Picked up from the brewery a few weeks ago. Pours lke a strong, it is hoppy and spicey. Most of the taste I attribute to Double IPA, there is something else mid-sip until the hops dominate. A bit too much abv for lunch to finish. Some edginess which seems like rye.Other spices in cross-style. Nice off-white foamy head.
320 characters

3.23
/5
rDev
-13.6%
look: 4 | smell: 3.5 | taste: 3 | feel: 3.5 | overall: 3
22 oz bottle into in a glass. Thanks go to Deuane for sharing this one.
Pours a cloudy amber, with a thin covering of light tan froth. This has a nice aggressive retention to it, with nearly a 3/4 finger flareup that leaves a strong sticky cascade of lacing behind. You can tell that the aroma used to have a lot of hop character going on with but age had brought it down a notch. Floral character, fruit, and herbal elements still make their presence known, along with some sweeter malt tones and a bit of dark smoky roast that sits underneath.
The taste is similar to the aroma, with the hops putting off more of a herbal, and even medicinal, feel. A bit of toffee and cocoa sweetness adds some sweetness to this but most of the malt activity is coming off as more roasty and burnt. Lots of dryness and leftover bitter citrus rind linger in the finish for a good bit. The mouthfeel is medium bodied overall, with more of a fuller feeling creaminess to the carbonation at times. This contains some alcohol beef to it as well, which leaves some warmth hanging on the tale end of each sip.
I have to agree with some of the other reviewers that this came off more like an aged American Barleywine but unfortunately, not one that has aged too gracefully. The medicinal feel that the hosp had been reduced to just didn't seem to work with the other flavors as well as they could have, especially in the taste. I'd definitely check this one out again down the road if I could find a fresh bottle.
1,497 characters

4.55
/5
rDev
+21.7%
look: 4.5 | smell: 4.5 | taste: 4.5 | feel: 5 | overall: 4.5
Giggity!...Why do I feel like Quagmire after pouring this beer in the glass. The beer was served in a pint glass after chilling the beer.
Appearance: The beer pours a coppery golden coloration. The head is 1/2 fingers high with a biege coloration. Good staying power on the head is noted. Thick concentric rings of lacing remain behind on my glass.
Smell: The aroma of the beer is a bright citrus grapefruit, pine, caramel apple, floral hops a bit of herb and spice alcohol lends a bit more spiceyness. As the beer warms up more complexities begin to peak there heads out. The beers aroma starts to roll into toastyness.
Taste: The beer delivers a toasted malt lead in. Then the citrus hops, pine hit my tongue. Burnt caramel sugar combine with a bit of apple and pear. The alcohol adds spice in a pleasing way. Nice floral hop bitterness on the finish. Well played!...
Mouthfeel / Drinkability: The body of the beer is full. The carbonation works out well with a long lasting flavor. A bit of oilyness has worked its way into the body. The beer is a big tasty, full bodied bitch. A very nice super beer treat.
1,117 characters

3.75
/5
rDev
+0.3%
look: 3.5 | smell: 3.5 | taste: 4 | feel: 4 | overall: 3.5
A 2008 vintage bottle purchased at Rozi's cracked and shared 2/3/10 during my 40th Birthday bash.
A-Slightly hazed deep copper with a thin light tan head that reduced to a wispy veil that left some spotty lace.
S-Quite dank and woody with a fairly pronounced orange rind presence, which is rather surprising considering the age. A touch of alcohol riding on top of the rich maltiness.
T-Surprisingly bitter up front with aggressive orange rind notes first and foremost. Hefty malt body but not overly sweet. Comes of rather earthy with notes of cedar, tobacco and musty.
M-Medium bodied with dry finish and a touch of alcohol solvency that builds with warming.
D-Pretty tasty considering it's age. I would certainly like to try another one of these fresh. Interesting as it was though with a hefty bitter orange rind profile and a rather deep, dank malt body.
864 characters
4.02
/5
rDev
+7.5%
look: 3.5 | smell: 4 | taste: 4 | feel: 4.5 | overall: 4
22 oz. bomber bottle with silk screened pictures all around the bottle. The main picture is that of the state of Ohio with the word "Zatck" in alien letters and a vintage year of 2008 smack dab in the middle of the state. Directly below the state is where you can find the ABV of 9.3%. The sides of the bottle is where you'll find all the mandatory US information. The back of the bottle has a whole bunch of weird alien like symbols. The back of the bottle has circles that look like crop circles, a sound wave, and a sad face with a line coming out of it pointing to an over fuzzy Yeti. It's a very interesting bottle to say the least.
Appearance: I wanted to pour this Ohio born beer into an Ohio born glass, so I poured this beer into my small Great Lakes Christmas Ale Snifter. The color of Zatck was out of this world. First glance revealed that it was a funky hazy brownish orange color, but when this beer was held into the light, the color changed to a hazy copper orange color. This beer must be from another planet because I've never seen IPA this color before. The color was from another planet, but the head of foam was from Earth. The head of foam was just a tiny skim of off white colored foam. Even though it was just a skim of foam, it still had decent retention that left behind a small string of rings and just a spot or two of lace around the glass. It's too bad that the head of foam was from Earth and not from the same place the color was from.
Smell: As soon as I popped the cap off to this bottle, out comes the strong scent of pine and bitter grapefruit. When poured into the Snifter, the strong scent of grapefruit and pine was weakened a little bit, but it was still somewhat strong. Along with the pine and grapefruit, there was the scent of over ripe citrus fruits, a gentle touch of caramel, a hint of citrus hops, and then this bitter beer finishes up with a subtle whiff of toasted malts. The malts tried their best to balance out all the bitter aromas, but that grapefruit and pine was too big for the malts to handle.
Taste: The taste was sweet as alien blood with a hint of UFO metal backing it up. No!!! The taste was from this world. The citrus hops in this beer didn't do a slow build up like some IPAs/Strong Ales do. Instead, the citrus hops come in full force like a full scale alien invasion. When the taste hits the sweet caramel, the intensity of the hops settle down. Backing up the citrus hops was the taste of bitter grapefruit, pine needles, a dash of candy sugar, and a tiny speck of toasted malts. Like the aroma, the malts couldn't balance out the taste because that hop punch in the front was way too big for the speck of malts to handle.
Mouthfeel: This was a medium to full bodied Strong Ale with plenty of crispy carbonation to it and a mild hoppy aftertaste. This mild hoppy aftertaste contained bitter citrus hops, a touch of bitter grapefruit, a huge taste of pine needles, and a hint of toasted caramel malts. A tiny speck of the citrus hops lingered on in the back of my throat for a long time. It had nowhere to go and it made everything I ate and drank after this beer bitter.
Drinkability: If you want to try a Strong Ale that an alien might enjoy, but not invade Earth for, then get your hands on a Zatck. For me, it was joy an out of this world beer that was brewed in Ohio. It was a hoppy beer, but it wasn't overly hopped. I'm sure you know the kind. Hopefully the 2009 Zatck is just as good as the 2008.
3,479 characters
3.82
/5
rDev
+2.1%
look: 3.5 | smell: 4 | taste: 4 | feel: 3.5 | overall: 3.5
Glassy burnt orange with tangerine colored trim. Since the grain bill is almost 100% English pale malt, the brewer added black malt for color. The upper third of the pint glass is filled with a whipped creamy chunk of golden ecru colored foam. Lace assessment will have to wait since the head isn't noticeably shrinking. Note: not much sticks in the end.
The orange fruity character of Amarillo hops dominates the nose. The other members of the hop bill are Columbus and CTZ... which isn't possible since the letters CTZ stand for Columbus/Tomahawk/Zeus, which are one and the same. No alcohol is a definite plus. Buckeye describes this brew as 'not quite a barleywine and not quite an Imperial IPA'. Looks like American strong ale was a good choice.
Maybe it's the fact that the hops have surely faded since late 2008, but I think Zatek most resembles a pale-malted American barleywine. Too bad I didn't crack the crown sooner. On the other hand, alcohol is a contributor to the flavor profile at almost one year of age, so it might have been even more prominent right after the release.
If you're looking for a more widely distributed comparison, think Stone Old Guardian Barley Wine Style Ale <of whatever vintage>. The beer is still fairly bitter, so a big chunk of the alpha acids (and a fair amount of the hop flavor) has survived. There isn't a great deal of complexity, but then primarily pale malted barleywines tend to be simple beasts.
Esophageal warming, belly warming and tongue tingle are evidence of the almost double-digit ABV. Less than stellar alcohol masking is *almost* enough to take a bite out of the flavor score... and *is* enough to take a bite out of the drinkability score. More age will probably help, but it will also sap too much of the hop flavor. A classic catch-22.
The mouthfeel is medium-full and is firm rather than soft and creamy. The malt sugars and the gentle carbonation try to keep things smooth and easy, but the ethanol makes each mouthful brash and overly aggressive.
Zatek is supposedly a 'non-fiction character who dwells in outer space'. Um... okay. So he really exists? Zatek (the American strong ale) is a Stone Old Guardian clone that will slap you silly through all 22 ounces. If you aren't a big beer lover, don't even bother.
2,291 characters
3.03
/5
rDev
-19%
look: 3.5 | smell: 3 | taste: 3 | feel: 3 | overall: 3
Reviewed on 06/05/2009. Bottle at PPRBSG09. This beer pours a clear brown with a small head. The aroma is of sweet malt, citrus, and iced tea. The flavor is of roasted malt and more iced tea notes. Unfortunately, there is nothing special here...I wasn't really a fan.
267 characters
3.59
/5
rDev
-4%
look: 3 | smell: 4 | taste: 3.5 | feel: 3.5 | overall: 3.5
Bomber into challice on 2/3/10.
A - Poured a dark earthy, gritty-looking amber brown with a thin beige head that reduced to a patchy film, leaving behind some spotty lacing.
S - Opens with a fairly pronounced citrus hop presence, although the aroma is predominantly woody and earthy. Moderate alcohol notes elicit a boozy character. Overall, the nose is quite orangey, although some sweet tobacco notes also emerge as it warmed up a bit.
T - Quite bitter up front with citrus notes akin to orange pulp and rind, as well as some earthy notes suggesting medicinal herbs, roots, tobacco and sassafrass. Finishes with a mildly off-putting bitter tinge of herbal, medicinal notes.
M - Medium bodied with a chalky texture and moderate alcohol warmth on the palate providing a slight sting. Finishes quite dry and bitter overall.
D - What if you added alcohol to Moxie (remember that soft drink)? Well, you might get Zatek. While it grew on me after a while, it's not something I think I will seek out in the future. It was nice to try, though.
1,044 characters
Zatek from Buckeye Brewing Company
Beer rating:
3.74
out of
5
with
11
ratings