2010 Cleveland Beer Week India-Style Black Ale
| Buckeye Brewing Company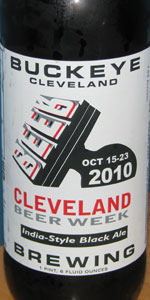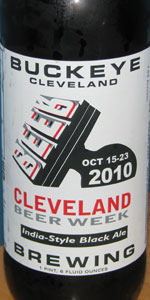 BEER INFO
Brewed by:
Buckeye Brewing Company
Ohio
,
United States
buckeyebrewing.com
Style:
American Black Ale
Alcohol by volume (ABV):
7.00%
Availability:
Limited (brewed once)
Notes / Commercial Description:
No notes at this time.
Added by sitarist on 10-03-2010
This beer is retired; no longer brewed.
HISTOGRAM
Ratings: 11 | Reviews: 9
Reviews by TheHoppiest:
4.45
/5
rDev
+13.5%
look: 4.5 | smell: 4.5 | taste: 4.5 | feel: 4 | overall: 4.5
I believe this is a special edition beer for Cleveland's 2nd annual Beer Week. I look forward to the next few weeks; I see a lot of quality beer in my future!
But, as they say, the future is now, and without delay:
Poured from a 22 oz bottle into a pint glass. Pours a ruby-mahogany, with a sticky eggshell-white head that cobwebs down the sides of the glass.
Smell is wonderful; fresh chinook hops tempt the nose, full of pine and resin. Underlying the hop top is an aroma of sweet malt.
Smooth and sweeter than it smells; chocolate, toffee malt start, with mild astringency gripping the front of the tongue, slightly buttery ending with a nice hop bitter.
Smooth mouthfeel, short of creamy, with a nice dry spice squeezing the front half of the tongue.
Quite drinkable, I'm wishing I'd picked up two of what is likely to be a limited run. Maybe Buckeye can work this into their regular rotation?
903 characters
More User Reviews:
3.95
/5
rDev
+0.8%
look: 4 | smell: 4 | taste: 4 | feel: 3.5 | overall: 4
Bottle from Buckeye Beer Engine. Delightful drinkability, tasty stuff and hits the style. Hoppiness is out front, with the roastiness coming out in the finish.Bold flavours, with emphasis on the C-hop citrus orange and grapefruit flavours. Large retained head. Goo hop and secondary roasted malt aromas.
303 characters
3.03
/5
rDev
-22.7%
look: 4 | smell: 3.5 | taste: 2.5 | feel: 3.5 | overall: 3
Pours a deep brown color with red highlights, despite trying everything to pour easy the head was at least a fist size. The head was a khanki color and gave way to nice sheet lacing up and down the glass. The aroma is of two main smells, there is a big dark chocolate smell and a large earthy hop smell with a slight citrus hop aroma. The taste is of a big chocolate malt backbone, with the big earthy hop taste over the top. The beer is very bitter almost off a little bit, it seems like the chocolate doesn't balance out the hops. The mouthfeel is moderately carbonated. The drinkability is average, the aroma is enticing, but the taste doesn't quite match up. It isn't a hard drink burn wise for the alcohol. It is complex but simplistic in a wierd way. I would say it is a good try one beer but not more than an occasion beer.
830 characters

4.17
/5
rDev
+6.4%
look: 4 | smell: 4.5 | taste: 4 | feel: 4.5 | overall: 4
Pours cola brown...two fingers of khaki tan head falls to a skim coating that leaves webs and patches of lacing.
I smell toast, grape jelly, grapefruit, with a faint hint of coffee wafting through the air. It is herbal, and has hints of pine forest. I love the Kind Suds!
I taste sasparilla, pepper, grape candy, citrus, and pine. Nice balance.
Medium to full body, but not thick...mild carbonation, there is a mild, bitter bite...coats the tongue nice...just a bit sticky.
What great balance between hops and malt! I hope they brew this recipe again for "420 Hop Fest".
574 characters
4.05
/5
rDev
+3.3%
look: 4 | smell: 4 | taste: 4 | feel: 4.5 | overall: 4
I got this as a generous extra from miketd!
A: Dark brown with a nice frothy white head.
S: Spicy sharp (centennial?) hops. Touch of roasted malts.
T: Rich malty backbone with a bit of citrus.
M: Smooth and not too bitter. No alcohol to be found.
D: Excellent. Drinks like an amber. I could use a bit more hops in the flavor, but overall this is a great cascadian dark ale.
Thanks Mike!
390 characters

3.9
/5
rDev
-0.5%
look: 4 | smell: 4 | taste: 4 | feel: 3 | overall: 4
Pours the color of coca cola, with a foamy khaki-colored head that leaves considerable lacing. Nice citrus and pine hop aromas.
Taste-wise the beer delivers. Sweet malts with the slightest roasty flavors underlay the main player, the hops. Lovely hop flavors, flowers and citrus up front and more aggressive, bitter pine-y flavors on the finish.
The mouthfeel is watery and the beer is very carbonated. It is quite drinkable.
Unfortunately brewed just for the Cleveland Beer Week. One hopes they might bring it back, it is tasty.
534 characters
3.95
/5
rDev
+0.8%
look: 4 | smell: 4 | taste: 4 | feel: 3.5 | overall: 4
I got this beer from drgonzo3705, Thanks Paul!
22oz bottle served in a standard pint glass.
L - dark brown color with a beige head that left trails of lacing.
S - mostly citrus hops with a bit of roastiness as it warms.
T - bitter citrus rind hoppy taste, there is a slight hint of some roasted malt at the midway point but then the bitterness kicks in hard for the finish.
F - light/medium bodied with a sort of thin feel.
D - good beer.
444 characters
3.39
/5
rDev
-13.5%
look: 4 | smell: 2.5 | taste: 3.5 | feel: 3.5 | overall: 4
A - Pour a dark brown, almost black but not quite. If you look around the edges of the glass you light passing through. Good amount of head foamy white head. Didn't experience the volume that others described. Decent amount of lacing left on the glass.
S - The smell of this beer was kind of a let down. I really couldn't get much off of it at all to begin with. Once I drank the glass down a bit I could catch some sour, citrus hop notes, reminiscent of an IPA.
T - Taste was IPA like. More lightly hopped than an IPA, but still had some sour, citrus, grapefruit notes. Pleasant, but not tremendous. I was disappointed that the darker malts really didn't come through at all. I got some hops, but really no more malt than a normal IPA.
M - Mouthfeel wasn't bad, maybe slightly heavier than an IPA, but otherwise like any normal beer.
D - I gave this beer higher marks for drinkability than any other category because even though nothing jumps out as you as being astounding, it's still a really enjoyable beer. There's no rough edges, it goes down easy without being tiring. You might not write home about this beer, but you definitely wouldn't mind having a few.
1,165 characters

4.18
/5
rDev
+6.6%
look: 4.5 | smell: 4 | taste: 4.5 | feel: 3.5 | overall: 4
A 22oz bottle into a snifter.
This fresh Black IPA was just released this week for the upcoming Cleveland beer week. When poured into my glass, it looks quite nice - the dark brown body has some mahogany and deep amber hues when held to the light. The tan head is fluffy and eventually settles back into the glass, leaving excellent, soapy looking lace. A very nice looking beer!
The smell is pine hops with just a hint of citrus (Chinook and Columbus hops add depth and are very expressive) dancing on a caramel body with a decent amount of toasty biscuit and roasty chocolate flavors. It's very expressive and also clean thanks to the lack of esters from the very transparent American yeast strain.
The beer tastes wonderful! The two biggest components of the Cascadian Dark Ale, prominent Northwest Hops and roasted malt work well together. This is a flavor bomb, very hoppy with notes of pine and grapefruit. The malt is sweet with a touch of roast, and the overall taste is bitter but not too unbalanced.
The only big flaw of this beer was the slightly excessive carbonation. A Black IPA should have just a touch of creaminess and this misses that mark, but the body is substantial. The finish is bitter and lingering. This beer will be a ton of fun to enjoy the next few weeks. I've loved this style since Stone's XI anniversary ale, now reincarnated as Sublimely Self Righteous, and I consider that beer the benchmark of the style. While A few others (Southern Tier's Iniquity, for example) are just a touch more world-class than this, Buckeye has thrown their hat in the ring with a very nice tasting beer!
1,618 characters
2010 Cleveland Beer Week India-Style Black Ale from Buckeye Brewing Company
Beer rating:
3.92
out of
5
with
11
ratings