Christmas Girl
| Buckeye Brewing Company
BA SCORE
80
good
15
Reviews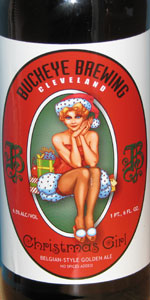 BEER INFO
Brewed by:
Buckeye Brewing Company
Ohio
,
United States
buckeyebrewing.com
Style:
Belgian Pale Ale
Alcohol by volume (ABV):
6.50%
Availability:
Winter
Notes / Commercial Description:
No notes at this time.
Added by TheHoppiest on 12-04-2010
Reviews: 15 | Ratings: 27
3.61
/5
rDev
+8.1%
look: 3 | smell: 3.75 | taste: 3.75 | feel: 3.25 | overall: 3.5
There was no indication upon purchase (or drinking) that this was a limited release. I just figured it's a regular winter beer. I guess it's nice to get a crack at it.
The white, clean-looking head has some trouble forming, or at least sticking around when it does. It sits for a short time on a medium-yellow brew before dropping off. It does leave a bit of spotting as it goes.
I don't think anyone who knows the style would find this one to be far off. There's a little variance from the typical in the form of a grape-like twang and a mild tartness. Alcohol also has a very light but noticeable sting going into the finish. Otherwise, it's got the earthy, musty yeast notes and the brighter, white fruit flesh as well as a touch of bubble gum and a light fruity hoppiness along with a base of pale malts.
The feel tends somewhat toward harshness, particularly for a lighter, bright style. A big bite snaps hard at the tongue. It's about light-medium bodied, as it should be, and there's a good smoothness beneath, but it could use some tuning up. I suppose that won't be happening.
1,086 characters

3.06
/5
rDev
-8.4%
look: 4 | smell: 3 | taste: 3 | feel: 3 | overall: 3
Pours a clean golden yellow color with a white head. In the aroma, somewhat lager like and a small candy sugar presence. In the taste, still somewhat lager like with a small dry candy sugar in the end. A small bite and medium to lighter bodied mouthfeel, with a small dry lager like aftertaste. Like a lager that wanted to be a standard Belgian ale.
349 characters
4.14
/5
rDev
+24%
look: 4.5 | smell: 4.25 | taste: 4 | feel: 4 | overall: 4.25
This was a nice find at Saveon the other day. It may be May, but why shouldn't this still be good? It is!
It is beautiful in the glass. Nearly clear with a tiny but pretty head and a gorgeous yellow color. The aroma matches. Wonderfully yeasty (fruity).
The taste is very good. It is well balanced. Just what the style should be.
The aftertaste is just right too. Overall, this is an unexpected Christmas treat in May. A good bomber to pick up.
447 characters

3.51
/5
rDev
+5.1%
look: 3.25 | smell: 3.5 | taste: 3.5 | feel: 3.75 | overall: 3.5
22 oz
Pours a clear golden, quarter inch of white head dissipates to a lacing.
Smells of bubble gum barley malt, banana esters, and fresh cut grass.
Tastes of bubble gum, dry bready malts, banana, coriander, and lemon grass.
Medium body with light tingly carbonation on the tongue.
Acceptable Belgian style ale. Drinks easily enough with an enjoyable aroma. The pour is a bit underwhelming for the style. Flavor is fine, some nuance to it. For the style I could take it or leave it. Overall it's nothing to regret trying though.
544 characters

3.75
/5
rDev
+12.3%
look: 3.75 | smell: 3.75 | taste: 3.75 | feel: 3.75 | overall: 3.75
Was this really only brewed once? It just showed up on my local shop's shelves and tastes fresh...
22oz bottle poured into a tulip
A: Light, transparent orange with a one-finger head
S: Lots and lots of spice, especially cloves & nutmeg
T: Spice that matches the nose along with caramel & some yeast
M: Light-medium bodied, fresh
O: Why is the average score here so low? It's not my favorite Christmas ale but is certainly a very good beer
439 characters
2.03
/5
rDev
-39.2%
look: 2.5 | smell: 2 | taste: 2 | feel: 2 | overall: 2
$5.99/22 oz bottle
A: pale yellow color, cleared, poured with frothy head that quickly dissipated
S: very mild nose, has hints of Belgium-inspired golden ale but just very, very mild - slight fruitiness
T: again, has hints of Belgian golden ale - clean with Belgian ale spiciness but very thin and subdued
M: clean, water, thin
O:
331 characters
3.33
/5
rDev
-0.3%
look: 3.5 | smell: 3 | taste: 3.5 | feel: 3 | overall: 3.5
Poured from 22oz bottle. Thanks to Lukafer for busting this out.
A- Pours a golden yellow color. One finger white head shows light retention. Some light spotty lacing left on the glass.
S- There are some light yeasty tones that come and go over the entire beer. I picked up some light cereal grains and huge amounts of wheat. There is a light musty barrel hint toward the end that didn't kill the aroma but didn't help it as well.
T- The front of this beer has a boatload of wheat undertones that go into overtones. A light yeasty appearance with cereal grains cover the middle of the beer with a bready malt underbody. Some light musty flavor with a hint of sourness and alcohol in the ending of hte beer. Very light bitterness in the tailend is from what I think is the hop bite...who knows though.
M- Light mouthfeel. Carbonation is good for the style and beer. Light cereal grains left on the palate with a hint of brewer's yeast. The aftertaste is sweet wheat and light alcohol. Flavors as a whole are malt and grain forward and not completely balanced. Light alcohol drying on the palate. Flavors were a little off in the ending of the beer.
D- This beer was drinkable don't get me wrong. A lot of average qualities to this one means you can drink it all night but there is something about it that makes you not want to drink it all night. Does that make any sense?
1,378 characters
2.68
/5
rDev
-19.8%
look: 3 | smell: 2.5 | taste: 2.5 | feel: 3 | overall: 3
Pours a yellow to gold color with no head to speak of except maybe a little bit of edging. The aroma is of lager yeast, the aroma is not very complex. The taste follows suit, it starts out like a lager and then there is a big candied yeast flavor. The mouthfeel is lowly to moderately carbonated. Overall it is an okay beer, the candied yeast taste at first seemed out of place but got better as the beer went, buckeye is a good brewery but this is not one of their better offerings.
483 characters
3.88
/5
rDev
+16.2%
look: 4 | smell: 3.5 | taste: 4 | feel: 4 | overall: 4
Poured from a 22 oz bottle into an oversized wine glass. The bottle has a 40's era pin-up girl in small red dress and Santa cap. The label describes this as a Belgian-style golden ale with no spices added.
Pours a light straw-blush color, very clear with a small amount of head that quickly disappears.
Smells of grapes, yeast, and malt. Quite floral, it has a light aroma and look. So far, not your typical heavy seasonal ale.
Slightly sour, carbonated, and mildly malty, it tastes a bit like a Chardonnay. Simple and crisp, this is quite a change from the run-of-the-mill winter warmers that are so prevalent this time of year.
Mouthfeel is crisp, clean, and slightly tart.
Fairly drinkable, though not my typical style. Still, it's nice to have a different different Christmas brew option.
811 characters
3.13
/5
rDev
-6.3%
look: 3.5 | smell: 3 | taste: 3 | feel: 3 | overall: 3.5
I wasn't a huge fan of this one. Yeasty notes make some plays on the nose and in the flavor, but this really just strikes me as a bready-tasting ale. Little depth of flavor, little spicing at all, little to really think about. It really was a "blah" beer, that left me uninterested. Straw gold color with smallish white head, reminds me of BMC sadly (though without the excessive BMC fizziness). Medium to light bodied, pretty easy drink. Wouldn't get this again, though.
471 characters

3.1
/5
rDev
-7.2%
look: 3.75 | smell: 3 | taste: 2.75 | feel: 4 | overall: 3.25
Buckeye Brewing Christmas Girl... Pours a deep gold with loads of bubbles and nice foamy white head~ Doesn't smell too much different than an adjunct ale a bit more yeasty~ Ok Belgium gold, completely lacks complexity... Just a simple Belgium gold with some decant spice, tartness and a bit bitter~ Light tasting, Would be a good brew to throw back all night at 6.5%ABV, honestly for the price, you would be better just buying a Budweiser as this doesn't stand out as a true craft brew~ Overall: 5.3
499 characters

4.19
/5
rDev
+25.4%
look: 3.5 | smell: 4.5 | taste: 4 | feel: 4 | overall: 4.5
Pours a light, clear golden color. Small head falls quickly...no cap, no ring, no lacing. Various size bubbles float up to nowhere.
The aroma is very nice. Spice and apples are what I smell at first...there is also hints of funky, yeasty goodness...slightly phenolic. A truly Belgian inspired beer. Sexy and alluring.
The flavors match the nose well...spicy with fruity esters, and slightly phenolic.
A bit light / thin, with a nice prickly carbonation. It is dry a begs me to take several sips.
Another great Belgian inspired brew from the Buckeye Brewing Company, they really do Belgian styled beers right. I could drink several glasses of this without getting bored.
674 characters
4.27
/5
rDev
+27.8%
look: 4 | smell: 4.5 | taste: 4 | feel: 4.5 | overall: 4.5
Pours a clear golden color. A medium amount of carbonation creates a nice white head. The head has medium thickness and stays throughout the whole beer.
Smell is awesome. Everything I have had from Buckeye Brewing has the best aroma. Smell has such a nice sweet sugar smell to it. A clean malt smell as well.
Taste has such a nice Belgian taste to it. Belgians are great for clean wheat and biscuit malt tastes, spiced up by great sweet sugar tastes. This taste is very authentic Belgian for being made in wonderful Cleveland, OH. No spices added, because this beer is good enough on its own.
Mouthfeel is almost perfect. A good refreshing drink with nice carbonation. However, the beer is a full mouthful and leaves a nice linger.
Drinkability is great on this beer. A very nice beer that has so many great tastes without overwhelming. Almost all Christmas beers are so heavy and dark. By New Year's, I am almost sick of stouts and porters. This is a great change of pace and awesome Christmas beer. A new add to the holiday beer list that I may have every year from here on out.
1,081 characters
3.58
/5
rDev
+7.2%
look: 4 | smell: 3.5 | taste: 3.5 | feel: 4 | overall: 3.5
I had this on tap for Christmas 2011, but was too intoxicated by the end of the night to remember if it was good or bad. Bought a bottle on a whim at Giant Eagle down the street this time around. It poured a finger and a half of vivacious and active head. Body is a light coppery yellow-orange. Head diminishes to a ring in a minute or so; slow yet steady, bubbles are observed reaching for the top. No lacing noted.
Yeast, light wheat and malt and start off the aroma. Smells faintly of candy sugar. Spices bring up the rear.
To be very honest, it's better than I expected. There is a sweet sugary burst that starts it off. Yeast and wheat take over, and are just surrounded by spices, which really ramp up at the end to mingle with the grassy hoppiness. All the flavors are very clean.
This beer coats the tongue rather evenly. It feels a little sticky front to back. Dry ending.
884 characters
2.21
/5
rDev
-33.8%
look: 3 | smell: 2 | taste: 2 | feel: 3.5 | overall: 2
Poured from a 22 oz. bomber into a tulip glass.
A - Golden straw clear color with a moderate head that dissipates into a ring. leaves almost no lacing behind.
S - Smells of white wine with an oakiness, although not an enjoyable oakiness as it almost hints of stale dog urine on a carpet (sorry to be graphic, it's just what I immediately conjure when taking a snort). The stale oakiness gets stronger as the beer warms up.
T - Slightly acidic and weak yeastiness, with a unappealing sour character that covers any maltiness. Very little bitterness.
M - Finishes dry, but not much else to put to the mouthfeel. Light bodied.
D - Not a fan of this at all. Almost like a white wine that is not enjoyable (Cut-rate Chardonnay). Flat taste with no complexity (for a Belgian has weak yeast character) , and the aroma really turns me off. Sorry Buckeye, I'm not a fan.
866 characters
Christmas Girl from Buckeye Brewing Company
3.34
out of
5
based on
27
ratings.