Rooftop IPA
| Bloomington Brewing Company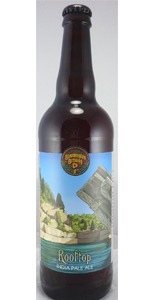 BEER INFO
Brewed by:
Bloomington Brewing Company
Indiana
,
United States
bloomingtonbrew.com
Style:
American IPA
Alcohol by volume (ABV):
7.40%
Availability:
Year-round
Notes / Commercial Description:
Golden with a smooth mouthfeel. Dry hopped with Cascade. Malt undertones balance this hop bomb before its long, bold and bitter finale.
Added by rlee1390 on 10-14-2012
Reviews: 11 | Ratings: 88
3.8
/5
rDev
-0.8%
look: 4 | smell: 4 | taste: 3.75 | feel: 4 | overall: 3.5
Yet another Indy purchased beer that seems not at its best. Thick malts with earthy hop influence. It's an okay drinker, but not really impressive. A shame.
156 characters
3.54
/5
rDev
-7.6%
look: 3.75 | smell: 3.5 | taste: 3.5 | feel: 3.75 | overall: 3.5
From the 650 ml. bottle. Sampled on July 7, 2014.
It pours a slightly cloudy orange-amber with a long living off-white head. Some lacing.
The aroma has a kind of burnt caramel malt quality with earthy and resiny hops playing up around the edges. Not overbearing but the hops are noticed.
The body is definitely in the medium range and heading toward heavier.
Odd sort of barley malt, grainy malt start with a low to moderate bitterness at the finish. It just didn't blow me away but it was drinkable enough.
511 characters

4.1
/5
rDev
+7%
look: 4 | smell: 4 | taste: 4 | feel: 4 | overall: 4.5
A-Translucent orange, some carbonation with a two finger head
S-Citrus, earthy pine and floral notes. Nice and hoppy.
T-Similar to the nose, citrus, pine and floral notes. Nice bitterness and good balance.
M-Medium bodied, nice carbonation, crisp and easy drinking.
O-A good IPA from a small town brewery. Bitterness and balance there, not malt heavy. How local breweries should do it.
397 characters
3.86
/5
rDev
+0.8%
look: 4.25 | smell: 3.25 | taste: 4 | feel: 4.25 | overall: 4
Big thanks to TDA8 for this extra.
A- Glowing orange body with a hint of amber. Thin off-white head that dissappears quickly and leaves a thin ring of bubbles and some lacing behind.
S- A dash of caramel malts with some faint traces of pine and zesty citrus.
T- More flavor than the nose would indicate, with a nice mix of pine, citrus, caramel malts and toasted malts. Very balanced, but the hop presence is noticeable.
M- Smooth, well carbonated, medium-full bodied.
O- A solid IPA that has a nice rich body and good balance.
533 characters

4.1
/5
rDev
+7%
Decided to give this local brewery a try. I'm (mostly) glad that I did. Here goes:
A: Orange-amber with a massive head that leaves plenty of lacing. Beer is pretty clear with a hint of cloudiness. Pretty impressed. 4.25/5.00
S: Very citrusy upfront with hints of pine and grapefruit. Don't really detect malt or yeast, but this is OK considering the style. However, the hop smell is nowhere near as robust as in other IPA's. Had to stick my nose into the glass to really get a feel for the beer. 3.5/5.0
T: The beer has a more robust flavor profile than initially indicated by the smell. Beer is citrusy like the nose but the pine and grapefruit are a little more apparent. Also, there's a hint of caramel/amber malt in the taste that compliments the hops quite well. Very good. 4.25/5.00
M: Great. Nice and crisp with plenty of carbonation. Very satisfying IPA. 4.5/5
O: A very satisfying IPA. Will try again. Surprisingly, the taste reveals a lot more than the poor/OK smell.
1,004 characters
3.52
/5
rDev
-8.1%
look: 3.75 | smell: 3.5 | taste: 3.5 | feel: 3.5 | overall: 3.5
22 oz bottle poured into pint glass, thanks to Trevor S for the brew.
A: pours a cloudy golden body, 2 finger white foam head, plenty of stringy lacing
S: caramel malt, citrus, orange, biscuit
M: medium body
T: thick malt, citrus hops, biscuit, piney resin
O: good brew, alcohol well hidden
292 characters

3.36
/5
rDev
-12.3%
look: 4 | smell: 3 | taste: 3.5 | feel: 3.5 | overall: 3.25
From a 22 oz bottle into a pilsner glass.
Date on bottle is 5/30/14
To my knowledge this is the first bottling that Bloomington has done. Feel free to check me in this!
A: Gold in color with a good amount of carbonation rising. Thin head and lacing. The head is gone quickly and lacing fades fast as well
S: Faint hops and citrus.
T: Similar to smell. Orange on the toung and bitter on the finish.
M: light and airy. Fades quickly.
O:A bit weak in flavor and texture. I will update this review if I can find a bottle hats a bit more fresh.
548 characters
4.09
/5
rDev
+6.8%
look: 4.25 | smell: 4 | taste: 4 | feel: 4.75 | overall: 4
Pretty orange-amber color. Off white lace, not very persistent.
Mild smell, nice, clean, apricots.
Taste is very, very good. Mild. Bitter.
Mouthfeel is fantastic, rich, low carbonation. Happy mouth.
Finish is not intense, rather mild actually. Quite bitter on the very last edges of the finish.
299 characters
5
/5
rDev
+30.5%
A very solid beer. I really like the bitter balance with the malt flavor. There is a really good balance between aromatic hops and bittering hops. Really good hop nose on this one. I can see why it won a gold medal at the Indiana Brewers Cup Competition. Every sip tastes better than the last.
293 characters

3.92
/5
rDev
+2.3%
look: 4 | smell: 3.75 | taste: 4 | feel: 3.75 | overall: 4
Had a sample of this poured for me from a jockey box at a local beer tasting.
Beautiful copper color, thin head.
Smelled spicy, piney--the kind of hoppy stank that makes you salivate. (If you're a hop-head like me, anyway.)
Tasted well-balanced, nice malty backbone that complements the excellent spicey/grapefruity hops.
One of the better IPAs that Southern Indiana has to offer.
384 characters
5
/5
rDev
+30.5%
I'm not an IPA fan, but this beer sold me. With its mixture of hops and malt, it's smooth with a lil hoppy kick. It's worth drinking again and recommending it to others
170 characters
Rooftop IPA from Bloomington Brewing Company
3.83
out of
5
based on
88
ratings.