La Frappiste Grand Cru 2011
| Brasserie Des Garrigues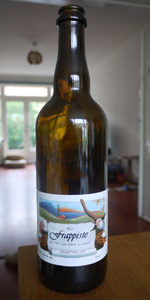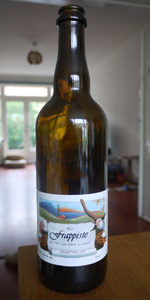 BEER INFO
Brewed by:
Brasserie Des Garrigues
France
brasseriedesgarrigues.fr
Style:
Belgian IPA
Alcohol by volume (ABV):
7.50%
Availability:
Limited (brewed once)
Notes / Commercial Description:
No notes at this time.
Added by Jeffo on 04-15-2011
This beer is retired; no longer brewed.
Ratings: 6 | Reviews: 5
Reviews by dirtyskunk:

3.75
/5
rDev
+13.6%
look: 3.5 | smell: 3.5 | taste: 4 | feel: 4 | overall: 3.5
Recommended by the famous Simon at Cave a Bulles.
Dark cloudy gold in the glass, with some chill haze apparent. Decent head settles to a thin cap, limited lacing around the edges. Above average for an IPA, not spectactular.
And the lord said let there be hops! This is the closest thing to a real IPA that I've found coming out of France. Some real citrusy and floral hop bitterness in the nose. Definitely some catching up to do to meet the American standard, but this is clearly an IPA, if a bit one dimensional in the nose.
Hop forward. Grapefruit and grassy. There's some crisp, bready/nutty malt coasting out of the middle, with the hop bitterness along for the ride the whole time. It has a little of the aspirin bitterness I find to be characteristic of Amarillo hops, which may be what some of the other reviews complained of. IMO it's not any worse than the various American IPAs that also use this hop. Then again, it could be a medicinal tasting aspect of the Belgian yeast as well. As it warms I get some fruity kind of berry flavor that seems like a Belgian yeast flavor. The beer claims 60 IBUs which sounds about right to me. I would compare this to New Belgium's Ranger IPA. I'm probably giving some positive bias because this was such a pleasant surprise on this side of the pond.
There's not a lot in the taste giving this away as a Belgian, but you can tell in the mouthfeel. It's pretty full and creamy, with a strong carbonation level holding up the other end. Nice balance.
Hides the 7.5 pretty well. This is the first good French IPA I've tried, leads me to believe they might figure it out some day. Definitely an all around solid beer. I generally don't like Belgian IPAs but this one balances those two influences perfectly IMO. A simple hop profile, not too much messy Belgian-ness, solid effort.
1,828 characters
More User Reviews:
2.71
/5
rDev
-17.9%
look: 3.5 | smell: 2.5 | taste: 2.5 | feel: 3 | overall: 3
12oz shard with Klym, bottle from Paris.
poured into mini generic tulips.
A: Hazy rustic orange with mellowing tones of unfiltered honeys. The raw honey character seems a bit unusual in tone. Very dark, looks a lot like honey that's been stored too cold. Near complete opacity of orange, with very little fogginess.
S: Grains that have been left out in the rain and re-dried. Moldy character to the nose that makes for a an awkward sweetness. A slight hop note that comes off suspiciously mellowed. An almost sandy sawdust character to all the ingredients.
T: Very bitter, note quite a hop bitterness either. This comes off very Aspirin and cough syrup like. The bittering is almost artificial, as if someone dumped in a bottle labeled "hop bittering liquid" into the batch. The flavors are generally very watered down, with some appearances from freezer burned broccoli.
M: Very light mouth, watery throughout. The beer slides down the mouth like tap water, where feelings of bubbles/carbonation are trumped by air or mineral content from the faucet. The after feel is a bit better, the lightest honey coating. However, this is a stark contrast to the heavy medicine flavors. Which isn't the worst thing.
O: This beer just seems wrong. The beer really seems as intended, but comes off like a cheap imitation than the real thing. I would never have guessed this to be a Belgian IPA, but then again I would have had a hard time calling this an IPA at all. This has a long way to go before it even approaches par with other beers in style. All I taste is the growing pains of a startup brewery.
1,599 characters
2.73
/5
rDev
-17.3%
look: 3.5 | smell: 3 | taste: 2.5 | feel: 3 | overall: 2.5
Thanks to the famous Simon in Paris for the bottle. Poured into a tulip and shared with Cavery.
A: A somewhat murky browned orange with a microbubble whitehead that dies down rather rapidly.
S: Cereal (non-sweetened cheerios comes to mind), yeast, and a tiny hop bite. Pretty simple.
T: Cereal with a tad of honey sweetness and it finishes with a very cheap, bitter taste that is a little metallic and chemically. A somewhat metallic aftertaste. Simple and decent that transitions into kind of nasty.
M: Light bodied, medium carbonation, a little bite in the roof of the mouth. Mostly smooth and decent mouthfeel.
O: That strange bitterness in the finish really kills this beer for me, but not sure I was caring too much for it to start with. This beer is conservative and, unless my bottle is compromised, has a flaw that makes it worth not bothering to buy even if it's on your shelf.
894 characters
3.63
/5
rDev
+10%
look: 3.5 | smell: 3 | taste: 4 | feel: 4 | overall: 3.5
In a recent trade with pixieskid. Thanks man!
From a 750ml into a snifter.
APPEARANCE: Pours a three finger, medium-thinner looking, fluffy white head with good retention. Gamboge or tangerine orange in color, slightly hazy, with zero carbonation evident. Eventually fades to a foamy wisp and leaves some clingy lacing to the glass. Splotchy wisp remains and leaves some decent lacing down the glass.
SMELL: Milder nose of pale malts, bready malts, floral hops and some light green fruity notes. Notes of green apples and some light spices, cloves mostly, but a little too mild.
TASTE: Pale and bready malts with sweet green apples through the middle. Some floral hops and a good bitter notes through the finish, with an accompanying act of light spicy coriander. Mild yet lingering aftertaste is floral with a relatively clean and crisp hop bitterness. Pretty nice actually.
PALATE: Medium body and medium, soft carbonation. Soft and creamy on the palate, goes down smooth and finishes crisp, or slightly dry on the palate. Very nice, soft feel.
OVERALL: Pretty good brew overall. A bolder nose would help this one, as would a slightly tighter head, but this was a flavorful Belgian IPA with a nice, soft, creamy palate to boot. An enjoyable brew for sure. Thanks for the hookup on this one pixieskid.
1,326 characters
3.71
/5
rDev
+12.4%
look: 4.5 | smell: 3.5 | taste: 3.5 | feel: 4 | overall: 4
Pours a cloudy golden honey with a very nice fluffy head that exhibits both excellent retention and lacing. The aroma is mainly hops, with spice and pine notes being particularly present, as well as subtle undertones of ripe fruit. Full body that is rather well balanced, with a mouthfeel that is smooth but well carbonated. Slight grapefruit flavor around the edges. Mild bitterness lasts through the finish, becoming a little tart from the yeast. Definitely improves as it warms.
This is a good beer, don't get me wrong, but I find it to be a little too one-dimensional at times. The malts essentially serve as a complement to –and platform for– the hops, adding really no flavor of their own (though they do help create that nice full body). The problem I have in this case is that the hops don't really "shine" besides adding bitterness. The mild fruit flavors that I picked up weren't strong enough to overcome this, and that's mainly why I didn't rate the beer higher. If you really want to nitpick, I'd say this beer is in the wrong category: I'd argue that this beer exhibits more American characteristics than Belgian ones, though it appears rather tame compared to most American IPAs. I'm not a stickler for style, though, so I can't say I was disappointed. Overall, however, I enjoyed this beer and would recommend it to anyone looking to branch out from the average French bière blonde.
1,404 characters
La Frappiste Grand Cru 2011 from Brasserie Des Garrigues
Beer rating:
0
out of
100
with
6
ratings