Pele Vermelha
| Cervejaria Três Lobos Ltda.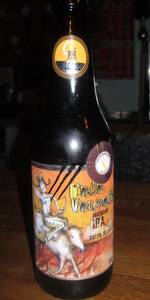 BEER INFO
Brewed by:
Cervejaria Três Lobos Ltda.
Brazil
cervejariabacker.com.br
Style:
American IPA
Alcohol by volume (ABV):
7.00%
Availability:
Year-round
Notes / Commercial Description:
No notes at this time.
Added by DoubleJ on 11-16-2011
Reviews: 5 | Ratings: 20
4.03
/5
rDev
+7.5%
look: 4.5 | smell: 4 | taste: 4 | feel: 4 | overall: 4
Nice label Poured just one finger head. Nice ruby color.
Delicious hop aroma, peachy, some passion fruit and a hint of citrus.
Low carbonation with tiny bubbles, compatible with high fermentation.
Flavor of toasted malts, differentiating from traditional IPAs. Some sweetness, maybe a little hint of pineapple and grapefruit, and good hand on the condiments. Feels like more bitter than the 53 theoretical IBU (which is good). Medium body.
Aftertaste enhances bitterness and dry with a hint of citrus. Alcohol of 7% is well hidden. It quenched my desire for flavor and the creativity was welcomed.
597 characters

3.88
/5
rDev
+3.5%
look: 4 | smell: 3.5 | taste: 4 | feel: 4 | overall: 4
330ml bottle served in a pokal glass.
Bottle art looks like a reference to the American Flying Dog brewery beers.
This beer is part of the "extreme series" produced by Backer, a brewery located in the state of Minas Gerais - Brazil.
It's a 7% ABV American IPA brewed with orange peel.
A: Pours a dark amber color forming a medium beige head with medium retention and some lingering lacings left in the glass
S: Sweet malts, caramel malts, roasted malts, candy sugar, orange zest, flowery hops. Hops which are also quite piny and a bit citrus. I would dare Centennial
T: Slightly sweet upfront. Strong notes of caramel, caramel malts, candy sugar, roasted malts and flowery and a bit piny hops. Nice notes of orange zest and a good hops sting bitterness in the end despite of the "low" IBU if compared with an American IPA
M: Medium and bit molasses body. Medium carbonation. Nice caramel and hops bitter end
O: Good drinkability. Classic dark American IPA with strong notes of caramel and caramel malts. The orange zest was well introduced since it's quite balanced and not overwhelming. For sure the best one from the "Três Lobos" series
1,147 characters

3.85
/5
rDev
+2.7%
look: 3.75 | smell: 3.75 | taste: 4 | feel: 3.75 | overall: 3.75
Nice brazilian IPA of a somewhat transparent but nice carmine color and an ok foam.
Smell is hoppy but most citrus, some cherries too.
Taste is similar, and you can feel quite well the orange peels. Bitterness is high and awesome. Extreme in the aftertaste.
Body and carbonation are at good level.
297 characters
3.61
/5
rDev
-3.7%
look: 3 | smell: 4.5 | taste: 3.5 | feel: 3.5 | overall: 3
From a 355 mL bottle, thanks Jon,
A: Pours a dark red to brown, certainly not typical IPA, light white head, spotty lace.
S: Very nice orange cream like notes with some crystal malt with a touch of hops.
T: Good balance with the amber malt, piney hops and orange peel. Not particularly substantial, but a fine beer to drink.
M: Crisp carbonation but certainly frothy at times, medium-bodied.
O: Not a classic IPA as I've found with a large portion of Brazilain IPAs. Not a bad beer by any means however, worth a shot.
522 characters
3.53
/5
rDev
-5.9%
look: 4 | smell: 3.5 | taste: 3.5 | feel: 3.5 | overall: 3.5
The importation of Flying Dog beers into Brazil has inspired a few things. For starters, it inspired Cervejaria Três Lobos to create a "Serie Extrema" line of American-influenced styles. Second, the artwork done for the Serie Extrema; the label of Pele Vermelha looks like a Flying Dog label. This is an IPA with orange peel. Obrigado Sergio pela garrafa de 355 ml! On to the beer:
Certainly nothing pale about this one. This is dark amber with a dominant brown colro and hues of orange. The head on top last lasts awhile and leaves healthy lacing around the glass. The nose is a subtle one, but you can pick out the dry hopped goodness that brings out some pine cones and even a little orange flavor. The taste also follows the aroma's theme, subtle. There's a light base of malt that always seems present. Kisses of hops and orange hit the palate. A little resin too. Somehow, the beer keeps its balance and doesn't get boring.
By no means is this a typical, big American IPA, though it is still a nice beer to drink. I'm looking forward to other three labels of the "serie".
1,081 characters
Pele Vermelha from Cervejaria Três Lobos Ltda.
3.75
out of
5
based on
20
ratings.