Tempus Clasica
| Cerveceria Primus
BA SCORE
82
good
11
Reviews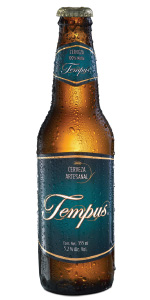 BEER INFO
Brewed by:
Cerveceria Primus
Mexico
primus.com.mx
Style:
Altbier
Alcohol by volume (ABV):
5.20%
Availability:
Year-round
Notes / Commercial Description:
No notes at this time.
Added by tesguino on 11-25-2008
Reviews: 11 | Ratings: 21
2.75
/5
rDev
-21%
look: 3 | smell: 3 | taste: 2.5 | feel: 2.5 | overall: 3
A: beautiful red color with some brights, almost null head, poor residual on the glass, light gasification
S: good caramel smell, like roast sugar
T: Malty flavor with some ending in the tongue, light body filtered, not good enough for an Altbier
M: Average sensation, nothing impressive
D: You could drink maybe another bottle but if other options available I will change my mind.
381 characters
3.11
/5
rDev
-10.6%
look: 4 | smell: 3 | taste: 3 | feel: 3.5 | overall: 3
A decent beer to find in macro-lager-centric Mexico, but not a good example of this Germanic style i.e. not a particularly good alt beer.
Beautiful clear amber colour with a nice full head and a pleasant mouthfeel. Unfortunately, corn is predominant in both aroma and taste. Although alt beers are typically malty sweet with a nice dry finish, I find the caramelized malt flavours for which I'd hoped overwhelmed by corn. The finish is nicely dry, but the syrupy sweetness lingers in the background of the aftertaste as well.
A nice change and I'm not sad to have tried it, but Mexico offers better artisanal beers.
617 characters
3.15
/5
rDev
-9.5%
look: 3 | smell: 3 | taste: 3 | feel: 3.5 | overall: 3.5
A good Altbier from Cerveceria Primus in Mexico City brewed by the Andreu Cousins.
Color: Deep amber copper with medium head retention and medium lace. Pours good in the glass.
Aroma: Good aromas of fresh yeast, malts and hops
Taste: Sweet malts and good balance of hops. Nice amount of alcohol for the style
Finish: Dry finish with bitter aftertaste.
351 characters
3.19
/5
rDev
-8.3%
look: 3.25 | smell: 3 | taste: 3.25 | feel: 3.25 | overall: 3.25
Amber copper color with a good off-white head with decent retention and leaving laces.
Predominant malty aroma with notes of caramels and biscuits.
Flavor with notes of wood, earthy and herbal hops, spices, caramels and some prunes. Dry aftertaste with a nice bitterness.
Light body with appropriate carbonation.
Well balanced Altbier, though it could have more depth in flavors and more body. Let me try now their tune-up version.
431 characters
3.45
/5
rDev
-0.9%
look: 3.5 | smell: 3.5 | taste: 3.5 | feel: 3 | overall: 3.5
Appearance- Golden amber, brilliant pour with a quickly dissipating off-white head.
Aroma- Soft caramel and toffee maltiness with a touch of herbal hops. Nice toasty biscuit notes also.
Flavor- Starts with a nutty maltiness and herbal hops and moves into a medium bodied, slightly sweet caramel middle. Finishes with a moderate and nicely balancing hop bitterness. Fairly clean with a moderately dry finish.
Mouthfeel- Medium body, low-moderate CO2, nice balance with low residual sugars. Feels just a touch thin, but may be just because of the lower CO2.
Overall- Not bad! This bottle was a bit older and a touch past its prime, but still made for a tasty and refreshing brew. Nice balance certainly helps with the drinkability factor, but seemed just a tad low on CO2 for my taste. I will definitely be seeking out a fresh bottle if I ever make it south of the border!
877 characters
3.5
/5
rDev
+0.6%
look: 3.5 | smell: 3.5 | taste: 3.5 | feel: 3.5 | overall: 3.5
A: it has a traslucent body, copper in color, with a constant carb wich generates a off-white 1 finger head, shows good retention
S: some caramel, roast, grainy, no hop aroma at all
T: balanced beer it has sweetness and enough bitterness, sweet malt, low noble hop, clean beer
278 characters
3.66
/5
rDev
+5.2%
look: 4.25 | smell: 3.75 | taste: 3.5 | feel: 3.5 | overall: 3.75
L- Deep amber body with a creamy tan head with medium retention, leaving a nice crown of head.
S- Baked bread, nutty sweet malt grains, low earthy hop note.
T- Moderate earthy hops balanced by sweet malts, bread and peanuts. Dry finish with a light lingering bitterness.
F- Medium, smooth.
O- Nice representation of the style.
326 characters
3.71
/5
rDev
+6.6%
look: 4 | smell: 3 | taste: 4 | feel: 3.5 | overall: 4
A new kid on the block; this altbier with deepy brown color, and round and hoppy taste, is a recente develop from the ander primus brewery, located in the mos transparent region in the world; not for me, i prefer the british beers, but in the range of good german style craft beers this is one of the betters things that exist.
80% recommended, serve in a goblet for appreciate its properties.
396 characters
3.8
/5
rDev
+9.2%
look: 3.5 | smell: 3.5 | taste: 4 | feel: 3.5 | overall: 4
With an amber coppery color; medium body, very tasty and refreshing; is supposed that is made with 100% of malt; in the smell there's only malt; the taste is coarse with some malts and a little hop, with a toast caramel end; good to accompany meats; very good craft beer.
271 characters

4.15
/5
rDev
+19.3%
look: 3.5 | smell: 3.5 | taste: 4.5 | feel: 4 | overall: 4.5
Tempus alt pours a nice brown into the glass, with a short lived foam. Classy looks indeed. Tempus recommends serving between 7-11º C. You certainly don't want it too cold, and from my experience, it doesn't hurt to let it warm a little.
Smell is a bit flat, yet far from discrete, with malts and a bit of veggies in there.
The taste is wonderful; smooth, woody, meaty taste in general with the rather perfect amount and flavor of hops. It has that "aged" character.
It's medium bodied, not thin enough to be called "thin". Quite drinkable and palatable. Easy to mix with a variety of foods.
Mexican beers can be good, so-so or terrible. But this (and the imperial variant) are exceptional. My personal congratulations to the brewery - this is highly recommended.
768 characters
5
/5
rDev
+43.7%
look: 5 | smell: 5 | taste: 5 | feel: 5 | overall: 5
We tried this beer out west and loved it! It is sweeter than many beers, which I like. I prefer the sweeter wines (Rieslings/Desert Wines). I cannot stand bitter beer. This is nice and smooth. The color is pretty too. Too bad we cannot get it in the Southeast.
260 characters
Tempus Clasica from Cerveceria Primus
3.48
out of
5
based on
21
ratings.