Hyde Park Market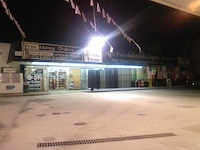 PLACE INFO
Type:
Store
4429 Duval St
Austin
,
Texas
, 78751-3917
United States
(512) 524-4217 |
map
Notes:
No notes at this time.
Added by AChamberlain on 11-25-2008
Reviews: 13 | Ratings: 22
3.9
/5
rDev
+2.1%
This place is awesome!
...now that I got that out of my system... The selection is absolutely enormous here. I think the only place in Austin that rivals it is Whip In!. It looks like a random mom and pop gas station, except they have a bunch of random countries flags hanging outside. The store is a bit cramped, because it is about the same size as a normal gas station store, but they cram twice as much stuff in it.
All 3 of the walls have fridges installed, and they are all filled almost exclusively with beer. The first wall is split half and half with normal drinks and beers. The first wall is also where you find the legendary "make your own 6-pack" beers. It is about 6 doors of single beers, and no beer takes up more than one spot. Meaning that they probably somewhere north of 200 individual bottles of beer. The back wall has whole six packs and twelve packs and assorted other four packs of imports and stuff. This is what you would usually see at a specs or something. The last wall has a about half six packs, and the other half is of larger individual bottles of corked beers.
They don't have every beer ever made, but they certainly can keep a beer lover content for a long time. I was hoping this place would be my one chance to find a gem like some Russian River, but alas, you can't have everything you want.
The service is pretty good. People here are very nice, but their beer IQ isn't through the roof or anything. I have heard that they will try to accommodate requests for beers, but I have not asked for any myself.
I feel almost sad that I had to give this place an average quality rating. But I have gotten a few beers from here, only to find that they are past their "best by" dates. I suspect this is because they have so many beers that they don't always sell all of them before the best by, especially the less popular ones. I almost want this place to become better known so that this happens less.
The price is slightly higher than normal places. That being said, I also heard that if you buy $10 in beer they give you some sort of discount on gas. The larger corked bottles of beer are about $13, the pick your own 6-packs are $12 I think. The only down side to buying make-your-owns is that they only allow you to buy one beer from any one brewery.
-Cheers!
2,309 characters
3.9
/5
rDev
+2.1%
this is my usual stop for beer as i live in the neighborhood. the pricing is a little off some things are a bout a dollar cheaper than usual but for the most part they are a dollar or two more than expected. and sometimes some beers from the same brewery that they have the same amount of have different prices. i assume its cuz they dont buy massive amounts of any one type of beer.
the selection is great and in several other cities i am still yet to find a "gas station" with a better selection. this store also has a large selection of organic foods which really sets it apart and is a huge part of why me and others go as frequently as we do.
the service is allright. ive talked to every employee numerous times and its quite obvious they dont know much about the beers they just buy them and sell them. they do however always know and can tell you when and of what they are getting shipments of which is a real plus.
ive also never seen another place that allows mix and match six packs so im not sure if 11.99 is a good price. every now and then they have really good beers in there and it is totally worth it.
usual hauls: lobotomy bock
midas touch
old rasputin
golden monkey
storm king
white hawk ipa
breckenridge esb
breckenridge double ipa
dfh raison
dfh 90 minute
and many more
1,293 characters
4.15
/5
rDev
+8.6%
Don't let the outside looks of the place fool you- its packed with great beer inside. While all the beer is not located in a single area, its not hard to find if you're indeed looking for more beer. If you're not looking for 300+ bottles of beer, you might mistake one of its 4 different beer display areas as its only beer display.
This little place seriously has the best selection in the area (beats the Hancock HEB and the new Twin market thing). You have to go to Central Market on Lamar to equal the selection here. The prices aren't as good as Central Market either, but they are not outrageous (some items worse than others). This place carries most of the more obscure beers from the smaller distributors in the area as well as the usuals.
Some stuff I remember: DeProef Collabos (Tomme Arthur and Allagash $17.99ea), Pike (5 kinds $7.99 And Old Bawdy $13.99), Brass. Des Rocs, Meantime, Boulevard (all 4 smokestacks $10.?9ea).
Not sure how much the employees knew or cared about the beer, but its obvious someone here cares. I made some comments about the big beer selection and the two at the counter just nodded. Will definitely stop by here again.
1,164 characters
Hyde Park Market in Austin, TX
3.82
out of
5
based on
22
ratings.